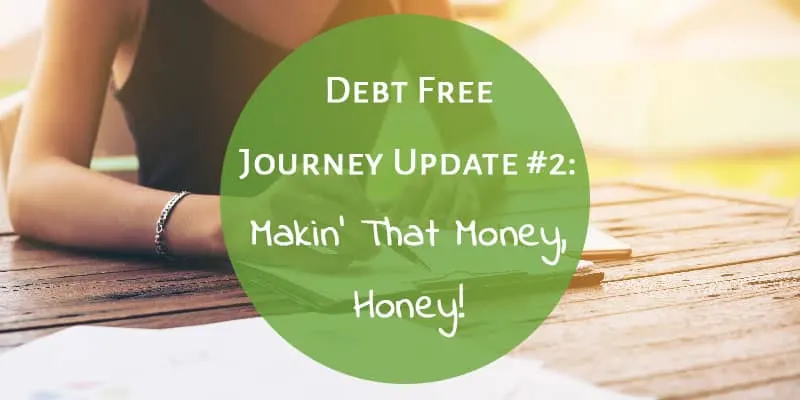 Y'all. Big things have happened in our debt free journey!
We started working toward this goal in January. Back then, it was literally an impossible goal. The numbers did not add up in any way, shape, or form. With a promotion for Austin and my blogging income much higher than expected, the impossible started to look possible a few months ago.
Here we are, a little over halfway through the year, and I'm not-so-secretly thinking we might be debt free around October!
The biggest reason we might be able to pull this off: Increasing our income! As someone who has always focused far more on saving than on earning, I have to tell you, the 'earning more' mentality has been an eye opener for me!
I'll explain HOW we've increased our income and give a bunch of ideas for how you can too.
Catch up on previous debt free journey posts:
Debt Free Journey Update #2
The Progress
Total Debt: $18,832
Car: $4732
– $1,174 in January
– $661 in February
– $1,335 in March
– $1,589 in April
PAID OFF!!!
Medical Bills: $3,100
– $200 in March
– $200 in April
– $200 in May
– $200 in June
– $2,300 in July
PAID OFF!!!
Roof: $11,000
– $1,1275 in April
– $1,190 in May
– $1,336 in June
– $1,100 in July
Current Total Debt: $6,099
We've made HUGE progress in May, June, and July!
Instead of continuing to make payments on the medical bills, we decided to knock those out completely. We don't have any interest on the medical bills or the roof, so it didn't necessarily matter either way, but I'm glad to have them done for! All extra money now goes towards the roof debt.
Our debt payoff thermometers are looking fabulous!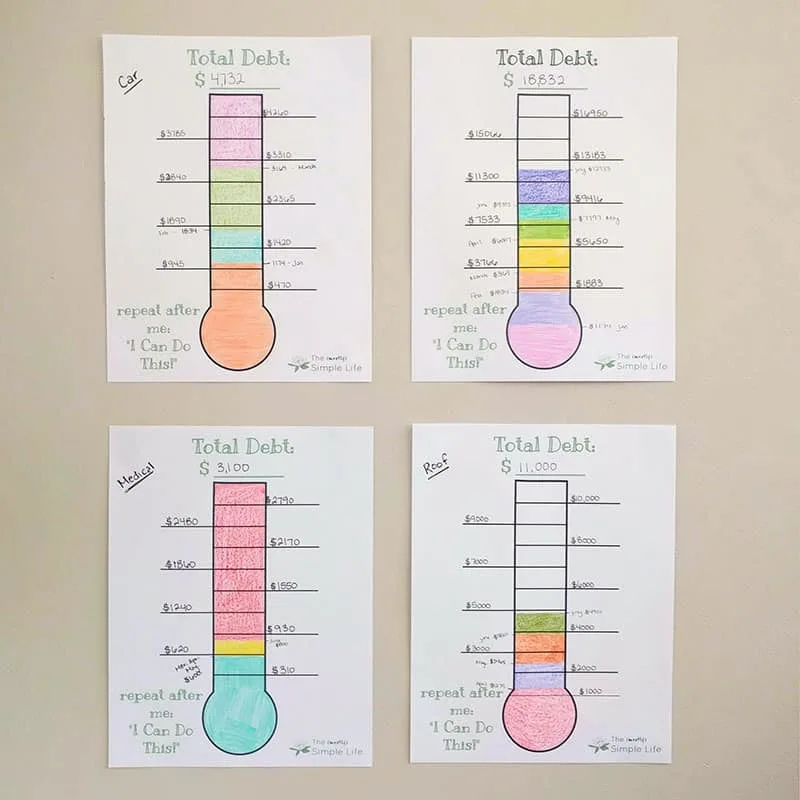 Enter your info below if you want to get a debt payoff thermometer for yourself. I printed four so that I could track our total debt as well as the three sources of our debt.
[convertkit form=834534]
You might have noticed that we made debt payments totaling $3,400 in July. That is cRaZy money to have extra in one month!
I have to say that the reason that we have been able to make such fast progress on our debt is because of earning more money. There was simply no way we could "frugal" our way into paying off our debt quickly. Our normal incomes are not high enough that we could ever save $18k this fast. We simply had to earn more.
BTW: July was a bit of a funny month because I got paid for a lot of things I had earned a few months ago. It's not necessarily a repeatable income. I'll make far less next month. But it certainly helped make a big dent!
For us, the increased income has come from my blog. For me blogging, combines so many of my skills and strengths and I love what I do! I don't think that blogging is for everyone though.
Develop Your Strengths, Skills, & Passions
I want to encourage you to make the most out of your strengths, spend time developing your skills (this does not have to mean going back to college), and get creative on finding ways to make money with those things that you are great at!
It took me a long time to realize that the things that come naturally to me, don't come naturally to everyone (meal planning, budgeting, organizing…). That's how I make my living!
There are things that come so naturally to you that you might not even see them as a skill. But those skills are not natural for everyone! You have unique skills and strengths that are your greatest assets. If you can get creative and find ways to make money from what you're good at, you can move the needle in a big way on your financial goals!
There comes a point when there's not much more money to save and you need to look towards how you can earn more.
Now, you might need to work at developing your skills. However, that does not mean you need to spend thousands on a college degree. There are so many other ways to develop your skills! I've invested in my blogging career through some great online courses. Austin has developed his skills as a web developer through various Udemy programming courses.
Ways to Earn More:
Blogging
I'm always a bit hesitant to recommend blogging because I don't think it's for everyone. However if you're at all interested, I think you should give it a try!
It's inexpensive to get started and can be a fun creative outlet for you. It does take some major work and consistency to make good money blogging, but it's absolutely possible. It's more a long-game way to make money, so I really believe it has to be something you enjoy along the way.
The great part is that there's no cap to your earning potential. In July, I made more than double what I used to make working full time. That's nuts!
If you want to get started blogging, I recommend the WordPress 101 course. It will take away a lot of the beginning frustration of figuring out the basics.
Start writing posts and get into it!
From there, get on the EBA waitlist so that you don't miss out on the one week of the year it goes on sale. You can read my review of Elite Blog Academy here.
Proofreading
Do you regularly spot spelling and grammar mistakes when you're reading? Did you spot one or two in this post? I hope not! Haha! Anyway, you can make money with those eagle eyes of yours as a proofreader. This is a super flexible way to make money! You can work as much or as little as you want, from anywhere in the world!
I highly recommend the General Proofreading: Theory & Practice course if you're interested in this. Caitlin teaches you the ins and outs, give you practice for your skills, and shows you how to find clients. It's everything you need.
Freelance
Can you use skills from your day job to do a little freelance work in your off time? Austin has done a few freelance jobs as a web developer to make some extra money.
Or maybe you have a hobby that people would pay for. Are you good at fixing things, building furniture, altering clothing, baking, or doing yard work?
I have a Facebook friend who makes amazing cheesecakes. For a few weeks a year, only around the holidays, you can order cheesecakes from her. She gets to do something she loves and is good at as well as make some extra money around Christmastime.
Buying and Selling
If you love finding a bargain, maybe you'd be great at making money buying and selling. You can do this locally or online.
Teaching
You know things, my friend! Things other people would like to know. If you put yourself out there and offer to give lessons, this can be a great way to make money.
I used to give art and writing lessons to a family member who was homeschooled. It was a great way to make some extra money and provided an important service for their family.
Here are some teaching ideas:
Tutor kids who need help in a subject you're good at. Put that rusty history or math degree to good use!
Teach one-on-one or group weekly classes for homeschoolers: cooking, writing, sewing, history, etc.
Do a one-time seminar on ways to save money, baking, cake decorating, making a special meal…
Give lessons for a musical instrument.
Offer a ladies night where you teach everyone to make a craft and provide snacks.
You can advertise your services in local newsletters, Facebook groups, mom groups, homeschool groups and more. Just start by telling your friends and family about your teaching thoughts and they might have some ideas on how to get you started.
Sitting
You can make money from home by babysitting or pet sitting/dog walking.
If you advertise and tell people that you're available, people will think of you when they need someone.To get more business you can register with a dog walking/sitting website, like Rover.com. This can be a one time thing or turn into consistent income.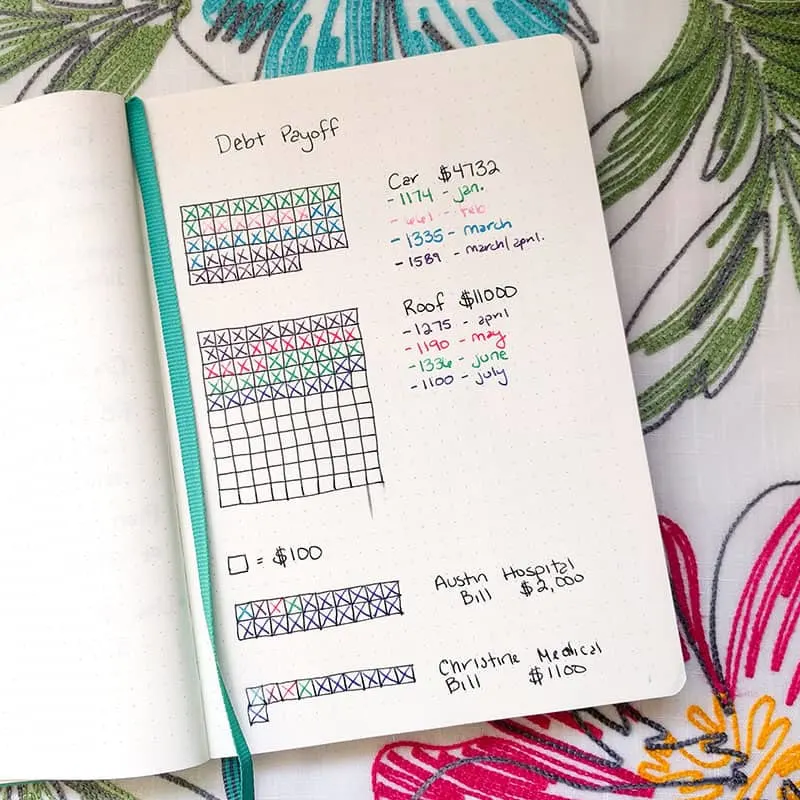 Increasing our income this year is the main reason that we have been able to come so far on our "impossible" debt free journey! We're getting so close to being done and I almost can't believe it!
I Think You'll Like These Posts:
⇒ I'd love to hear about your debt free journey in the comments! How are you saving money or earning more?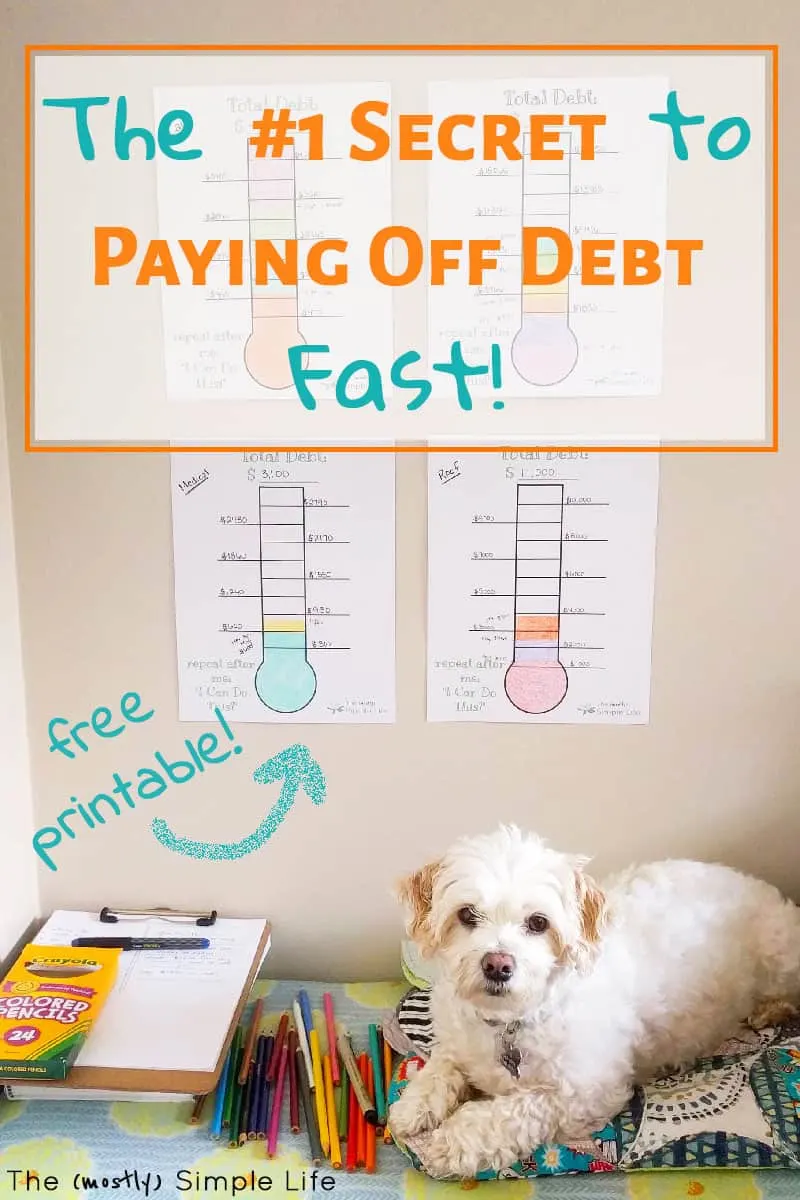 If you find this page helpful, please pin or share it :)