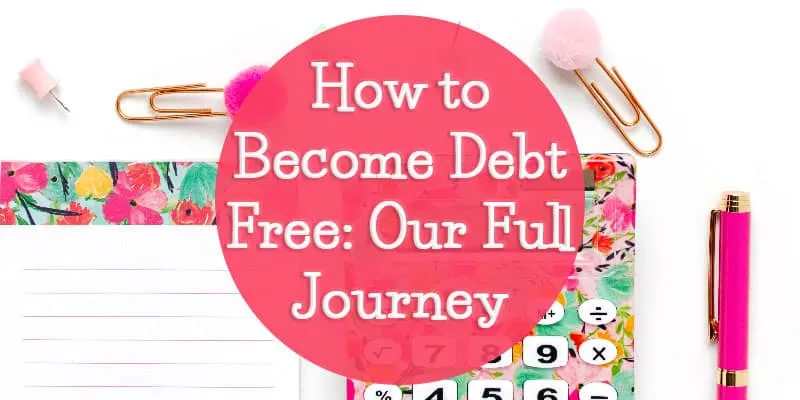 Last year we did what we thought was the impossible: We paid off just under $19,000 of debt in 10 months to become debt free except for our house!
I am still amazed at how we managed to pull this off and how it has positively affected our lives ever since — we're currently saving up to move across the country which has been our dream for years and would not have been possible with so much debt.
I wrote a few blog posts about our journey to becoming debt free as it was happening, and I wanted to put them all together for you so that you can learn from our whole experience in one place. So here it is!
Since this is a super long post (essentially 4 posts in one) I made a little table of contents that you can use to skip to different sections:

The Beginning: The Debt, the Plan, & the Problems
Update #1 + How We're Making Such Fast Progress
Update #2 + Ways to Increase Your Income
Final Update: Our Best Debt Payoff Tips
How to Become Debt Free: Our Full Journey
Favorite Resources:
Debt Payoff Thermometer Printables
Being able to see our progress was hugely motivating! You can get my debt payoff thermometer printables for free and start tracking your journey!
[convertkit form=834534]
Total Money Makeover
We don't follow every single thing Dave Ramsey recommends, but you can't talk about debt payoff without mentioning him, right? Total Money Makeover is really good. It lays out a simple plan and is inspiring. If you want to become debt free, read it!
The iSaveMoney App
I used this app to track our spending throughout most of our journey. Staying on budget each month was key to having money leftover to pay off more debt. You can look this app up in the app store on your phone to try it out.

---
The Beginning: The Debt, the Plan, & the Problems (January)
Our massive financial goal for the year is to become debt-free (again). We've been debt-free in the past and unfortunately we had to take on some debt over the past year or so. I'm very ready to destroy it so that we can have our full incomes back!
Here's the thing: This is an impossible goal. As our incomes currently stand, it doesn't look like there's any way we can make this happen. But that's not stopping us!
Between a possible tax return, side jobs, and income fluctuations (blogging is like a roller coaster y'all), we just might make more money than we currently expect.
Plus, and this is important, I know that in this circumstance we'll get farther by aiming big than we would if we set an easy to achieve goal.
I plan on posting updates every few months on how we're doing with 'mission impossible'.
The Debt:
Car: $4732.00
Last winter, our previous car was becoming more expensive to repair than it was worth. We traded it in and got a new-to-us little car and took out a loan of a little over $8,000. This was a major bummer since we were completely debt-free before this. We've been throwing extra money at this loan over the past year and have made some decent progress.
Roof: $11,000
We bought a house in 2017 that looked like it might need a roof in the next few years. Unfortunately, we weren't able to have the roof fully inspected before we closed because of snow on it. (Note to self, never buy a house in the winter.) It turned out that the roof was actively leaking into a bedroom every time it rained. We tried patching things, but by fall it was clear that we needed to just replace the whole thing before another winter. My parents were so kind to loan us the money to make it happen and I'd very-much like to pay them back ASAP.
Grand Total: $15,732
Ok, typing that was the first time I've actually totaled it all up. I may have had a mini heart attack… Moving on…
The Plan
We're planning on focusing all extra money on the car loan first to get that out of the way. That will free up some extra income since we won't have a car payment to worry about (can't wait!).
Then we'll start plugging away at the roof loan. $11,000 is the largest loan we've ever had other than a mortgage, so it's looking a little intimidating to me right now.
Dave Ramsey calls this method snowballing. You put all extra money toward your smallest loan until it's gone. Then you take all of the money you were using against the smallest loan and put it all towards the next smallest loan. As you go, your snowball of payments gets bigger. I recommend his book, The Total Money Makeover if you want more info or inspiration about paying off debt.
The Problems
I find that I'm more successful at accomplishing a goal when I anticipate problems and decide how I will handle them before they come up. I highly recommend thinking about what problems you might encounter while you're working toward a goal and deciding ahead of time what you will do if one comes up.
Here's where I foresee issues:
Medical Bills: We've got a whole lot of medical bills coming our way, including a $2,000 one at some point. The plan is to pay the smaller bills off as they come. If we get a huge one, we'll use the hospital's payment plan to break it down. The hospital doesn't charge interest, so we'll be better off making payments on bigger bills for a few months and continuing with decent sized debt payments.
House Projects: I've got a list of house projects we need to work on this year. None of them are huge, but will all cost some money. My plan is to save a chunk of our tax return to be used for all house projects for the year. I'll carefully budget each small project to stretch that money as far as possible.
Socializing: I've noticed that we go a little over our monthly budget each time we hang out with friends. We always bring some snacks or drinks and $15 here and there adds up. I've added a new section to our monthly budget to help with this. I've added a $30 socializing/entertaining category so that we have money specifically set aside for time with friends.
Progress
I had a great month in December for my blog! Plus, I got paid early for my ads, which was super nice. I'm making an extra big car payment for January — Our regular payment + $1,000 (!!!).
2018 Starting Total: $15,732.00
January Total: $14,558.00
---
Update #1 + How We're Making Such Fast Progress (April)
Our completely impossible goal is starting to look possible!
We set a goal to pay off all of our debt by the end of this year: $15,732, which includes our car and the new roof we had to put on our house.
Based on our incomes and what I knew we could throw at the debt, it literally was not possible that we could reach this goal. I knew that.
BUT. You never know what a year will bring and I had hopes that by setting a ridiculous goal we would know what to do with every extra dollar we could come up with. Well, I'm feeling so motivated because it's starting to look like we might be able to make this happen!
The Progress
2018 Starting Total: $15,732
Car: $4732
– $1,174 in January
– $661 in February
– $1,335 in March
– $1,589 in April
PAID OFF!!!
Roof: $11,000
One of the problems we knew would pop up eventually was some medical bills we were waiting on. Unfortunately, we owe around $3,000 in medical bills that are now added to our situation. Womp-womp. We knew it was coming, but it's still a big fat bummer. Since the hospital doesn't charge interest and allows payment plans, we are paying about $200 per month on these.
Medical Bills: $3,000
– $200 in March
– $200 in April
Current Total Debt: $12,325
That current total would look a lot more impressive if we hadn't had to add an extra $3,000, hahaha! We've made awesome progress though.
We'll have to pay an average of $1,370 on debt every month for the rest of the year to make our goal, which seems absolutely insane. We literally used to live on less than $1500 per month. We're doing our best though and have made better progress already than I had expected.
How We've Paid Off So Much So Quickly
Honestly, I am still in a bit of shock when I look at our progress. I absolutely realize that paying more than $1,000 on debt in a month is a crazy amount of money.
I distinctly remember months when I budgeted every dollar we had and was thrilled when I had $20 left over at the end of the month to add to our savings. So how have we been able to put so much money on our debt?
1. Blogging
I've been blogging for over two years and have just this year starting earning more than what I used to make at my full time job. It has been years of hard work and consistent effort and it's amazing to see it finally pay off. I feel like I am contributing in a bigger way to our finances which is exciting.
Since my income can fluctuate hugely, we don't count on it at all for our regular monthly budget. This means that we can use whatever I make (after taxes and expenses) to pay off debt.
Blogging is not a quick way to make money, but I love what I do! If you have an interest in blogging, you should absolutely give it a try.
You can get started blogging with Big Scoots (the hosting company I use and love) for as little as $3.55 per month for shared hosting. Be sure to read about the things I wish I would have known when I started blogging and the only three blogging courses I would take if I could start over.
2. The Magic of the 3-Paycheck-Month
Austin gets paid bi-weekly, which means that there are two months each year where he gets three paychecks instead of two. March was one of those months.
I plan our budget around two paychecks, so the third is basically unplanned money when it happens! We used most of his third paycheck to pay off debt.

---
Update #2 + Ways to Increase Your Income (July)
Y'all. Big things have happened in our debt free journey!
We started working toward this goal in January. Back then, it was literally an impossible goal. The numbers did not add up in any way, shape, or form. With a promotion for Austin and my blogging income much higher than expected, the impossible started to look possible a few months ago.
Here we are, a little over halfway through the year, and I'm not-so-secretly thinking we might be debt free around October!
The biggest reason we might be able to pull this off: Increasing our income! As someone who has always focused far more on saving than on earning, I have to tell you, the 'earning more' mentality has been an eye opener for me!
I'll explain HOW we've increased our income and give a bunch of ideas for how you can too.
The Progress
Total Debt: $18,832
Car: $4732
– $1,174 in January
– $661 in February
– $1,335 in March
– $1,589 in April
PAID OFF!!!
Medical Bills: $3,100
– $200 in March
– $200 in April
– $200 in May
– $200 in June
– $2,300 in July
PAID OFF!!!
Roof: $11,000
– $1,1275 in April
– $1,190 in May
– $1,336 in June
– $1,100 in July
Current Total Debt: $6,099
We've made HUGE progress in May, June, and July!
Instead of continuing to make payments on the medical bills, we decided to knock those out completely. We don't have any interest on the medical bills or the roof, so it didn't necessarily matter either way, but I'm glad to have them done for! All extra money now goes towards the roof debt.
Our debt payoff thermometers are looking fabulous!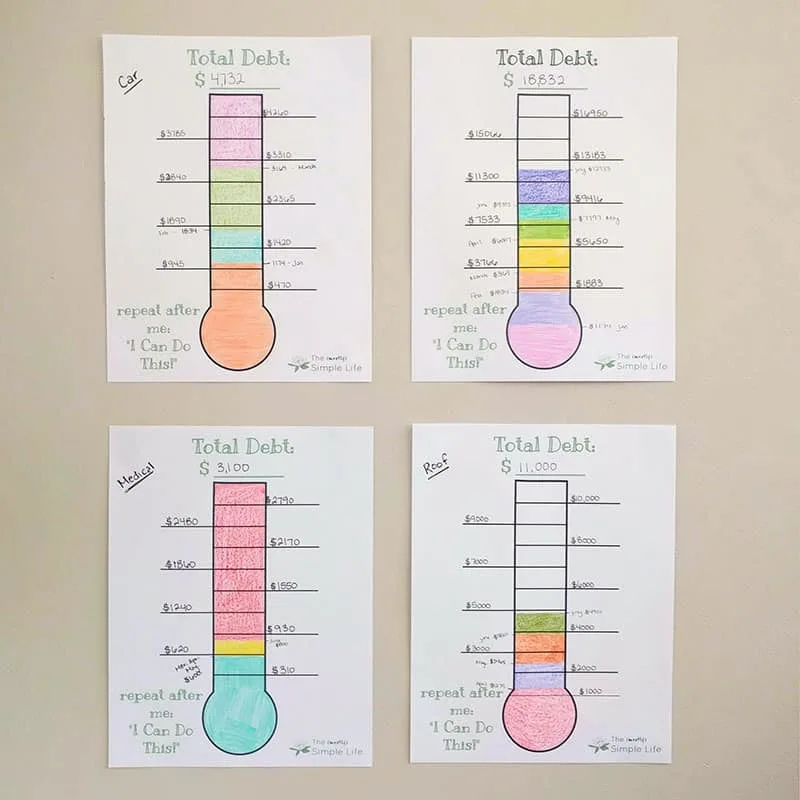 Finding Ways to Increase Your Income
You might have noticed that we made debt payments totaling $3,400 in July. That is cRaZy money to have extra in one month!
I have to say that the reason that we have been able to make such fast progress on our debt is because of earning more money. There was simply no way we could "frugal" our way into paying off our debt quickly. Our normal incomes are not high enough that we could ever save $18k this fast. We simply had to earn more.
BTW: July was a bit of a funny month because I got paid for a lot of things I had earned a few months ago. It's not necessarily a repeatable income. I'll make far less next month. But it certainly helped make a big dent!
For us, the increased income has come from my blog. For me, blogging combines so many of my skills and strengths and I love what I do! I don't think that blogging is for everyone though.
Develop Your Strengths, Skills, & Passions
I want to encourage you to make the most out of your strengths, spend time developing your skills (this does not have to mean going back to college), and get creative on finding ways to make money with those things that you are great at!
It took me a long time to realize that the things that come naturally to me, don't come naturally to everyone (meal planning, budgeting, organizing…). That's how I make my living!
There are things that come so naturally to you that you might not even see them as a skill. But those skills are not natural for everyone! You have unique skills and strengths that are your greatest assets. If you can get creative and find ways to make money from what you're good at, you can move the needle in a big way on your financial goals!
There comes a point when there's not much more money to save and you need to look towards how you can earn more.
Now, you might need to work at developing your skills. However, that does not mean you need to spend thousands on a college degree. There are so many other ways to develop your skills! I've invested in my blogging career through some great online courses. Austin has developed his skills as a web developer through various Udemy programming courses.
Ways to Earn More:
1. Blogging
I'm always a bit hesitant to recommend blogging because I don't think it's for everyone. However if you're at all interested, I think you should give it a try!
It's inexpensive to get started and can be a fun creative outlet for you. It does take some major work and consistency to make good money blogging, but it's absolutely possible. It's more a long-game way to make money, so I really believe it has to be something you enjoy along the way.
The great part is that there's no cap to your earning potential. In July, I made more than double what I used to make working full time. That's nuts!
If you want to get started blogging, I recommend the WordPress 101 course. It will take away a lot of the beginning frustration of figuring out the basics.
Start writing posts and get into it!
From there, get on the EBA waitlist so that you don't miss out on the one week of the year it goes on sale. You can read my review of Elite Blog Academy here.
2. Proofreading
Do you regularly spot spelling and grammar mistakes when you're reading? Did you spot one or two in this post? I hope not! Haha! Anyway, you can make money with those eagle eyes of yours as a proofreader. This is a super flexible way to make money! You can work as much or as little as you want, from anywhere in the world!
I highly recommend the General Proofreading: Theory & Practice course if you're interested in this. Caitlin teaches you the ins and outs, give you practice for your skills, and shows you how to find clients. It's everything you need.
3. Freelance
Can you use skills from your day job to do a little freelance work in your off time? Austin has done a few freelance jobs as a web developer to make some extra money.
Or maybe you have a hobby that people would pay for. Are you good at fixing things, building furniture, altering clothing, baking, or doing yard work?
I have a Facebook friend who makes amazing cheesecakes. For a few weeks a year, only around the holidays, you can order cheesecakes from her. She gets to do something she loves and is good at as well as make some extra money around Christmastime.
4. Buying and Selling
If you love finding a bargain, maybe you'd be great at making money buying and selling. You can do this locally or online.
5. Teaching
You know things, my friend! Things other people would like to know. If you put yourself out there and offer to give lessons, this can be a great way to make money.
I used to give art and writing lessons to a family member who was homeschooled. It was a great way to make some extra money and provided an important service for their family.
Here are some teaching ideas:
Tutor kids who need help in a subject you're good at. Put that rusty history or math degree to good use!
Teach one-on-one or group weekly classes for homeschoolers: cooking, writing, sewing, history, etc.
Do a one-time seminar on ways to save money, baking, cake decorating, making a special meal…
Give lessons for a musical instrument.
Offer a ladies night where you teach everyone to make a craft and provide snacks.
You can advertise your services in local newsletters, Facebook groups, mom groups, homeschool groups and more. Just start by telling your friends and family about your teaching thoughts and they might have some ideas on how to get you started.
6. Sitting
You can make money from home by babysitting or pet sitting/dog walking.
If you advertise and tell people that you're available, people will think of you when they need someone.To get more business you can register with a dog walking/sitting website, like Rover.com. This can be a one time thing or turn into consistent income.
Increasing our income this year is the main reason that we have been able to come so far on our "impossible" debt free journey! We're getting so close to being done and I almost can't believe it!
---
Final Update: Our Best Debt Payoff Tips (October)
Y'all. WE'RE DEBT FREE!!! You'll find me jumping around the house and celebrating! Even if you're reading this years later, I'm probably still celebrating!
I am completely thrilled and honestly, shocked that we paid off so much money in 10 months! From a family that used to live off of $1500 per month, I can hardly believe it. To have an average of almost $1900 extra to put towards debt each month is absolutely mind-blowing.
To make our story extra-helpful for you, I analyzed what we did to make it happen. I'm sure your income, debt, and numbers are totally different from ours, but I think the things that we did to become debt free are applicable to anyone. So here are our best debt payoff tips.
How We Paid Off $18,832 in 10 Months
Set the Goal
Let me tell you, I had wanted to pay off our debt for a while. I had pondered it, made some efforts toward it here and there, but we never made any real progress until we set our big crazy goal and officially said "We want to be debt free by the end of the year".
Whatever it is that you want to accomplish, make sure that you actually set the goal.
When we set the goal to be debt free by the end of the year, it was an impossible goal. As our income stood in January, there was no way to make it happen! However, we knew there was potential for my income to increase and for Austin to get a raise. We set the goal, knowing that it would make us use any extra money to pay off more debt.
Make It Visual
Do not skip this step. It might feel childish and like you're back in grade school, but it actually does make a difference.
It is so important to stay motivated when you're working on a big goal and making it visual is really helpful. I've had my debt payoff thermometers stuck to my office wall all year and they have kept me motivated! I would look at them and be proud of the progress we've made and see the work yet to be done. During the last few months when we were so close to being done, I would get so excited to color them in a little bit more!
I printed off one thermometer for each separate debt, plus one for keeping track of the total.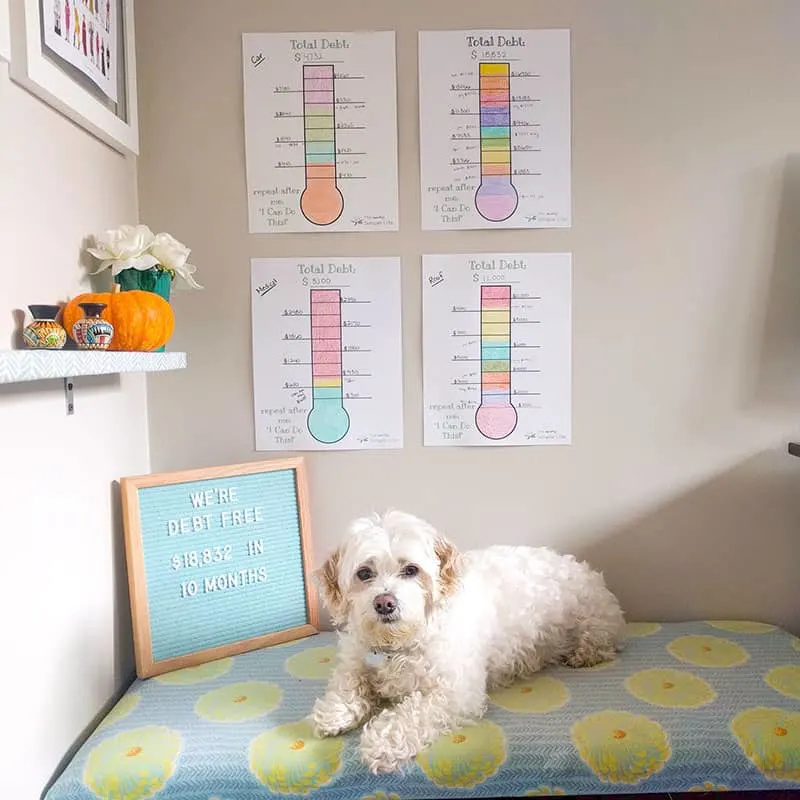 [convertkit form=834534]
Set Monthly Budgets
You need to be on a budget! How else will you know how much money you have coming in, how much money you have going out, and keep the "money going out" part under control so that you have extra to pay toward your debt?
Budgeting is very important. And I don't just mean creating a budget at the beginning of the month and letting it sit until next month. I mean setting your budget and tracking your spending to make sure you stay within your budget.
If you're new to budgeting, it can feel a bit overwhelming. I remember struggling through creating our very first budget 8+ years ago before we got married. We didn't really know what our income would be and I had nothing to go on to estimate what our expenses would be. I felt like I was guessing at everything.
Budgeting is rarely perfect. It's not a matter of doing perfectly. It's a matter of doing your best to create the budget, doing your best to stick to the budget, and then learning what you can to do better next time!
If you need some help creating your budgeting, I've got some posts that will help:
Check In with the Budget Daily
I mentioned this above, but I want to be extra clear because this made a huge difference for us in paying off debt. It's not just about creating a monthly budget, it's about sticking to that monthly budget. Those are actually two different things.
When we set the goal to pay off our debt, I tried to think of what would make the biggest impact in allowing us to accomplish it. I decided sticking to our budget would be the best thing we could do because it would ensure that we had as much extra money to throw at our debt as possible. But what could I actually do to make sure that we stuck to our budget? My answer was that I could set a goal to record our spending daily.
I used my PowerSheets Goals Planner from Cultivate What Matters to track this daily goal. It worked wonders! You can see my daily goal to "Record Expenses" in the bottom section: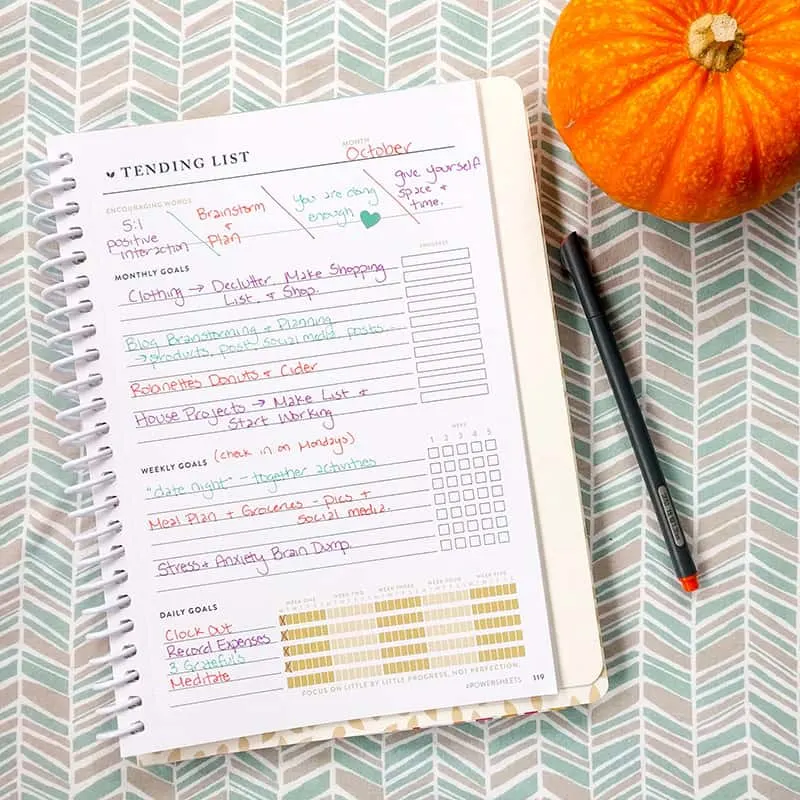 There were still months where we overspent, but I knew exactly where we stood and how much we had overspent by. I could cover the overage with money from other categories or decide that it was ok that we overspent. It kept me from loosing track, getting overwhelmed, and letting things slide for the whole rest of the month, which usually causes us to go way over budget.
Anyway, I would really encourage you to check in with your budget regularly. Weekly at least, if not daily.
Even if you use an app or budgeting software that keeps track of things for you, get in the habit of logging in and looking at what you're spending and where. You can keep yourself from going over budget if you know where you're at with your spending at all times.
Live on Less
We have lived quite frugally for our entire marriage, so we kept on doing all of the frugal things we're used to!
Some of them are big:
We are used to living on one income. Any money I made was extra and was used to pay toward debt.
We only have one car. Yes, it's a pain sometimes but it saves us a ton of money!
We have not traveled in a very long time.
Some of them are small:
We eat at home for almost every meal. Austin packs lunches for work four out of five days. Our eating out budget stayed at $100 per month.
We don't shop unless we absolutely need something.
I've got a whole lot of posts about living frugally that may give you some money-saving ideas:
Earn More Money
I saved the big one for last. This is truly how we paid off almost $19,000 in 10 months.
Like I said, with our incomes what they were in January, this goal was impossible. And with our incomes and expenses what they were, we could not be frugal enough to save that much money. There was not that much extra to be saved even if we went "extreme frugal".
How Did We Increase Our Incomes?
Austin got a promotion. He is very good at his job and pushed for a promotion. With his skills and experience, we knew that he could move to another company and get paid more. This gave him a little leverage to tell his company that he wanted to stay working there but it didn't make sense unless they could pay him more. We are incredibly grateful that it all worked out for him to stay!
I worked my buns off 🙂 I work from home as a full-time blogger and I got very strategic about what I could do to increase my income. It's so cool to me that there is no cap to my earning potential, but there is also no bottom.
After years of making very little, I finally started earning more this year than I did while working full time in an office. Since we were used to my income being small and inconsistent, it was a huge blessing for me to earn more and be able to contribute in a huge way to our debt payoff!
So how can you earn more money to become debt free?
If you're not being paid what you're worth, ask for a raise or apply for a higher-paying job.
Ask for more hours or overtime if you're an hourly worker.
Sell your stuff! I won't even get into my decluttering passion here, but I'm guessing you've got lots of stuff you don't need that could earn you some cash.
Work from home.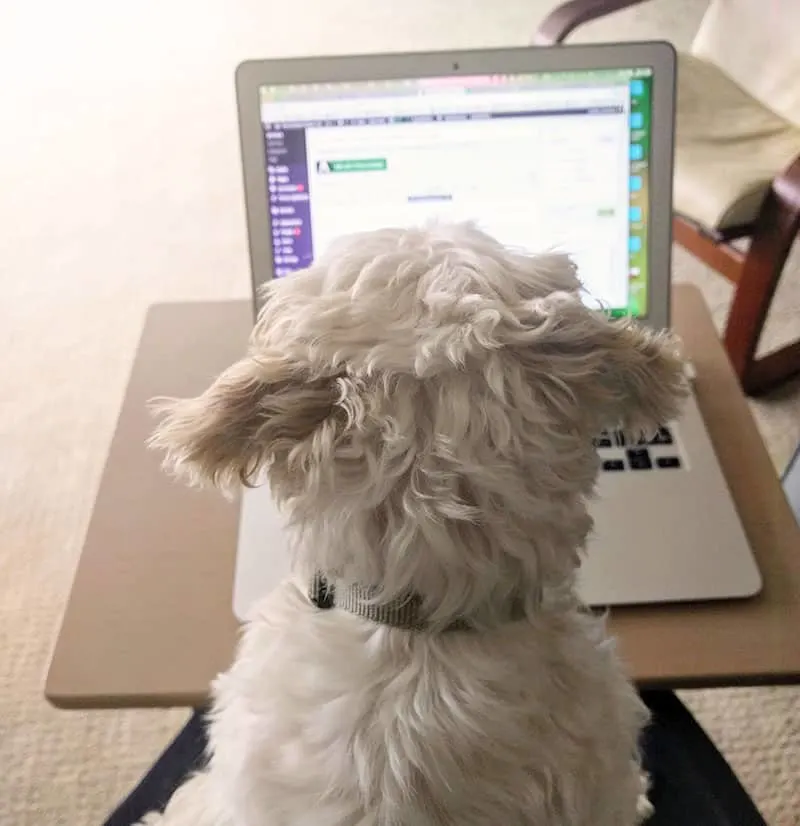 I've got a few posts about ideas for making money from home that I think you'll like:
Setting a goal to pay off debt can feel super daunting. Our goal was literally impossible when we set it in January! However, this whole process has really shown me how much we can accomplish when we're focused and motivated.
I know that your numbers are going to be different than mine (income, debt, monthly expenses, etc.) but I think these debt payoff tips can be applied no matter what your situation is. It may take you two months or more than two years to pay off your debt, but I can already tell how worth it the journey is!
---
Ways We Save Money on Our Journey:
Programming the thermostat. I programmed our thermostat to be at 67 degrees during the day throughout the winter (I tried 66, but it felt too cold!). It drops down to 63 after we go to bed. We sleep better in cooler temps, and we're already asleep by the time it drops so we don't even notice. The house is warm again by the time we wake up in the morning.
Meal planning. I've done well lately sticking to our $70 per week grocery budget.
Having fun at home. We've played cards, video games, watched movies, and exercised at home.
Thrift shopping. I've bought a few pieces of clothing recently but haven't spent much at all. We have a great local thrift store that I always find great things at. Plus, I just discovered Swap.com. It's an online consignment store and they have really nice brands that I would never be able to pay full price for. I had to make a return for one item and they had really amazing service, which sealed the deal for me loving them.
LED lights. Our electric bill has been much higher than expected the last few months, so we decided to switch some old light bulbs out for LEDs to see if that helps. We got a great deal on LEDs and changed out the bulbs for the lights we have on most often.
Unplugging the freezer. We have a basement freezer that I used to keep stocked. I haven't used it much lately and I realized that I could probably fit what was being stored in there in our regular freezer. I did some reorganization and unplugged it to help our electric bill.
Rewearing dresses. I've actually had a lot more occasions to get dressed up in the last few months than I would normally. I resisted the urge to buy new dresses and just kept re-wearing the few I have. I love my eShakti custom-fit dresses and they can look so different depending on how I accessorize them. I wore the same two dresses for multiple occasions!
Renting ebooks and audiobooks from library: Austin and I listen to a lot of audiobooks and I've been trying to read more this year. Instead of paying for books, we use our library card as much as possible. It gives us access to multiple apps where you can rent ebooks and audiobooks without stepping foot in the library and it's basically impossible to get late fees. (Look at the books I've read in 2018 here)
Homemade pizza nights instead of takeout: We've been keeping our eating out budget under control by making homemade pizza on Friday nights instead of getting takeout. I just shared my favorite crust recipe and sauce recipe so you can make your own!
Double Ad Day: I recently discovered that a local grocery store runs their ads Wednesday-Wednesday and if you shop on Wednesday you can get the sales from last week and this week all at once. A lot of their food is pricey but they run great sales to get you in the store. We got some great deals on fruit as well as chicken for $1.69 per pound.
The Dollar Store: I've been shopping at Dollar Tree. (…Where everything is actually a dollar. I can't stand the dollar stores where things cost more. It makes no sense. That's not a dollar store! Rant over.) We get shower curtain liners, doggy poopy bags, candy for gifts, birthday decorations, and holiday decor for much cheaper than anywhere else.
Decluttr.com: We got some extra money by selling an old ipod and a video game to Decluttr.com. Their service is easy to use and you get money for the stuff you don't want anymore. They buy video games, consoles, old phones, tablets, and other tech. Plus CDs, DVDs, textbooks, and LEGO toys.
---
Paying off our debt last year was life changing for our finances, but also for us mentally.
I realized that we could achieve bigger dreams than I had previously thought possible. It has caused me to go bigger and attempt the impossible, because we did it once already!
I hope that you will be inspired to start attacking your debt and improving your life because of our journey. You can do it!!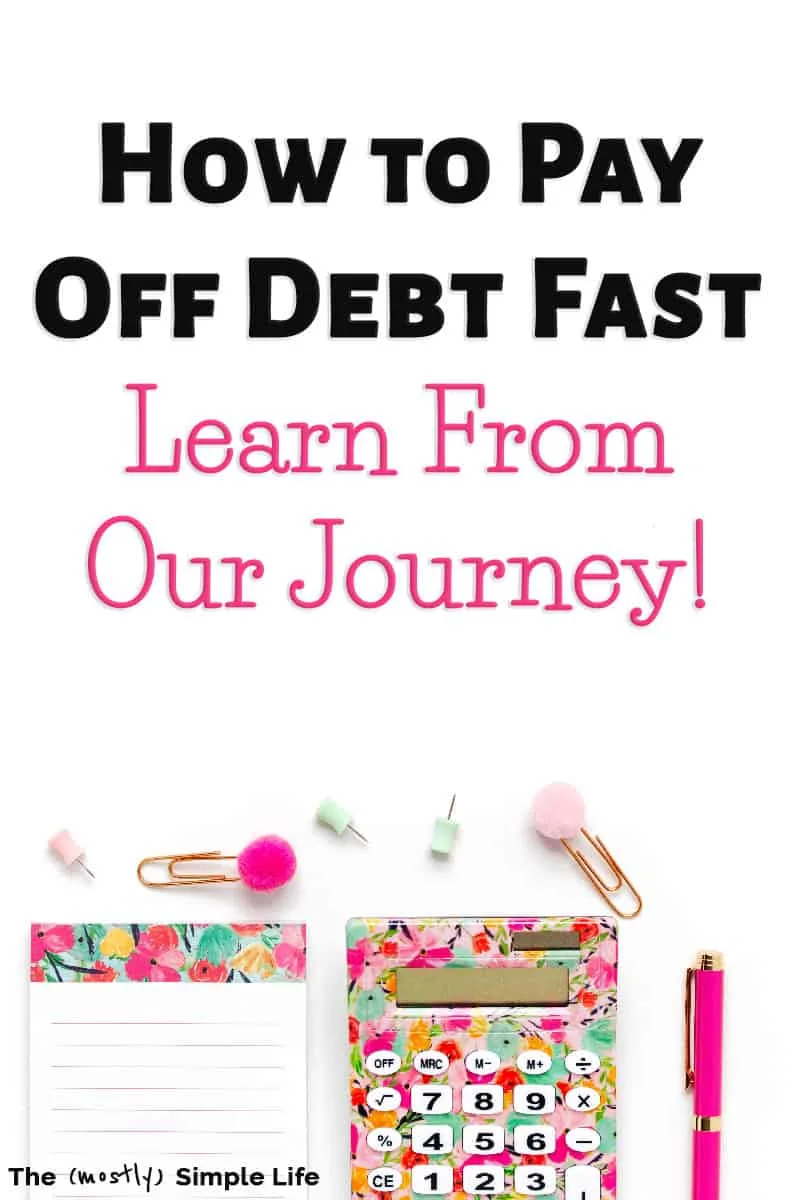 If you find this page helpful, please pin or share it :)