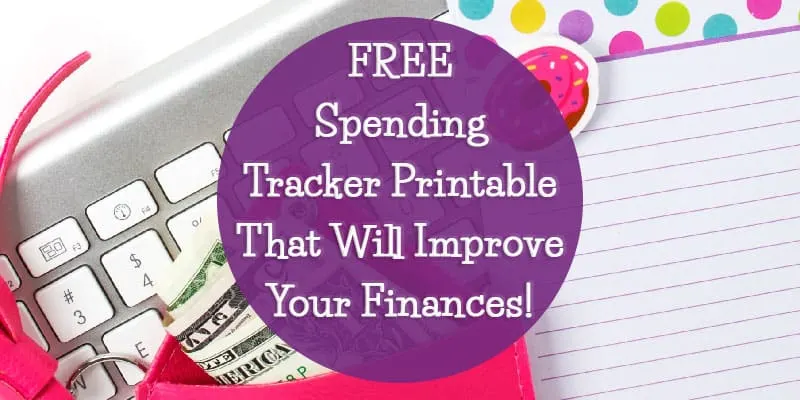 What if you could vastly improve your financial situation by spending just one minute a day doing something super easy? You'd say "sign me up!" right? Well, I'll tell you how to make this happen, but you have to promise to stay with me as I explain, and more importantly — do it!
We often want to do big drastic things to improve our lives and we ignore the simple stuff. But the simple stuff, done consistently, is what leads to the dramatic transformations. So don't brush this off as being too simple, too basic, too easy, or whatever else.
It works, and I can prove it.
Don't miss the FREE spending tracker printable I've got for you! Keep reading to learn more 🙂
Record Your Spending Every Day
One of the essentials to improving your finances is having a clear view of where your money is going. You can easily do this by taking one minute each day to record you spending. I'm not even talking about having a budget right now — simply writing down every time that you spend money.
It's easy to underestimate your spending. When you get in the habit of recording what you spend, you can no longer fool yourself into thinking that you spent less than you actually did. You can see how each little purchase adds up.
Of course, I recommend setting up a budget for yourself at some point, but getting in the habit of recording your spending is the perfect starting point. You'll be able to use your spending trackers to create a realistic budget for yourself once you've been at it for a while. Get instructions on how to create your first budget here.
Here's How I Got Started
I started recording our spending daily about a year and a half ago. I had always created a monthly budget and tried my best to track our spending, but I wasn't that great at keeping up with it.
Inevitably, I'd put off writing down what we'd spent for a couple of days and then I would get overwhelmed by the thought of trying catch up. I would basically give up on the whole system until I could start fresh the next month, which meant we would go over budget in the current month because we had no idea where we were at with our budget!
When we set our goal to become debt free, I tried to think of a daily habit I could develop that would help us accomplish our goal. I decided that if we could stick to our budget each month, it would make a huge difference! And to stick to the budget, I decided that the best thing I could possibly do was record our spending daily, so that we always knew exactly where we were at with our budget.
Our Results
We paid off $19,000 of debt in 10 months, 2-3 months earlier than we though was possible! We have since saved up a 6 month emergency fund and are about to turn our dream of moving across the country into a reality! I honestly credit our results to this tiny one-minute habit!
It really only takes one minute, by the way. I've realized that recording your spending is one of those tasks that you think is going to be much worse than it actually is. In reality, it's simple, easy, and quick! Plus, absolutely anyone can do this, no matter your income or financial situation.
Now, I mentioned that it's best to use this in conjunction with a monthly budget, but don't let that stop you. You can start recording your spending today.
Just the simple act of recording your spending even if you don't have a budget at all may impact your spending in positive ways. When you realize that you have to write down each dollar that you spend, you may stop yourself from making some purchases.
How to Do It
You can literally pull out a blank piece of paper right now and get started. If you're feeling fancy, you could make up a simple spreadsheet on your computer. Or, to make it even easier, you could print out the free spending tracker printable I've created for you! Enter your info in the form below and I'll send it right over for you!
[convertkit form=980628]
Here's what you're going to write down in your spending tracker printable each time you spend money:
Date
Description: Where you made a purchase.
Account: Did you pay cash, use a credit card or debit card? Where did the money come from?
Category: Give a category to your spending. Was it gas, groceries, clothing, restaurant, or something else?
Amount: How much did you spend?
Balance: If you want to keep track of the money in a certain account or budgeted category, you can subtract your spending from your balance. If you're just recording without worrying about your balance, ignore this section.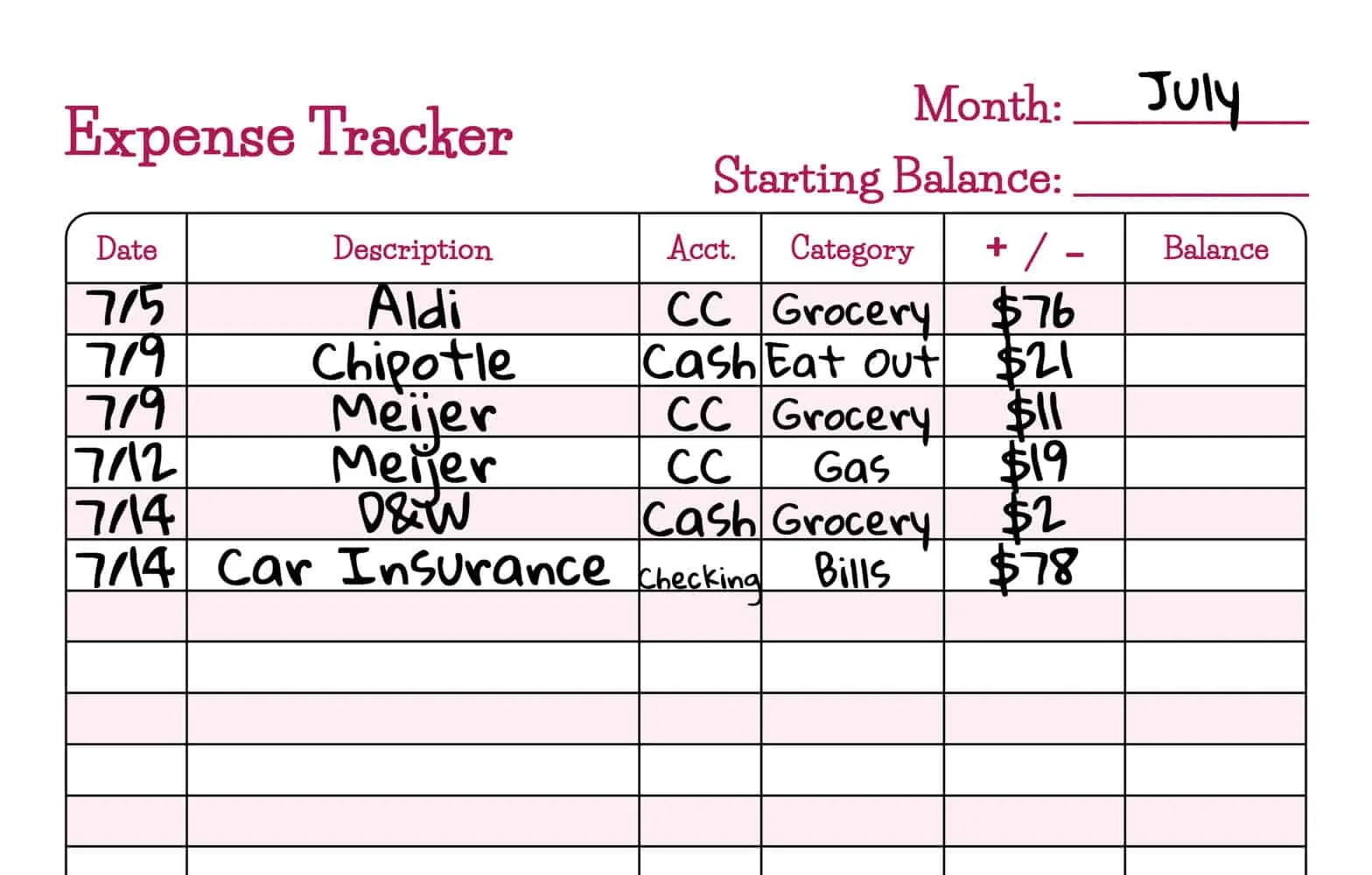 Creating the Habit
I find that the hardest part of creating a new habit is just remembering to do it! So let's come up with some ideas on how you can create this habit. Remember, it will one take a minute to do this if you keep up with it each day. Think of what time of day would be most convenient for you to record what you've spent.
You could make it a part of your bedtime routine if you already have a solid one. Before you get into bed, do your recording. You could also do this as part of a morning routine, but this isn't ideal since you may be rushed in the morning or forget what you spent money on by the next day.
Any easy method is to set a daily alarm on your phone for a time when you're usually free. Every day when the alarm goes off, you'll remember it's time to record your spending!
Will you do it? Will you commit to spending just one minute per day on improving your life?
I know it may seem like it can't make that big of a difference, but the last year and a half of my life are proof that it absolutely can make a huge difference in your financial situation!
Download the spending tracker printable, or create your own, and start recording your spending.
Don't Miss These Helpful Budgeting Posts: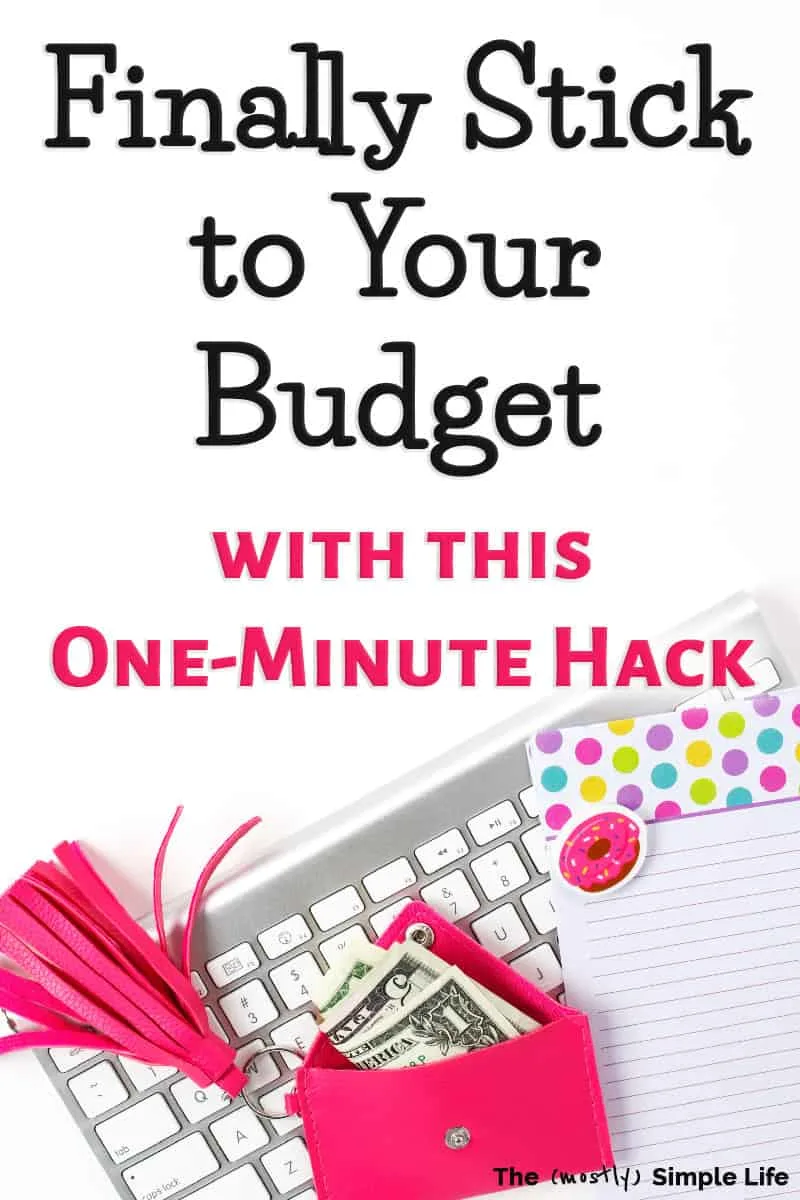 If you find this page helpful, please pin or share it :)