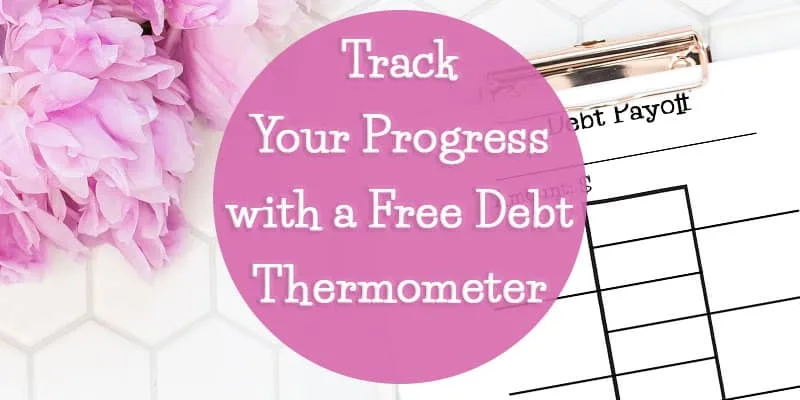 Here's what I think: If you want to be successful in reaching your financial goals, you need to be able to see your progress!
A lot of people skip creating a visual for their financial progress, and it makes me sad. I know they're missing out on the amazing benefits that will help them succeed. Don't be that person.
To make sure that you do it up right, I'll be sharing a bunch of fun ideas for visualizing your progress on your financial goals, whether it's a debt payoff or savings goal. Plus, I've got a free printable for you too! Woo!
[convertkit form=834534]
Why Bother to Create a Visual?
You may feel like you're already putting in the effort to save more or pay off debt, so why bother to create some sort of visual? Let's talk about the fabulous benefits of being able to see your progress.
It makes your goal real. You may have toyed with the idea of paying off debt, but when you've got something to look at every day that shows where you're at, everything becomes clear. It's not just that you're doing the best you can here or there anymore. You have a clearly stated goal.
It keeps you focused on your goal. When we were paying off our debt last year, I looked forward to being able to color in our debt thermometer. I was so focused on being able to color in as much as possible that I thought twice about random purchases like a new sweater or going out to eat again.
It keeps you motivated. There are times when you're working towards any goal that you get discouraged and feel like you're not making any progress. Having a visual allows you to see how far you've come. When you're discouraged, you can see that you're not where you were and things are in fact getting better. This gives motivation to keep going.
It adds excitement! Let's face it, not everyone gets all that excited about personal finance, but seeing your progress grow each month and looking forward to coloring in more of your debt thermometer is crazy-exciting. Make the process fun!
It keeps everyone on the same page. You may be the main person in your family handling the finances, but having a visual that everyone can see helps the whole family understand what the financial priority is and the progress that's being made.
It's more tangible. Saving money and paying off debt is often just about transferring money online from one place to another. Sure, your balance changes, but it doesn't always feel tangible, especially since you need to log in to your accounts to see anything. Having a visual that you can see every single day allows you to feel your progress in a different kind of way than simply looking at account balances.
Are you convinced yet? I hope so! I really can't state how motivating I have found our visuals to be as we have worked at becoming debt free and now are working on a new savings goal. So how can you go about creating a visual? You know I have some ideas for you!
Don't Miss These Related Posts:
Savings & Debt Thermometers
For every savings and debt payoff goal we've worked toward, I've used a thermometer printable! I remember making my first one four years ago when we started saving for Austin to be able to finish his college degree without any debt. I would look at our progress daily and jump up and down with excitement (no lies)!
As we paid off all of our debt (except the mortgage) last year, I had a thermometer for each of our individual debts as well as one where I tracked the total. I kept them taped to the wall in my office and I looked forward to coloring them in each month.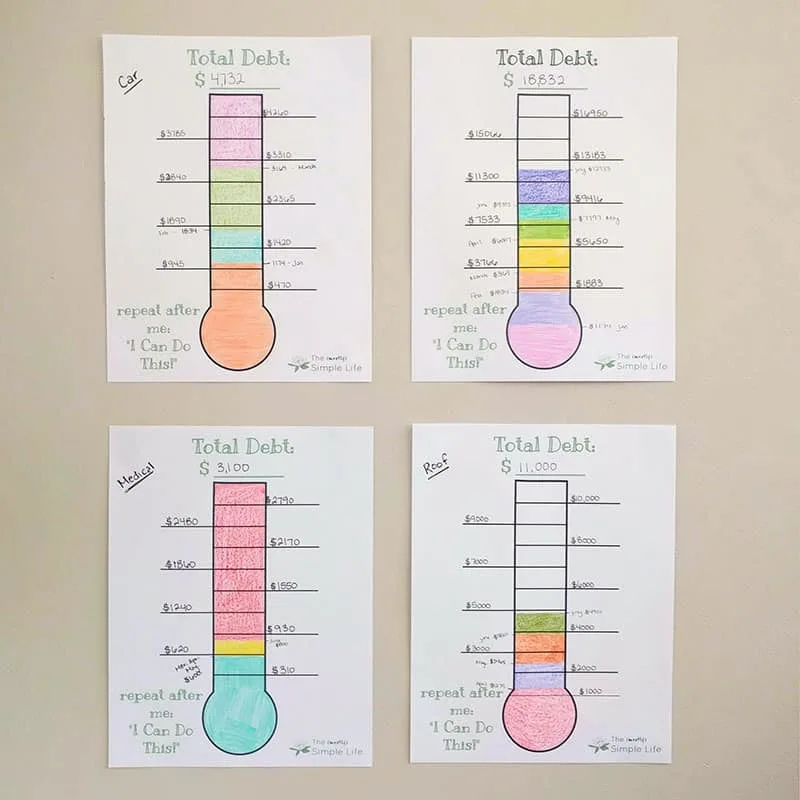 Right now, we're saving up a six-month emergency fund and even though there have been months with less progress than I had hoped for, I am so motivated when I see how far we've come with this giant goal.
I've got savings and debt thermometer free printables for you to use as you track your goals!! Just enter your info in the form below and I'll send them right over and you can start seeing your progress!
[convertkit form=834534]
Bullet Journal
As we paid off our debt last year, I tracked our progress with debt thermometer printables and a bullet journal. I had a page with all of our debts listed and each box represented $100 that we owed. As we paid off our debts, I would put an X through each box.
This was a fun was to track our progress, though I didn't love that it was stashed away in a book where I couldn't see it all the time. If you want to be a bit more discreet about your goals though, this is a perfect option.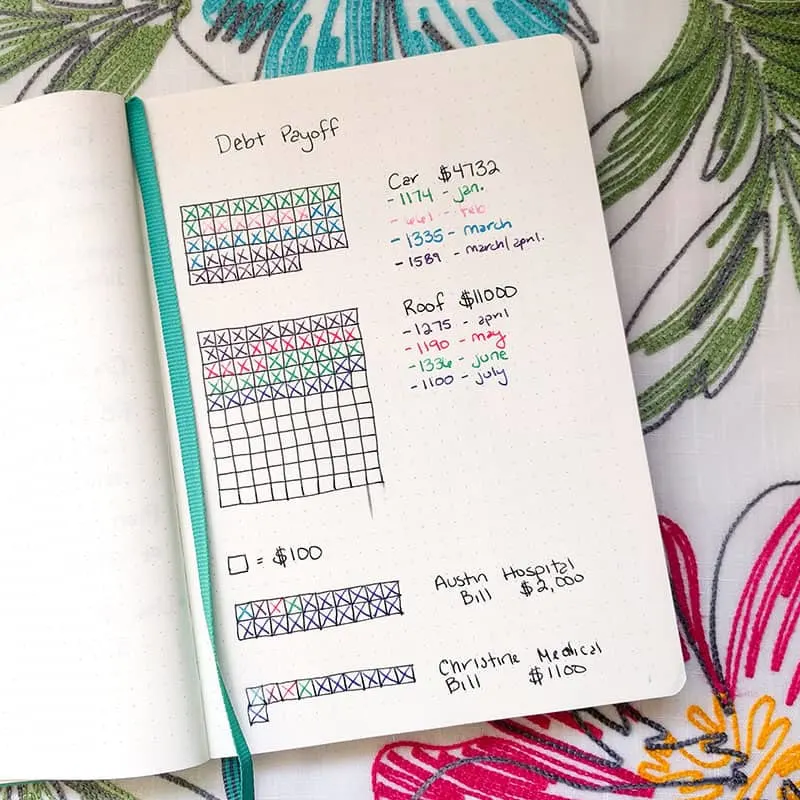 Paper Chain
I have not done this, but I love the idea! Who doesn't enjoy a paper chain? You just decide how much each chain link is worth and then rip them off as you pay down your debt.
So if you had $500 in debt, you could decide that each chain link is worth $20. Your paper chain would be 25 links long and if you paid off $80 one month, you'd rip off 4 links.
The only part I don't love about this method is that you don't necessarily get a feel for how far you've come. Maybe instead of throwing away each chain link after they're paid off, you could save them so that you can see your progress.
Marble Jars
To track your progress this way, you need two jars and a bunch of marbles (all of which you can probably snag at the dollar store, BTW). One jar represents how much you owe and the other jar represents how much you've paid off. You decide how much a single marble is worth and put all of the marbles needed to represent your debt in the first jar. As you pay off debt, you'll transfer marbles into the "paid off jar".
If you have $10,000 in debt, each marble could be worth $100. You'll put 100 marbles into your "debt owed jar" and then if you paid off $500 one month, you'd move 5 marbles into the "paid off jar".
I like that this method lets you see how far you've come and how far you have to go. Plus, these jars could be set out as pretty decorations in your house (maybe put a label on the bottom of each jar so that you don't get them mixed up). You'll be able to see your progress without having everyone that comes over see your financial goals. It's a little sneaky!
Wrapping It Up
Creating a way to see our progress when we're working toward a financial goal has been an important tool to keep us motivated, focused, and excited! Part of our success in becoming debt free and reaching other savings goals has been because of my thermometer charts and bullet journaling.
Whatever financial goals you're working on, I hope you'll take a few minutes today to create a chart, paper chain, bullet journal page, or something that makes your goal visual! I know that you will quickly see the benefits of it and it will impact your success!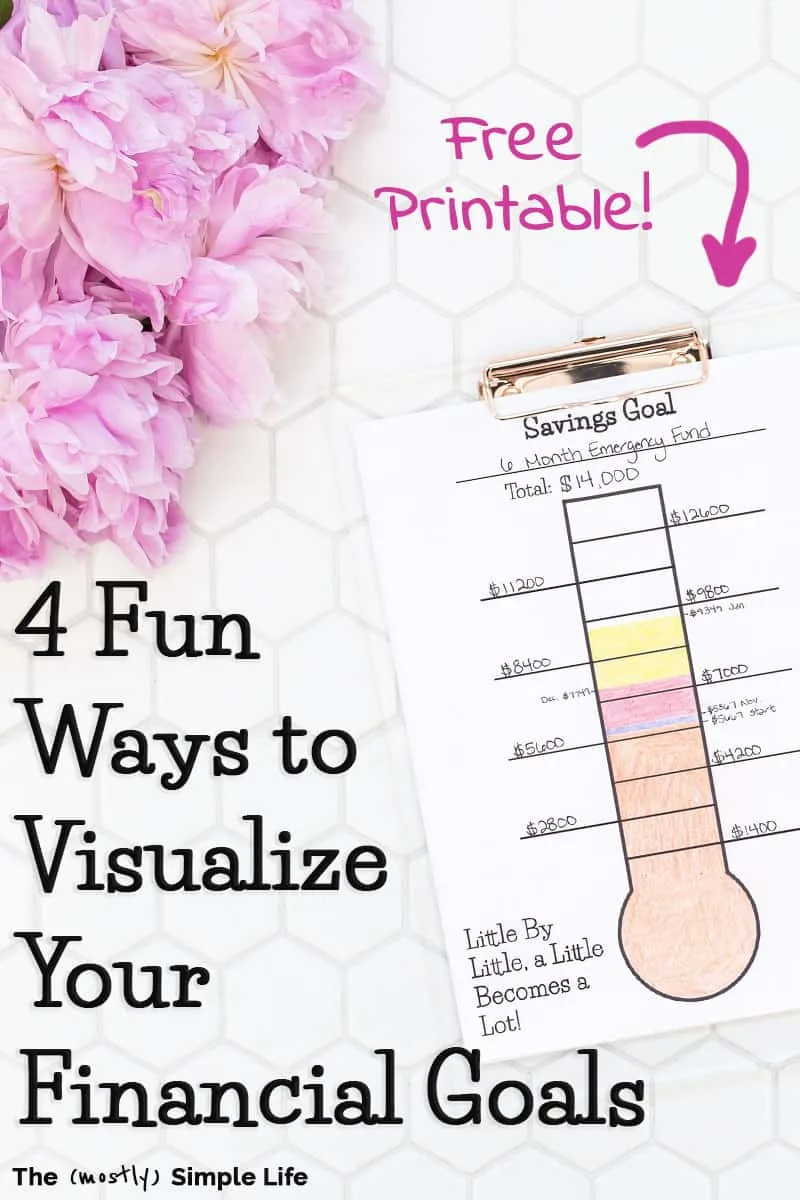 If you find this page helpful, please pin or share it :)