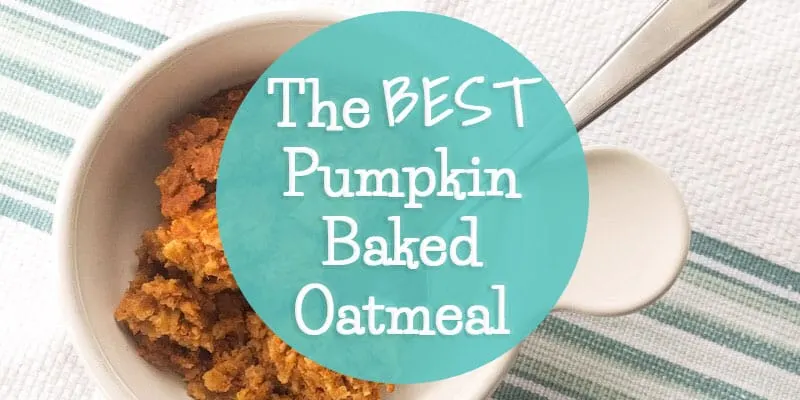 I post our weekly meal plan on Instagram each week (follow me here), which almost always leads to one question: What is your baked oatmeal recipe?
Throughout the fall and winter, we have been having baked oatmeal for breakfast every single day and I could not love it more! Not only is it delicious, filling, and healthy, but it literally only takes 30 seconds to warm up in the microwave each morning. So fast and easy!
The pumpkin flavor is not super strong. It's got cinnamon and slight pumpkin flavor and makes me feel like I'm eating something indulgent for breakfast. Also, it's not a very "pretty" food, so my pics may not look super appetizing. Trust me when I tell you that you must try it!
So after all of the questions, I'm finally divulging my recipe!
Sidenote: Don't forget to grab my free weekly meal plan printable. I use this printable every week to plan our meals!

[convertkit form=830245]
The Best Pumpkin Baked Oatmeal Recipe
I originally used a baked oatmeal recipe from the Budget Bytes cookbook but have made some changes for flavor and so that it contains much less sugar. Read more about our low sugar diet here.
It makes about eight servings. I often double the recipe (as you'll see in the pictures) so that we have breakfast for the entire week ready to go!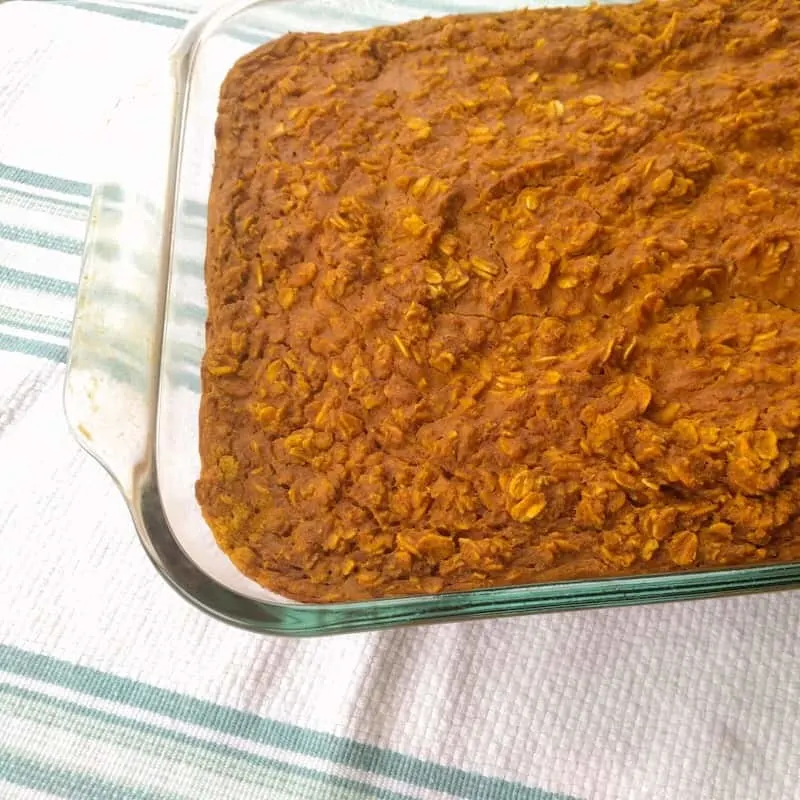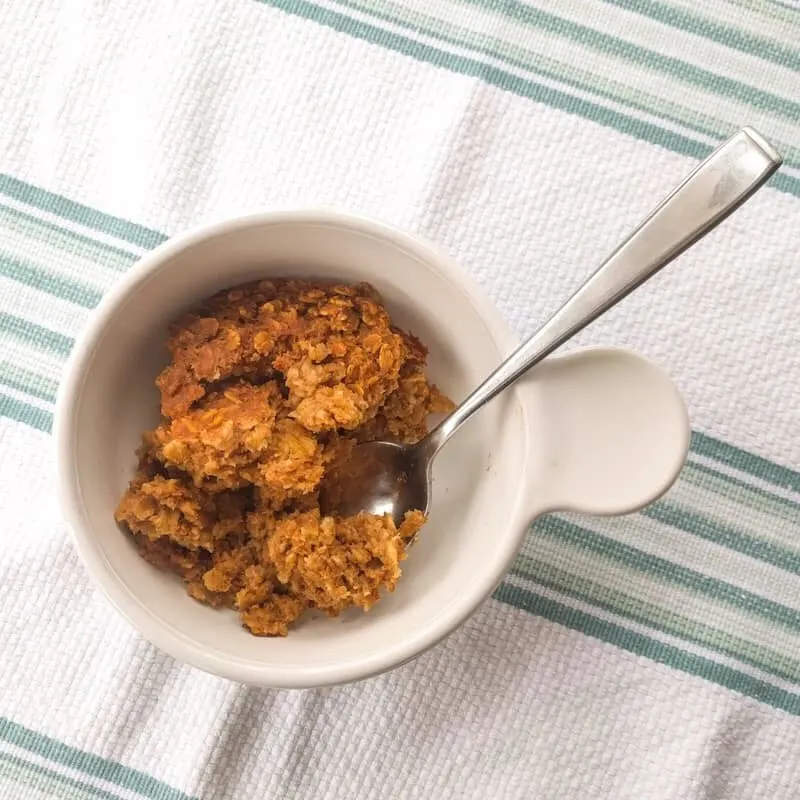 Kitchen Supplies
You don't need anything special to make these, but here are the supplies I use:
8×8 Pyrex Baking Dish: Having the matching lid makes storing it in the fridge nice and easy. To double the recipe, I use a 9×13 Pyrex.
Kitchenaid Stand Mixer: It's not necessary, but it sure makes almost every recipe I make a little easier! I got my mixer as a wedding gift and have been completely happy with it (though I wish it were a different color
).
Ingredients
1 15oz can of Pumpkin Puree (not pumpkin pie filling)
2 Eggs
1 Tbsp Brown Sugar (if you're not used to eating low sugar, you can double or triple this)
½ tsp Salt
1 Tbsp Ground Cinnamon
¼ – ½ tsp Ground Cloves
1 tsp Baking Powder
1½ cups Milk
2½ cups Old-Fashioned Rolled Oats
½ cup Chopped Pecans (optional, but yummy)
Instructions
Preheat oven to 375°.
Spray your pan with nonstick cooking spray.
Combine pumpkin, eggs, brown sugar, salt, cinnamon, cloves, baking powder, and pecans in a large bowl or stand mixer until smooth.
Pour in the milk and stir or whisk until smooth again.
Add in the oats and stir until well-combined.
Pour the baked oatmeal mixture into your sprayed pan. Bake for 45 minutes.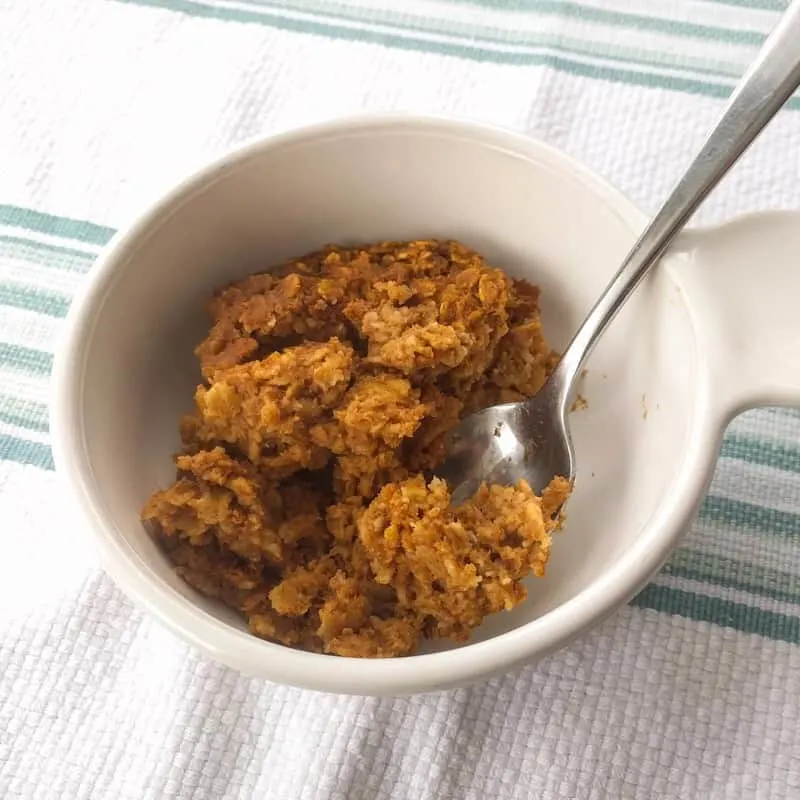 And that's it! Mix it all up. Dump it in the pan. Bake.
I usually mix this up and put in the oven before I get dinner started. By the time we're done eating dinner, I can take it out of the oven, let it cool off, and stash it in the refrigerator for breakfast the next morning.
Each morning I scoop a serving into each bowl and microwave it for 30 seconds. It makes the easiest and fastest breakfast for us!
For me, this baked oatmeal recipe meets all possible food requirements:
Delicious

Filling

Healthy

Easy

Fast (at least fast to warm up in the morning after I've already made it)
If you give this recipe a try, I'd love to know what you think!
Don't Miss These: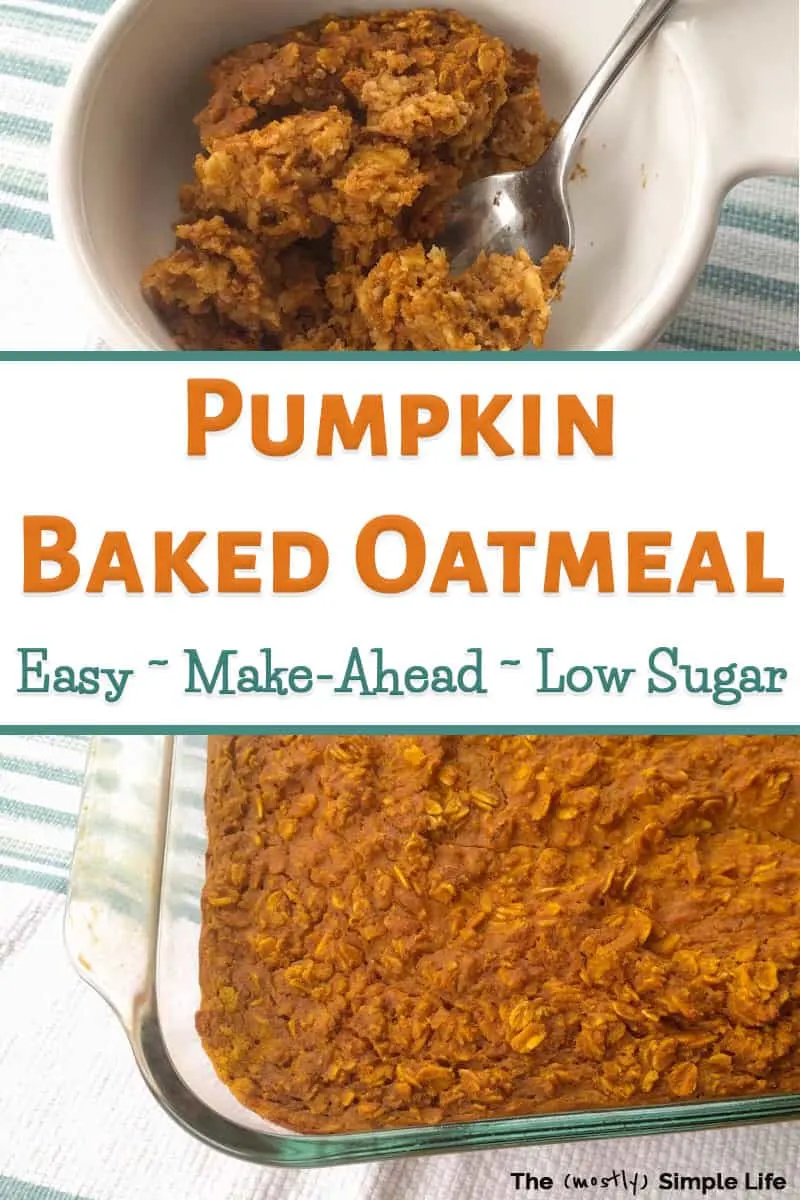 If you find this page helpful, please pin or share it :)