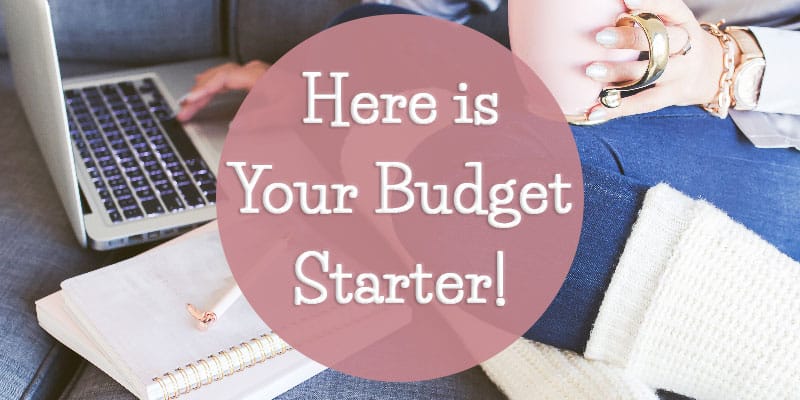 Creating your first budget can be overwhelming! It's tough to know how much you should be spending or where to even start.
Today, I want to give you a starting budget. I did some research on the recommended percentages that each category of your spending should take up from your income. We'll break down what that looks like based on a few different income levels.
But here's the number one thing to remember: This is just a start.
Your housing costs may be high because of where you live. Maybe you spend more on medical bills but hardly ever buy new clothes, so your health spending is more but your personal spending is less. No worries!
This is just a jumping off point and then you can adjust the numbers in a way the works for you.
Personally, I like to have a starting point like this so that I can make changes based on my situation. I just need somewhere to start!
Sidenote: Want to improve your financial situation? One of the very best things you can do is track your spending! You can download and print my free spending tracker printable and take action today!

[convertkit form=980628]
Budget Starter Examples
The Percentages
Here are the percentages we'll be using to get our numbers, plus a brief explanation of what that category encompasses.
You'll notice that if you were to use the high range of each category, you'd end up with well over 100%, which of course doesn't work. This is where you'll have to balance things out based on your needs.
You might be on the low end for transportation costs, but on the high end for housing. You get the idea, right?
Giving: 5% This is money you give to charitable causes or your church. It's important to realize that even if you have a super low income, you're mostly likely better off than most of the world. We can do a lot to help others who were not born so lucky.
Saving: 10% This could go to retirement, saving up an emergency fund, or other longer term savings goals.

If you're paying down debt, use the savings percentage to build up a small emergency fund ($1-3k), then use this money for debt payoff, plus any other money you can scrape together.

Food: 10-15% Eating in and eating out.
Utilities: 5-10% Water, gas, and electric. Probably internet too.
Housing: 25-30% This amount should cover homeowners or renters insurance, escrow for taxes, HOA fees and anything else associated with your housing costs.
Transportation: 10% Gas, oil changes, parking, or other commuting costs.
Health: 5-10% This is for all health-related costs not covered by your insurance. You probably have copays and a deductible. Plus, just buying cold medicine and vitamins can get expensive!
Insurance: 10-20% Health insurance, car insurance, and life insurance are the basics.
Recreation: 5-10% This is your money for going out and about and doing fun activities!
Personal Spending: 5-10% Personal spending might include clothes, haircuts, books, or not-completely-necessary fun purchases.
Miscellaneous: 5-10% This is just your buffer for random expenses that might pop up.
Obviously this is a pretty simple budget breakdown. I personally like to have more detailed categories. For example, I separate our grocery spending from our eating out money in our budget. So your categories may look completely different, but they probably all fall under the umbrella of one of these bigger categories.
Don't Miss These Related Budgeting Posts: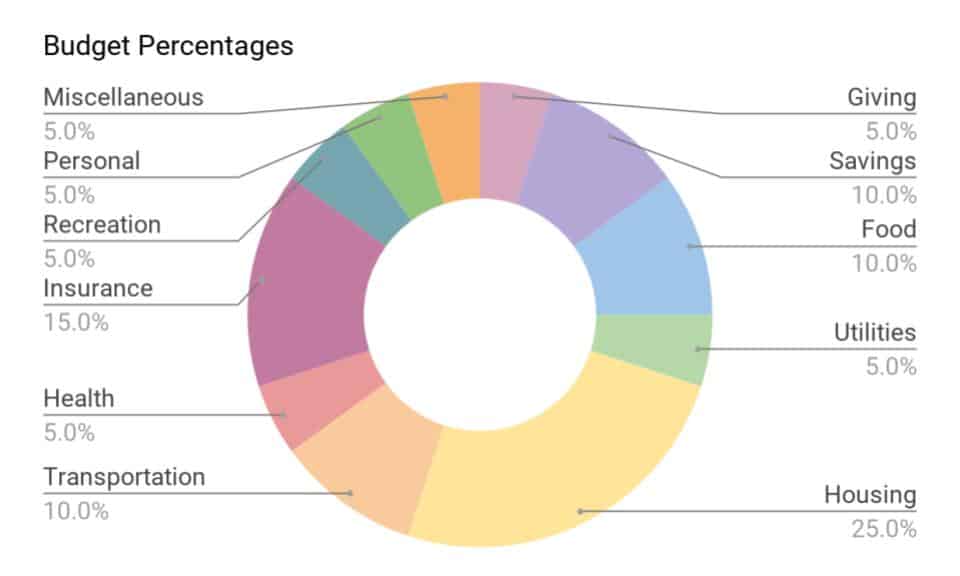 NOTE: For all of these budget starters, the monthly income is based off of what you take home after taxes but before anything else is taken out (like retirement or health insurance).
$2000 Per Month
Giving: $100
Saving: $200
Food: $200-300
Utilities: $100-200
Housing: $500-600
Transportation: $200
Health: $100-200
Insurance: $200-400
Recreation: $100-200
Personal Spending: $100-200
Miscellaneous: $100-200
$3000 Per Month
Giving: $150
Saving: $300
Food: $300-450
Utilities: $150-300
Housing: $750-900
Transportation: $300
Health: $150-300
Insurance: $300-600
Recreation: $150-300
Personal Spending: $150-300
Miscellaneous: $150-300
$4000 Per Month
Giving: $200
Saving: $400
Food: $400-600
Utilities: $200-400
Housing: $1,000-1,200
Transportation: $400
Health: $200-400
Insurance: $400-800
Recreation: $200-400
Personal Spending: $200-400
Miscellaneous: $200-400
$5000 Per Month
Giving: $250
Saving: $500
Food: $500-750
Utilities: $250-500
Housing: $1,250-1,500
Transportation: $500
Health: $250-500
Insurance: $500-$1,000
Recreation: $250-500
Personal Spending: $250-500
Miscellaneous: $250-500
If you're working on your budget, I hope it helps to see these breakdowns. From here, you can adjust how much you allocate to each category based on your unique situation.
The most important thing is simply to live below your means — spend less than you make, otherwise you're going deeper into debt each month which is obviously no good.
⇒ Does your budget follow these percentages pretty closely or does it look vastly different?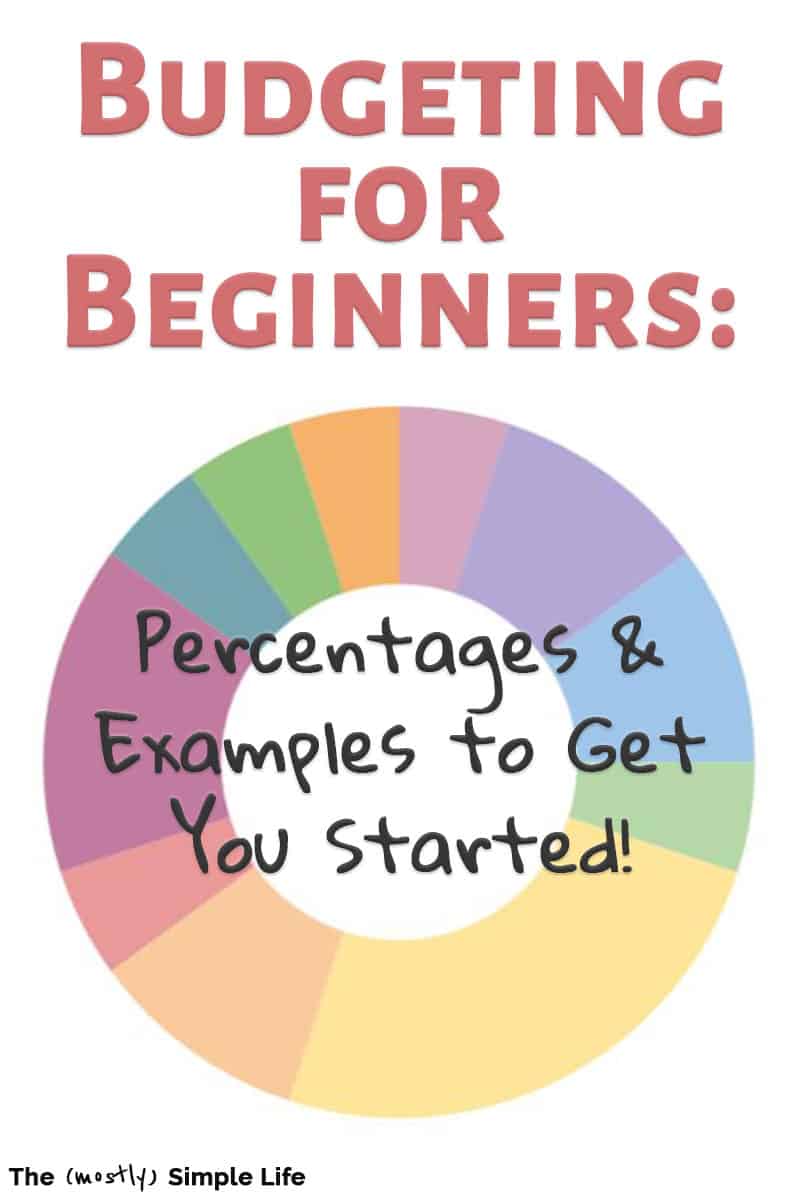 If you find this page helpful, please pin or share it :)