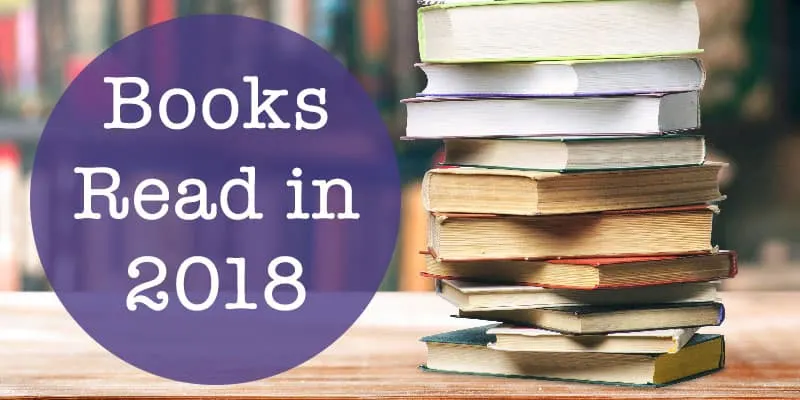 I'll update this page as the year goes on with the books I've read and listened to. I've always leaned toward non-fiction, but I'm trying to go for more of a balance in what I read this year. I'm also trying to read more and spend less time on social media. These two goals are working so nicely together… Less time on Facebook = more time for reading!
(This page includes affiliate links.)
I do most of my reading on my Kindle Paperwhite which I love (LOVE!). I am able to rent ebooks through our library for free, which is great because I don't actually have to go to the library to rent books and there are never any late fees because once your time is up, you don't have access to the book anymore and it is "returned" automatically.
I've noted which books I listened to the audiobook for. I listen to audiobooks everyday while I walk Mozzie, which is a great way to get in some extra "reading". You can get a free audiobook by signing up for a free trial of audible, btw.
Books Read in 2018
This was a re-listen from last year. I enjoy Laura's books and wanted to dive back into this short one. She interviews many busy people and finds out how they used their morning hours to get more done, connect with family, take care of themselves, etc. It's a good reminder to examine your hours and make sure you're making the most of them.

---
Empty Mansions by Bill Dedman & Paul Clark Newell
I have been intrigued by Huguette Clark since I heard of her many years ago. I've read every article I came across about her and this in-depth book about her life was great! Up until her death a few years ago, Huguette was one of the wealthiest women, yet she lived her last decades in a hospital room (even though she was healthy enough to live in one of her multiple mansions). Her life story was extremely interesting, as was the information about her two conflicting wills when she passed away. The authors did extensive research and interviewed everyone they possibly could to get a whole picture of this reclusive woman's life.

---
I'll group these two together since they're both work-related. They were both very short and decently helpful. The first had a very practical look at how to be seen as an expert in your field. The second was about writing good copy. Both had some good advice, though nothing hugely ground-breaking.
---
Again, looking for new mysteries. Looking past the pretty terrible title, I gave it a chance. The first few chapters were great and I was drawn in and then the story never completely developed. It just kind of wandered around until the last few chapters. I don't plan on reading more in the series.

---
Everyone seemed to be talking about this book and I eventually decided to give it ago. The author writes about 20 lies and misconceptions that are holding women back from living joy-filled, productive, awesome lives. She is extremely honest and shares intense stories from her own life. Parts of the book are definitely directed toward moms and since I am not a mama, I skipped those sections. However, I still found the book to be refreshing and encouraging. I highlighted many passages and was happy I read it!

---
This was on everyone's summer reading list and while I don't usually read the newest books out there, the description caught my eye. This book is told from the points of view of two women at three different periods in time. It's about the families with summer houses on an island, plus the working families who live there year-round. Everyone has decades-old secrets that they keep and the whole story keeps you guessing at what really happened one summer. I was hooked from the first few paragraphs! It is extremely well written the story stuck with my for a long time after I was done reading.

---
Ahhh! These are so good! All of them! When my library didn't have the newest one, I even contemplated buying it. Luckily they had it a week later. Anyways, this mystery series is about Amory Ames, set between world wars. She's very wealthy and married to a handsome man of dubious morals. Her personal life is extremely entertaining as are the mysteries she get wrapped up it. I end up giggling and gasping out load while reading these and getting eye rolls from Austin next to me on the couch.
---
In my search for new murder mysteries I gave this one a try. Unfortunately it was a bit too gruesome for my tastes. I read the whole thing and it had good characters and was well-written, but I didn't love the bits of gore added in. Love the style of the cover art though.
---
I was pretty much at a loss for what to read once I finished the Maisie Dobbs series (I'll say it again: so good!). WhatshouldIreadnext.com suggested that I might like the Amelia Peabody series.
The first book in the series was pretty good. It's about a woman from the victorian era who on her travels through Egypt ends up helping out some archeologists and, of course solving a mystery! I am planning to read the next book in the series but I'm not entirely sure how much I liked this book. It is the first book in a series, so I don't want to judge it too much. The first is usually not the best and since there are around 20 books in the series, I'm thinking it gets better. We'll see!
Update: I read the first four books and after each was pretty undecided if I wanted to keep reading. They're fine, but I didn't love any of them and eventually decided to stop going through the series.


---
This is a biography of Allene Tew who was born into a New York pioneering town in the late 1800s. She was married five times, constantly reinvented herself after many tragedies, and ended up living in Europe with the title of princess by the time she died. The book has been translated into English and I found it really interesting! It reads more like a novel than a biography and I loved all of the historical details of the times Allene lived in.


---
I had been struggling with feeling like I didn't have enough time and I never felt relaxed and this book was perfect! It's about making the most of your time and being able to get a lot done and then truly relaxing. It's about being in the moment, how to make good moments last longer, and how to make the good moments extra-memorable. Laura has a super practical approach. Her research is so interesting and I was left with a lot of ideas of small changes I could make to feel less busy.
Update: I also used an audible credit to get the audiobook of this! I wanted to listen to it after reading it because it was just so good! I have struggled with "time perception" all year and this book has helped me feel more relaxed.


---
Big Magic by Elizabeth Gilbert (audiobook)
So many people recommended this book to me and I've gotta tell you, I just barely made it through. It was all very woo-woo about being creative. There were a few good parts, though I can't quite remember what they were… After all of the hype about this book, I just wasn't impressed.


---
You Do You by Sarah Knight (audiobook)
You Do You starts out by saying that there is nothing wrong with you and goes on to encourages you to be yourself! This book was just what I needed to hear when I needed to hear it. I especially like that while it encourages you to do what you want and be yourself, that is only as long as you're not hurting other people and being a jerk. I've seen other books take the approach of "do what you want no matter who you hurt or who gets in the way" which is just rude. If you don't mind the swearing, I found this book extremely uplifting!


---
I loved Gilmore Girls and Lauren Graham's stories of her path to becoming Lorelai as well as everything that came after was so much fun! The audiobook is read by her which totally enhances the experience. If you've been a fan of Gilmore Girls or Parenthood, I think you'll enjoy it immensely.


---
I discovered this series and I absolutely love it! I hauled through all of the books during the summer. The start of the series is set in post-WWI England and Maisie is a psychologist/investigator. There's a bit of historical fiction mixed with mystery, which is totally my sweet spot. And they're not super dark. I can't do dark, creepy, gross stuff. There isn't a single bad book. They're all well written with very different story lines that never feel procedural. Highly recommend!! I do think it is best to read them in order because there are some continuing storylines but I suppose you could read them out of order.
---
This had been on my list for ages. It all about research showing that happiness is what makes people successful, not the other way around. Most people think you need to reach certain success and then you'll be happy when it's the opposite. The research is super interesting and Shawn has a fun and funny tone. Plus, there is practical application that you can use. Listening to it, there were times it felt long or I didn't understand the organization of the book, but it was good overall.


---
I loved The Happiness Project by Gretchen Rubin, and this was a similar project that focused on home. She spends each month for a whole school year doing practical things to make herself and her family happier in their home. I liked The Happiness Project better to be honest, but this was good too.


---
Camp Austen by Ted Scheinman (audiobook)
As a Jane Austen fan, I was curious about this one. It is Ted's "memoir" about getting into the world of Jane Austen superfans while creating a weeklong summer camp where people dress in period costume, dance at a ball, and discuss all that there is to discuss about Austen's books. It was a fun listen, though it lost my attention a few times. If you love Austen's books, then you'll probably enjoy it.


---
As an introvert, this book was so validating for me. It brought back memories of all of the times my "intorvertedness" was seen as wrong or weak and made me see my own strengths. The studies the author references show over and over again how underrated introverts often are. There were a few sections of the book that got a bit dense but as it whole, this book felt almost "healing" to me and I'm so glad I read it. I wish it were required reading for introverts and extroverts so that we could all better understand and appreciate each other.


---
This novel is about a woman who moves to a small town in England to be a teacher right before World War I starts. I wasn't sure about it at first but by the end I was hooked. I honestly can't get this book out of my head.
The author did a lot of historical research and it was interesting to see how small towns probably were affected by the beginning of the war and understanding all of their efforts to support it. I almost stopped reading this book at the beginning and now I'm thinking it's going to be one of favorites for the whole year!


---
Austin and I have been gradually trying to reduce our sugar intake. When you start paying attention to how much sugar is in almost everything we eat or drink, it is shocking. This book was awesome! It well written and researched and lays out an easy to follow plan to cut out added sugar.
My one "beef" with this book is that it's marketed as a "14-day diet, lose weight fast" kind of book, which it really isn't. It's much more about changing your eating habits for life and getting healthier. I'm sure the "lose weight fast" aspect is what gets a lot of people to buy, but it was a major turn-off for me since I don't believe in dieting. Anyway, the book was great!


---
This book has been recommended by other bloggers over and over again. It was fun and easy to read. It's all about how to work less and earn more so that you can enjoy your life and pursue what you want. I was worried the idea of only working 4 hours per week would be a little too "out there", but there were really practical, actionable ideas laid out. I'm not following his exact method, but I learned some productivity tips that are actually helping me earn more and work less!


---
This book had me giggling within the first two pages! It's a 1920s, American high society mystery and was just a ton of fun. It reminded me of Phryne Fisher, but much more comedic and set in America.
Teetotaled: I read book two of this series and loved it just as much as the first one! The plot was a little easier to follow in this one.
---
Greenglass house was a different kind of mystery book. I don't really know how to explain it other than to say I loved it and was in total shock because of a twist at the end. It was a really endearing story.


---
This is Felicia Day's memoir about growing up and her path to becoming an actress. Her stories are hysterical and I love that she never sugar coats her struggles with depression and anxiety. It's fun and inspiring and completely geeky all that the same time.


---
This simple quick-read book reminded me of the importance of eating well, moving more, and sleeping lots. The title doesn't lie, that's what it's all about. Rath explains different studies that have been done in an easy to understand way and ends each short chapter with multiple actionable ideas to help you get healthier. I read this around New Year's and it was the perfect shot of inspiration I needed to start the year.


---
Cait Flanders did a year-long spending ban and chronicled her journey. First, I have to say that I love when the author reads their own audiobook, especially with nonfiction. You really get to hear them tell their story. Second, this was way more than a no-spending books. She goes into her relationship issues, her sobriety, her career, and so many more personal areas of life and you see how they are all intertwined and affecting each other. This book went so much deeper than I was expecting and I really enjoyed it.


---
I'm a big-time Harry Potter geek! I listen to the audiobooks (all 7) every year, usually over the winter. I finished the last one in March this year, so I'm adding them to the list.
I didn't discover Harry Potter until I was an adult and I just love everything about it: great moral themes, strong and smart female characters, and story-telling that keeps you engaged. If you haven't read or listened to the books yet, do it!