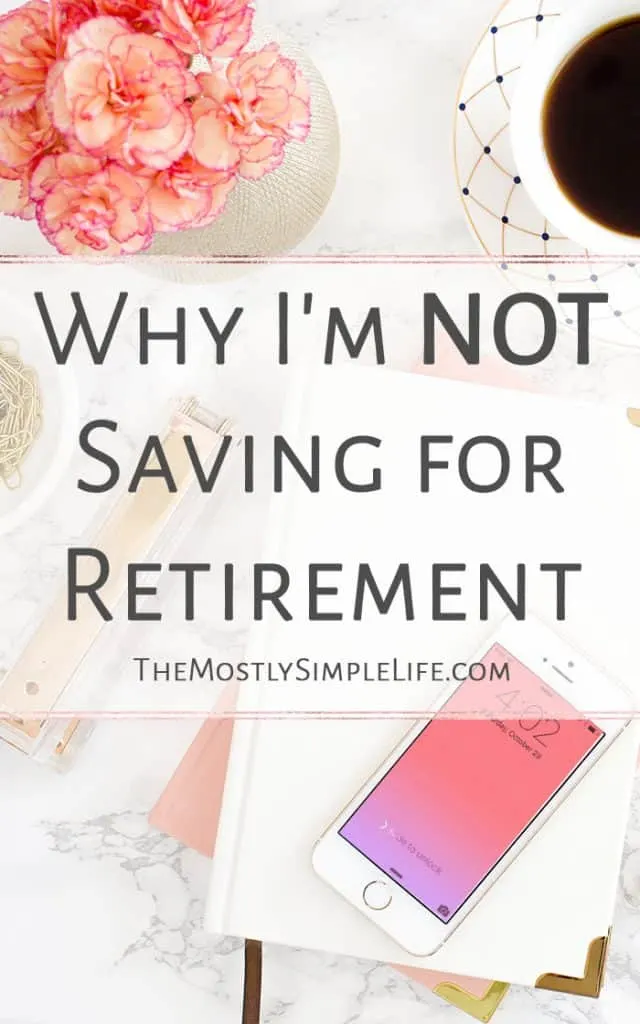 We haven't always saved part of our income for retirement. As someone who blogs a lot about personal finance, this is a pretty rough confession to make.
We have done the best we could here and there, but let's face it, if it wasn't convenient, it didn't always happen.
I already regret not saving for retirement all the time because I know we would be so much better off by now if we had been saving consistently.
I know people in their 50s who haven't ever saved anything for retirement and there are a lot of reasons for this.
So let's look at the excuses often used (by myself sometimes too) for not saving for retirement.
Why I'm Not Saving for Retirement
I don't make enough money
My company doesn't offer a 401K
My company doesn't offer a 401K match so it's not worth it
I don't know how
Retirement is decades away
I'm saving for a house/car/vacation…
Here's the deal:
"Average Americans between the ages of 55 and 64 have accrued about $104,000 in retirement savings. Sound like a lot? Not when you realize that sum would translate into a $310 monthly payment if your money were invested in a lifetime annuity." (source)
And a few more facts:
45% of Americans have saved nothing for retirement, including 40% of Baby Boomers.
38% don't actively save for retirement at all.
20% of Americans tap into their 401(k) assets early, either through a loan or withdrawal.
80% of Americans between the ages of 30 and 54 believe they will not have enough saved for retirement. (source)
Ok, but what about social security?
Well, social security was never supposed to be your sole income in retirement. The average social security benefit is $1,294 a month (source), and who knows what the situation will be in 20-40 years.
I know this is some pretty heavy stuff, but retirement savings isn't just for people with high incomes and fancy wear-a-suit-everyday jobs. We should all be on top of our retirement savings, just like we are all trying to be on top of our monthly budgets.
Related Posts:
Our Actual Budget: How We Live On $1500 Per Month
How & Where to Cut Your Budget
Delayed Gratification = Success
I write a lot about budgeting and saving money. To do those things successfully, we need to practice delayed gratification.
We make sacrifices to stick to our budgets so that we can have better things later, like an emergency fund, a paid-for car, or an awesome vacation.
Once you've experienced the joy of delayed gratification, saving up for something big and then finally getting it, you know it's worth it.
We saved for years to get our emergency fund to where we wanted it. Our emergency fund isn't particularly "fun", but the peace of mind that it gives me has made every sacrifice worth it.
Saving for retirement seems like the "ultimate" delayed gratification. Seriously, it's decades away. It's so hard for me to see the joy and peace of mind I will have when we can retire well because it feels like a lifetime away. Who knows what will happen in my life in the next few decades? But I know that it will be worth it because I know that the sacrifices I've made so far to achieve financial security have been worth it.
Automate It, Yo
At one of Austin's jobs we participated in a 401K. We saved up quite a bit of money over a short period of time because we hardly noticed it was happening. When the money got taken from our check we never had to make the decision to save (except for when we first signed up), it just happened.
It's definitely harder to save for retirement when you don't have an employer offering you a 401K or the incentive of matching funds, but it can still happen automatically.
If you don't have a 401K, it's important to take your retirement saving into your own hand and make it happen!
We've been automatically having money taken out of our bank account each month and placed in an IRA. Once we had the automatic deposit set up, it just became a regular part of our budget, which is absolutely how I recommend you start saving.
We are using Betterment for our investing and I have to say, they really making things as easy as possible for you.
There are many places that offer investing services, and my #1 wish is that you get started somewhere. If you're looking for a place to invest, I think Betterment is worth looking at.
Betterment lets you make automatic deposits so you don't have to think about it or do anything each month.
They help you figure out how much you should be saving based on your goals.
They make rolling over a 401K or IRA super easy.
Betterment has very low fees. We got hit with tons of fees all the time at the last place we had our investments. It made it so almost any money we made in interest was eaten up in fees.
They make suggestions on where to invest your money based on your goals and retirement timeline.
Your portfolio gets rebalanced automatically and for free.


I am really impressed with Betterment and how simple they make things (because you know I love simple!).
I'm trying to think about saving for retirement as a non-negotiable part of our budget. We can't afford to not think about our future.
Even if we can't afford to invest a ton, every little bit helps, right?
We're investing $100/month right now. There have definitely been times when we couldn't afford that, but I wish we had set aside $10 or $20. Every little bit adds up and I think the habit of investing and saving can be important even if it's not much.
Click here if you want more information about Betterment.
Related Posts:
13 Secret to Saving Money on Food
The Huge Financial Benefit of Staying Home
The Big List of FREE Entertainment Ideas
⇒ Do you think about your retirement savings? Do you have your savings set up to happen automatically?
---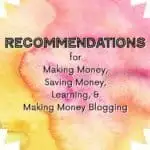 Be sure to click over to my Recommendations Page to see some of the ways I save money, make extra money, learn new skills, and make money with this blog.
If you're interested in starting a blog, click over to read why I think you should do it! Plus there's a tutorial to get you started.
---
[convertkit form=4908806]
If you find this page helpful, please pin or share it :)