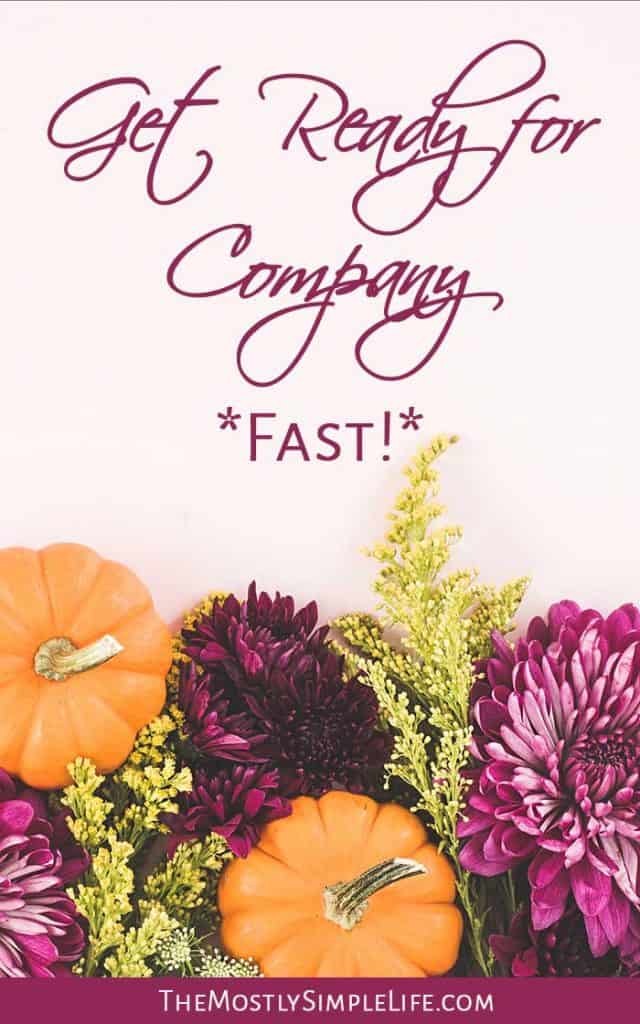 O man, it's practically the middle of November!
Raise your hand if you've got people coming over to your house for any of the holidays happening in the next two months.
Even if you don't have people coming over for an official holiday party, I bet you'll still have friends or family dropping by. It just happens, right?
In general, I try to keep our house picked up and relatively clean all the time, but I still have to do some extra sprucing if we're having company.
So if your house needs a quick sprucing or you're recovering from a full-on "a tornado just came through the living room" situation, here are my steps for getting ready for company – fast.
The Rules
Rule #1: Don't Clean What People Won't See!
If you're quickly getting ready for company to come over, don't waste your time and energy on areas that nobody will be in!
If you finish cleaning and sprucing the main living areas and want to tackle your bedroom or basement storage area, go for it, but it is not important. If no one is spending the night, don't worry about cleaning the shower when you clean the bathroom unless you have time after everything else is ready.
It's more important that the areas where everyone will be hanging out are taken care of. You don't have to offer a full house tour to your guests and if they're extra snoopy and take a peek in your bedroom, o well.
Focus your time and energy where it will make the most difference.
Rule #2: Be Quick
This is not the time for a deep cleaning. Go for a general, all-over spurcing so people feel comfortable.
Don't spend an hour scrubbing your baseboards if it means you won't have time to pick up toys off the floor. No one will notice how shiny your baseboards are, I promise.
It's kind of a quantity over quality thing. You want all of the common areas where your guests will be to be picked up and wiped down but don't worry about every little detail.
Related Posts:
How to Keep Your House Clean Once & for All
The 1 Thing You're Forgetting to Do When You Declutter
How to Create an Energizing Morning Routine that Works for YOU
Step by Step
Follow these in order. They're based on what visitors might notice most, so if you don't have time for everything, you'll have made the most impact.
Step #1: Declutter
It's amazing how "picked-up" can be perceived as "clean". When I'm at someone's house, I will always notice if there is stuff left everywhere before I notice if things are cleaned and sanitized.
Decluttering has a huge impact!
Clean off all seats so people can sit down. Throw laundry into the bedrooms, put away blankets, and make a neat pile of any papers and stash it in a desk drawer if you can. Stash toys in bins or cupboards and clear off flat surfaces.
Step #2: Bathroom
Make sure the bathroom your guests will use is wiped down.
In keeping with the "don't clean what people won't see" rule, don't worry about the bathroom attached your bedroom unless you're going to offer to let people use it.
Here's my bathroom wipe down routine:
Wipe off the counter and faucet
Clean the mirror
Clean the toilet
Make sure there is plenty of toilet paper out or else things get awkward 🙂
Scrub the shower/tub if guests are staying overnight.
Step #3: Kitchen + Trash
At our previous house, we had an open floor plan so all visitors walked through the kitchen. Doing the dishes before anyone came over was always a big priority for me.
If your kitchen is closed off from your living area and there's no meal being served, you could probably skip this in a rush. In a lot of homes the kitchen is where people hang out, so a clean space helps everyone feel comfortable.
I like to do the dishes and wipe down the counters.
It's also good to take the trash out. Firstly, you don't want people to smell it if you've got something stinky in there. Secondly, if you're serving a meal, there always ends up being a lot of trash so it's good to start with an empty can.
Step #4: Floors
I save the floors for last unless they're visibly very dirty. It's the last thing people will notice, so if you run out of time it's ok if it doesn't happen.
If you're short on time you can also just take a dust buster or a wet rag and spot clean a few small areas that need it.
Now, I put these in order or importance, but here's the thing: If something is super dirty, make an exception and start there. Also, enlist help! Divide up tasks between kids, a spouse, or roommates. Everything goes faster with extra help.
Don't worry about perfection. Good enough is good enough. People will remember if they had a good time long before they remember that you had dirty dishes sitting in the sink.
⇒ Do you have guests coming over soon? Do you host any holiday parties?
---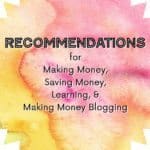 Be sure to click over to my Recommendations Page to see some of the ways I save money, make extra money, learn new skills, and make money with this blog.
If you're interested in starting a blog, click over to read why I think you should do it! Plus there's a tutorial to get you started.
---
101 Ways to Save Money
Skyrocket Your Savings -
Sign up to get my huge list of money saving ideas!