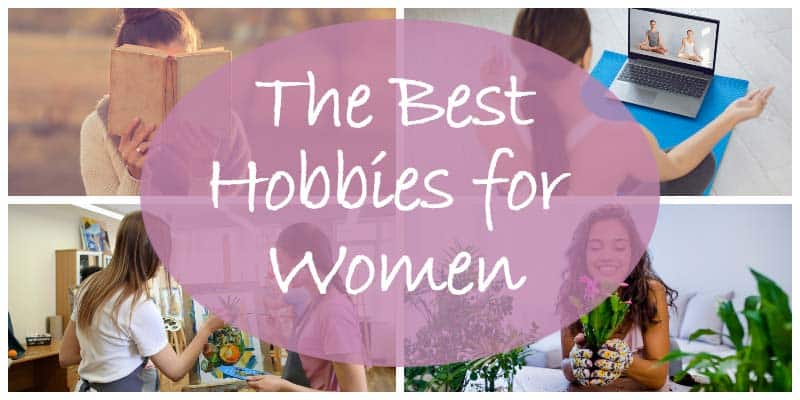 There are a few rituals and hobbies that never fail to make me happy: a nice fresh cup of coffee for breakfast, a quick walk with my dog, completing my 20-minute fitness routine, or picking up an interesting book. Now more than ever with this pandemic, small habits and new hobbies can really make a difference.
Research shows that hobbies can improve our lives and happiness: a study with 1,035 women (Source) showed that leisure activities or hobbies help improve both mental and physical health.
So let's find you a new, fun hobby! A good place to start is simply the list of most popular hobbies for women.
Top 10 Hobbies for Women
These are the hobbies that a lot of women already have. This means there is a good chance that your closest friends are also interested in these activities as well. You could pick up not only a fun hobby, but also a hobby that you can share with your closest friends. Below is a chart showing the top 10 most popular hobbies according to Statistica (I've excluded "travel" from the list due to the pandemic!).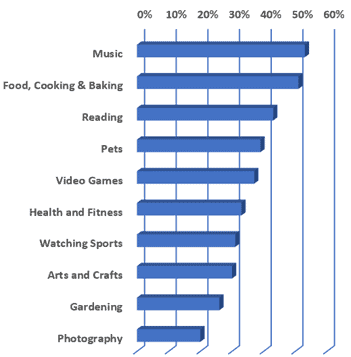 In this post, I will discuss great ideas to get started with most of these hobbies (and plenty of other hobbies too). Music, cooking, gaming, fitness or yoga in particular are great hobbies to stay connected with your best friends when most of us are staying at home. Read on to discover the best hobbies for women during quarantine.
Best Hobbies for Women to Connect During Quarantine
In these unprecedented times, it's particularly important to find opportunities to stay connected and have fun together. So I've listed below ideas for hobbies you can get started with your friends. Don't let the physical distancing or isolation get you down!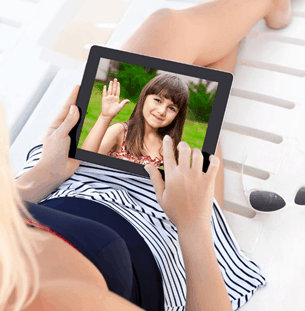 Online Fitness & Yoga
My friends and I came up with Wellness Wednesday and organized a yoga class. With a simple and ambient music, our yoga class becomes a spiritual haven where everyone gets to know each other. On top of yoga classes, I have also joined a 30-day challenge HIIT workout group on Zoom. With the workout, I have become more energized after each session and have become generally more positive and happy. See this article on CNET for workout zoom class ideas.
Online Games with Friends: My favorite online games are Cards Against Humanity and bananagrams. Spend 30 minute everyday playing games together. I also have a friend who started weekly cards games online (including Bridge). You will also be able to catch up and have light hearted conversations. This will help you breeze through lockdown like a champ and perhaps even help you make new friends. I like this list of 21 games to play online with your friends from Oprah's online magazine. One of these games is the Heads Up is a game played on The Ellen DeGeneres Show (Watch the video): one person races against the clock to guess a hidden word based on their friends' clues.
Learning A New Skill Together (Cooking, Cocktail-Making, etc)
Sign up for an online class with your family and friends. Then make a tiktok challenge for you and them to show off how much you've progressed. It could be a cocktail blending class, Indian cooking, knitting, designing or coding. I watched a cooking class with Gordon Ramsay with a friend. We then shared pictures of our new meals. You can also check out Zoom cocktail making classes for just $10, but there are plenty of other (and non-alcoholic!) options online.
Quick Tip: Think about your childhood Interests to discover new hobbies
As a child, you probably had a lot of fun hobbies. Revisiting them as an adult can be a great way to find new hobbies. A friend of mine used to play video games as a teenager, but never did as an adult. She tried one of her childhood games (a more recent version) and was hooked again after not playing it for 15 years!
Best Hobbies to Boost Your Happiness & Reduce Stress
Hobbies can boost your mood and improve mental health. Women who engage in a hobby report lower rates of depression or anxiety, as well as having a higher self-esteem. A study with with 1,035 women (Source) showed that leisure activities or hobbies are correlated with "higher levels of positive psychosocial states and lower levels of depression". Dr. Caroline Messer, an endocrinologist in NY, talks to her patients about managing stress: "It's unbelievably important for their sense of wellbeing" and "anything that takes you away from day-to-day concerns is helpful for lowering stress levels". She mentioned to CNN that when she is practicing her hobbies, she "forgets about the pandemic and work stressors".
So here is my list of favorite hobbies to boost happiness and reduce stress:
Listening to Music: music is the most popular hobby for women, and is an easy hobby to start. Discovering new, fun music is one of my favorite hobbies! I like to discover new artists or songs that I like using an app like Spotify that gives personalized recommendations based on artists or genres you already like. Finding a new artist you love is so rewarding – hours and hours of happiness! Also check out The Best Ways to Discover New Music, According to 14 Artists (vulture.com).
Forest Bathing: The American Heart Association writes that "Spending time in nature can help relieve stress and anxiety, improve your mood, and boost feelings of happiness and wellbeing" (source). Sign me up!
Spending time in nature can have so many benefits that people starting to come up with new terms including "green time" or "forest therapy". The Japenese people have come up with my favorite term: "forest bathing"! (shinrin-yoku: Shinrin means "forest," and yoku means "bath"). If you want to learn more, you can check out this article from Time Magazine on Japanese Forest Bathing. It states that forest bathing "is not exercise, or hiking, or jogging. It is simply being in nature, connecting with it through our senses of sight, hearing, taste, smell and touch."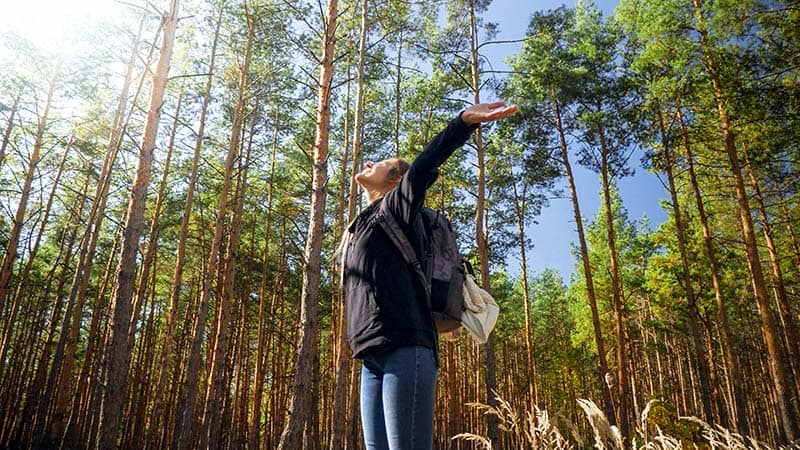 Fitness Hobbies: Exercise 15 Minutes a Day to Get Your Dopamin Hit!
I find that I always get a "happy feeling" after working out, in particular when I'm getting my workout outdoors. Research has shown the benefits of physical activity. For example, a study from Harvard Women's Health pointed that "Running for 15 minutes a day or walking for an hour reduces the risk of major depression". A Roy Morgan Research also showed among the Australian population (Men or women) that the 1.35 million Australian adults who participate regularly in some kind of team sport were noticeably less likely than the average Australian to experience mental health conditions (Source).
To learn how you can stay active and find new fitness hobbies, check out my pages on "How to Keep an Active Lifestyle" and "8 Tips for Living a More Active Lifestyle". There are also hundreds of free fitness or yoga classes on YouTube or Instagram, so open up your YouTube app and get started!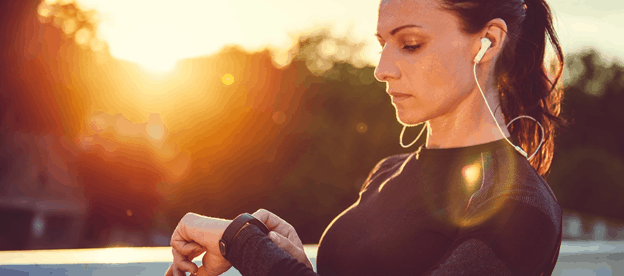 Hiking & Walking: Find a Great Hiking Trail Near You
Walking is one of the simplest, least intimidating, and most effective ways to stay active and boost our health. It's also one of the best ways to do cardio and get fit. To learn more, read my post on the Amazing Benefits of Walking Habits (And How to Walk More). You can discover the best places near you for a quick hike by using this website: www.alltrails.com.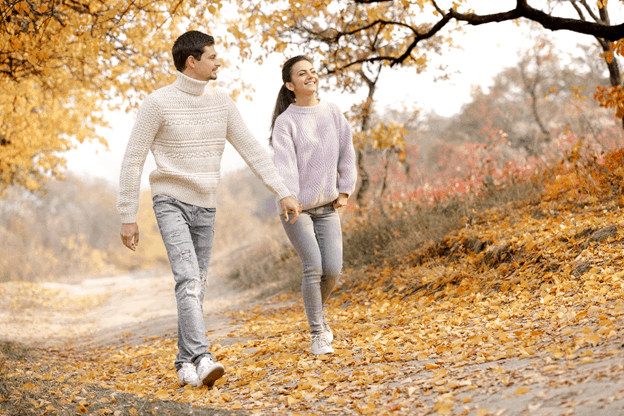 Music & Creative Arts
Engaging in community-based recreation such as music and creative arts or crafts is thought to support recovery from mental health problems (Source). The Journal of Positive Psychology conducted a study in 2013 that discovered that individuals who listened to music that could be classified as happy and upbeat were able to improve their mood and happiness in just a few weeks. That's great news!
You can also learn how to play a new musical instrument, it will take significant practice and commitment, but it can be really fun. ClassCentral offers 300+ Music Courses to learn a new instrument, with many of the courses being free.
Tip: To find a new hobby, simply start trying things out.
You may not know what you will love or hate until you try it out. For example, you may think that creative writing is the perfect way to be creative, only to find out it is too cumbersome. It's ok! To find a new hobby you will love, be willing to try things out… and see what sticks.
Best "Free" or Inexpensive Hobbies for Women
Hobbies don't have to be super expensive to be fun. Most of us are on a budget, so you will be pleased to see this list of fun hobbies that are practically free or cost very little.
Reading: Libraries are free to join, and guess what? There's a whole host of books inside that are just waiting for you to start reading! Reading is honestly a great way to spend a rainy afternoon on the couch or when disconnecting from screens at bedtime. There are so many different book options to choose from, fiction – non-fiction, travel books, learning a new skill, read a book and then watch the movie…. Really the options are endless. It's also easy and free – reading material is accessible everywhere. Some libraries sometimes have sorting functions for books that received specific awards; you can use that to identify books you would like to read.
When I'm in search of a new book, I will often go and check the New York Times best book review page or go and check out the top books sold on Amazon (See the Bestsellers in Women's Litterature). See also my list of the 7 Must-Read Books That Will Change You.
Volunteering: Volunteering not only gives you a meaningful hobby but will benefit others too. You can look for a list of local charity near you that you'd really love to give back to, and simply reach out to ask how you can help. Some companies also provide " Volunteer in Partnership" to pick volunteering options, so check with your employer or a friend's employer.
Origami: Origami is the art of folding paper into fun little objects, and is one of the most budget-friendly hobbies to try. You just need a piece of paper 😊 Watch a few examples on YouTube and try it out to see if that's something you would enjoy.
Creative writing. Skillshare has great free videos to explore on Creative Writing. If anything, even if you don't pick up on this hobby, you will probably enjoy watching these videos and picking up a few interesting ideas: Skillshare videos on creative writing.

Knitting or Sewing: you can purchase yarn and a couple of needles for less than $2. Knitting is also a great way to offer inexpensive, but quality gifts to your friends, for example with a homemade hat or blanket. I recommend https://www.craftsy.com/ for online resources on knitting. I'm not a pro at sewing, but I've made simple sewing projects to give as gifts that have turned out great. Here are some tutorials I've used to make gifts: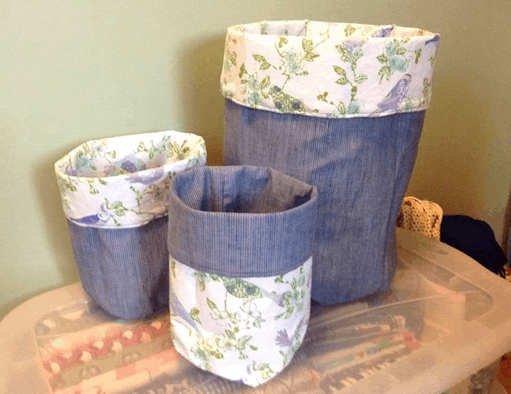 Drawing & Coloring: from sketching to even painting (a slightly larger investment) the options are endless and great fun at the same time. Illustrating requires time and practice, but you can pick really fun projects to draw, from funny cartoons to characters or landscapes. Check out these drawing books for adults on Amazon. Some of the books cost as little as $6.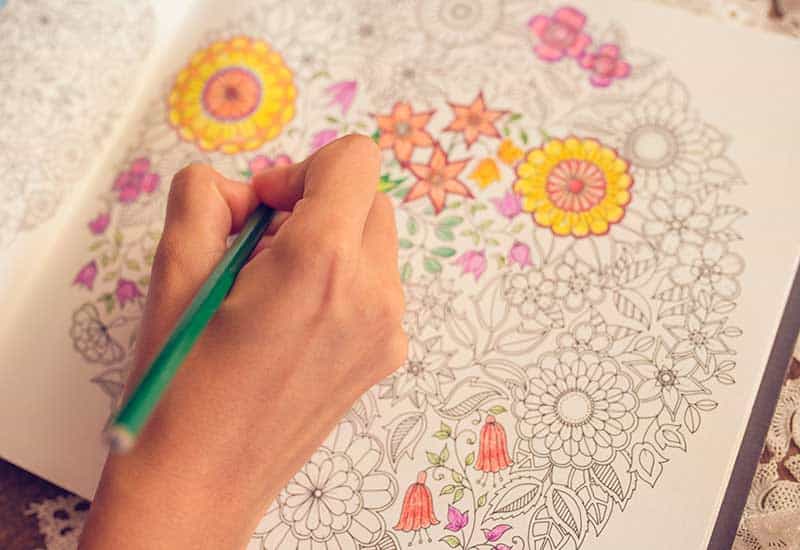 There are a lot of meditation coloring books, or free images online that you can print and color. My favorite book right now is called Secret Garden (Amazon link) by Scottish artist Johanna Basford. There is something about the whimsical themes in nature that is calming. She also has cards you can color and mail to friends or family. Now you are combining your artistic activity with keeping in touch with friends too!
Journaling: Not only does journaling allow you to explore your creative side, but it also helps to get all your emotions sorted out at the end of each day. There are many ways to journal: bullet journaling, scrapbooking, or even just writing your thoughts in a notebook are all helpful ways to make some sense out of your day and explore your feelings. An additional benefit is being able to go back at a later point and read your journal entries, and be able to look back on how far you've come. You don't have to be an artist or a wordsmith to get started, either; you just need a pen and paper.
Other Hobbies Popular with Women
Caring for Houseplants
Becoming a plant mom has been one of the hobbies I have personally taken up since social distancing started. Not only has it been fun and engaging, but double bonus when I grow herbs that I can cook with like basil or cilantro. Cactus plants have been shown to improve air quality so that's another great reason to have a plant-mate.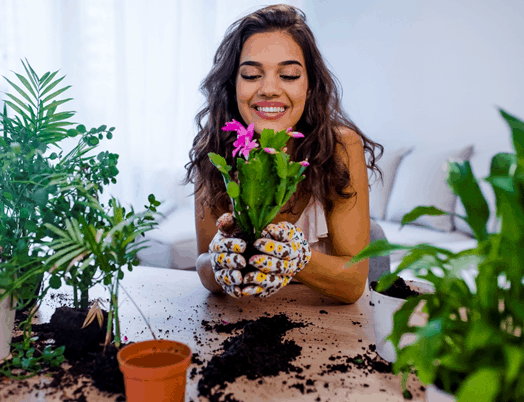 It's easy to make excuses such as "I just don't have a green thumb," but I used to think that way too. In reality, anyone can be a great plant mom with enough research, practice, and attention. Now, I even like to buy dying plants at clearance prices and bring them back! There are so many different types of plants out there; you will be able to find something for you.
Painting
Painting – or drawing, or even graphic design – is a great way to relieve stress and bring some color into your life, so to speak. The best part about painting in particular is that there's no real way to "ruin" it. If you make a mistake, you can simply use your creativity to incorporate that "mistake" into the painting, and no one will even know. You simply cannot fail at painting. There are so many free youtube tutorials to choose from. You can also use google images to get inspiration. I love watercolor painting the trick is to have the correct paper (I like Canson water color paper).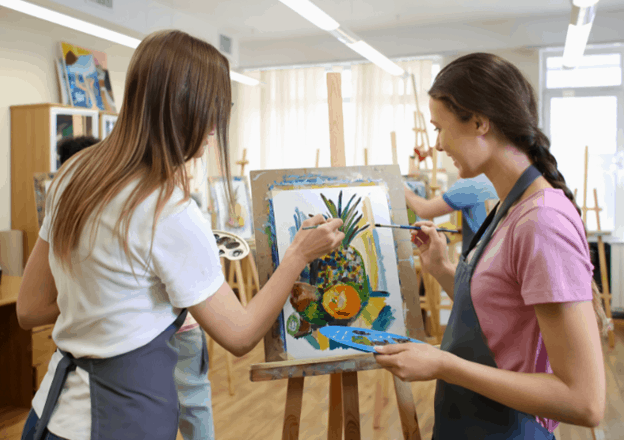 Dancing
Similar to yoga, dancing is another hobby that can help to reduce stress and provide you with a fun workout at the same time. As of today, you can join a multitude of virtual classes that offer lessons among a myriad of different dance styles! Whether you prefer more of a workout, such as Zumba, or would rather learn how to perform more hip-hop style moves, there is a class for you. There are also several free videos online that can teach you a lot of the same dance moves, though you won't be able to participate in the same level of socialization that you would in a class.
Jewelry Making
Jewelry making offers a fun craft that really does have a niche for everyone. When making jewelry, you can choose to specialize in metalwork, leather, beading, and gems, among other things, and you can be as chill or as upscale with it as you like. If you don't enjoy one type of jewelry making, you may enjoy another. Another serious benefit of jewelry making is that you can even turn this hobby into a side hustle and sell your creations.
Conclusion
There are so many potential hobbies you could immerse yourself in, and this list is far from exhaustive! Although COVID has caused a lot of stress and struggle for all of us, it has also opened up our access to so many new skills. Learning new things virtually has never been as accessible as it is right now, and it is so easy to pick up any one of these hobbies – or even something entirely different! So go right now and delve completely into something you've always wanted to do.