In these unprecedented times, it's particularly important to find opportunities to stay connected and have fun together. So I've listed below ideas for hobbies you can get started with your friends. Don't let the physical distancing or isolation get you down!
Online Fitness Classes: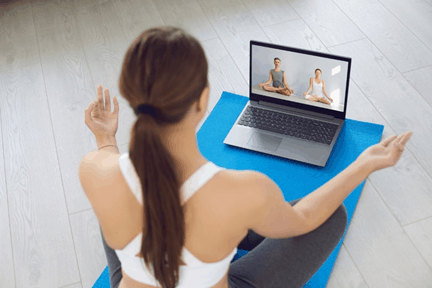 So you can't attend your favorite fitness class in person, it doesn't mean you have to miss out. There are a ton of online fitness classes to keep you busy! The fact that I was able to join a Peloton ride with my friends kept my sanity while improving my health. Here are some great suggestions for paid and free fitness classes.
Online Game Nights:
One of my favorite lockdown activities is a virtual game night with family or friends. I like this list of 21 games to play online with your friends from Oprah's online magazine. Some other suggestions:
Learning A New Skill Together (Cooking, Cocktail-Making, etc)
Sign up for an online class with your family and friends. Then make a tik tok challenge for you and them to show off how much you've progressed. It could be a cocktail blending class, Indian cooking, knitting, designing or coding…Whate
Reading
One of my favorite ways to escape the world for a bit is by getting lost in a good book. A study by the University of Sussex found that reading can reduce stress, lower your heart rate and reduce tension.When I'm in search of a new book, here are my go to places for suggestions.
Declutter your home (link to articles)
When lockdown first started, I looked at it as an opportunity to finally declutter all the areas in my home that I can't seem to get around to. For tips on how to get started check out my page for these helpful articles:
Conclusion
There are so many potential hobbies you could immerse yourself in, and this list of best hobbies for women is far from exhaustive! Although COVID has caused a lot of stress and struggle for all of us, it has also opened up our access to so many new skills.
Learning new things virtually has never been as accessible as it is right now, and it is so easy to pick up any one of these hobbies – or even something entirely different! So go right now and delve completely into something you've always wanted to do!
View More About Hobbies For Women
If you find this page helpful, please pin or share it :)