In these unprecedented times, it's particularly important to find opportunities to stay connected and have fun together. So I've listed below ideas for hobbies you can get started with your friends. Don't let the physical distancing or isolation get you down!
Online Fitness Classes: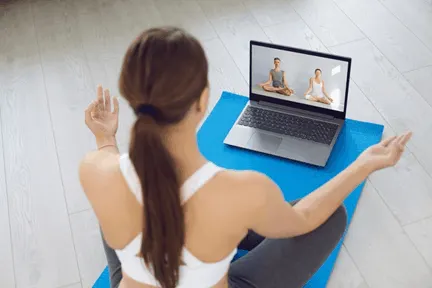 So you can't attend your favorite fitness class in person, it doesn't mean you have to miss out. There are a ton of online fitness classes to keep you busy! The fact that I was able to join a Peloton ride with my friends kept my sanity while improving my health. Here are some great suggestions for paid and free fitness classes.
Peloton- Whether you purchase the Peloton bike or treadmill or are using your own equipment- you get so much more than top quality spin instructors. For 12.99 a month, you can have access to a ton of classes such as strength, yoga, meditation, bootcamp, toning, running, cycling, and more!- Try a Peloton Workout!
Sweat with SELF- if you are looking for some Free fitspiration and a real fitness class vibes check out the Sweat app. Tons of free HIIT, cardio and strength training classes to pick from. Try a SWEAT workout here
Daily burn- if you get bored with your workout routine and like to switch things up then I suggest the Daily Burn App- With its 30-day free trail will give you access to a ton of workouts depending on your mood!
Online Game Nights:
One of my favorite lockdown activities is a virtual game night with family or friends. I like this list of 21 games to play online with your friends from Oprah's online magazine. Some other suggestions:
Online version of Cards Against Humanity (There's an option for Family edition
Jackbox games- Quiplash– for 3-8 players- you can send your friends a code and have them join via video chat.
One of Oprah's games is the Heads Up is a game played on The Ellen DeGeneres Show (Watch the video): one person races against the clock to guess a hidden word based on their friends' clues.
Learning A New Skill Together (Cooking, Cocktail-Making, etc)
Sign up for an online class with your family and friends. Then make a tik tok challenge for you and them to show off how much you've progressed. It could be a cocktail blending class, Indian cooking, knitting, designing or coding…Whate
Check out Cozymeal for tons of virtual cooking and mixology classes! My favorite is the Mai Tai and Appetizer class!
Cooking class: I watched a cooking class with Gordon Ramsay with a friend. We then shared pictures of our new meals. You can also check out Zoom cocktail making classes for just $10, but there are plenty of other (and non-alcoholic!) options online.
Reading
One of my favorite ways to escape the world for a bit is by getting lost in a good book. A study by the University of Sussex found that reading can reduce stress, lower your heart rate and reduce tension.When I'm in search of a new book, here are my go to places for suggestions.
Declutter your home (link to articles)
When lockdown first started, I looked at it as an opportunity to finally declutter all the areas in my home that I can't seem to get around to. For tips on how to get started check out my page for these helpful articles:
Conclusion
There are so many potential hobbies you could immerse yourself in, and this list of best hobbies for women is far from exhaustive! Although COVID has caused a lot of stress and struggle for all of us, it has also opened up our access to so many new skills.
Learning new things virtually has never been as accessible as it is right now, and it is so easy to pick up any one of these hobbies – or even something entirely different! So go right now and delve completely into something you've always wanted to do!
View More About Hobbies For Women
If you find this page helpful, please pin or share it :)