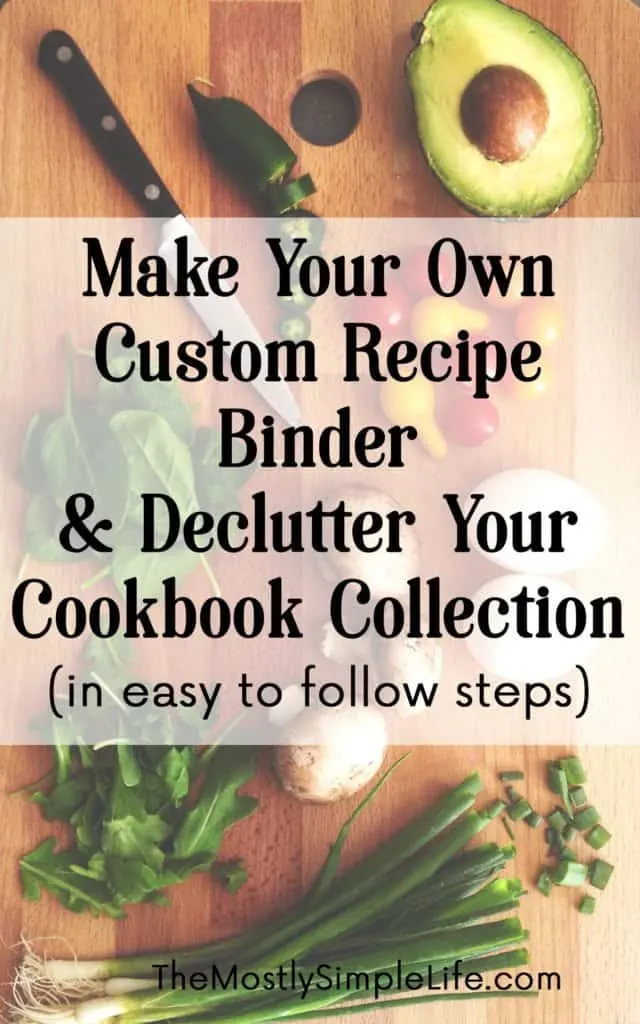 Are you a cookbook person? I feel like some people are and some people aren't.
My mom can't go to a library or bookstore without checking the cookbook section. It might be a genetic thing, because I'm starting to have the same tendency.
I've severely cut back on the number of cookbooks I own. In fact, I currently own exactly five cookbooks, plus my special recipe binder, but we'll get to that in a minute.
And just for fun, let me share with you the five cookbooks that have made the cut:
Betty Crocker Cookbook: The link goes to the new version, but I like my super old 1972 version. It has the best buttercream frosting recipe as well as some great cooking basics.
Fix-It and Forget-It Lightly: I adore my slow cooker and this has 600 (!!!) low-fat, healthy recipes that avoid cream-of-something soup and fake cheese for the most part.
Fix-It and Forget-It Christmas Cookbook: Yes, two of my five cookbooks are for slow cookers. Seriously, 600 more slow cooker recipes! These ones are a bit richer and great for holiday entertaining and winter comfort food.
Taste of Home Comfort Food Diet Cookbook: All of the recipes in this book share the nutritional information. The recipes are pretty simple (no weird ingredients) and yummy. Plus, there are pictures of each recipe, which is a plus for me.
Scrapbook Cookbook: For my wedding, my wonderful mamma made me a special scrapbook. There are no pictures in my scrapbook, just recipes. She included all of my favorite recipes that she made while I was growing up so that I could make them too. Plus, she included sweet notes about family memories associated with the foods. My scrapbook gets used all the time.

Related Posts:
Let's Make Meal Planning Simple
Creating a Simple Home Organization Station
13 Secrets to Saving Money on Food (while still eating healthy)

The #1 Rule for Decluttering Your Cookbooks
There's something that all of the cookbooks that I keep have in common: I use them all often and for multiple different recipes.
My #1 rule for decluttering cookbooks is to never keep a cookbook for just one or two recipes. That's how you end up with a bookshelf full of cookbooks taking up way too much space.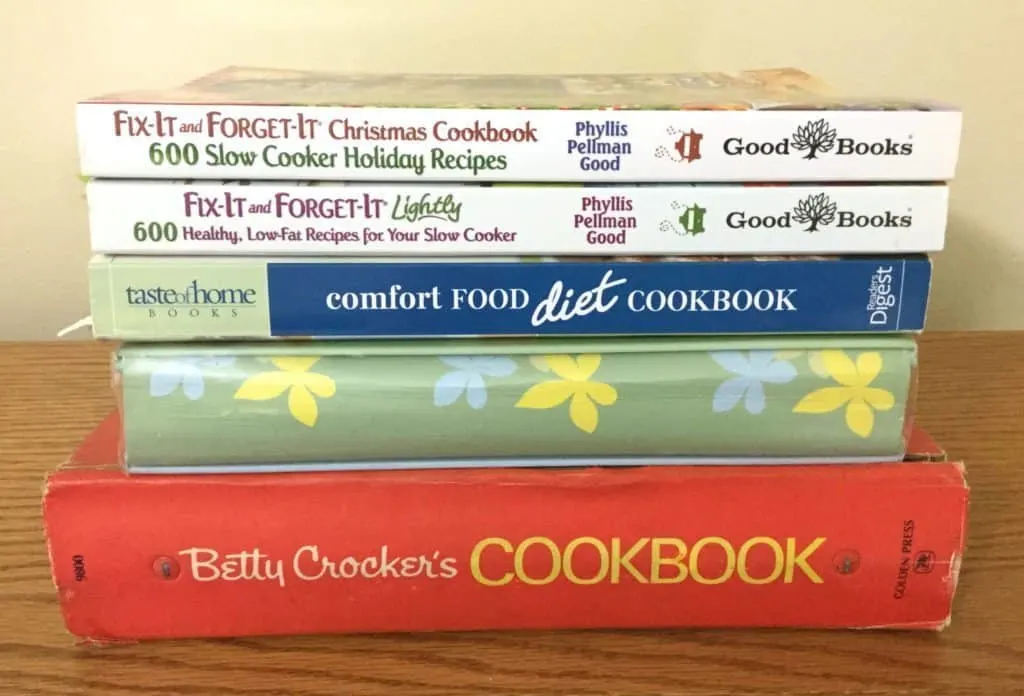 You might say that there are multiple recipes in each book that you want to try, but seriously, how long have you owned that cookbook? If you haven't tried them yet, you probably won't. Or if you really want to someday, I'm sure you can find a very similar recipe online.
I've decluttered my cookbooks by taking those one or two recipes from many different cookbooks and putting them into my own recipe binder.
I have to tell you the benefits of having a recipe binder:
First, you have fewer cookbooks taking up space and creating clutter.
Second, most of your favorite recipes are easy to find in one place.
Third, most cookbooks don't stay open to the page you're using because of the binding. A binder stays open to the page you need all the time.
Fourth, if you're a messy cook like me, you don't have to worry about batter getting on your cookbook. All of the recipes are housed in page protectors that can be wiped clean.
How to Create Your Own Recipe Binder
To create your own recipe binder, you just need two things:
A Binder: I just use a basic 1-inch binder. If you've got a significant amount of recipes to condense, you might need a bigger one. This is the perfect time of year for this project because binders are majorly on sale everywhere.
Plastic Sheet Protectors: Just a basic pack of page protectors will do.
Binder Tab Dividers (optional): If you have a lot of recipes to put in your binder, you might want to organize them by category. Dividers would be handy so that you can easily flip to the section you need, like soups, cookies, etc.
All you have to do once you've got your supplies is make copies of your recipes and slip them in a page protector.
I've got some recipes I've typed up. Sometimes, I make a copy of the pages of the recipe book. I've got pages of magazines I've ripped out. I've also added in recipes cards so that they aren't floating around. When I make a recipe that I found online, I print that off so that I've got a hard copy of the recipe.
For recipe cards or smaller recipes, I tape a few recipes onto a piece of paper and then slide that into a page protector to keep things in order.
It's a simple project, but you will love the results. You can declutter some of your cookbooks and easily find your favorite recipes once you're done.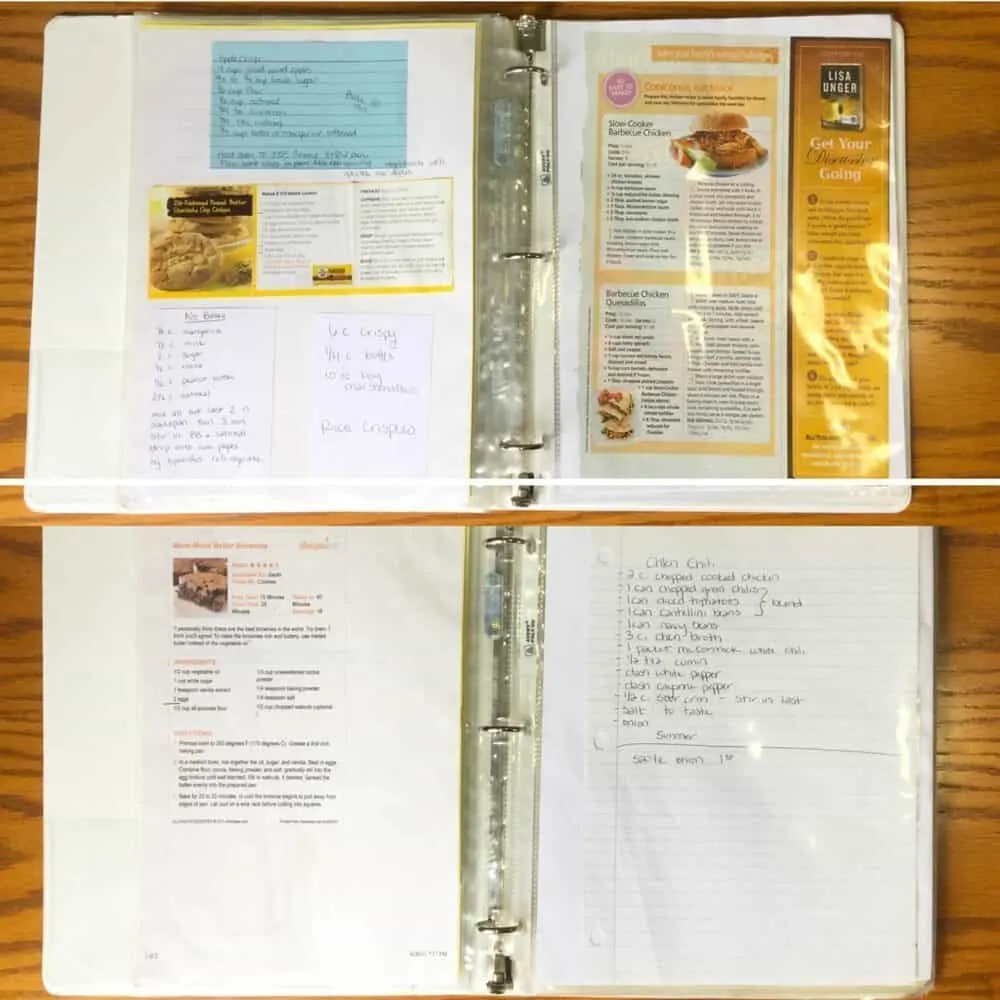 Related Posts:
Don't Organize What You Can Declutter
The One Things You're Forgetting To Do When You Declutter
Questions You Need to Ask to Finally Declutter Your Books
⇒ How many cookbooks do you own? Are you interested in making a recipe binder?
---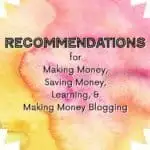 Be sure to click over to my Recommendations Page to see some of the ways I save money, make extra money, learn new skills, and make money with this blog.
If you're interested in starting a blog, click over to read why I think you should do it! Plus there's a tutorial to get you started.
---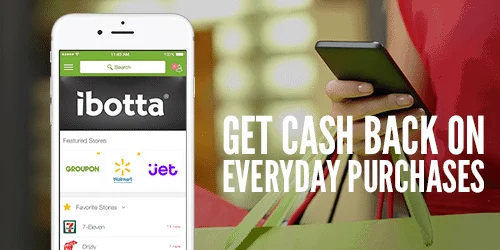 If you find this page helpful, please pin or share it :)