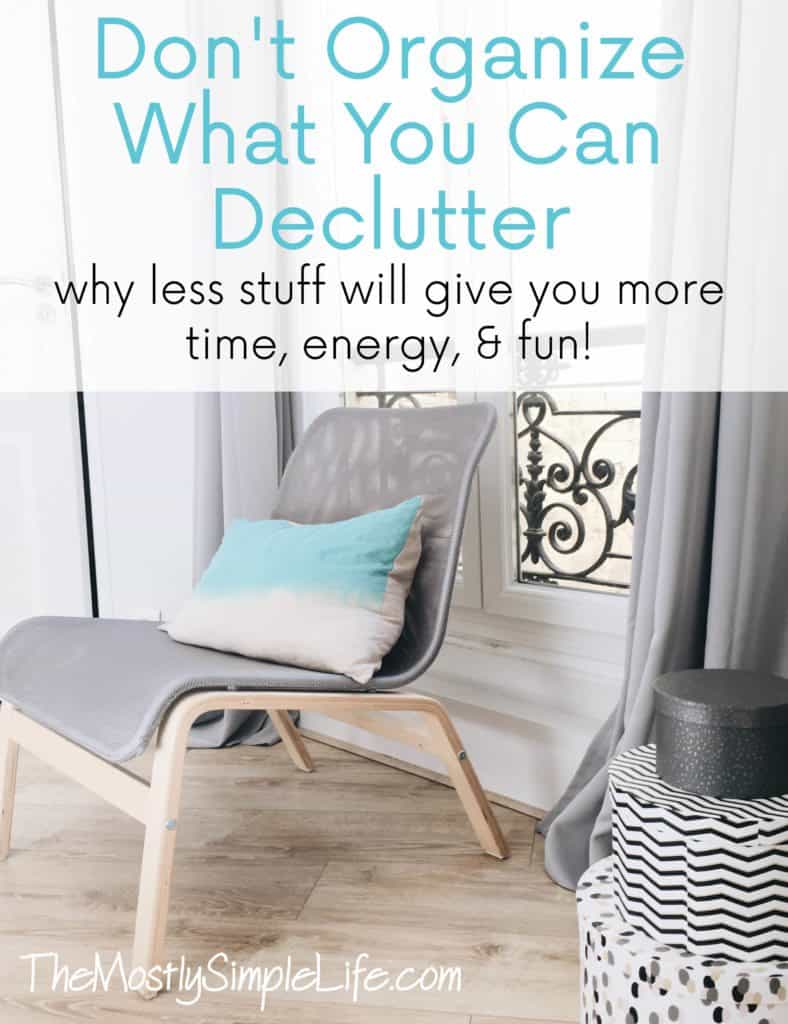 Lately, I feel like there is so much emphasis placed on organizing everything you have so that it looks nice and is stored in an attractive way.
We spend big bucks on baskets and organizational systems to store our stuff in a cute way.
I have to say, I love organizational paraphernalia just as much as the next person (probably more), but I feel like we're spending so much time and money organizing things instead of asking if we really need all of that stuff in the first place.
(This post may contain affiliate links)
Here's my new motto:
Don't Organize What You Can Declutter
Here's why I want to own less stuff:
Less Stuff = Less Cleaning & Less Chores
When you own lots of stuff, you have to take care of it. It takes time to organize it, clean it, dust around it…
I've been going through our house collecting things to sell in a yard sale and I'm amazed at the amount of stuff I've been organizing and storing for years. It's not like it's junky stuff, but it's stuff I don't use or need.
I have a really nice sleeping bag from about 7 years ago that has lived with me in at least four different houses/apartments. It's a really nice sleeping bag, but it hasn't been used since the year I bought it. I went camping a few times that year and haven't gone camping since! It's going in the yard sale this year.
I'm seeing all of the books that we never touch, but I dust around. All of the spare pillows and blankets that I wash a few times a year even though we never use them. All of the shoes that don't go with anything else I own, but I spend time organizing them.
Related Posts:
The One Thing You're Forgetting To Do When You Declutter
Less Stuff = More Time & More Energy
The best part about owning less stuff is that you free up more time to do things that matter to you!
When you don't have to spend extra time cleaning and organizing, you gain time to spend with family and friends. You gain time and energy for hobbies and fun stuff!
I'm not saying that we should all strive to own as little as possible. I just think that we all own far more than we need or even use.
I try really hard to not let extra stuff into our home, and I still am finding so much that I can get rid of. If we let go of those extras, we make more room in our lives for what matters.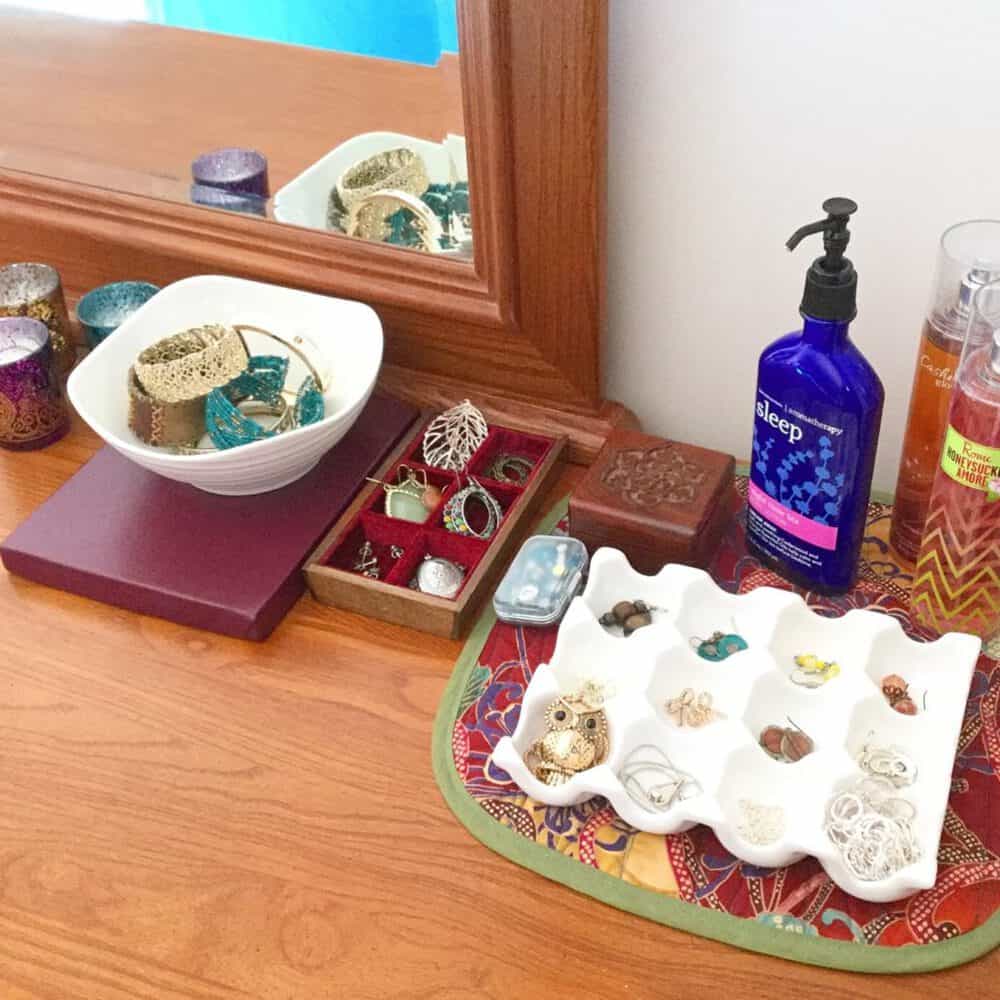 I like to have what I own looking neat and organized. I like attractive organizational solutions. But before I go spend money on baskets or shelves, I'm trying to see if maybe that stuff doesn't need to be organized, it just needs to be decluttered.
I'd love for you to follow me on Facebook, Pinterest, Instagram(if you like pictures of adorable dogs and food), and/or Twitter.
You can also Subscribe Via Email in the right-hand column to make sure you don't miss anything.
⇒ What do you think of my new motto? Do you have any yard sale tips for me?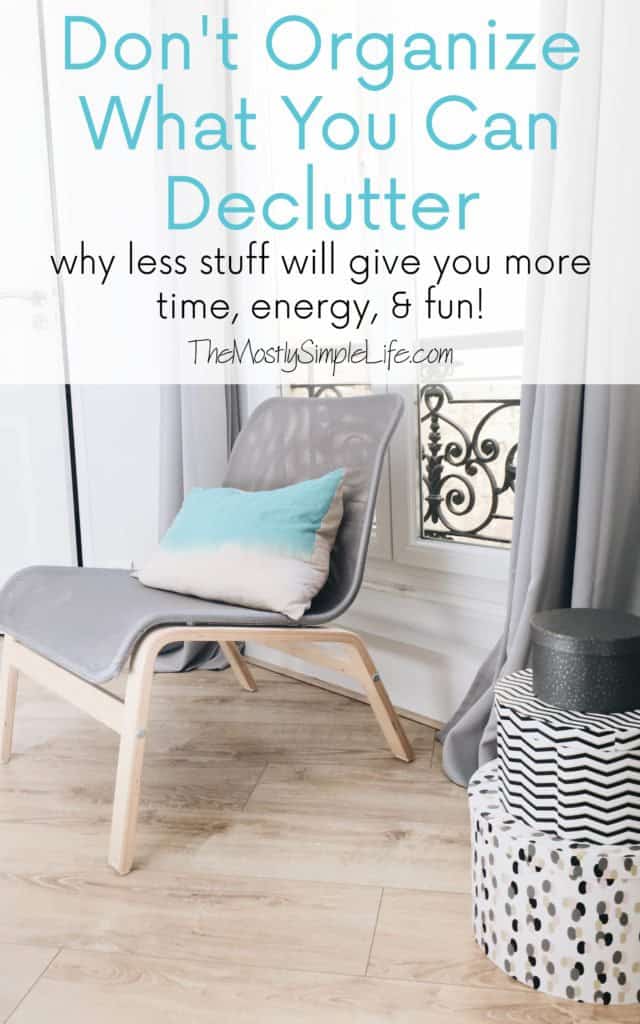 If you find this page helpful, please pin or share it :)