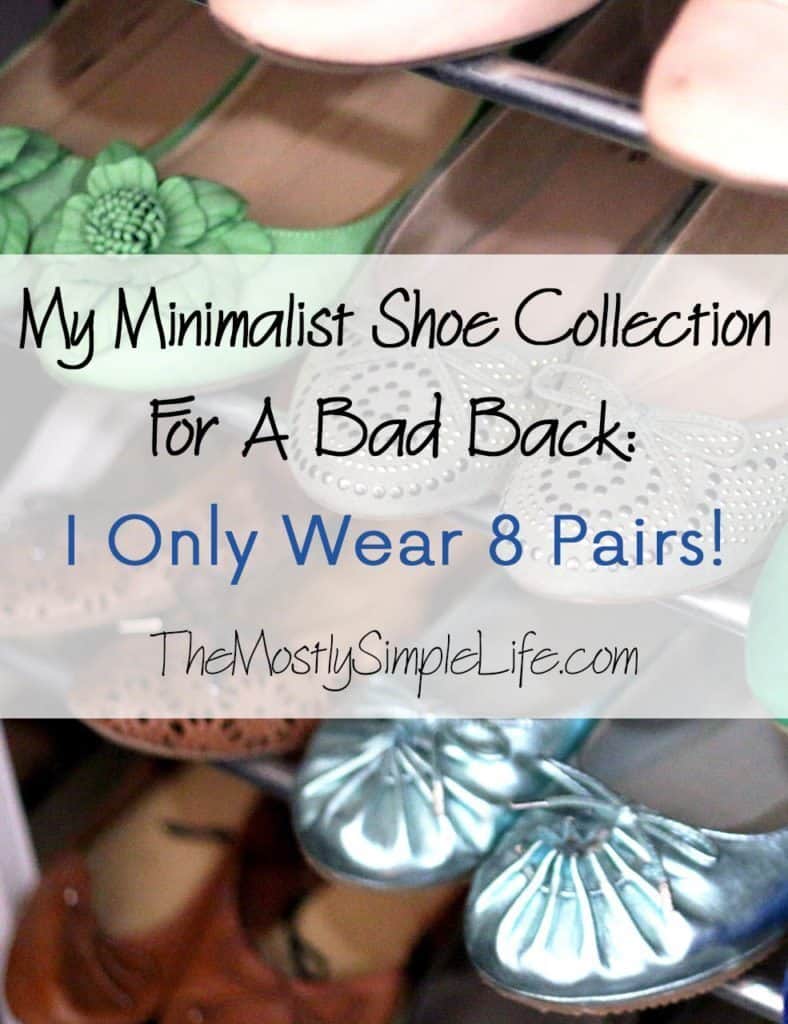 I had back surgery when I was 21. I had a very painful (to put it mildly) bulging disc that was running into a major nerve. Not great.
Because of my back problems, I have to wear good quality shoes with arch support to keep my back from hurting.
It's actually been something that has made me a little self-conscious over the years. When all of my friends were buying cute little flats from Target and $2 flip flops from Old Navy, I had to spend tons of money on good quality, (usually)chunky shoes. Many cute outfits have been ruined by my shoes with good arch support. Haha!
Anyways, I've come up with a pretty good system for creating a simple/minimalist shoe collection of quality footwear that is good for my back.
I really only wear about 8 pairs of shoes throughout the whole year.
Plus, I've found some quality shoes that are pretty cute, which is a huge victory in my book!
Why It's Worth It To Pay More and Own Less
It's not uncommon for me to spend $50-100 for a pair of shoes. Ouch, right? But I only buy a couple of pairs of shoes a year, at most.
Since I've started paying more for shoes, I've found that it is totally worth it to spend more on quality shoes and own less pairs of shoes.
I have shoes that I've spent $90 on that have lasted 5 years and are still going strong. Even cheap-o cute flats are at least $20 and only last a year before they get nasty or fall apart.
Paying more for quality shoes is worth it in the long run.
Choosing Carefully
Since I have very limited money to buy shoes, I choose very carefully when I make a purchase.
I only have two pairs of sandals, so I need to make sure that they will match as many things as possible.
In my post about simplifying your wardrobe, I wrote about choosing a neutral. Almost all of the clothes I own match with black. So when I go to buy new shoes, I make sure that I buy black shoes, or at least shoes that will match with black and will go with as many outfits as possible.
I also choose carefully what styles will go with the most outfits. I love flat, Mary-Jane style shoes because I can wear them with dress pants, jeans, dresses, and skirts.
(This post contains affiliate links)
My Shoe Collection
Dress/Casual Shoes
My favorite brand for casual and dressy shoes is Cobb Hill. I just discovered them last year and love them! They are made by New Balance and have a good amount of cushioning and arch support. And most importantly: they aren't chunky! Plus, you can find them on sale for an affordable price. I have a pair of Mary-Janes that I wore almost everyday for the last 6 months to work.
I've tried Dansko shoes and I don't mind them, but they're really chunky and incredibly stiff. They're not my favorites.
Sandals
F
or nicer-looking sandals, I like Birkenstocks or Cobb Hill.


A few years ago I got a pair of white Birkenstocks and they went with everything: shorts, capris, skirts, and dresses. And I found that white matches pretty much every outfit I have. Birkenstocks offer a ton of support and really mold to your foot.
My Birkenstocks are getting pretty worn out and I couldn't find a good price on another pair of white ones for this year. Instead, I decided to try some Cobb Hill sandals. So far I'm loving my dressy Cobb Hill sandals.
♦This is what my current shoe collection looks like with styles and colors as close as I could find since some of my shoes are pretty old and they don't make those styles anymore. I really only have about 8 pairs or shoes!
Keens
You can't talk about shoes that are good for your back without mentioning Keens! They're like heaven for your feet and back! But the styles with the original Keen footbed are certainly chunky.


I wear my Keen sandals in the summer when we go for walks or I have a long day on my feet. They're also awesome for water activities or amusement parks because they can get wet and they stay on your feet.
Boots

I love my Born boots. They're soft and cushiony with some arch support.
Boot-wearing season last 7 months or more in Michigan, so it's great to have riding boots to wear with skinny jeans, leggings, skirts, and dresses.
My favorite thing about my Born boots is that they don't have any heel at all. I don't usually wear heels because I'm pretty tall and heels make it harder to walk through the snow!

Snow Boots
I could probably survive with cheap snow boots but I do go for walks all winter.
I have some Keen snow boots that have lasted for 4 years and I expect they'll last at least twice that long since I only wear them when I'm out in the snow.
Tennis Shoes
I wear Pumas for tennis shoes.
I think there are probably better options out there, but I don't wear them for long enough to worry about it too much. They've got decent support and I think they're cute. 🙂
⇒ How many pairs of shoes do you own? What are your favorite brands to wear?
I'd love for you to follow me on Facebook, Pinterest, Instagram(if you like pictures of adorable dogs and food), and/or Twitter.
You can also Subscribe Via Email in the right-hand column to make sure you don't miss anything.
If you find this page helpful, please pin or share it :)