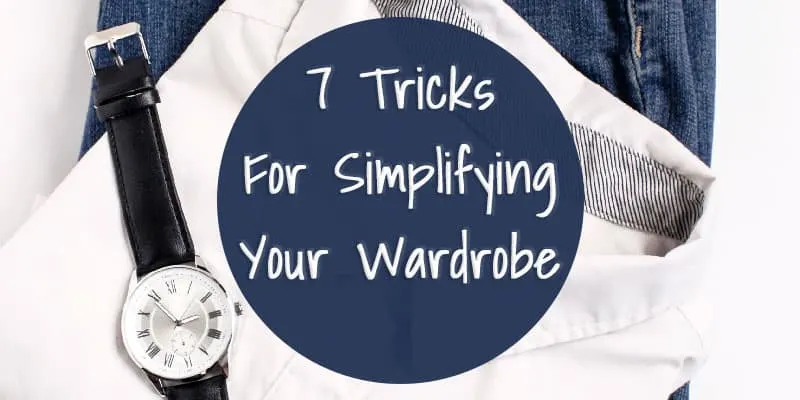 Ugh, why is my closet packed full, but nothing goes together, half of it doesn't fit right, and it takes 20 minutes to pick out an outfit that I don't really like? Maybe, just maybe, you can relate.
Getting dressed should be fun!
I want to be able to look in my closet and pull out multiple cute outfits that make me look and feel good!
Well, I've been working on this and have made some big progress. Most things go with each other, it all fits, and getting dressed has become way easier and sometimes a little bit fun. I'm a work in progress.
This is what's working for me:
7 Tricks For Simplifying Your Wardrobe
Purge
The first step to simplifying your wardrobe is getting rid of all the items that don't quite fit right, you don't like much anymore, you haven't worn in a year…
How do you expect to find a cute outfit to wear that you feel good in when you have to dig through piles of clothes you're not going to wear?
If you want to go in-depth about questions to ask to declutter your closet, read this post.
The Black vs. Brown Debacle
For years I've struggled with not having things that matched because of what I refer to as "the black vs. brown debacle".
I'd have a super cute top that really only matched with black, but I didn't have black shoes to go with it. So I'd never wear the top even though it fit and I liked it because I didn't have the right pieces to match.
Or I'd have super cute black boots but felt like all of my pants went better with brown or navy.
I'd just buy random stuff I liked even if I wasn't sure what exactly I'd wear it with.
Half of the items in my closet were basically useless (even though I liked them) because I didn't have the rest of the outfit.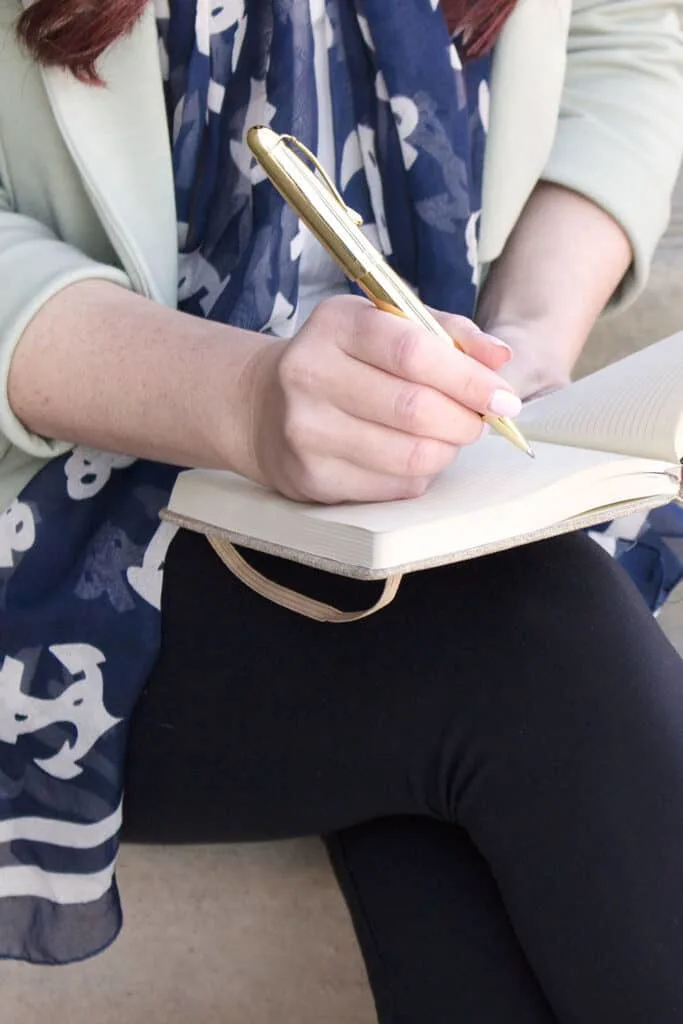 I finally decided to "pick my neutral".
Almost all of what I own and purchase now goes with black. If I find really cute shoes, I only buy them if they are black or will match with black.
All of my pants, shorts, and capris are black or dark gray. It may seem boring but actually makes my life so much easier!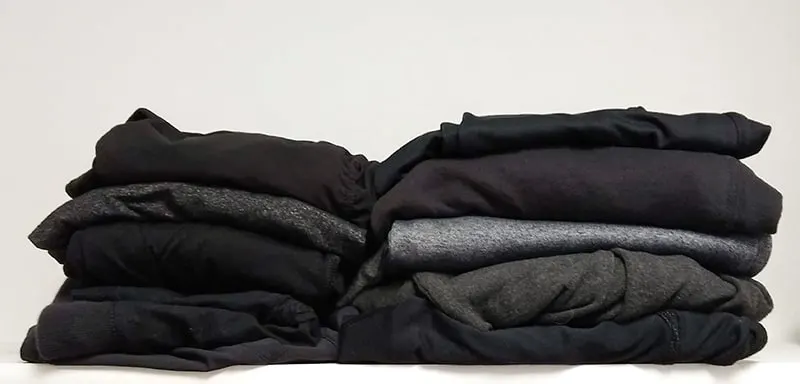 Most shoes, tops, and pants at the store seem to come in a at least a few different color choices, so this isn't that hard to do if you remember to think about it.
What's the use of buying something really cute if I'll never wear it because I don't have anything that goes with it?
Mix & Match Basics
To keep my wardrobe simple, most of the tops that I buy are solid colored. They can mix and match with various fleece zip-ups and cardigans and I never have to worry about things not going together because of clashing patterns.
I've got about 7 long sleeved, solid colored tops that I've worn all winter with black pants, black or gray shoes, and a fleece or cardigan on top.
I can always spice things up with fun jewelry or scarfs, but it's so much easier to pick out an outfit with solid colors that mix and match.
Let's Talk Socks
A few months ago I realized that I had all kinds of socks in the bottom of my drawer that didn't have a mate anymore. Some of the mates got holes or went missing and it made it really hard just to grab a pair of socks in the morning.
Seriously, this shouldn't be a hard thing to do.
I then proceeded to throw out all of my socks and buy two or three packages of socks that are all the same. Game changer.
If I don't feel like pairing socks, I can throw them all in my drawer and no matter which two I grab while still half-asleep in the morning: They. Will. Match.
Carefully Selecting Accessories
This is how my style has changed in the last decade: in college I was known for always wearing different, crazy earrings and necklaces everyday. I had a HUGE jewelry collection and I wore it all.
These days, I keep things so much more simple. I have my favorite pieces that I always gravitate towards.
Why keep five different gold necklaces and buy more all the time when nine times out of ten I'm going to wear that one favorite one?
I'm careful about what jewelry I buy and I only buy it if it's going to be that favorite I always reach for or if it fills in a hole in my collection.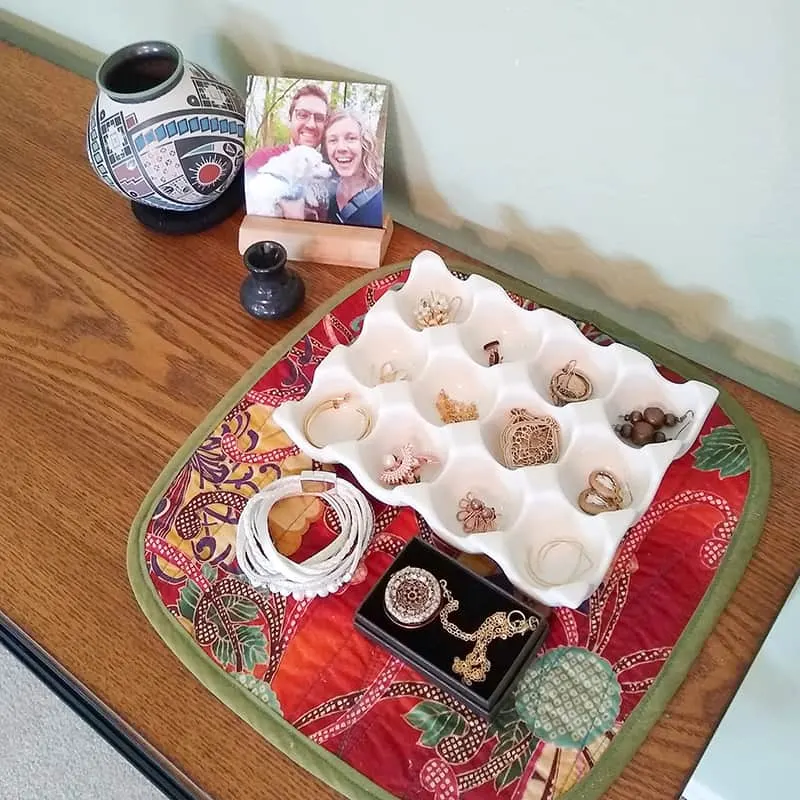 The List
I keep a list of specific clothes, shoes, or accessories to be on the lookout for. I don't want to waste my money on a cute black top because I already have three. I do, however, need to find some sandals for this summer because the ones I wore last year are done for. To be more specific, I need sandals that are black or will go with black so that they match pretty much my whole wardrobe.
If you keep a list of what you really need, you will save money by not buying stuff that is unnecessary. You will also keep your wardrobe simpler because it won't get filled up with tons of extra clothes and shoes.
2 Minute Tip Video: Make the Most of Your Money and Avoid Future Clutter
Ask Yourself: Is This Something I'm Going To Always Reach For First?
This is such an important question! How often have you bought a cute jacket only to wear it twice and have it get pushed to the back of your closet? Why did that happen? Because you have two other jackets that you like more or that fit better or make you feel better in them.
Just because something is cute doesn't mean it needs to come home with you. Ask yourself if that top is really going to be what you reach for first, or will it end up as a backup for when the tops you like better are dirty.
And now I'm going to give you a peek into how our closest is organized, because who doesn't like to snoop in other people's closets a little bit 🙂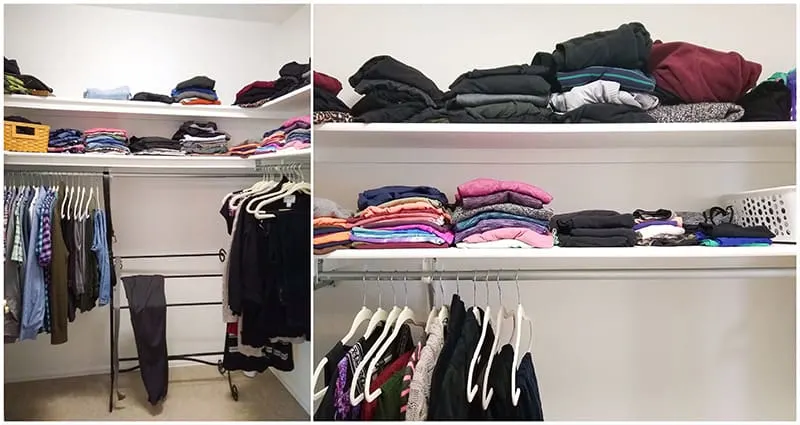 Austin and I share this closet and don't come anywhere close to filling it.
We prefer to organize most of our clothes on shelves so that we can see everything at once, and I find it easier to keep neat and tidy as opposed to keeping clothes in drawers.
---
So those are my tricks for simplifying your wardrobe. I think it's important to remember that this doesn't happen all at once unless you can purge a huge chunk of your wardrobe and have the funds to buy what you need right away.
Take it in steps. Pick your neutral and make sure what you buy from now on matches that neutral. Try focusing on basics when you're at the store. Take stock of your closet and figure out what holes you need to fill. Make a list of specific items to look for when you're out shopping.
Related Posts:
Questions to Ask to Finally Declutter Your Books
The 1 Thing You're Forgetting to Do When You Declutter
Why I Don't Use a Capsule Wardrobe
⇒In what ways do you keep your wardrobe simple? What pieces are you on the lookout for?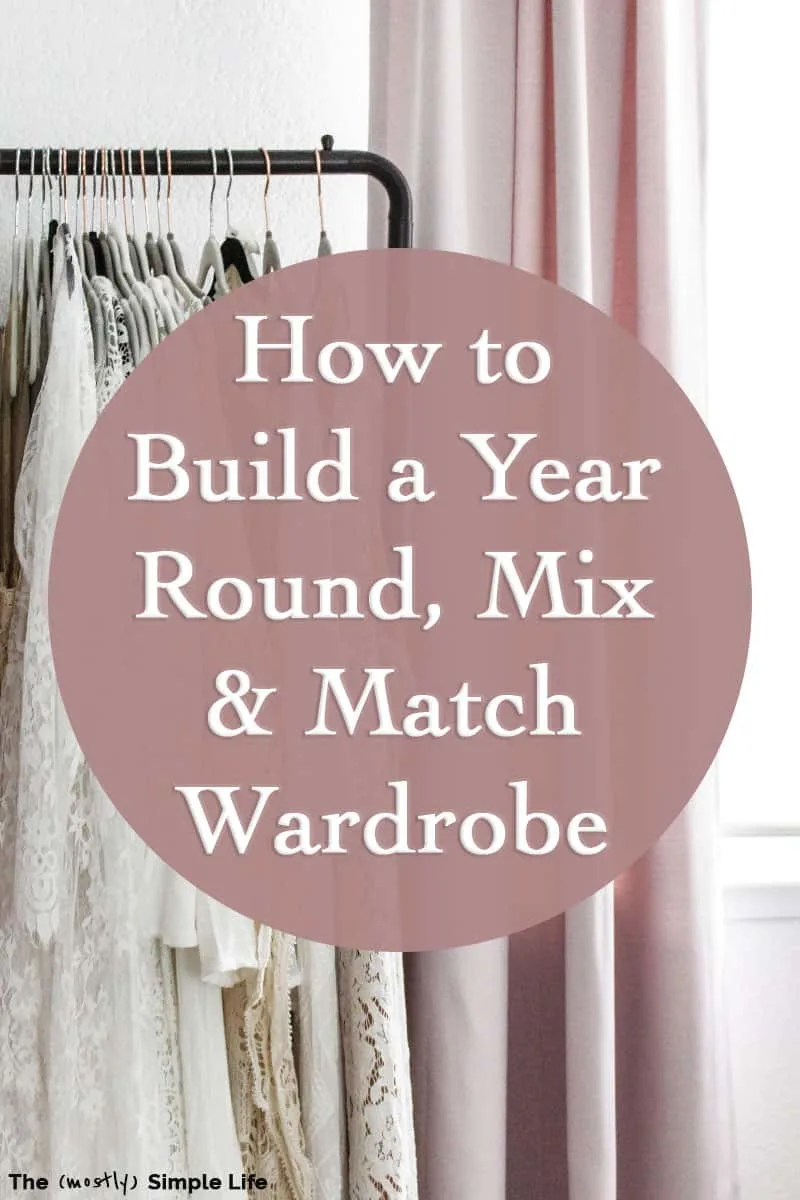 If you find this page helpful, please pin or share it :)