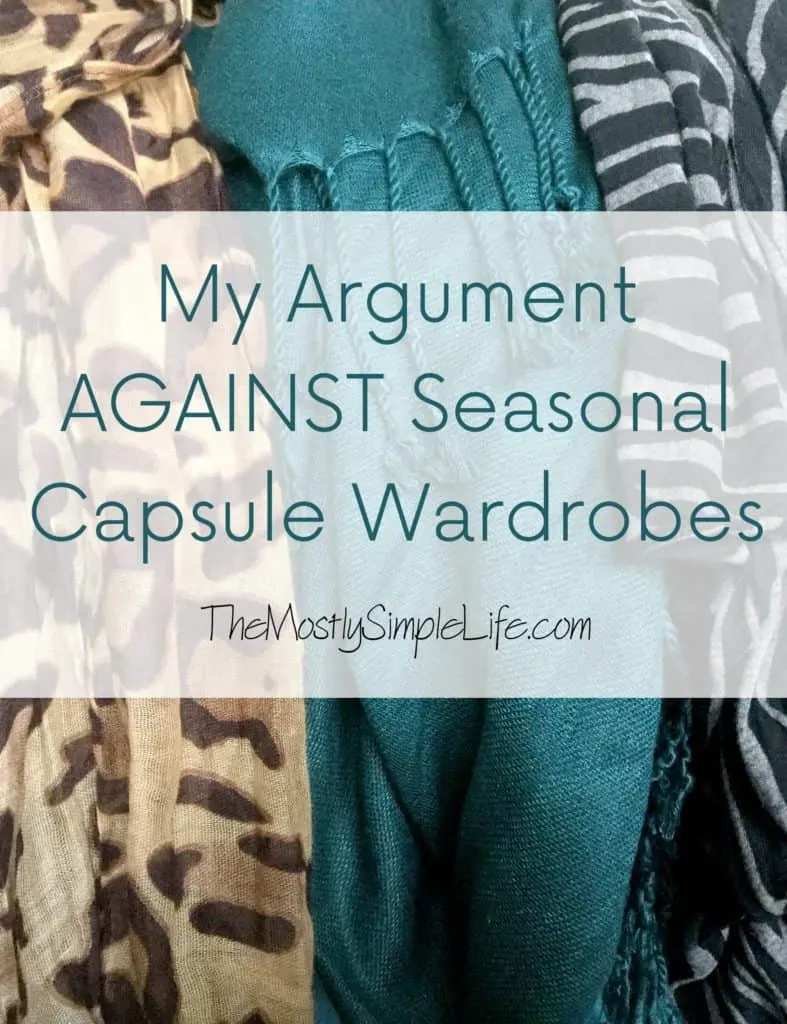 You might be surprised that I am not a fan of capsule wardrobes.
I am all about simplicity and only owning what you use, need, and love.
The goals of a capsule wardrobe is to have a closet full of clothes that you love and that go together that you change out every season. I'm all about having clothes that you love and that go together, I'm just not about the "changing it out every season" part and I'll tell you why.
(This post may contain affiliate links)
What's a seasonal capsule wardrobe?
A capsule wardrobe is a mini-wardrobe of versatile pieces that can be mixed and matched and worn for a season. A lot of people aim to have 30-40 pieces in their capsule wardrobe, usually including shoes.
Each season, you re-evaluate and create your new capsule and store most of your previous capsule for next year.
I can absolutely see some of the benefits of this system:
It's like pulling out new clothes each season because you've been storing most of your wardrobe instead of looking at it all year.
It's easier to get dressed in the morning when you have less items of clothing and they all go together.
It forces you to pare down and only keep out what you love and will wear often.
Although I understand the benefits of creating capsule wardrobes, I don't use this system. Here's why:
I Don't Store Clothing
I've never been one to store off-season clothing. I honestly just don't like the idea of storing things. I feel like if I don't need it for most of the year, maybe I don't need it at all. Obviously, there are exceptions to that, but it's generally how I feel about storing things.
In Michigan, there are times that I wear my fleeces in the summer and I wear sleeveless blouses under cardigans in the winter. The weather here can be crazy and if I stored winter stuff, I think I'd be digging into it on colder days in other seasons.
Here's the closet my husband and I share with all of our clothes (except for a dresser of undies and such):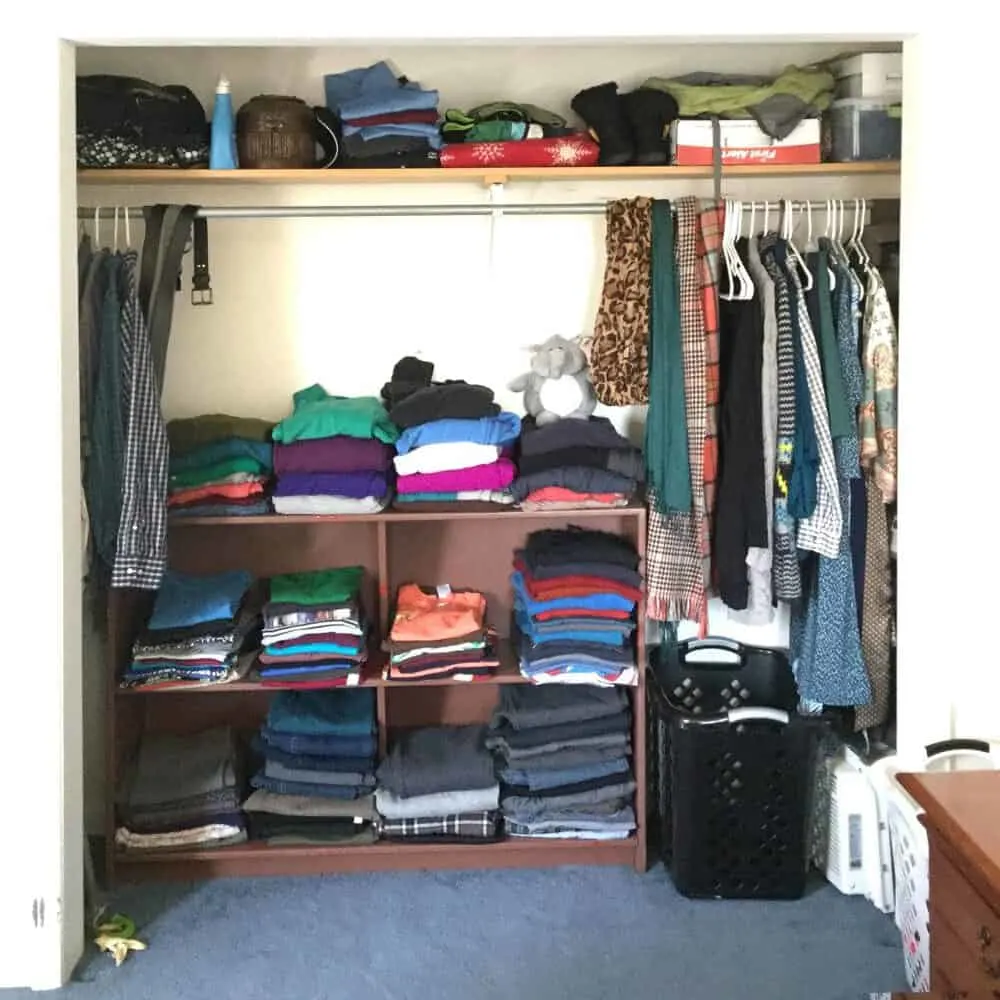 I Want Everything in my Wardrobe to go Together
Instead of creating mini wardrobes that go together, my goals is for my whole wardrobe to go together.
I buy mostly solid colored clothing so that there aren't too many prints to work around. Plus, I think it helps to "pick a neutral" so that I always have shoes that can go with my clothes. My chosen neutral is black. I try to make sure that my clothes and shoes all can match with black. I mostly buy black shoes because other colors would only work sometimes.
I want as many things to go together in my closet as possible.
Related Posts:
7 Tips for Simplifying Your Wardrobe
My Minimalist Shoe Collection (I only wear 8 pairs!)
I Want My Wardrobe to Work For All Seasons
As much as possible, I want most of my wardrobe to be wearable for most of the year. Obviously, this isn't completely doable because there is no way I'm going to wear shorts in the winter when the wind-chill is -15.
I wear dresses in the summer by themselves and in the winter with leggings, boots, and a sweater. The same goes for skirts. I still wear pants in the summer on cool evenings. When it's cold in the winter I layer fleeces over long sleeve shirts. When it's cool in the summer I layer a long sleeve shirt over a tank top. I wear the same PJs all year round.
I Treat My Entire Wardrobe as a Capsule
Basically, I want my entire wardrobe to be like a capsule that all goes together and can be worn for all seasons.
I am constantly paring down my wardrobe to only the pieces that I love and wear. My goal is to have a small and functional wardrobe that works all year long.
I'd rather have a 50 piece wardrobe that works for the whole year than multiple 30 piece capsules that I have to store and switch out multiple times a year.
I'd love for you to follow me on Facebook, Pinterest, Instagram(if you want more pictures of Mozzie, flowers, and what I'm eating), and/or Twitter.
You can also Subscribe Via Email in the right-hand column to make sure you don't miss any new posts around here.
⇒ Have you tired a capsule wardrobe? What works for you so that you have clothes that you love and that work well together?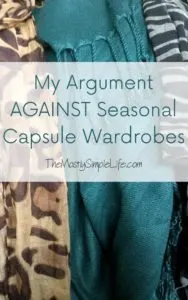 If you find this page helpful, please pin or share it :)