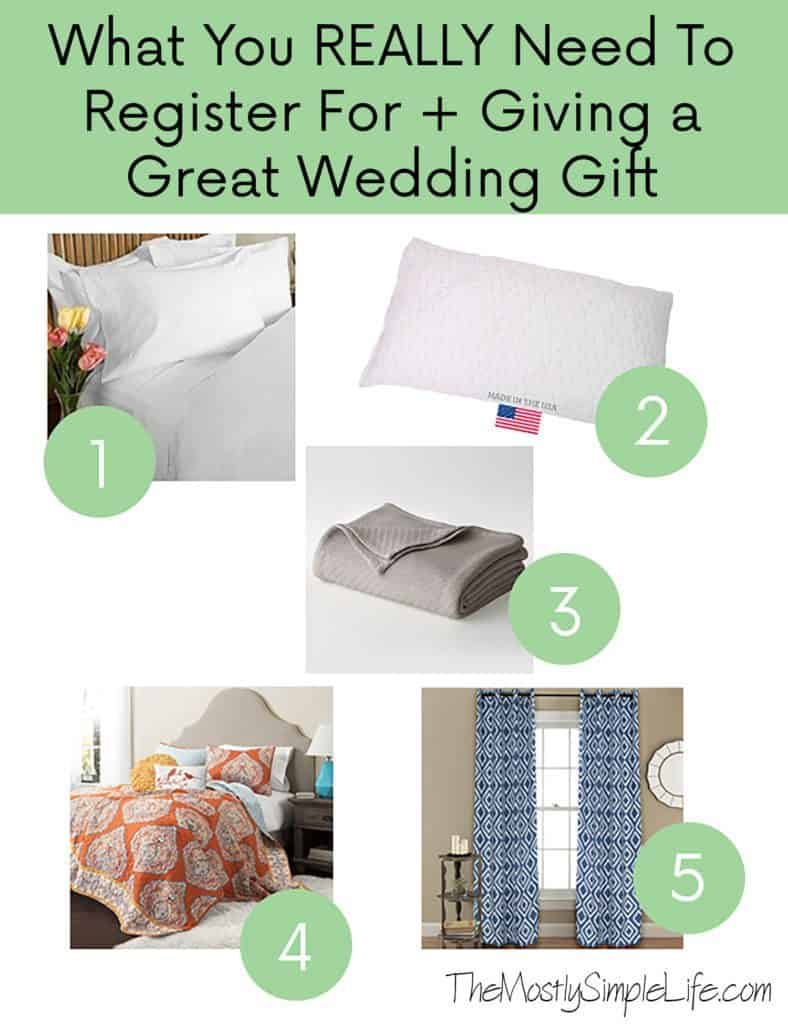 I'm back with another round of what to register for when you get married!
I'm giving you all of my married-person wisdom (6 years worth) and sharing what I wish we had registered for, and what you really need. It may not be as exciting as some of the fun and fancy stuff everyone tells you to register for, but it's practical stuff you will need and use every day.
We ended up having to pay for things we needed ourselves and we were given all kinds of cool stuff we never used. Not great.
Here's the first post:
What You REALLY Need To Register For: Kitchen Stuff
⇒ If you're attending a wedding this year, see this list as a gift giving guide for getting the bride and groom something they need and will use every day. They will absolutely appreciate it!
(This post contains affiliate links)
What You REALLY Need To Register For: Non-Kitchen Stuff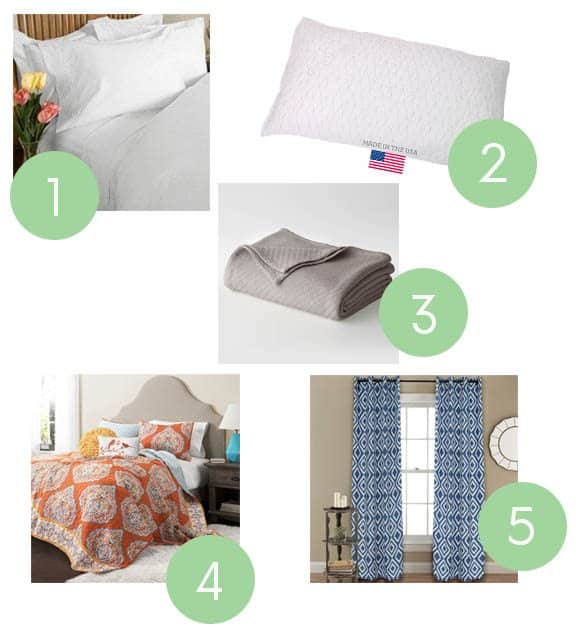 1 // Sheets: I recommend two sets of sheets for each bed you have. We usually just wash our sheets and put the same set back on the bed, so we could probably get by with one, but it's nice to have a backup. We also have extra pillow cases. Sheet sets for a queen bed only come with two pillow cases, but we have four pillows on our bed. You can register for individual pillow cases. Since your sheets get a lot of use, go for good quality sheets that will last. I like percale sheets because they always seem to be more crisp and durable than other kinds.
2 // Pillows: I like our shredded memory foam pillows, but I also hear good things about down pillows. I would register for good quality pillows. The cheap ones go flat after a few months.
3 // Blankets: Most people sleep with a blanket on their bed, so register for one blanket per bed. If you like to snuggle with blankets on the couch, register for an extra or two.
4 // Comforter: Comforters can get insanely expensive, and they're most decorative. We find comforters to be way to bulky, so we sleep with a cute quilt instead.
5 // Curtains: If you are moving into a new house or apartment, you may need curtains. Make sure to register for the correct sizes. Thermal curtains can save you money on heating and A/C, which is never a bad thing!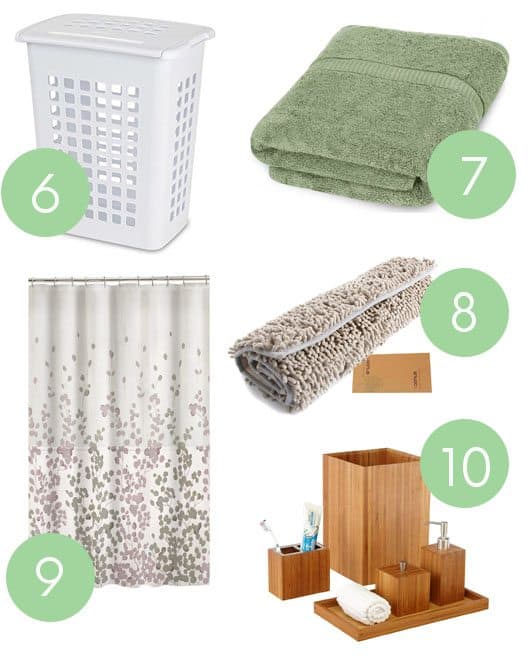 6 // Landry Basket: We have one in the bedroom and one in the bathroom. I like the taller ones because they take up so much less space.
7 // Towels: We've acquired quite a few towels over the years, but I think we started with two per person. We usually use a towel twice before throwing it in the wash. If you won't have a washer and dryer in your home, you might want a few extra, plus a couple more for guests. You don't have to register for the same amount of towels, washcloths, and hand towels. We don't really use washcloths, so we only have a few.
8 // Bath Mat: I know you should only be stepping on a bath mat when you're clean from the shower, but I still don't recommend getting a white bath mat (unless you're good at bleaching). I can't keep anything white, so I stay away from it.
9 // Shower Curtain: Don't forget a shower curtain liner as well as the cute curtain.
10 // Bathroom Accessories: Soap dispensers, toilet paper holders, trash cans…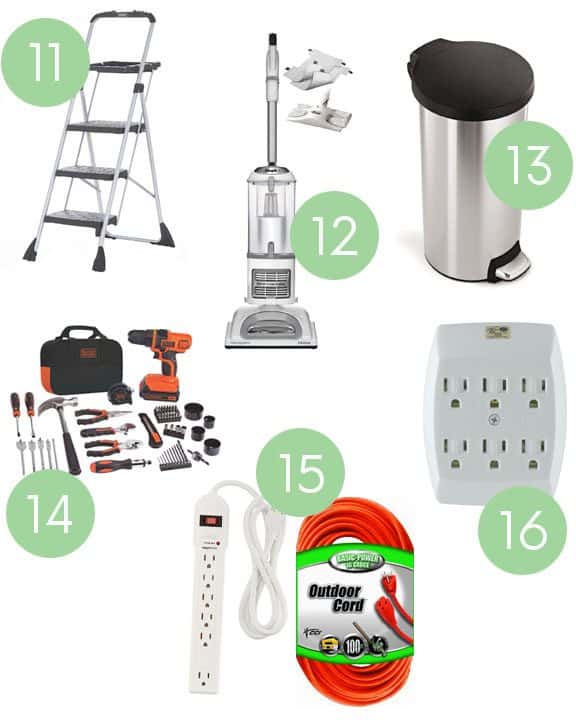 11 // Step Ladder: this is one of the first things we had to buy when we bought our house. It comes in handy all the time!
12 // Vacuum: This can be a pricey item. Make sure to read reviews and register for a good one. We were handed down an older Rainbow vacuum which is amazing if you have allergies, but I know they aren't cheap.
13 // Trash Cans: It's an easy thing to forget, but very important. The ones where you step and the lid flips up are awesome. Don't get a tiny one for your kitchen/main trash can or you will fill it up way too fast.
14 // Tools: A basic tool set will get used a ton. This set has pretty much everything we use most often.
15 // Extension Chords & Surge Protectors: It seems silly, but you will want multiple extension chords and surge protectors. It's the little things you never think about that add up.
16 // Outlet Adapter: Super practical and super handy.
If you are moving into a new home, you could also register for painting supplies like brushes, rollers, this handy thing (I have one and it's awesome). You might also need to register for some furniture. We started off with all hand-me-down furniture and it worked out great!
A lot of things on this list we ended up buying for ourselves because we did not receive them for our wedding. A lot of them we didn't even register for.
If you're registering for your wedding, focus on the true essentials, not just the things that look fun and exciting. If you're attending a wedding, I'm sure the bride and groom will appreciate getting things that they will need and use every day.
I'd love for you to follow me on Facebook, Pinterest, Instagram(if you like pictures of adorable dogs, food, and flowers), and/or Twitter.
You can also Subscribe Via Email in the right-hand column to make sure you don't miss any new posts.
⇒ Do you think there should be items added to my list? What do you wish you had registered for when you got married?

If you find this page helpful, please pin or share it :)