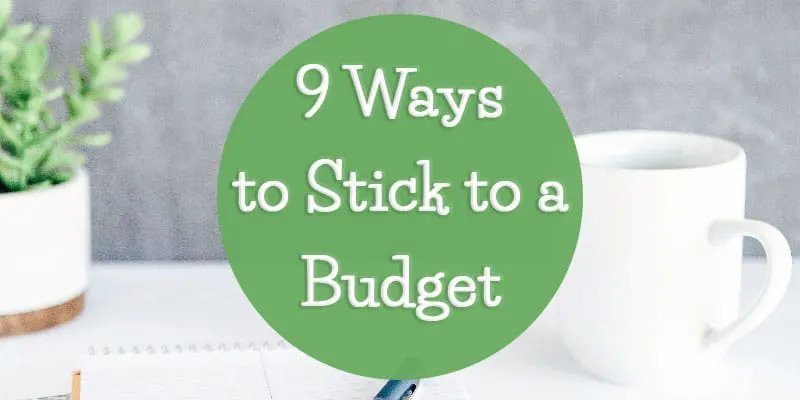 Creating a budget is good. Sticking to that budget is even better! Because honestly, what good is a budget if you don't stick to it?
I'm going to share some of my favorite budget hacks that help us stick to our budget throughout the month.
If you need to go back a step and create your budget, I've got a detailed post on how to make a budget (fast!).
1. Make It Realistic
I'd love to have a $50 utility bill, zero pet expenses, and to be able to only spend $25 on groceries each week, but it's not going to happen.
There's no way you can stick to your budget if it's not realistic. A budget is not wishful thinking, it's a plan for your real life.
While it would certainly be nice to pretend that we won't go out to eat, it's only setting ourselves up for failure if we don't set aside enough money in our eating out category.
The more realistic your budget is, the easier it will be to stick to.
If you want to make changes to your spending, start small. Lower your budget just a tiny bit in whichever categories you choose and allow yourself time to get used to the change.
2. Check In With It
This might be where the majority of budgets fail. If you're not going to check in with your budget, why bother creating one?
How will you know how much money you've spent on groceries and how much money you have left in that category?
I check in with our budget daily to record our spending. While that seems a little intense, I've actually found that when I do it daily it only take two minutes and I always know exactly where I'm at with our spending. It's easier to do more often.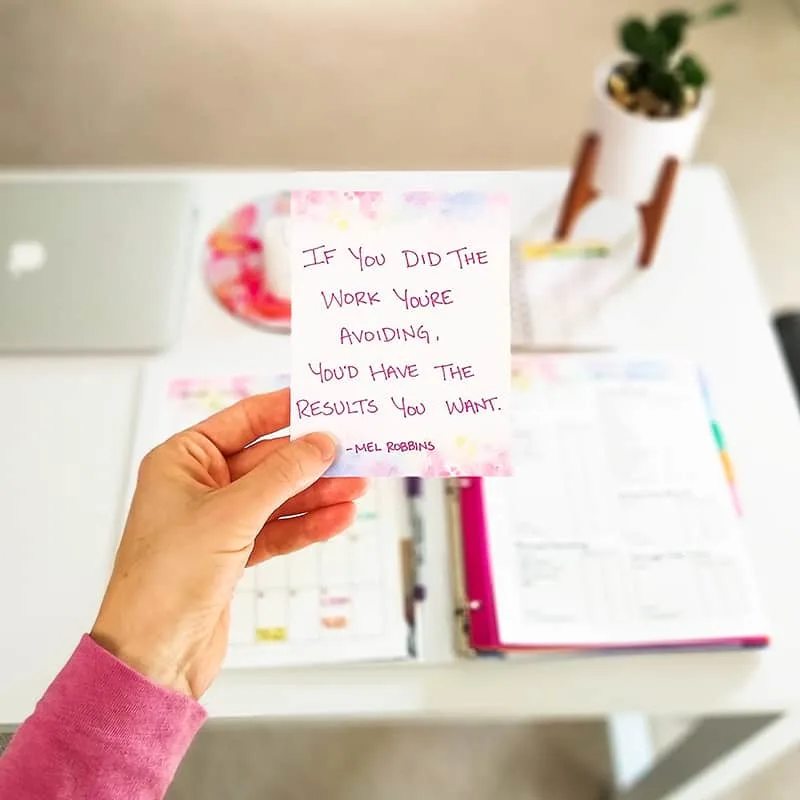 I've got a free spending tracker printable you can snag to start tracking your spending today! It's a great place to start to improve your finances. Enter your info in the form below and I'll send it on over:

[convertkit form=980628]
3. Choose a Format That Works For You
There are plenty of people out there preaching that ____ is the only way to budget. I am not one of those people. Whatever budgeting system you choose, it needs to work well for you so that you stick with it.
That could mean using cash envelopes, printables, an app, or something else. It could take multiple tries to find what you like, but when you find something that works for you, use that system.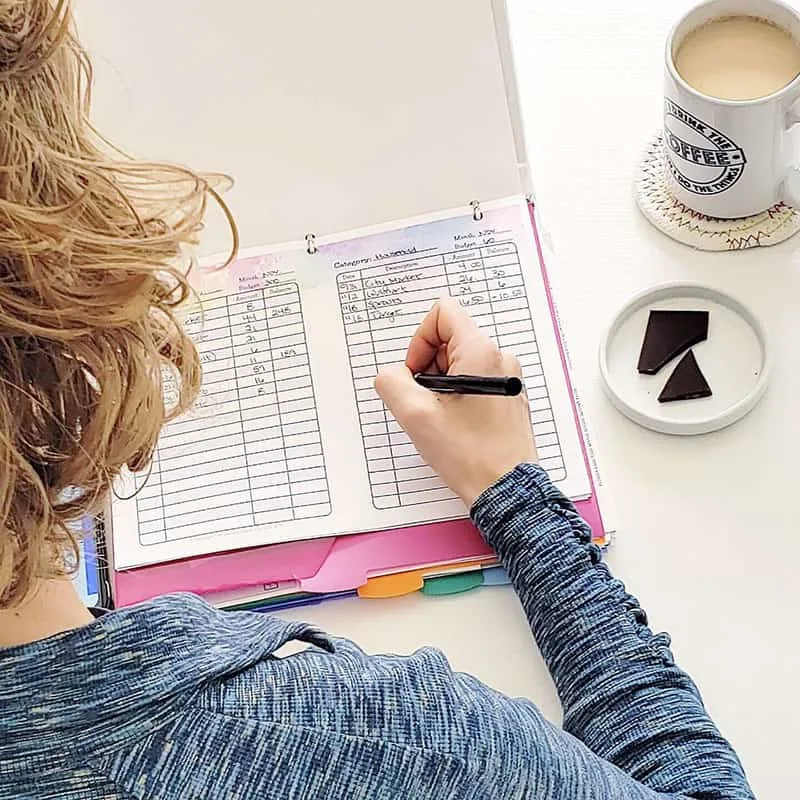 4. Break It Down
It can be helpful to break budget categories down into smaller chunks. I budget monthly, but I also like to have in mind a weekly amount for some of our categories.
Our monthly grocery budget is usually $300, but each week when I grocery shop I have a goal in mind to spend about $75. If I spend $75 each week, I'll stay on track with our monthly budget. If I spend more one week, I know that I'll need to spend less another week so stay within our monthly budget.
You can also break your full monthly budget down by paycheck if that makes more sense to you.
Dividing up your budget into smaller goals can help you stay on track and stick to your budget.
5. Track Your Goal Progress
It's great budget motivation to track your progress toward financial goals.
It's a lot easier to stick to a budget when you know that it will get you closer to your goal of … (debt payoff, vacation, new couch, whatever!).
I like to track our goals visually with my thermometer printables. You can snag those for free by entering your info below!

[convertkit form=834534]
6. Question All Expenses
A great way to stick to your budget is to get in the habit of questioning everything: the gas station soda, the clearance sweater, Netflix, chips, dog treats, all of it!
A few helpful questions to ask are:
Do I really need this?
Can I use something else?
Can this wait?
Of course many expenses are totally necessary, but getting in the habit of questioning everything can help cut away a whole lot of unnecessary purchases.
7. Expect Imperfection
Things rarely go to plan. But that does not mean that you should throw in the towel on budgeting.
Budgeting is a constant process of adjusting and doing your best. It's ok if it doesn't go perfectly.
After a decade of budgeting, things still rarely go to plan for us. However, we've been able to accomplish a lot with our money even through all of the imperfections!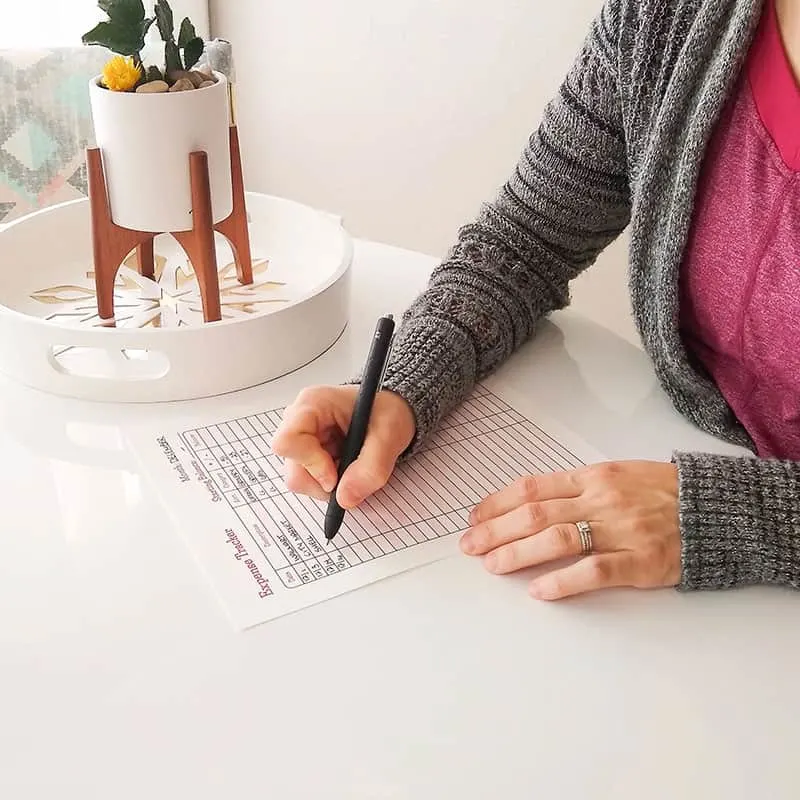 8. Communicate With Your Family
If you communicate with your family and get them on board with the budget, everyone can help in sticking to the budget.
It's especially great if everyone has a say in the budget and knows what goals the budget is helping you work toward.
9. Plan a Celebration Treat
One last way to stick to a budget is to plan a special treat that you'll get only if you stick to the budget!
On the last day of the month, if you've stayed within your budget, maybe you plan to go out for dessert or to see a movie or buy a video game. Knowing that you'll only get your treat if you stick to the budget can be great motivation.
---
Remember, a budget is only useful if stick to it!
Which of these ideas do you think you could put into action to help you stick to your budget? Leave a comment and let me know!
You'll Like These Related Posts: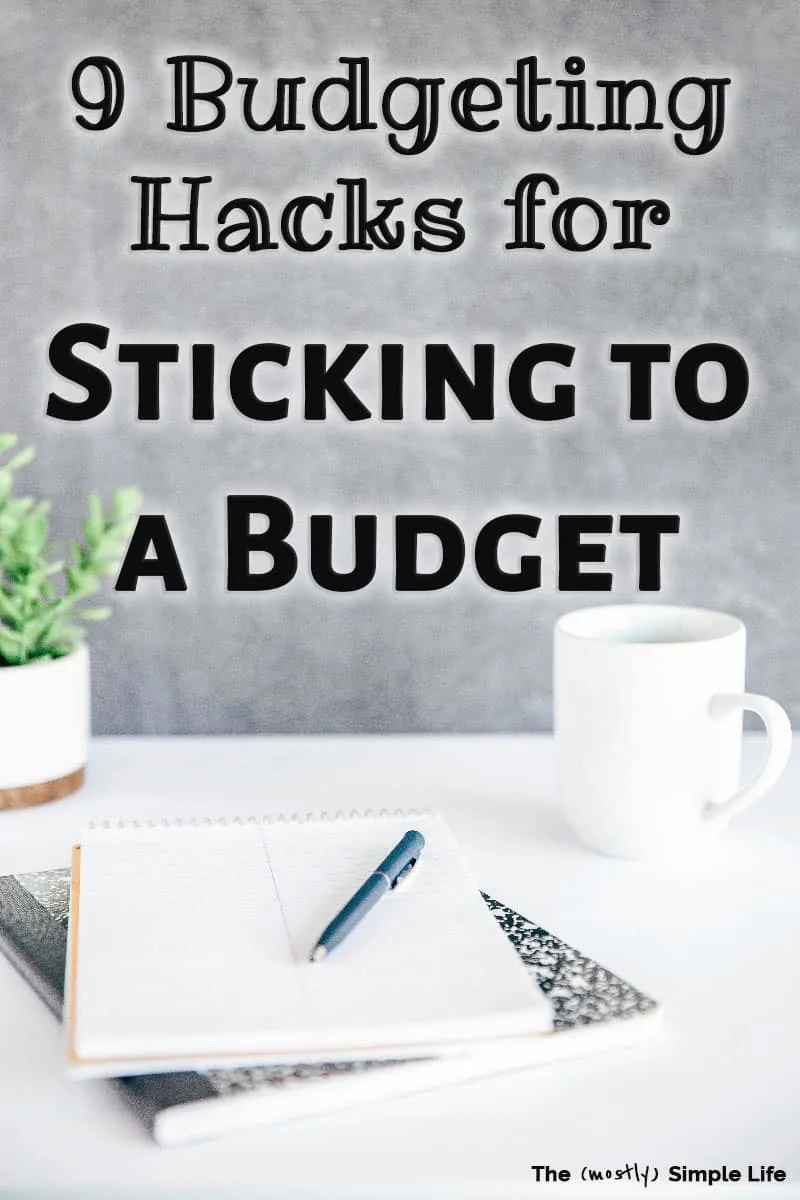 If you find this page helpful, please pin or share it :)