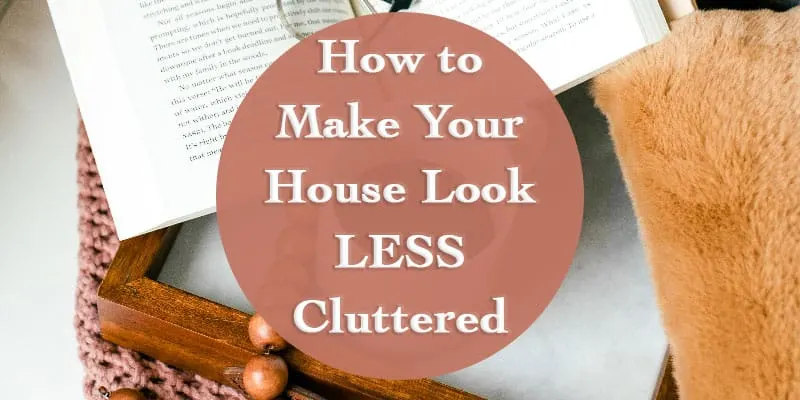 Ok, so you've decluttered and decluttered and decluttered. There's nothing left to declutter. But your home doesn't look as great as you were envisioning. Womp-womp.
There are some things that may be making your home still look cluttered. So let's run down this list of how to make your house look less cluttered after you've already decluttered.
Don't worry, it won't take huge amounts of time or effort, but you'll finally get the results you've been wanting.
Need help getting started? Take the 4 Day Declutter Challenge!

[convertkit form=5017563]
Cord Control
Lots of visible cords can make your home look cluttered. Look at what's hanging down around your TV, end tables, and nightstands.
There are plenty of products that can help you get your cords under control. The fewer cords you can see, the less cluttered your home with look.
Over-Decorated
Take a long, hard look at every piece of decor you have out. Too many decoration/knick-knacks can give you home an overwhelmed and clutter appearance.
If you can't declutter your decor any more, create a decor rotation. Stash half of it away for a few months and then swap it all out when you want to change things up.
Counter Stuff
Stuff on your counters, even if it's only the stuff that you use daily, can make your house look cluttered.
Now might be to the time to finally invest in some cupboard or drawer organization items so that you can take items off of your counters and give them a permanent home out of sight.
Excess Furniture
It's so easy to overlook furniture when you're decluttering because it seems quite permanent.
A room can easily look cluttered if you have excess pieces of furniture or the wrong furniture for your space.
A few large pieces of furniture generally looks less cluttered than lots of small pieces. Try removing one thing and see if that helps.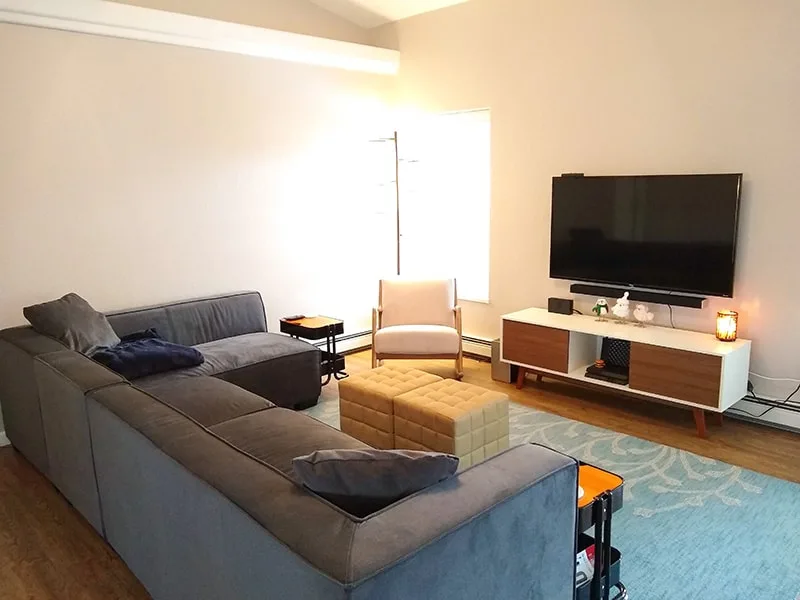 Floor Piles
Is there anything sitting on the floor that is not a rug or piece of furniture?
Find it a better home and your home will look a little less cluttered.
Crowded Shelves
Everything might technically fit, but if your shelves are still crowded, it probably looks cluttered.
You may be able to rearrange things to create the look of more space, or move some items somewhere else.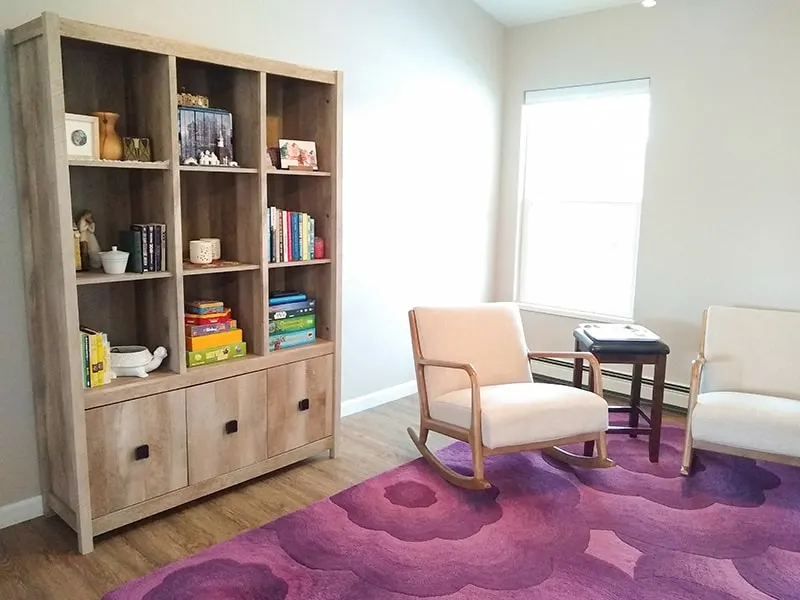 Uncontained Little Stuff
Sometimes you want to leave some things out on a counter, but they end up all over the place and it looks cluttered.
Corral lots of the little things by placing them all on a tray or placemat. That way, your eye sees one larger thing instead of many little things.
Photos & Artwork
Take a look at what's hanging on your walls. This is another area where one large thing looks much less cluttered than many little things.
If you've got multiple small photo frames, consider enlarging one or two photos to hang instead. You could also make a photo collage or get a large frame that fits multiple images so that you still have all of the your photos, just in fewer containers.
Mismatched Everything
I like my home to look somewhat eclectic, but if there are too many mismatched or clashing things everywhere, it can give a chaotic look.
Try changing out picture frames so that they are all one color or at least all coordinate. Replace all of your baskets so that they all match. Or find a way to weave a single accent color through more areas.
I'm not saying everything should be matchy-matchy, but a little cohesion can go a long way.
Incoming Paperwork
After you've decluttered, you still will always have to deal with incoming things, especially papers!
If you've got little piles of mail, to do lists, or other paperwork, it's time to put a system in place to deal with it all. A simple home organization station can help, as well as the habit of opening the mail and dealing with it immediately.
Remotes and Such
We've got a TV remote, speaker remote, and who knows how many video game controllers that can make our clean living room look a bit cluttered.
If you want to leave these kinds of things out and easy to access, find a bowl or tray where they can get placed when not in use.
Dog & Kid Toys
If you constantly find toys out and about, a nice solution is to place an empty basket in each room where they can be corralled regularly.
This way, they can stay in the area where they are used without constantly adding to the cluttered feel of the room.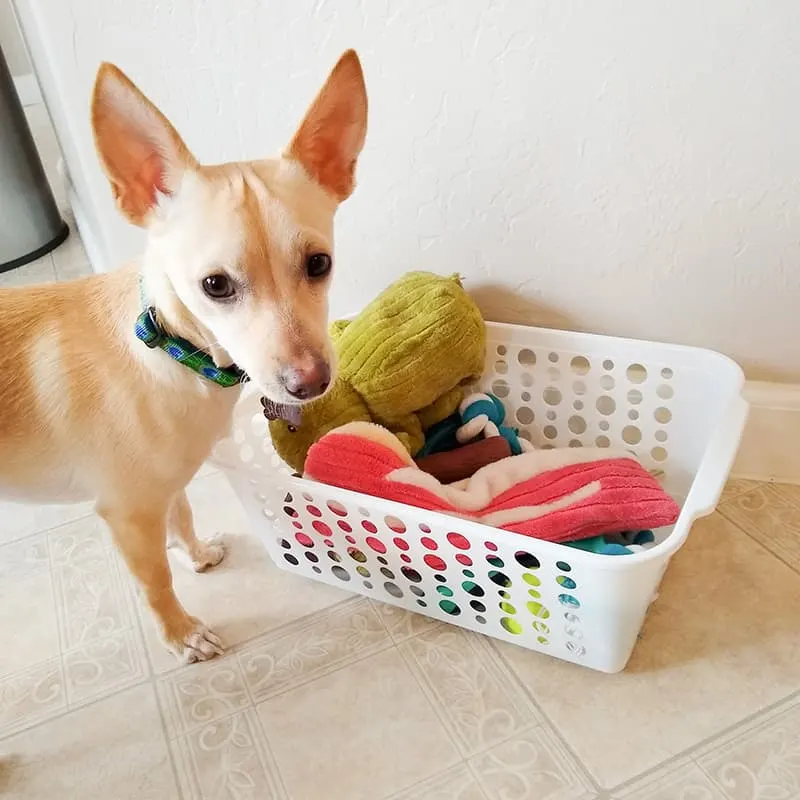 No Breathing Room
I've touched on this a little, but your home probably still feels cluttered if there's not enough breathing room — some blank space for your eye to rest.
This is where removing a piece of furniture, creating space on your bookcase, or taking a few pieces off the wall can make a big difference.
---
Do you think a few of these are making your house look more cluttered than it needs to?
Making sure everything has a place it belongs, giving your home a little extra breathing room, and containing the small bits of chaos will make a big difference!
Don't Miss these Related Posts: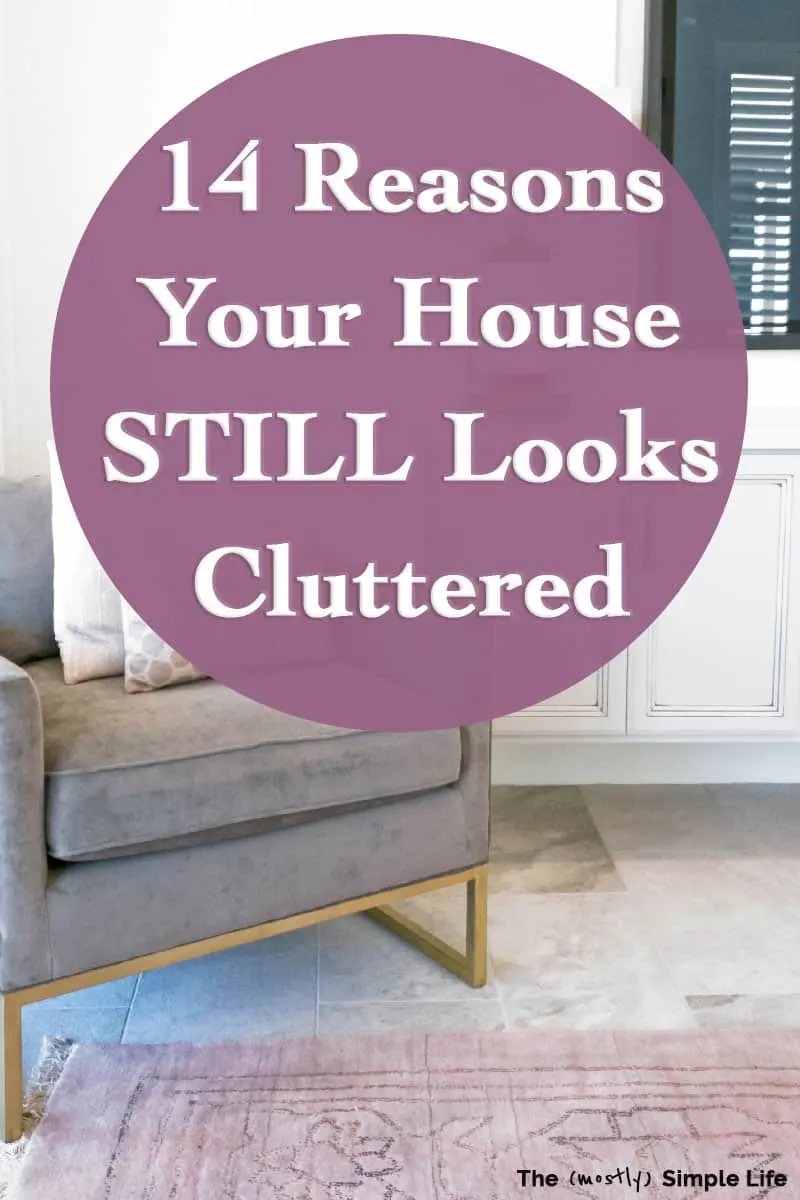 If you find this page helpful, please pin or share it :)