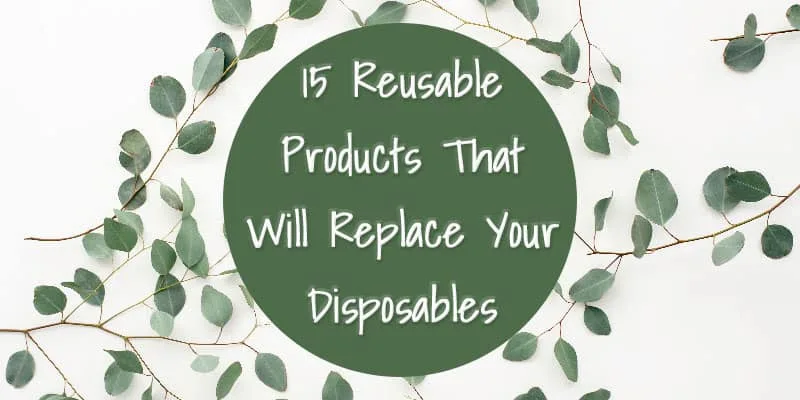 My quest to replace the disposables in our home with reusable products continues! I'm so happy to have found some great reusable alternatives that are both frugal and eco friendly.
I've got links to where you can find most of our reusables on Amazon, so they're easy-peasy to acquire.
Reusable vs Disposable
Why bother?
To reduce waste. We're trying to be more eco friendly and aware of how much waste our household creates. Switching to reusable products helps a ton with this, especially with reducing plastic waste.
To save money. There's a bit of up front cost to buy reusable products, but it cuts down on the disposables you need to buy regularly for years to come. We hardly ever buy cotton balls, paper towels, dish sponges, zip top bags and more!
Isn't it a pain?
There is definitely extra convenience with some disposables, but switching to reusable products has hardly been any extra effort.
Most of the reusables we have that need to be washed are small and go in with my usually laundry load of towels, so I'm not even doing any extra laundry.
My Best Tip
From my experience, the best way to make the transition to resusables is the make them convenient and make the disposables inconvenient.
When we switched from paper towels to cloth napkins, I put our last roll of paper towels in the laundry room and got fabric baskets to hang on the wall in our kitchen for the cloth napkins. They're far more convenient to grab than the paper towels, so we got used to the switch very quickly!
Kitchen
Napkins
Our most recent switch is reusable napkins where we previously used paper towels. The bamboo cotton napkins we got clean up so well and are quite pretty for everyday use.
Paper Towels
For bigger messes, I prefer our microfiber towels. Once these start to wear out or get gross, they move from the kitchen to our cleaning supplies for cleaning bathrooms.
Kitchen Sponge
I had previously been using dish scrub brushes which would last 4-6 months before needing to be replaced. We switched to using a silicone dish sponge about 8 months ago and it still works good as new! I think it will last years!
Food Storage
We use a variety of reusable food storage containers to avoid zip top baggies. We've had the same Rubbermaid set for years, which I'll replace with more sustainable glass once it wears out. We also have silicone bags and make use of empty food containers, like pickle jars, sour cream containers, etc.
Straws
We like to use straws at home and have had glass straws for years! The ones we have are supposed to be unbreakable and so far, so good. I know a lot of people prefer the stainless steel straws though.
Water Bottles
It is a very rare occasion that we buy bottled water. We have Contigo water bottles that we use all day, every day at home and take with us almost every time we leave the house.
French Press
Instead of using a coffee maker that requires filters, we use a French press to make coffee at home, which has zero disposable parts. Unfortunately, we kept having the glass carafe part break, so we finally got a stainless steel one instead.
Silicone Baking Cups
Silicone baking cups are so nice! Nothing sticks to them and you don't have to continually buy paper cup liners.
Grocery Bags
We bring reusable grocery bags into the grocery store to avoid plastic grocery bags. Oddly enough, the baggers at the store almost always compliment our bags because they stand up on their own which makes it much easier to bag groceries. These bags also come in handy on road trips for packing our stuff into.
Produce Bags
We also use mesh produce bags. They work great and can be cleaned in the washing machine.
Bathroom
Facial Tissues
Another recent switch has been to using cloth handkerchiefs instead of buying boxes of tissues. I think my husband Austin was most wary of this switch, but he uses them all the time now. They come perfectly clean in the washer and are extra soft. I think we just need to get another pack of them because we tend to run out. (The ones we have are technically cloth diaper wipes, but I figured if they're soft enough for that, they're soft enough for this.)
Cotton Balls
To replace cotton balls in our bathroom, we have little cotton rounds that can also be used as makeup remover pads. They came with a small mesh laundry bag, so that they don't get lost in the wash.
Loofah
I tried a few different things to replace my plastic shower loofah and a silicone loofah has been my favorite. It feels good, does light exfoliation, and should has a decade.
Household
Fabric Softener/Dryer Sheets
Instead of buying fabric softener or dryer sheets, we just use wool dryer balls. They cut down on static and are supposed to dry your clothes in less time.
Swiffer Refill Pads
We have a lot of hard floors in our house and a wet/dry mop, like a Swiffer, is nice for small clean-ups. Our little mop has a microfiber cloth that can be used wet or dry and gets thrown in the washing machine for cleaning.
---
I've been really pleased with the reusable products we've found! Making these switches has been quite easy.
I'd love to know if you've found some reusable alternatives that you like. Leave a comment and let me know!
Don't Miss These Related Posts: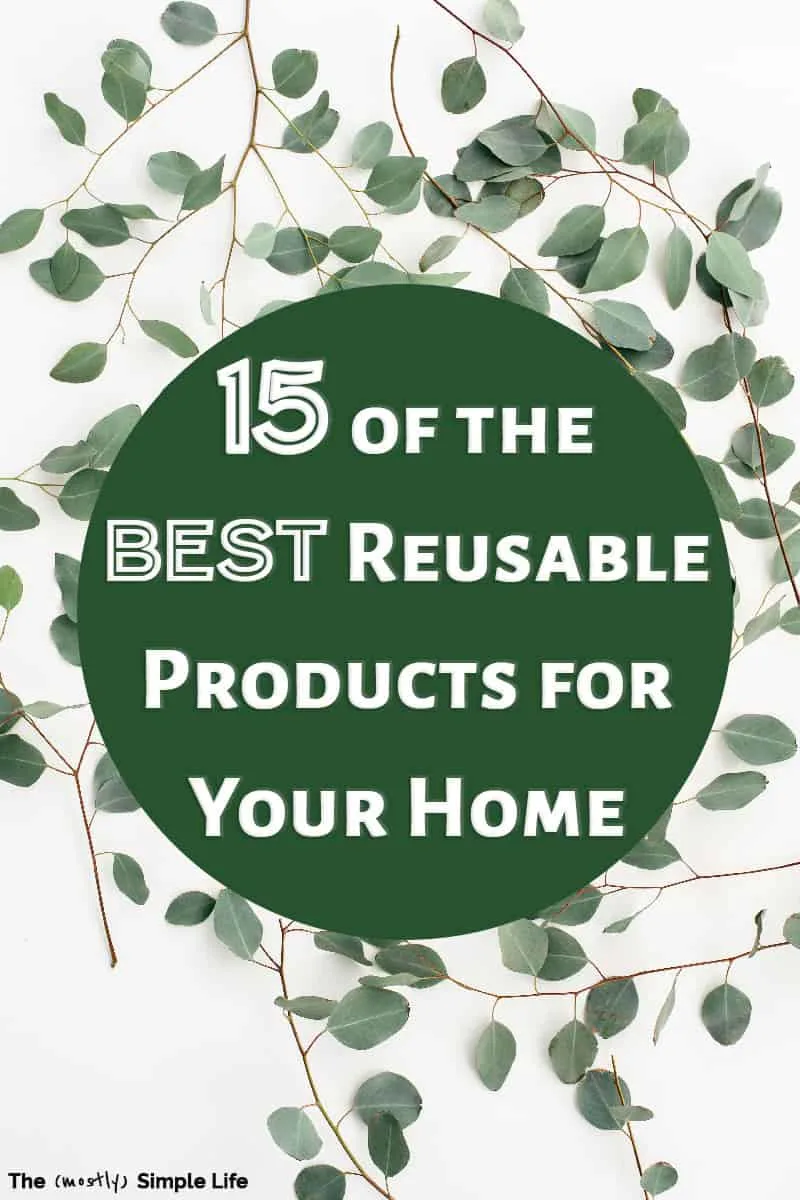 If you find this page helpful, please pin or share it :)