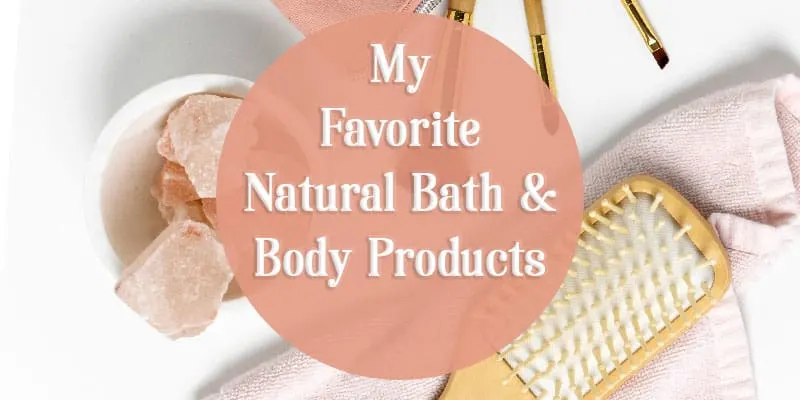 There's really nothing better than a personal recommendation for a new product. A company can say how great their products are all they want, but I want to know someone who has actually used it and loves it.
I've especially felt this way as we've transitioned to using more natural, organic, and ethically made products in our home. They can cost a bit more than others and I've used some that I just did not like at all, which feels like a frustrating waste of money.
I want to save you some of that frustration by sharing my favorite natural bath and body products, because I've found some that I absolutely love!
A Word About Values & Priorities
I think one of the biggest ways that we show our priorities in life is in the way we spend our money. One of our current priorities is to buy more products that line up with our values.
The more I learn about the chemicals used in what we eat and put on our skin, the more I want to seek out better options. This can mean a whole lot of different things: organic, cruelty free, paraben free, non GMO, sustainable, synthetic fragrance free, etc.
There are no perfect products or companies, but we're doing our best to find products that line up with our values, even if that costs a bit more.
Years ago, we couldn't afford to do this. Our main priority was keeping our heads above water financially. Now that we're in a better place financially, I'm happy to be able to show my values in the way I shop.
This is all just to say that we're doing the best we can with where we're at in life and what we have. I encourage you to do the same.

My Favorite Natural Bath and Body Products
Silicone Bath Loofah
I always like to use a loofah in the shower, but I was frustrated with needing to buy new ones and then throwing away something unrecyclable every few months. I tried using natural loofahs but didn't like them at all. This silicone loofah is perfect! It works up a good lather, exfoliates gently, can be sanitized, and is supposed to last for years!


Here's what great about the silicone loofah:
Can be boiled to sanitize
Should last for years
Recyclable
Everyone Soap
The Everyone brand has become one of my favorites!
This soap says it can work as shower gel, bubble bath, and shampoo. I personally use it as a shower gel and face wash. In the past, I've had a hard time finding a face wash that works for me (adult acne is the worst!) but Everyone Soap has been the best thing I've found. Austin likes to use it as shampoo as well.
I love that one bottle serves so many functions, plus it's a huge bottle and quite affordable. Oh, and the coconut and lemon scent is insanely good.


Here are this soap's natural/ethical accomplishments:
Cruelty Free
Certified Gluten Free
Non-GMO
Synthetic Fragrance Free
Certified B Corporation
Everyone Lotion
Ok, same brand as the soap! Everyone lotion is wonderful. It's not super thick, but it moisturizes and soaks in so well. It's got the same coconut and lemon scent as the soap, which I adore. I've used it on my body and face.


Here are this lotion's natural/ethical accolades:
Cruelty Free
Certified Gluten Free
Non-GMO
Synthetic Fragrance Free
Certified B Corporation
Native Deodorant
Switching deodorants always feels a bit risky, right? I've been using Native deodorant for well over a year now and am so happy with it! I started using it during an insanely hot and humid week, so I put it to the test immediately and it really works.
They have over 10,000 reviews on their website, with an average of 4.7 out of 5 stars — impressive! They offer free shipping and returns, so that takes some of the risk out of making this purchase.
I've tried a few of their scents, but keep going back to the coconut and vanilla. It is a bit pricey, but I've been happy with how long each stick lasts. I'd say it lasts just as long, if not longer, than any other stick of deodorant.


Here's what's great about Native deodorant:
Paraben Free
Aluminum Free
Free of Sulfates
Cruelty Free
Organic Argan Oil
I've tried a lot of different moisturizers on my face, and argan oil is my favorite! I also use it in my hair after a shower to add moisture and keep the frizz down.
What's great is that one bottle lasts a very long time because you literally only use a few drops at a time (it comes with any eye dropper). I use 1-2 drops on my face and 3-5 drops on my hair. I've have one bottle last me more than a year!
Argan oil is used in a lot of expensive hair and skin products, but this is the real, pure stuff!
I've tried different brands and generally just pick whichever has the best reviews on Amazon for the best price.


Here's why it's great:
Organic: no chemicals or additives.
Hexane Free
Tom's of Maine Toothpaste
Switching to this toothpaste was easy — it doesn't seem any different than what your'e already used to. Plus, the Tom's of Maine brand is becoming so mainstream that you can find it almost anywhere. I've gotten cash back on Ibotta for buying it a few times, by the way.
I'm not sure what else to say other than it works well! The company cares a lot about sustainability and making sure you can access information about the ingredients it uses.


Here are this toothpaste's natural/ethical accomplishments:
Cruelty Free
Certified B Corporation
No artificial colors, flavors, fragrances, or preservatives
Sustainable practices
ADA Seal: Accepted by the American Dental Association
Hair Products
This is my next area to work on. I have yet to find a natural shampoo, conditioner, and other hair products that work for me.
To be honest, I haven't tried too hard. My hair is quite difficult to manage and I've been concerned about trying anything new. But now that I'm happy with all of the products I'm using above, it's time to work on finding great hair products!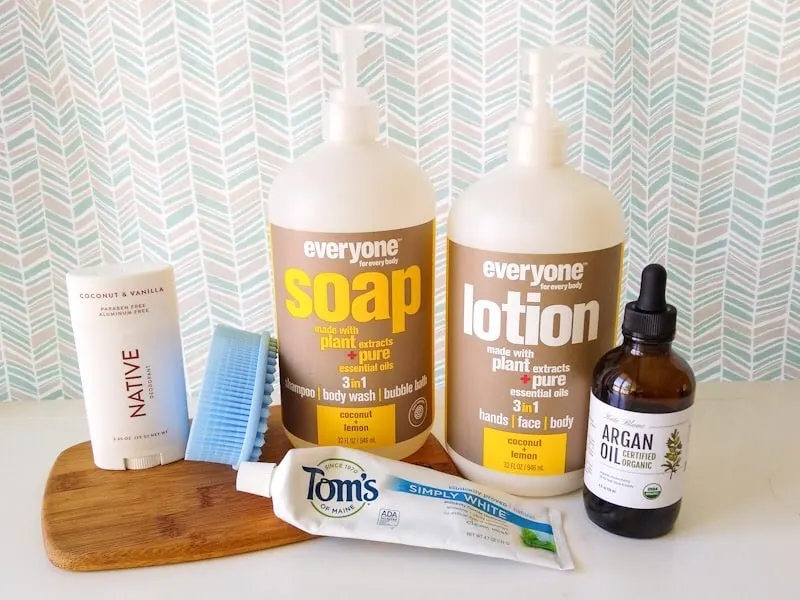 I hope this list helps you discover some new natural products, so that you can forego the frustration of spending money on something that you don't like.
⇒ If you have your own favorite natural bath and body products, please share them in the comments because you know I want more recommendations!!
Don't Miss These Related Posts: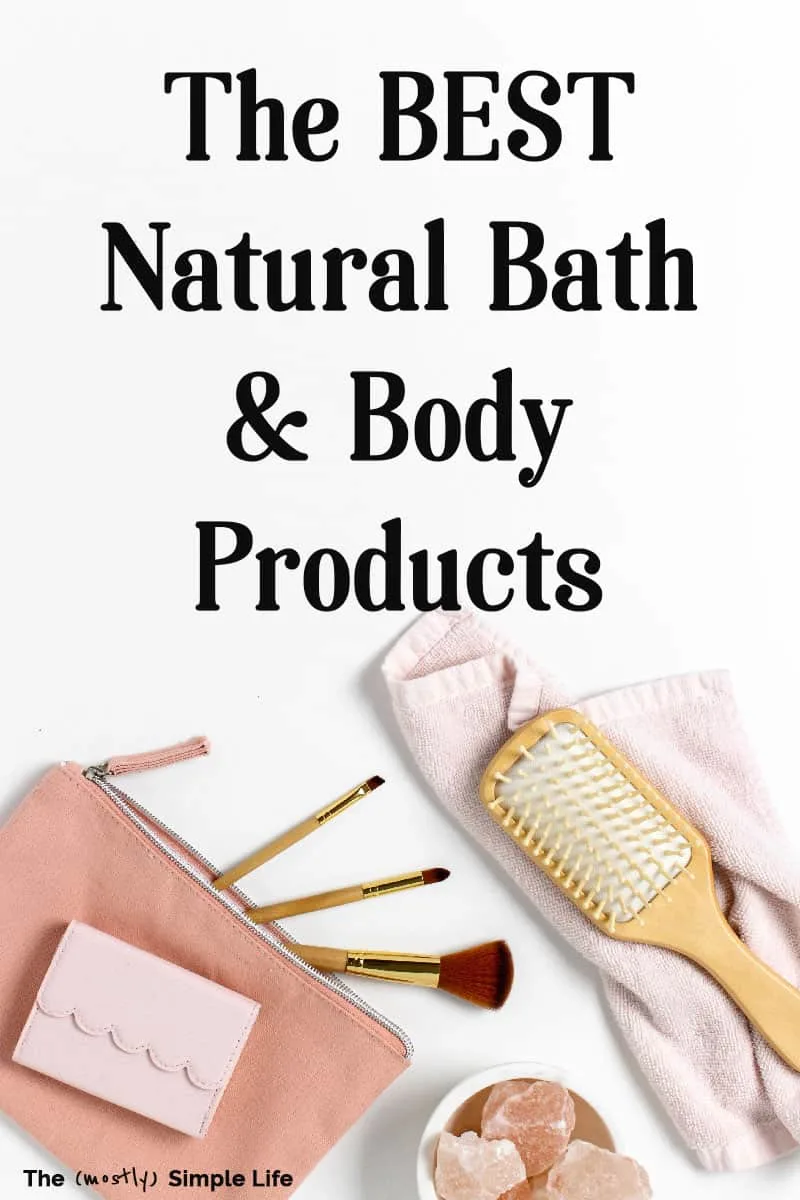 If you find this page helpful, please pin or share it :)