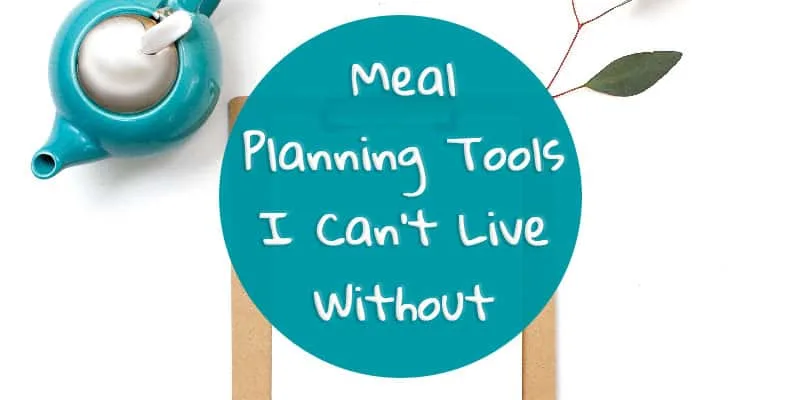 Meal planning can feel overwhelming if you're not sure where to start and what kinds of tools are mostly helpful.
So I'm going to break down my favorite meal planning tools that make planning our meals easier for me. They're all super simple and easy to access!
My Weekly Meal Plan Printables
Of course I have to start with my weekly meal plan printable!
If you follow me on Instagram, you know that I use this printable every week to plan our meals.
I love that with one glance I can see all of the meals that we can make. I don't assign specific meals to specific days. Instead, I choose what sounds good for each day off of my printable. I have designed several meal planning printables available to download for free! You can also register below to download another meal plan and view my video series.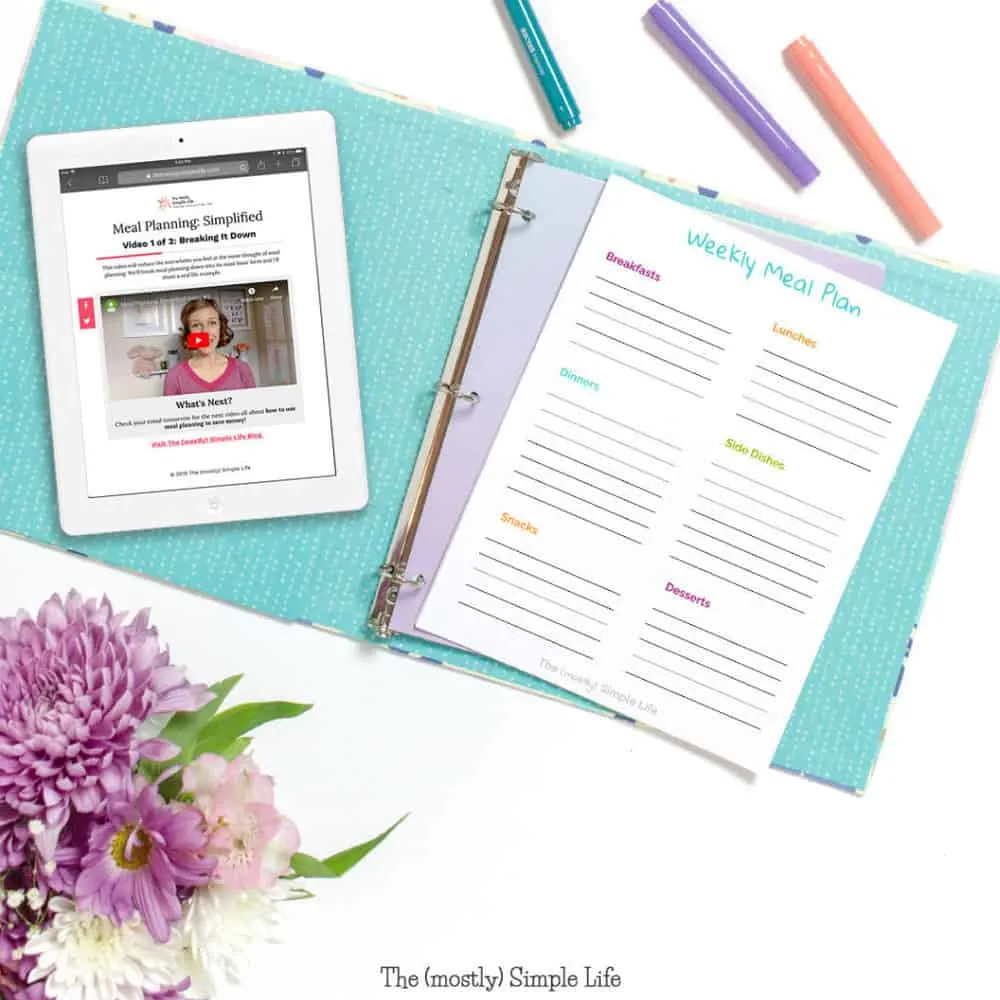 Recipe Binder
My recipe binder gets a whole lot of use every week! It's where I collect all of our favorite meal ideas and recipes.
I look at it as I'm planning our meals because it gives me ideas of what I can plan and I can look at each recipe to make sure I either have the ingredients on hand, or they get put on my grocery list.
Making your own recipe binder is simple and a great resource to have. I've got instructions on how to make a recipe binder here.
Cookbooks
I don't keep too many cookbooks, but the ones I have get a lot of use. While I'm planning our meals for the week, I might look through my cookbooks for a ideas or to make sure I've got all of the ingredients I need.
These are a few of my all-time favorite cookbooks:
Sale Ads
I always glance through the sale ads as I'm making my meal plan for the week so that I can plan around the deals.
If there's a great deal on a food we like, I'll make sure to plan a meal around it. I'm also always on the lookout for sales on our favorite snacks, which can be a little pricey to buy at full price.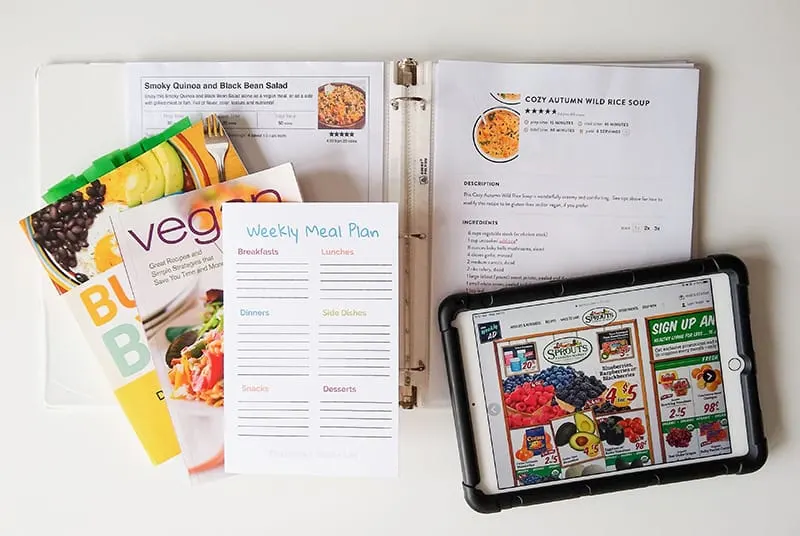 Store Apps
Another great meal planning tool is the apps for your usual stores. You can access sale ads through the apps and some stores offer e-coupons through their apps as well.
We shop at a local Kroger-brand store where you have to have a loyalty card to get the sale prices. When you log in on their app, you can "clip" coupons that get added to your account. When you buy items that qualify, you automatically get the coupon discount taken off of your total at checkout.
If you haven't taken a look at the apps for your favorite grocery stores yet, it's worth checking to see what they offer!
Ibotta
Lastly, I use Ibotta to earn cash back on some of the items I purchase.
After claiming the deals that you want, you just need to take a photo of your receipt so that Ibotta can verify that you purchased it.
Ibotta makes it easy to earn cash back on the items you were already planning to buy. Click here to sign up for Ibotta if you haven't yet!
---
I use most of these simple meal planning tools each week to plan meals for my family. They are a huge help to keep me organized, give me inspiration, and help me save money.
Don't Miss These Meal Planning Posts: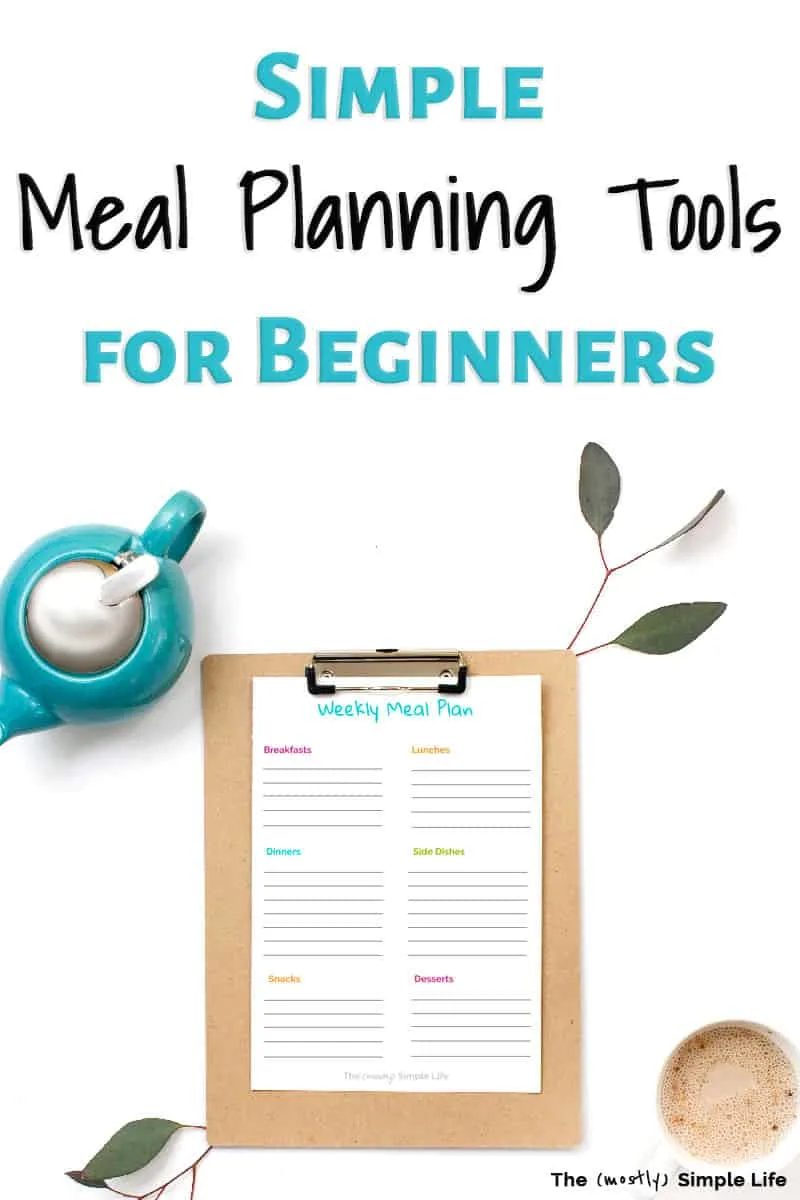 If you find this page helpful, please pin or share it :)