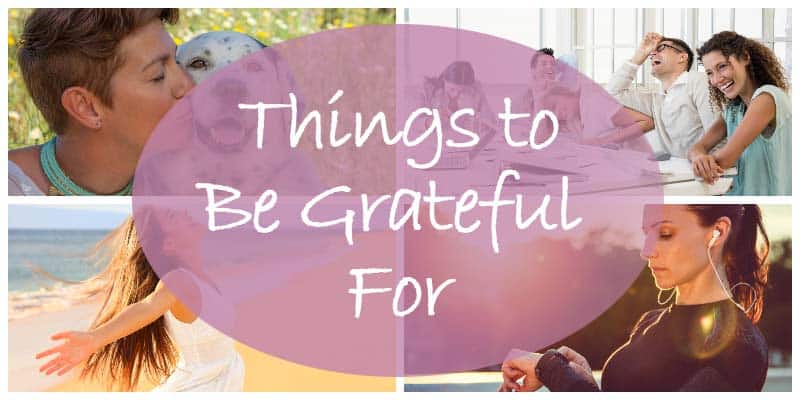 I've tried to make use of the time we have had during the quarantine to start learning new skills. One skill that I have found fascinating to learn about is a skill that you can learn anytime, anywhere, with tremendous potential for self-improvement: I'm talking about gratitude. Simply knowing the things you should be grateful for. It's true. Gratitude is the easiest skill you can learn.
I have also learned that there's a substantial amount of research to link gratitude with well-being, higher self-esteem, and happiness. For example, The Harvard Medical School points to research in the domain of positive psychology (Source) and states:
"In positive psychology research, gratitude is strongly and consistently associated with greater happiness. Gratitude helps people feel more positive emotions, relish good experiences, improve their health, deal with adversity, and build strong relationships."

Harvard Health Publishing
In the process, I have also learned that writing down a list of things you are grateful for has been proven to make you feel better about your life. And it's so true!
The Surprising Benefits of Writing Down The "Things You Are Grateful For"
oh the wonderful benefits of writing things down! Most people hate doing it, but … it works. It turns out that writing down a list of things you are grateful for makes you feel better about your live: a research project by the University of California showed that people who keep gratitude journals and wrote down a list of things they were grateful for, reports feeling better about their lives and more optimistic about the future. These people were also more likely to have made progress towards important personal goals (Source):
"In an experimental comparison, those who kept gratitude journals on a weekly basis exercised more regularly, (…) felt better about their lives as a whole, and were more optimistic about the upcoming week"
Robert Emmons, Ph.D., Director, University of California
So I simply keep a little notepad where I write down anything from blog ideas, personal thoughts, fitness goals as well as things that I'm grateful for. I know it can feel awkward to write things down but you should probably give it a try!
The Top 10 Things To Be Grateful For
Here are 7 things I am grateful for today. I hope this list helps you reflect on the things you're grateful for as well.
1. Your Health
It was days of ill-health that made me grateful for good health. That's when I realized how important prioritizing health was. Taking a few moments out every day to be grateful for our health and well-being is essential. It not only helps us appreciate it but also helps us work towards maintaining it.
I've written before on how you can take charge of your health and well-being. I believe thatwhat we do every day is what determines our lives, and small healthy habits can add up to a healthier and happier life. Read this post to learn how you can develop Healthy Habits for a Happier Life.
2. Your Friends, Family, and/or Partner
Being surrounded by people who add to your happiness is so important. We often regret not having expressed our gratitude to someone when they leave us. But what about the ones who are present in our lives right now?
Sometimes, you might feel like your parents interfere with your life and curb your independence. It's important to realize they do what they do out of love and care, and it's the only way they know how to show it. Be grateful you have people who love you. Plenty of people in the world have a single parent or no parents.
Reminding your friends, colleagues, or partner that you're grateful for them might improve your relationships and build warmth. However, it's important to differentiate between genuine appreciation and one designed to get someone to like you. The latter can be classified as a mild form of manipulation. Remember, gratefulness has to be genuine, or it has little value.
3. Your Comfort at Home.
According to the Center for Disease Control (CDC), 1.8 billion people (25% of the world's population) don't have access to adequate sanitation or clean running water. Additionally, 1.6 billion people (20% of the world's population) lack adequate housing, according to study conducted by Habitat in 2015. In the US, Homelessness and lack of adequate housing is still an issue but is limited to less than 1% of the population.
4. Pets
I have a small dog at home and it makes life so much fun and loving. If you have a pet at home, you are familiar with the unconditional love these creatures provide you. A lot of us might feel lonely at times, but it's in those moments you snuggle up with your pet, and everything seems fine.
We might not have been grateful for the pandemic, but our pets sure were since we couldn't leave them alone anymore. Pets are a great source of personal, social, and emotional well-being and happiness. I know I can't live without my dog, what about you?

5. Your Morning Coffee/Tea
You can feel grateful for the little pleasures in life that can bring you instant happiness and comfort. Being a working woman, I probably can't begin my day without my beverage of choice. Not only does it recharge you for the day, but it's also the time when you can catch up with the world or your schedule. I know I only realize the importance of this time when I run out of coffee. But just take a moment and think about how lost you will be without your morning cup.
6. Your Music or Watchlist
Studies have shown that music can boost your mood and fend off depression. It's now so easy to start a song or playlist that will boost your mood. You can use apps or devices like Spotify, Alexa, Apple Music or Pandora to discover new music. I personally use Spotify, because it makes it super easy to find new music. Spotify even auto-creates playlists for you based on what you've listened or liked (Check out their 'Daily Mixes') and sends you an email with personalized music suggestions every week.
Sure, there are people who cannot afford such privileges, but that's where you express gratitude for being able to afford all of it and be able to boost your mood a little bit, simply by pressing or saying "Play".
7. Fun Hobbies
Now more than ever with this pandemic, small habits and new hobbies can really make a difference. Research shows that hobbies can improve our lives and happiness: a study with 1,035 women (Source) showed that leisure activities or hobbies help improve both mental and physical health. So which new hobby do you want to pick up? Read my post on the best hobbies for women 🙂
8. Nature: National Parks (or Hiking Trails Near You!)
If you can afford to travel or if you live close to wonders of nature such as US National Parks, you should feel grateful for the opportunity to experience the amazing things nature has to offer.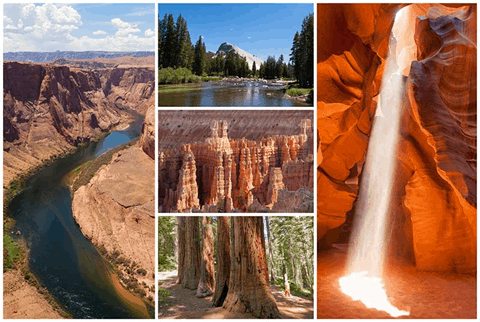 Even if you are not able to travel, walking in nature is one of the simplest, least intimidating, and most effective ways to stay active and boost our health. It's also one of the best ways to do cardio and get fit. To learn more, read my post on the Amazing Benefits of Walking Habits (And How to Walk More). You can discover the best places near you for a quick hike by using this website: www.alltrails.com.
9. Things to Learn or Read
Reading is honestly a great way to spend a rainy afternoon on the couch or when disconnecting from screens at bedtime. There are so many different book options to choose from, fiction – non-fiction, travel books, learning a new skill, read a book and then watch the movie…. Really the options are endless. When I'm in search of a new book, I will often ask a friend, check the NY Times best books page or check out the best-selling books on Amazon. You can also check out my list of the 7 Must-Read Books That Will Change You.
10. Mistakes
That's right. I am grateful for the mistakes I've made. That's how I have learned and grown. Mistakes are an inevitable part of life. I don't think I'd be where I am today without making my fair share of mistakes.
Do you think you'd have found the love of your life without dating douchebag Charlie in freshman year? Probably not. You do not have to spend your life regretting the mistakes you made when you can learn from them and move on.
Did you enjoy this article? PIN it or share it!

Other Things To be Thankful or Grateful For
Laughter. Laughter is the best medicine. The Mayo Clinic states that "When it comes to relieving stress, more giggles and guffaws are just what the doctor ordered". Laughing doesn't just improve your mood, it also changes your body physically. Laughter can relieve stress, increase satisfaction and even improve your immune system (Source: Mayo Clinic). You can be grateful these days that you can just call a friend or find your favorite comedians in a few seconds on YouTube or on your favorite streaming services.
Life as we know it: I don't think people acknowledge how beautiful and rewarding life can be. Probably because none of us have experienced the other side, that is, death. We are constantly complaining about the small and big things in life.
Didn't get that promotion? Got your period on the wrong date? The dress on sale didn't fit? All of these worries are fleeting, and you know it. As long as you're alive, there will be ebbs and flows. Ride the waves with gratitude, and you'll find dealing with downfalls much easier.
Safety: Safety is one of these things that you should definitely feel grateful for, but don't think about a lot… until it's taken away from you. According to The Telegraph, 1 in 7 persons live in "fragile or conflict-affected countries". For example, the Boko Haram insurgency affected many countries, including Nigeria, Cameroon, and Niger, with 52,000 casualties so far including 8,000 in 2020 according to Wikipedia's List of Armed Conflicts. In contrast, we live in a very safe country and should feel grateful for that.
Breathing fresh air: The World Health Organization (WHO) estimates that 7 million people a year die because of air pollution wordlwide, with 9 of 10 people breathing air that does not meet the WHO's guidelines for air pollutants. People living in highly polluted cities in China or India sometimes had to wear masks outside because of the pollution – and this was before the pandemic! We can be grateful that no US city is listed in the top 50 most polluted cities in the world (even Los Angeles is not in the list!).
Ability to Walk / See / Hear. If you can read this right, now, you can discover amazing new stories with reading. If you can walk, you are free to go for a hike or move with complete freedom and no constraints. If you can see, you are able to easily go on about your life and use any tools that you want. Of course, we all tend to take these abilities for granted, but should still feel very grateful for them.
Freedom of religion. For the most part, in the United States, we are free to exercise the religion that is dear to our hearts. This is a very important freedom, but not a freedom that applies to all religions worldwide. Wikipedia maintains a list of current and historical religious persecutions that is worth reading.
The Sun. It is hard to believe that a ball of hot plasma (the sun), heated by nuclear fusion reactions, is projecting its light and warmth to our planet. The sun is by far our world's primary source for energy and life. Sunshine also has a lot of benefits for our bodies, including improving our sleep and reduce depression.
Did you enjoy this article? PIN it or share it!

Gratitude is an Important Skill to Learn
You might think that gratitude is inherent or obvious then why should one have to learn it? On the contrary, psychologists have found that the human mind naturally overemphasizes the negative. Gratitude takes practice, effort, and habit formation. But the good thing is you can get started anytime. Being grateful for big and small things, finding the silver lining in difficult situations can help you tide over stressful times with a smile.
"Gratitude is one of the sweet shortcuts to finding peace of mind and happiness inside. No matter what is going on outside of us, there is always something we could be grateful for."

– Barry Neil Kaufman
Other Blog Posts You Will Love