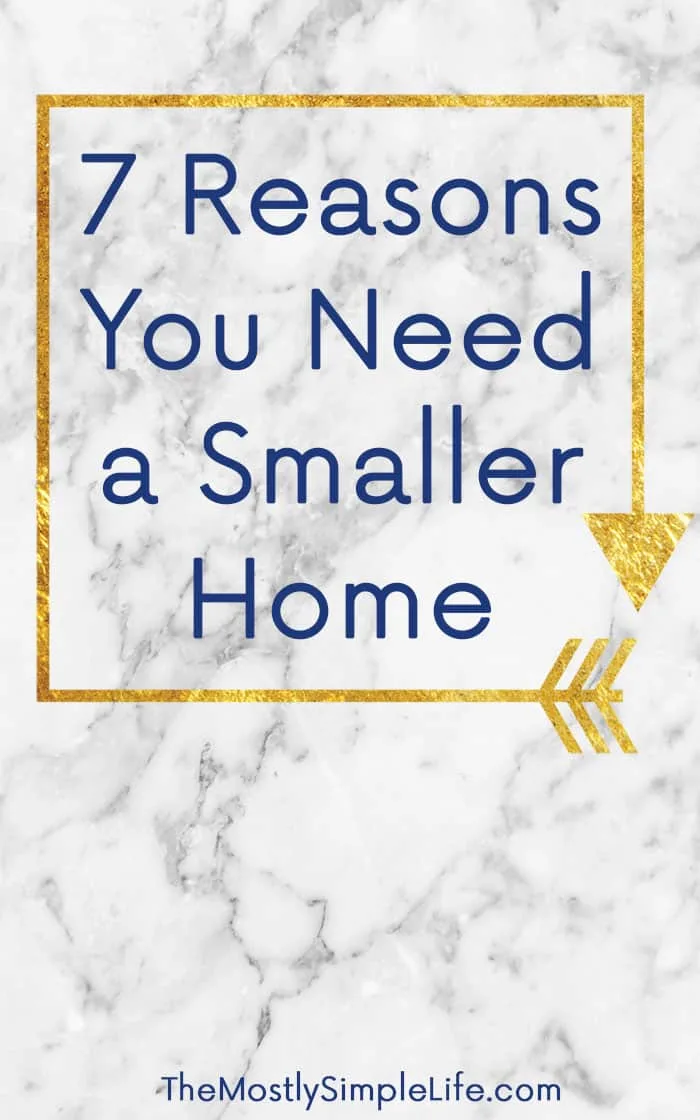 We are officially shopping for our second house. Eek!
When we bought our first house, we had such a tight budget that we literally bought the only house we could afford.
This time around we have a few more options, which is exciting but also means that there are more decisions to make. We're in a bigger city now and there are so many different neighborhoods and parts of town, all with their pros and cons.
There's also the matter of size. Our first house had about 1500 square feet of finished space. For West Michigan, that's a pretty modest size that most would consider a "starter house".
For our second house, much to some people's surprise, I don't want a bigger house. Even though we're considering having kids, we want a house about the same size as our first "starter house". I'd even be fine with a much smaller house if the floor plan and location are right.
There are a lot of fabulous reasons to buy a smaller home! This is why I don't want a bigger home:
7 Benefits of a Smaller Home
1. You Fill the Space You Have
So this is one of my personal philosophies 🙂 I am convinced that with few exceptions, people fill the space they have.
When we bought our first house, we didn't have much furniture or extra stuff. By the time we moved, we had a fully furnished home with hardly any empty drawers or closets. And that's coming from someone who regularly declutters the whole house.
It's somewhat amazing how it happens, but a few purchases here and there as well as lots of hand-me-downs, and all of the sudden our house didn't feel so sparse anymore.
The thing is, we're now living in a small apartment and I don't miss any of that extra stuff. We just filled the space we had.
So part of the reason I'd prefer a smaller house is because we don't need the space and if we have it, I know we'll fill it eventually.
2. Lower Purchase Price and Payments
A smaller house almost always means a lower purchase price and smaller payments (unless you're buying a smaller house with extra land)
I am forever thankful for the first house we bought. We stuck to the budget we wanted even though the bank said that we could spend more.
It was so wonderful to have a crazy-low house payment and there were times that I'm not sure how we would have afforded more.
3. Utilities
In West Michigan it gets very hot in the summer and very cold in the winter, so utility bills can get extremely high.
More square footage means more space that needs to be heated and cooled which can equal a ton more money.
4. Faster to Clean
Ok, I figured that this was true but now I know that it is.
We sold our 3 bedroom house and are now in a one bedroom apartment (ok, it's actually a two bedroom, but Austin's sister lives in the second bedroom, so I don't count that because I never go in there) and it's shocking how quickly I can tidy and clean this place!
It only takes a few minutes to pick up and a short time to vacuum. Let's face it, I'm terrible at cleaning the bathroom, so I certainly don't want three of them to keep clean.
5. Remodeling
For me, a big draw to having a smaller house is so that we can fix it up with nicer finishes.
Think about it, if your whole house needs new flooring and it's 3000 square feet, you're either going to spend a huge chunk of money or you're going to use a cheaper material. If your house is 1500 square feet, you can use a much nicer flooring for the same price.
The same goes for a kitchen cabinets and counters or if you need new windows.
For our second house, I really want something that is modestly sized but nicely finished instead of something huge with cheaper finishes.
6. Awareness of Spending & Space
Having a smaller house makes you aware of how you fill your space.
There's only enough room to keep what you use and what you love, which is how I always try to live.
Of course, you can live like that in any sized house, but I've found that when we have had more space we were more likely to keep things "just because".
We hung onto furniture that we didn't like or use because it was in a spare room. We hung onto scraps of wood or materials that we never ended up needing because there was room in the garage. I kept kitchen gadgets that weren't necessary because there was cabinet space. You get the idea.
Being in a small apartment has shown me, more than ever, that I like being surrounded by things that I love and use. Things don't get lost and I'm more careful with how I spend our money because I know that everything I buy has to get stored somewhere.
7. More Time for What You Love
Less time cleaning and organizing as well as less money spent on a mortgage and utilities means that I have time and money for what's important to me!
That's the end goal for me.
I don't want to spend hours each week cleaning when I could be enjoying my hobbies. I don't want to spend every bit of our money on our mortgage and not have any leftover for fun family activities.
A smaller house means more freedom to me. We've started looking at houses and I'm holding out for the one that's "just right" for us.
Related Posts:
The Simple Way We Track Our Spending on a Tight Budget
The #1 Mistake You Don't Want to Make When Buying a House
How to Fix Up Your House When You're Broke
⇒ How big is your home? Do you wish it was bigger or smaller?
---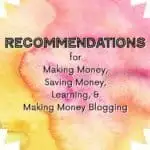 Be sure to click over to my Recommendations Page to see some of the ways I save money, make extra money, learn new skills, and make money with this blog. If you're interested in starting a blog, click over to read why I think you should do it! Plus there's a tutorial to get you started.
---
If you find this page helpful, please pin or share it :)