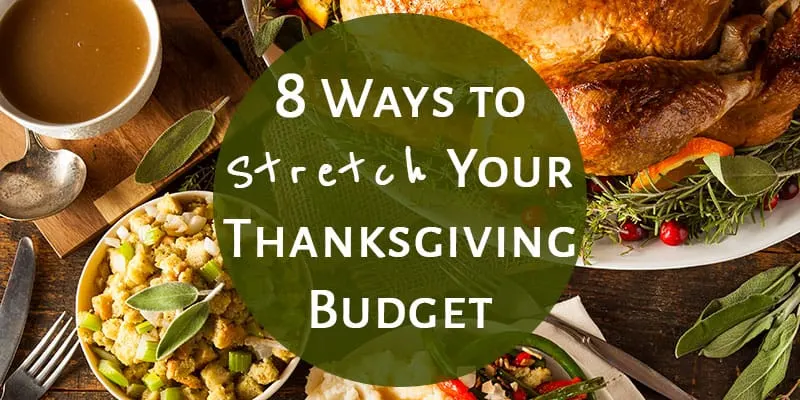 Note: Because of Covid-19, you may have less people at your Thanksgiving dinner than in the past, but I think you'll still appreciate these money saving ideas!
If you've hosted a big holiday meal before, you probably know that it can get expensive. But just because it can get expensive, doesn't mean that it has to.
I've got a whole bunch of tips for you on how to stretch your Thanksgiving budget so that you can host a wonderful meal without spending a fortune. While the focus of this post is on Thanksgiving, these tips will absolutely work for any big meal or family party.
Big Important Reminder: I love the idea of a big fancy family dinner like you see in the movies or on some Instagram accounts, but I have to remind myself that that's not what matters. What matters is that people feel welcome and comfortable in my home and that we all enjoy quality time together. Repeat after me: Keep it simple.
1. Get Organized
To stretch your Thanksgiving budget, it's a huge help to get organized. Here are a few ways to plan and organize your event:
Start writing down a menu for the meal so that you know what dishes you will serve and therefore what groceries you need to get (this helps with #2).
Estimate how many people to expect. A general number is helpful so that you can start to figure out how many people you're feeding and how you're going to fit everyone around a table.
Set a budget. I usually set a budget for individual events (like birthday parties or our annual Christmas party). This way, I know what we can afford and I can focus on spending our money on the most important things first.
2. Shop the Deals
There are great sales around Thanksgiving on most of the ingredients you will need.
Look for the best deal you can on your turkey since that's likely the biggest expense.
You can buy a lot of ingredients a few weeks ahead of time if you find a good sale: canned pumpkin, whipped cream (can be stored in the freezer), potatoes…
Don't forget to check savings apps too! My favorite is Ibotta because they often have cash back rebates on store brands as well as fruits and veggies (things that are almost impossible to find coupons for). You usually just have to take a picture of your receipt to apply for the rebate, so it's quick. If you're not already signed up, use this link and you'll get $10 added to your account when you redeem your first rebate. You might even have a receipt in your wallet right now that will work.
3. Have Everyone Bring Something!
Just because you are hosting the meal does not mean you need to do everything. It makes sense that you'll cook the turkey since that's too hard for someone else to cook and transport to your house, but everything else could be brought by a guest.
In our families, we all know to ask what dish to bring to Thanksgiving. Everyone brings something! Ask your guests to pitch in. You can look at your menu from tip #1 and have guests bring some of those items.
Some ideas on what to have guests bring:
Drinks
Pumpkin pie or other desserts
Salad
Rolls
Other favorite side dishes
Appetizers: Veggies and dip, crackers and cheese…
You can even tell them approximately how many people will be at dinner so that they are able bring enough for everyone.
4. Skip the Disposables
Using disposable dishes and silverware does make for easier cleanup but can add a lot of cost. Skip the disposables and use real dishes to save money.
Bonus: It'll make your dinner feel a little fancy!
5. Make Large Amounts of Classic Dishes
This is where keeping things simple becomes really important. You do not need turkey and ham and chicken, plus three different potato dishes, two different green bean casseroles, four drink options… You get the idea.
Keep it simple. It's much more cost effective to make large amounts of a few classic Thanksgiving dishes thank to serve many different dishes.
People will not remember that you had four different kinds of desserts because in my experience, almost everyone wants pumpkin pie on Thanksgiving. If you have plenty of pumpkin pie (which is inexpensive to make), no one will feel like they're missing out on anything.
Stick with one meat: probably turkey.
Make one kind of dessert: most likely pumpkin pie.
Have large amounts of your family's classic Thanksgiving foods and no one will feel like anything is missing. At our house that means mashes potatoes with gravy, stuffing, and probably some sort of green bean dish.
Those classic dishes are all quite inexpensive, so it's very cost-effective to stick with those.
6. Choose Inexpensive Drinks
Drinks can get very expensive. Again, this is a place to keep things simple with only one or two options.
You can make a big batch of punch or buy apple cider to offer as a beverage. Apple cider is usually on sale around Thanksgiving and punch is inexpensive.
Our families don't drink much alcohol so it's not expected at our family meals. However, I know that it is expected for a lot of people.
If alcohol is expected, pick one or two inexpensive options. We actually really like the Aldi Winking Owl wine and it's only a few bucks per bottle. Or, when guests ask what they should bring, ask them to bring a bottle of wine.
7. Decorate Simply
There are two reasons not to go all out on the decorations:
They can get expensive and are not completely necessary when we're trying to stretch the budget.
There are usually so many plates and dishes on the table at Thanksgiving that there's no room for decorations!
You can keep decorations simple by using any fall decorations you already have and displaying them in the rooms that your guests will be in.
Natural elements look really nice too:
A bowl of small pumpkins or gourds from the grocery store
Pinecones or acorns from outside
I often find great seasonal decorations at the dollar store.
8. Plan for Leftovers
I never like to run out of food for a big gathering. I always try to make more than I think we'll need so that everyone can have as much as they want. This means that I'll likely end up with leftovers, which is great!
Plan on eating your leftovers over the next week so that food doesn't go to waste. If there is something that you really don't like the leftovers of, try to send it home with one of your guests.
Leftover turkey can be made into sandwiches or used for soup. Mashed potatoes can also be added to a soup if you don't like them plain. And of course, leftover pumpkin pie never goes to waste!
---
By planning ahead, simplifying, and sticking with inexpensive classics, you'll be able to stretch your Thanksgiving budget a long way.
I know that when you're hosting a big party like this, you want everything to feel perfect and super nice. At the end of the day though, people remember how welcomed and comfortable they felt in your home and the quality time they got to spend with family and friends.
By using these money saving tips, I think you'll guarantee that people have a great meal without you spending a fortune.
Don't Miss These Related Posts:
⇒ What are your Thanksgiving tips? Are you hosting a meal this year?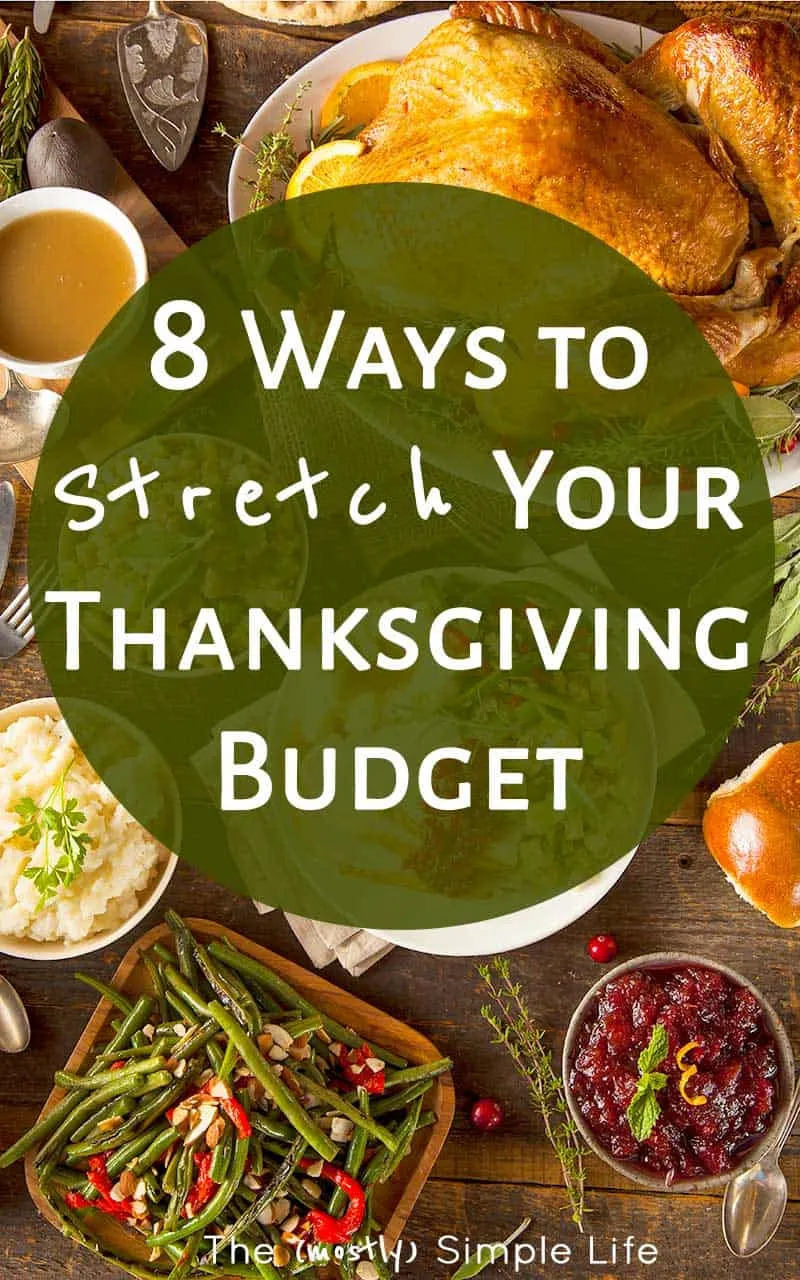 If you find this page helpful, please pin or share it :)