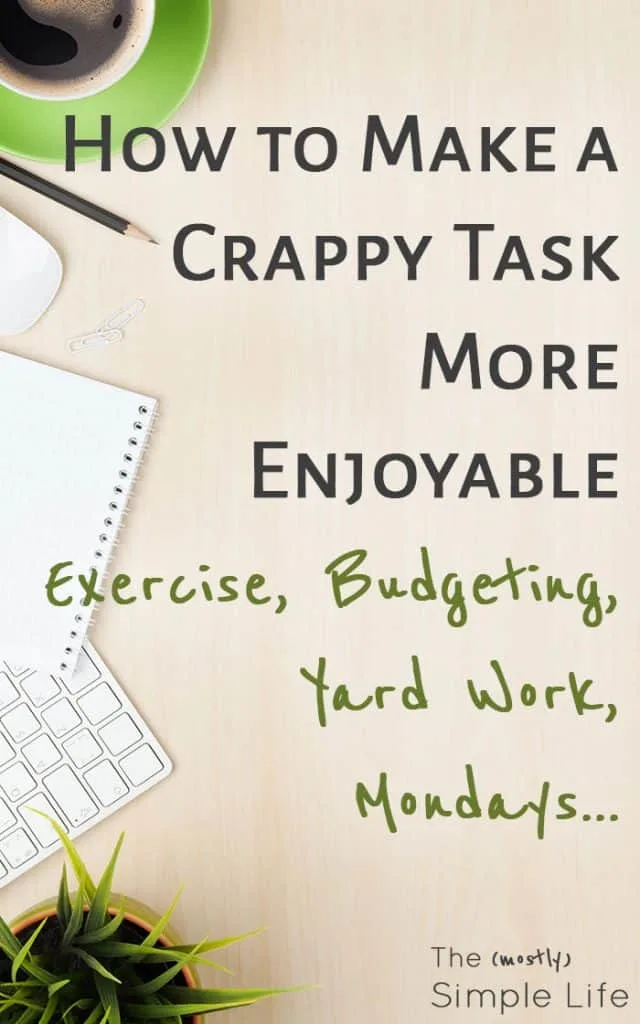 When you were a kid, did you ever think about how great it would be to be an adult?
I remember thinking about how adults get to do what they want and make their own choices and don't get told what to do by their parents… Except not so much, right?
To be an successful human being, sometimes you have to do things that you don't want to do. Pay taxes, create a budget, exercise, do yard work, go a to a job you don't like so that you can pay the bills… It's definitely not all fun and games.
When I have to do something that I'm not thrilled about, I've come up with some tricks to make the task more enjoyable or worthwhile.
How to Get Things Done That You Don't Want to Do
Distract Yourself
I use this method all the time! When I'm doing a task I'm not thrilled about, I listen to music or an audiobook. I prefer audiobooks becasue they really suck you in and get your mind off of what you're doing.
When I worked at an office, I listened to a huge amount of audiobooks because my work was fairly mindless and it made the time go by faster.
If I have to do yard work, music or an audiobook keeps me entertained while I work.
I listen to peppy music or a podcast while I work out a few times per week.
I've started almost enjoying cleaning the kitchen because I've been listening to some great podcasts while I do the dishes.
Get Inspired
I try to keep myself inspired and motivated when I have to do something I'd rather not do.
I'll look a photos of a beautiful gardens to motivate me to put some effort into mine.
I follow some fitness "role models" on Instagram because they're always super positive and encouraging in what they write. It motivates me to work out!
Write Down "Why"
Sometimes distracting myself and finding inspiration doesn't really work. At that point, I try to pinpoint why it's good that I'm doing something I don't like to do. I think about what I'll get out of it in the end.
I spend time creating my budget because it helps me stress less when I know where our money is going.
I've gone to work on days that I really didn't want to because it allowed me to pay the bills and have some fun money to enjoy.
I pull everything together to pay our taxes because I really like not having the IRS bother me 🙂
Writing it down is the easiest step to skip but it's important. Even if you just type a note on your phone, you'll have something physical to look at when you're feeling frustrated.
Obviously, it's just a part of life that we sometimes often have to do things that we're not thrilled about. These little tricks have helped be have a more enjoyable time when I have to do something that I don't want to do.
Related Posts:
5 Steps to Creating the Life You Want
11 Life-Changing Positive Thinking Quotes
How to Stay Positive When Life Sucks
34 Great Goals to Set to Change Your Life
⇒ What task do you dread the most? Do you try to make it more enjoyable?
If you find this page helpful, please pin or share it :)