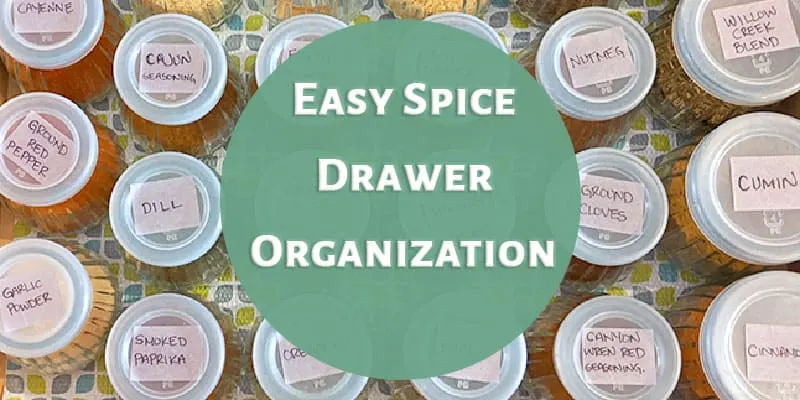 I've kept my love of spices and seasonings a secret from you for a long time. I can't help it. It's hereditary. My mom has a pretty epic spice collection in her kitchen. And they're alphabetized. Whenever either of us moves, we ask each other where are you going to keep your spices?
Well, the spice drawer in my kitchen reached disaster levels. Trying to find anything was like an obnoxious treasure hunt. Take a look: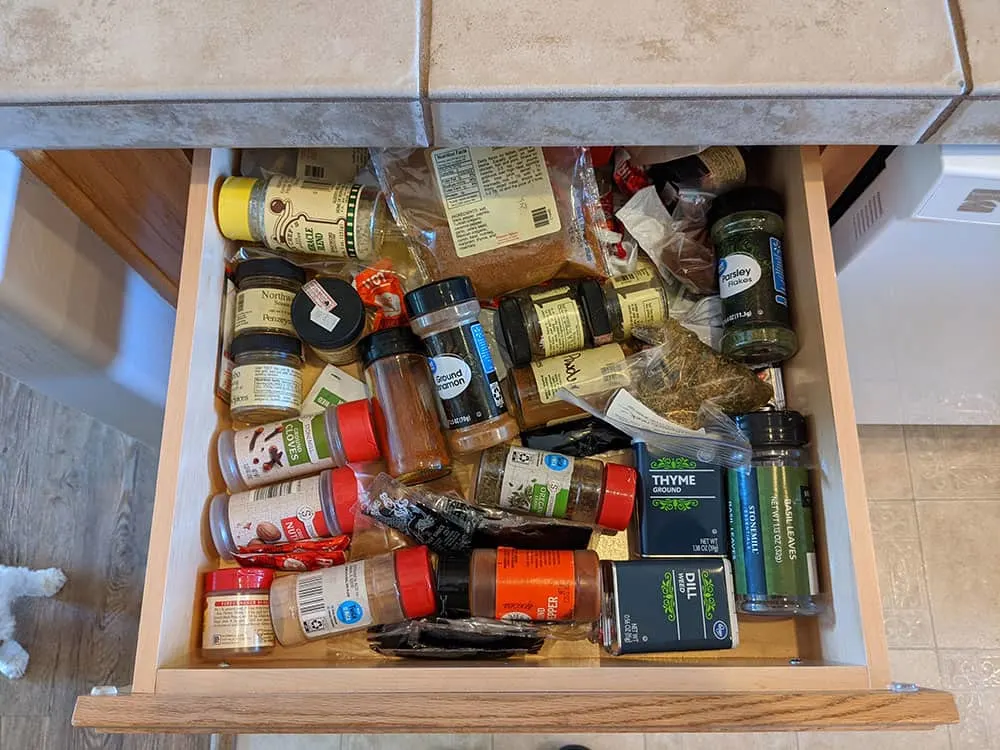 I decided to go big with my organizing: matching-containers-kind-of-big. And it's beautiful. I've opened the drawer just to stare at its beauty. Not to mention the fact that I can actually find what I need when I'm in the middle of cooking dinner.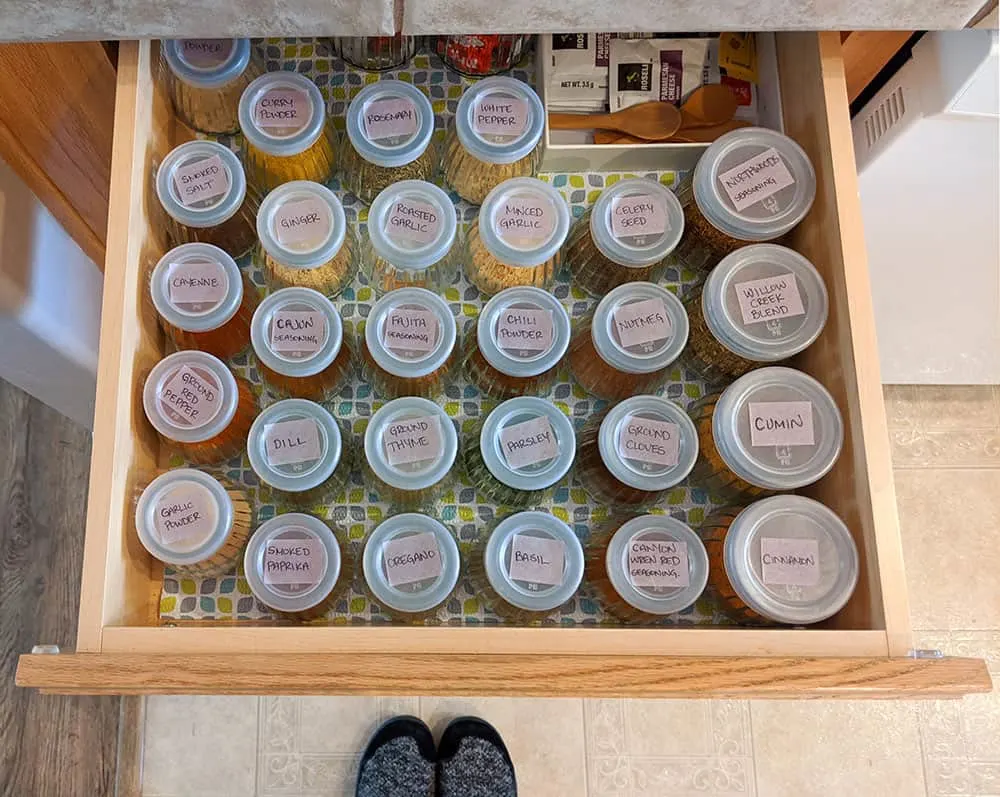 Spice Drawer Organization Necessities:
The Jars
The jars are most important and the options are vast: sizes, lid types, prices, etc. I ended up choosing 4oz glass jars with plastic lids. I like that I can place the label on the lid and they stand up in my drawer instead of having to lay down. I have a couple of 6oz jars that I've used for larger quantities of things, but the 4oz is best for most spices.
I did have to buy a large pack of the jars, but they can be used for so many things and the price per jar was great, so I'm happy with what I chose.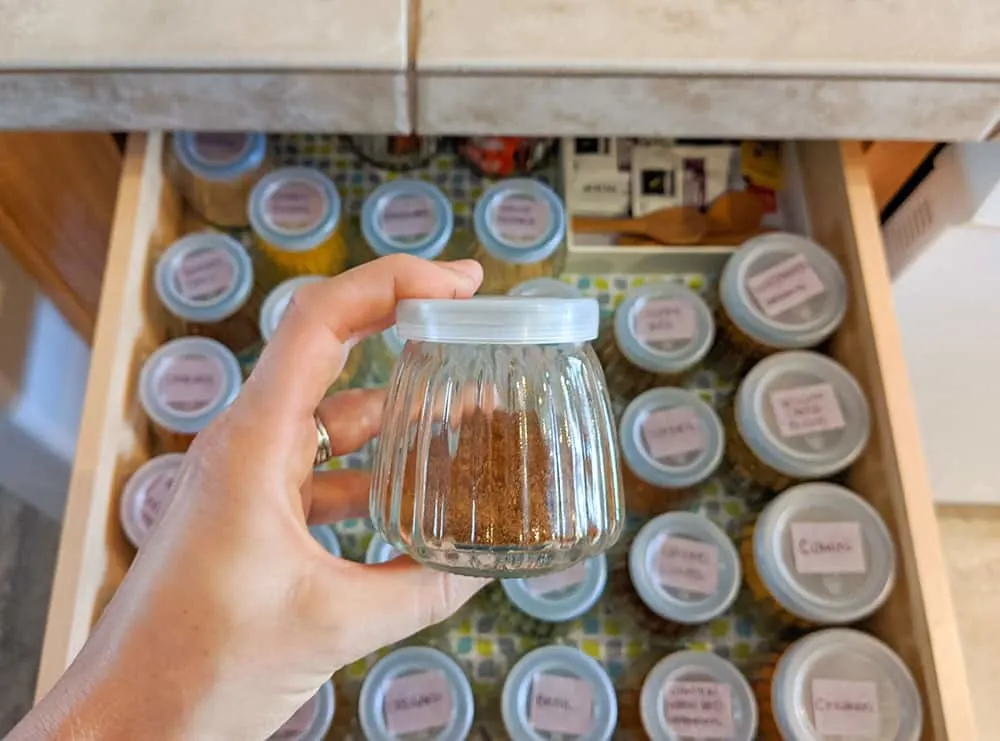 The Mat
The glass jars tend to slide around in the drawer, so I picked up a drawer liner from the dollar store. It helps some with the jars sliding around, but I may upgrade eventually to one that works better.
The Labels
Hot tip: my favorite way to label anything in a non-permanent way is to use painters tape! It sticks great but is also easy to peel off.
Since I may change up my spices and seasonings over time, it's the perfect solution. It wrote on the tape with an extra thin permanent marker.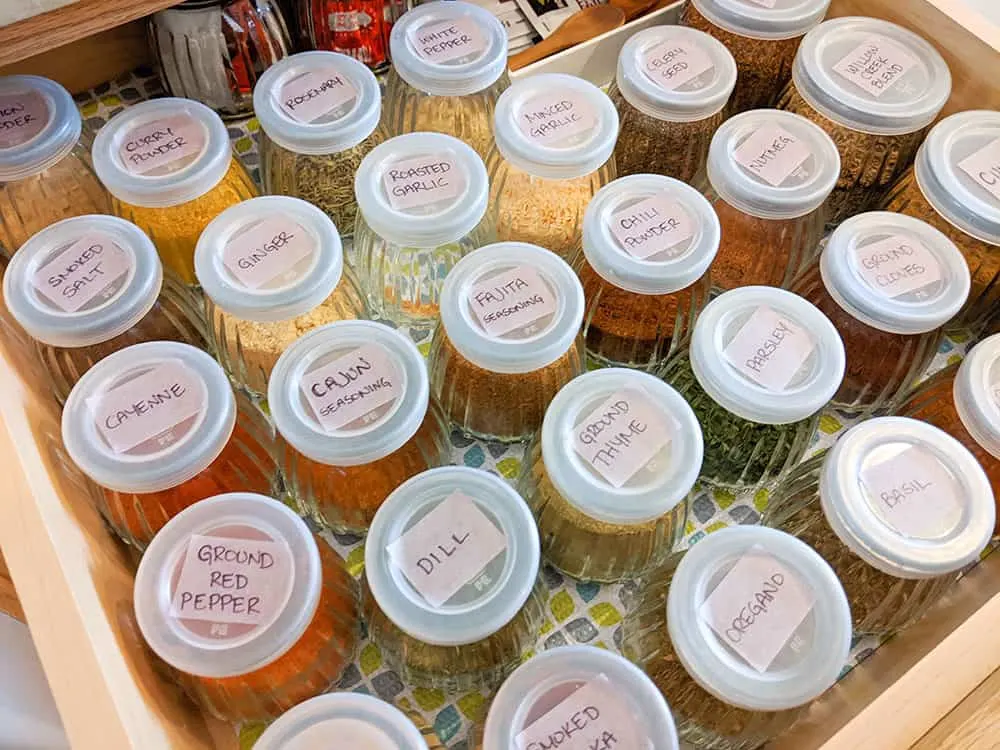 The Spoons
The one downside of the spice jars I chose is that the lid doesn't have a way to sprinkle out just a bit of what's in it. It seemed unsanitary to always be sticking my fingers in the jars to grab out a pinch, so I snagged some mini wooden spice spoons.
I keep them in the spice drawer and wipe them off with a dry towel after use. For specific measurements I still grab my measuring spoons, but for eyeballing what I need, I use the mini spice spoons.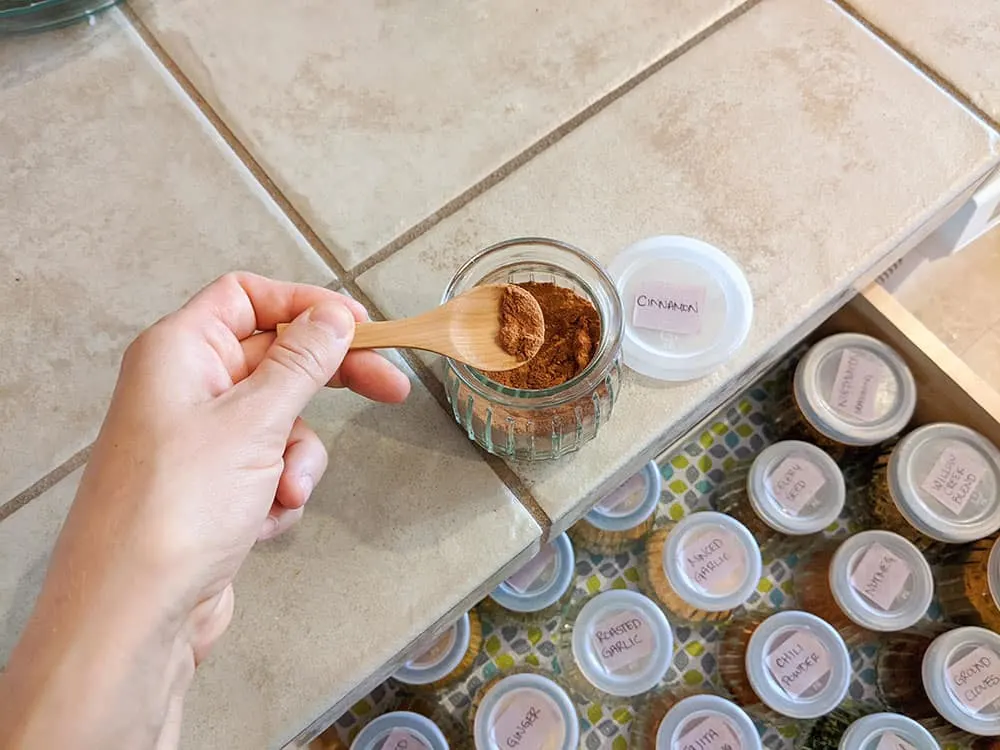 ---
After I had gathered all of my supplies, I spent an evening watching Murdoch Mysteries while labeling lids and transferring the spices into the jars. It was so easy and brings me all kinds of joy on a daily basis!
Ok, one more photo because I'm in love!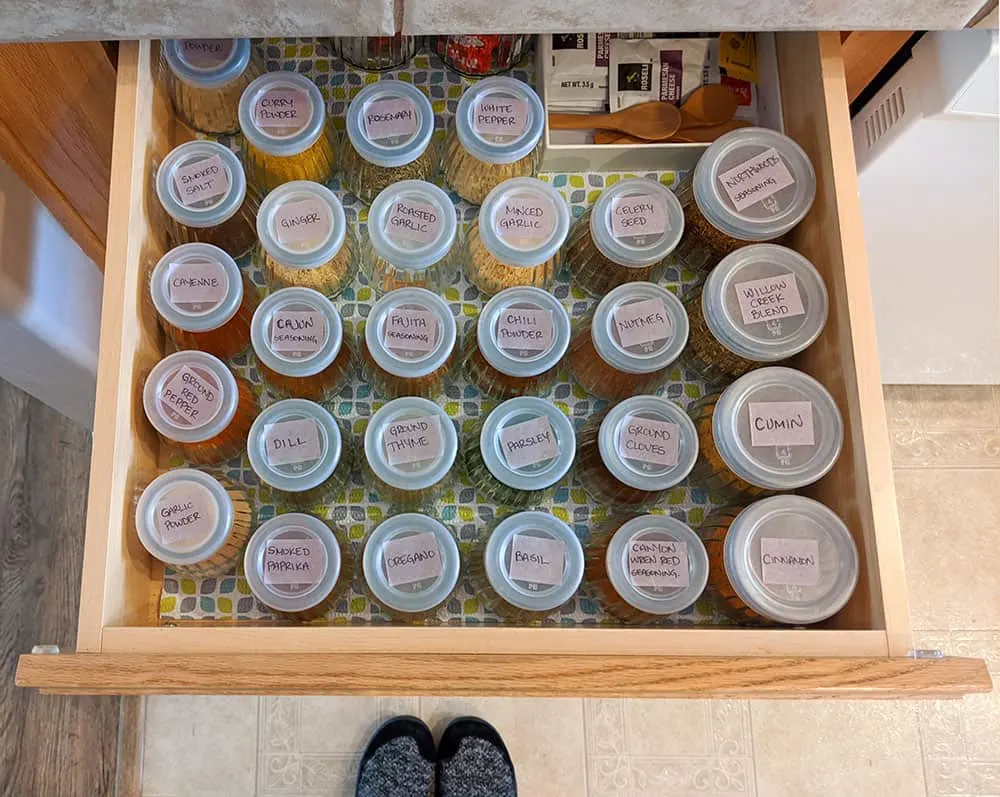 Does your spice drawer need some help?
Don't Miss These Related Posts: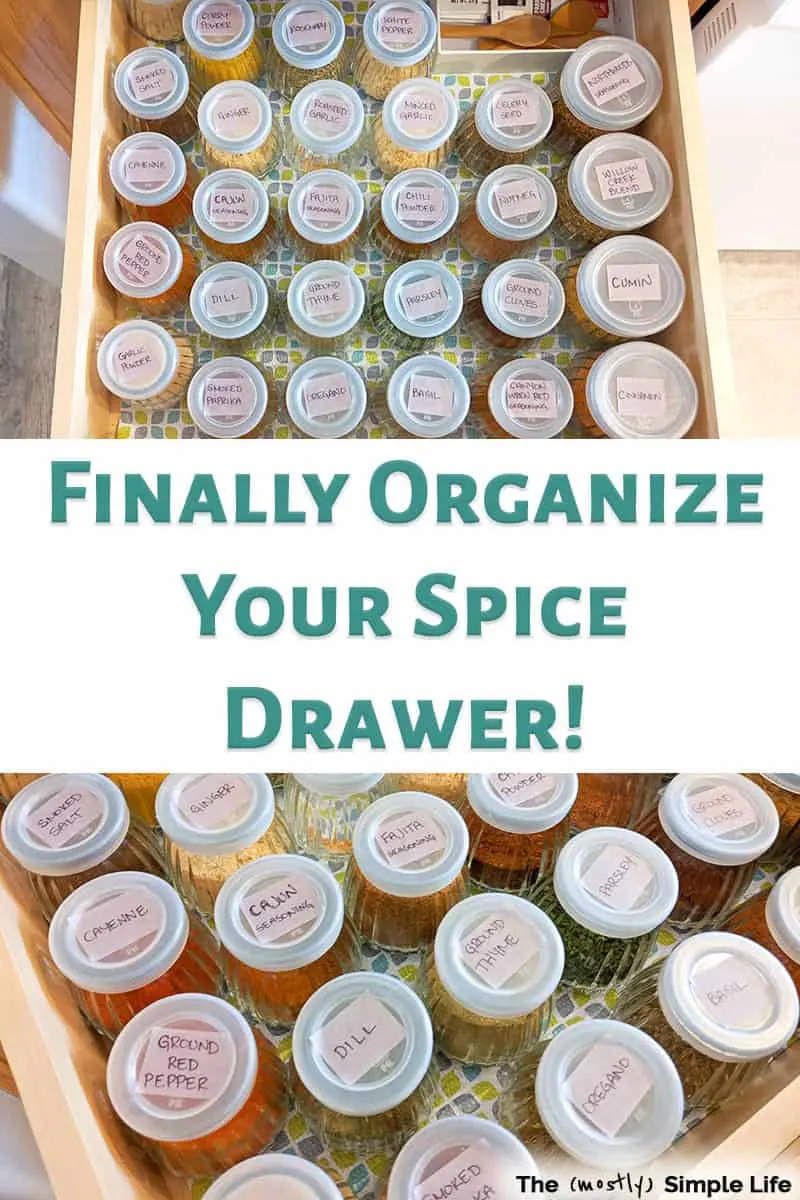 If you find this page helpful, please pin or share it :)