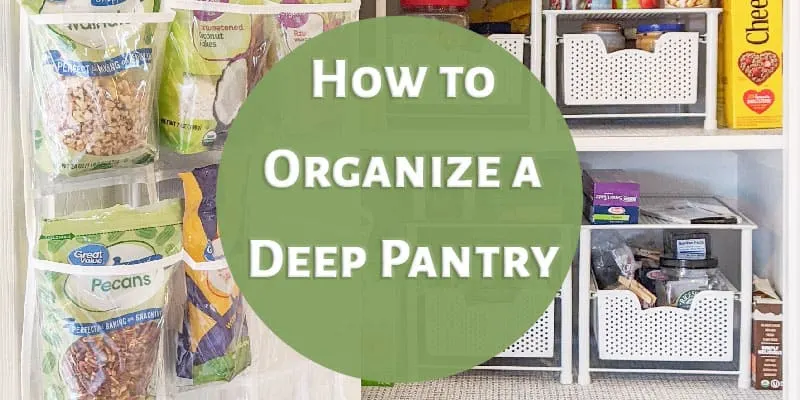 Imagine my joy at finally having a proper kitchen pantry when we bought our current house! Our pervious two houses were severely lacking in the food storage department.
It was all going great at first. When we moved across the country from Michigan to Colorado, we came with no food at all so we were completely starting over. The pantry was barely half full when we moved in so I didn't think I needed any special storage solutions.
However after living here for five months, slowly acquiring more and more food, the pandemic hit and we wanted to have a few spares of our favorite foods on hand. Hummus-making supplies and peanut butter are important to my survival. About six month into living in our new house, the pantry looked like a disaster zone.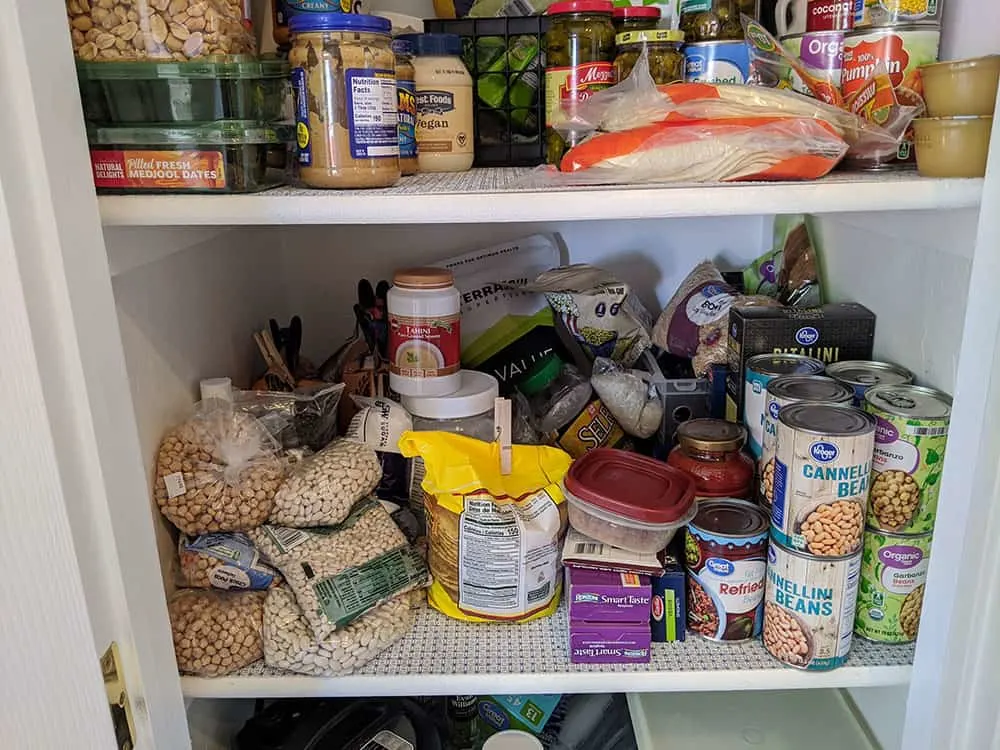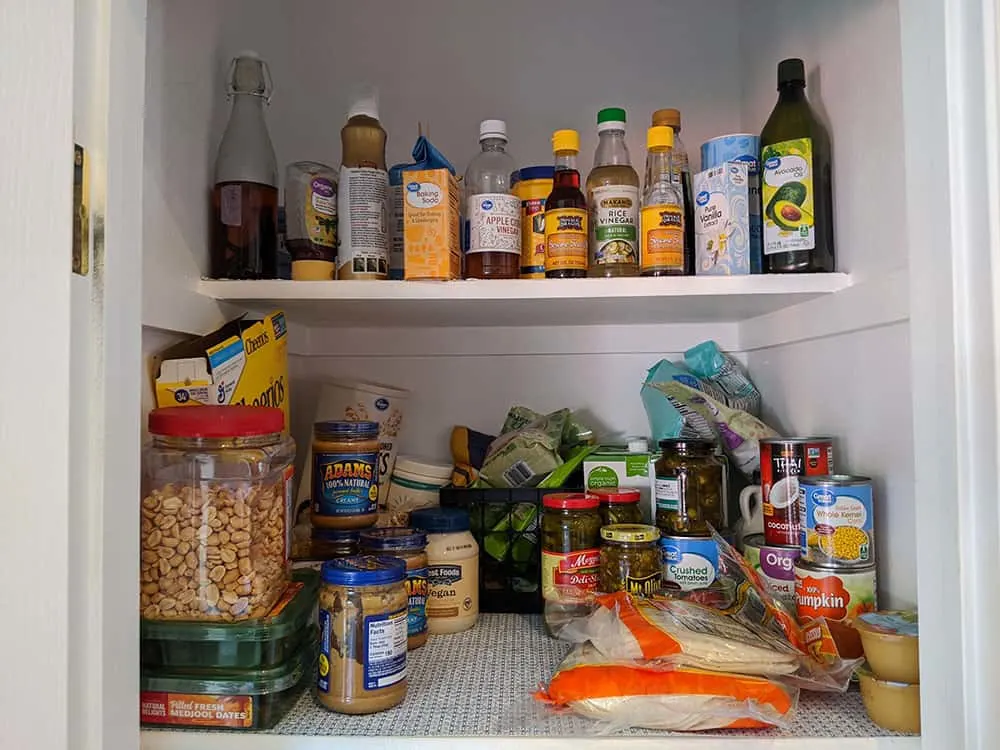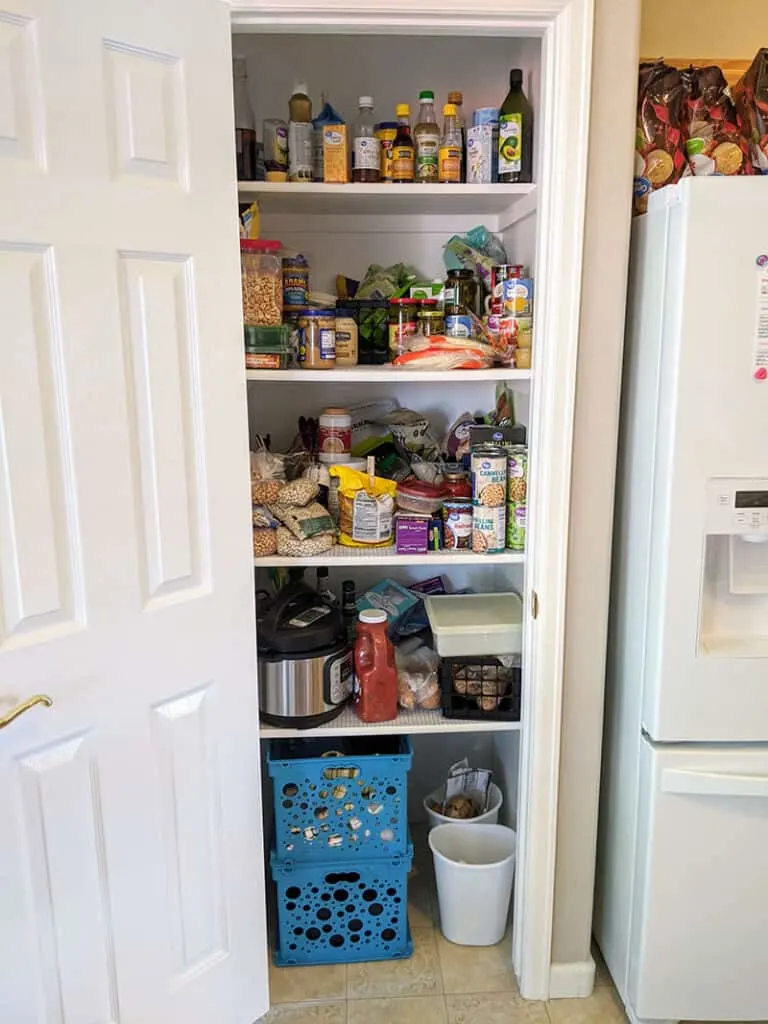 This led to the achievement of a second dream of mine (the first being having a pantry) : buying supplies to organize our pantry! Eeeek! I was literally bouncing up and down with excitement about being able to properly organize our pantry.
But it wasn't easy. This pantry is deep. Twenty four inches deep. Since it's not a massive pantry it was important to take advantage of the depth while still being able to get to everything.
So! Here's what I got to maximize the deep shelves in our pantry:
Drawers with a Shelf on Top
The best way to maximize the deep shelves turned out to be drawers that have a shelf on top. This way, I can pull out the drawer and get to everything in the back without digging.
These were crazy-easy to put together and fit a lot of food. Plus, we still have room to put more items on top.
I tried to get a special can organizer for all of our canned goods, but the ones I found were wide and shallow, so they took up too much space for what the could fit. I ended up getting more drawers and putting most of our canned goods on the top shelves.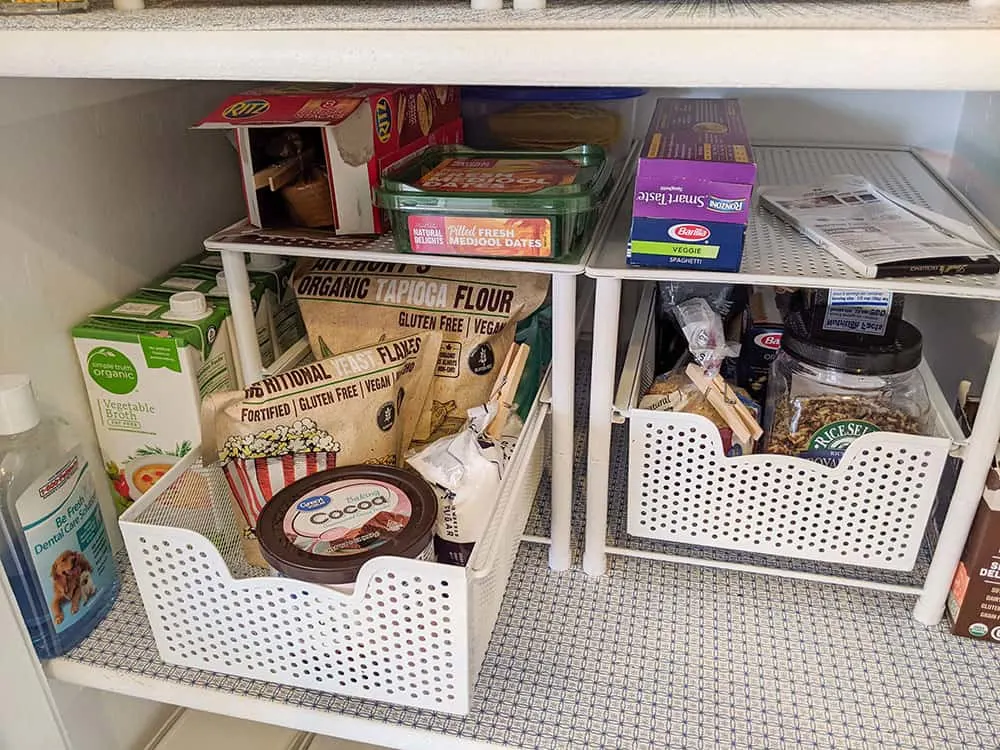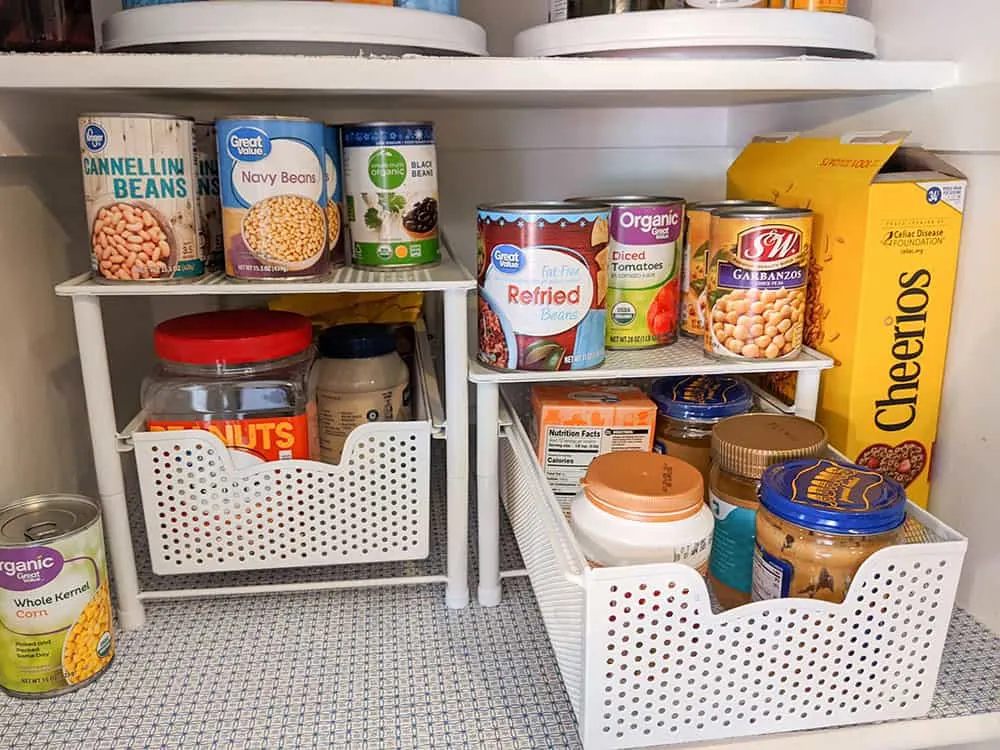 Tall, Skinny Food Storage
My various kinds of flour and oats took up lots of space too, so I snagged some tall, skinny food storage containers for them. They're much easier to get to now and the containers seal nicely to keep things fresh.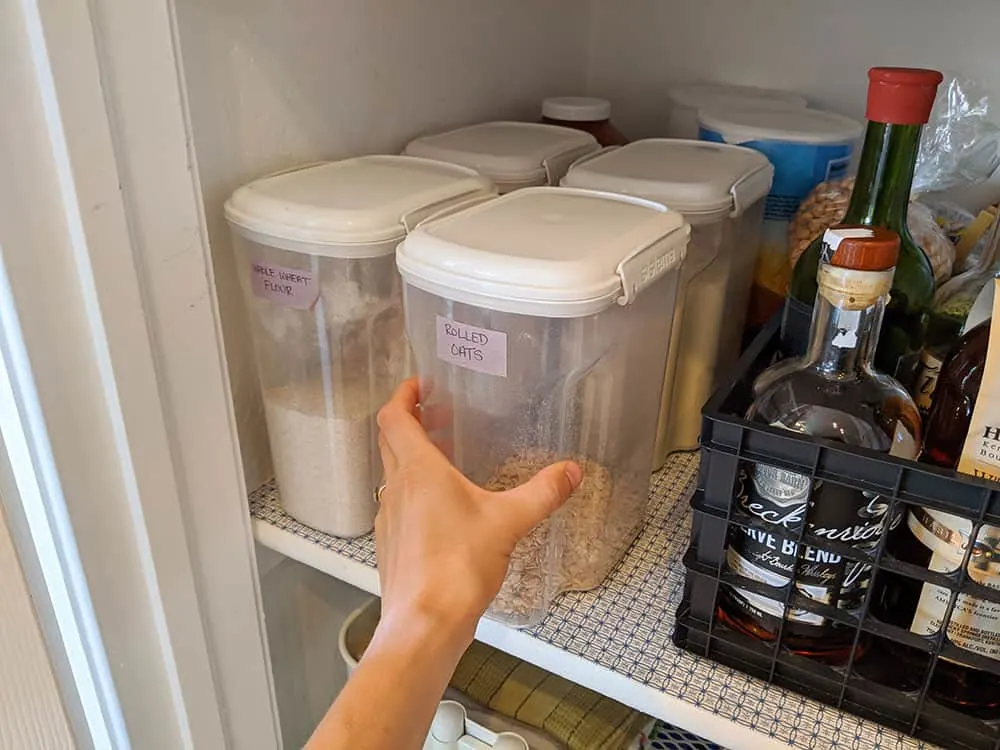 Lazy Susan Turntables
Our top shelf always stored lots of little things like oils, vinegars, baking products, etc. The more I acquired, the harder it was to reach everything.
The turntables have been an amazing solution! I was able to fit two of them side by side and it's easy spin and grab what I need.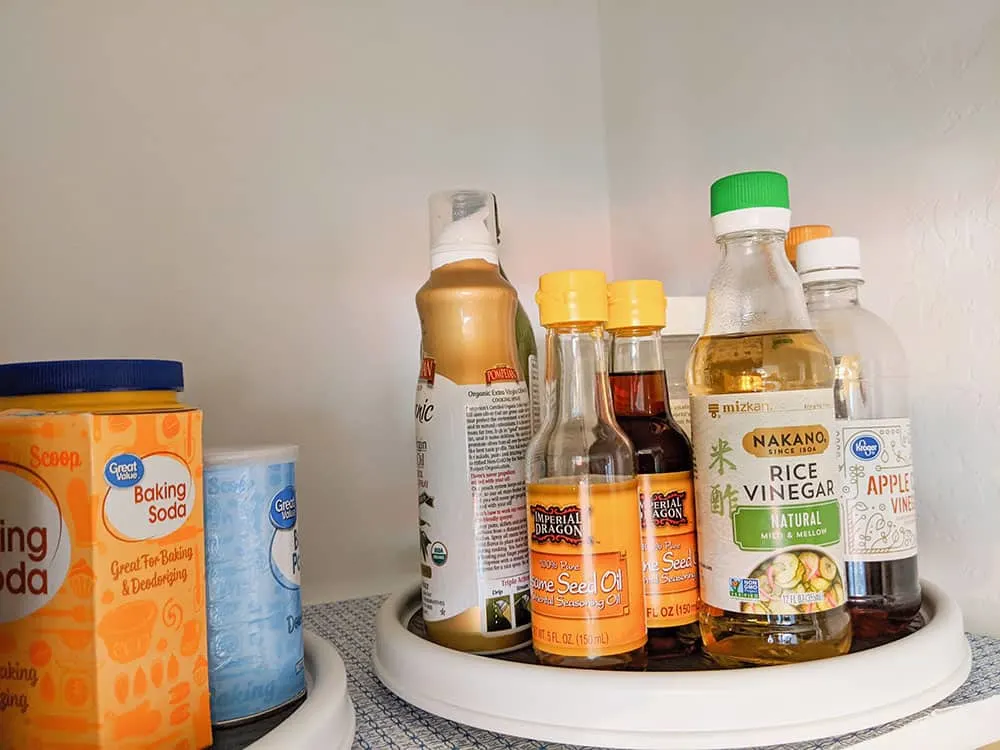 Over the Door Organizer
I had been trying to keep snacks and nuts organized in little crates before, which definitely helped but involved some digging to find the right thing.
With the over the door organizer, it's so much easier to see everything and grab what I need. Plus, I can see what we need to buy more of at a glance. It's also a great place for little odds and ends that got lost in the chaos before.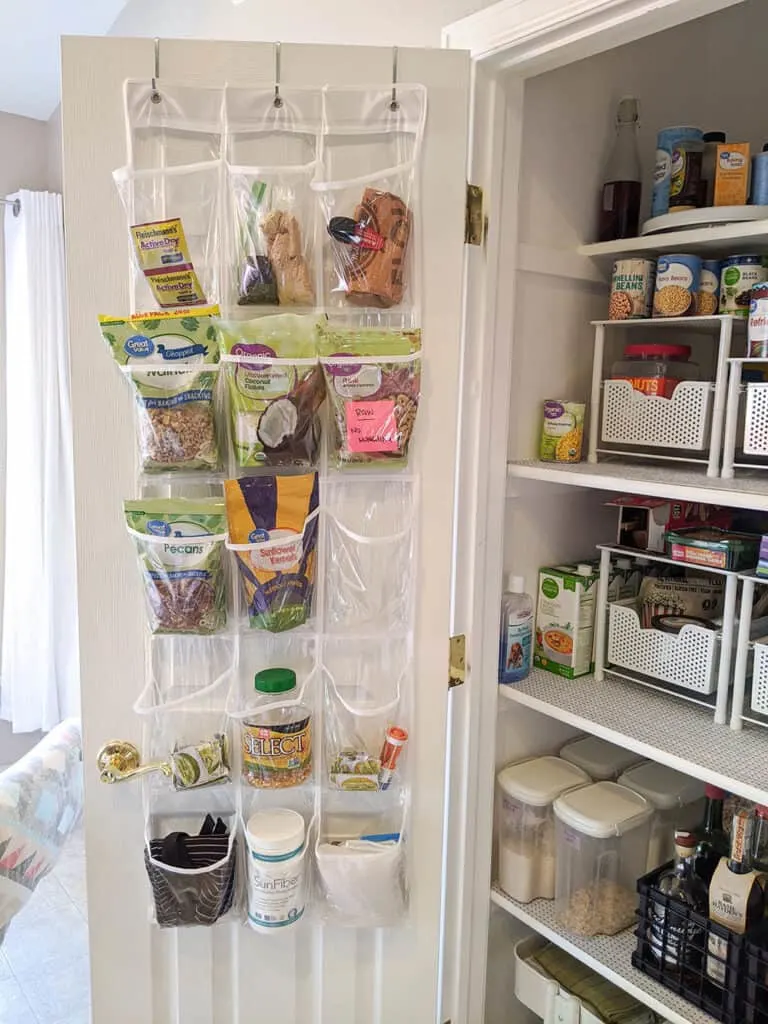 Rolling Utility Cart
Lastly, I love my rolling utility cart! You might remember that we also use these for end tables and a nightstand. Well, now we have four of these things because it ended up being the perfect solution for the big deep cavern at the bottom of our pantry.
I store kitchen towels and washcloths on top and trash bags, tin foil, and baggies on bottom. It's so easy to roll the cart out, grab what I need, and roll it back in.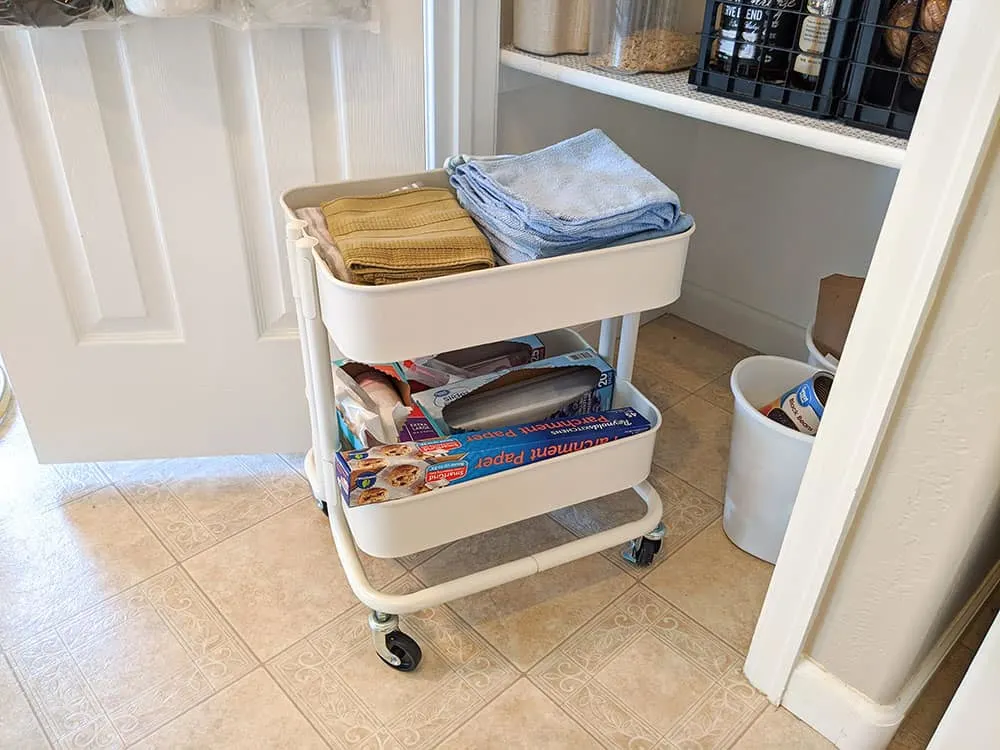 Ready for the full before and after?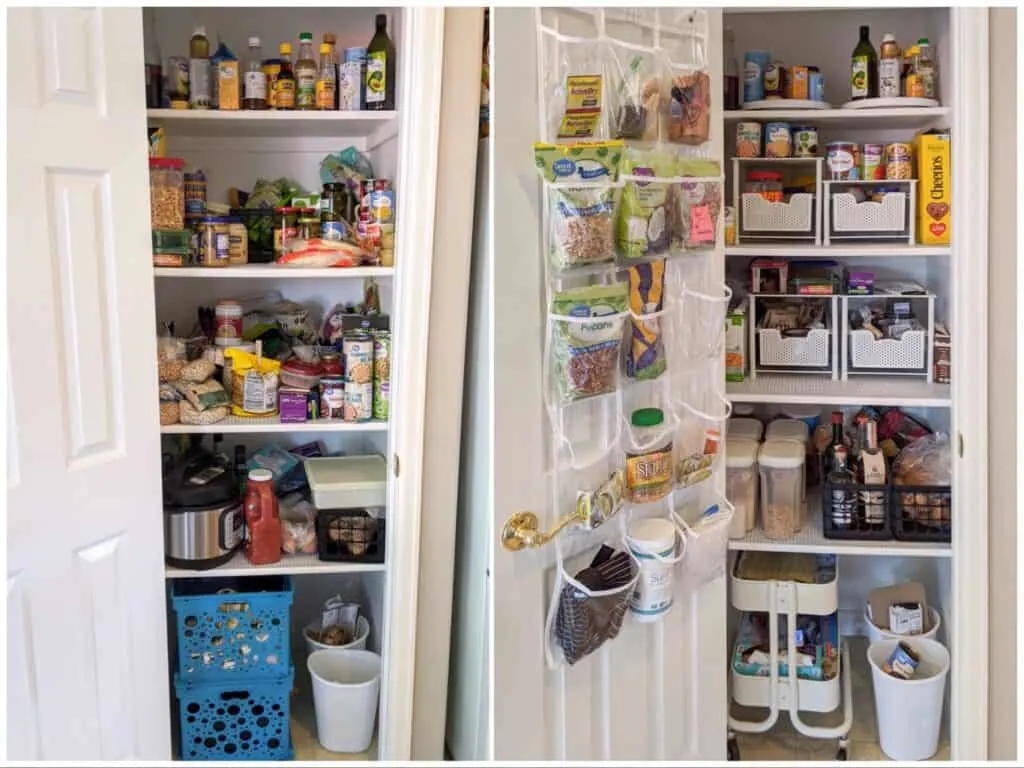 ---
A quick recap of what I used:
Organizing our pantry has made it much easier to find and grab what we need everyday. Plus we can actually fit more food in it because the space is put to much better use.
A deep pantry is definitely a bit harder to organize, but the solutions I found have work so well. If you've got a tough pantry to organize, I hope some of these ideas help.
Don't Miss These Related Posts: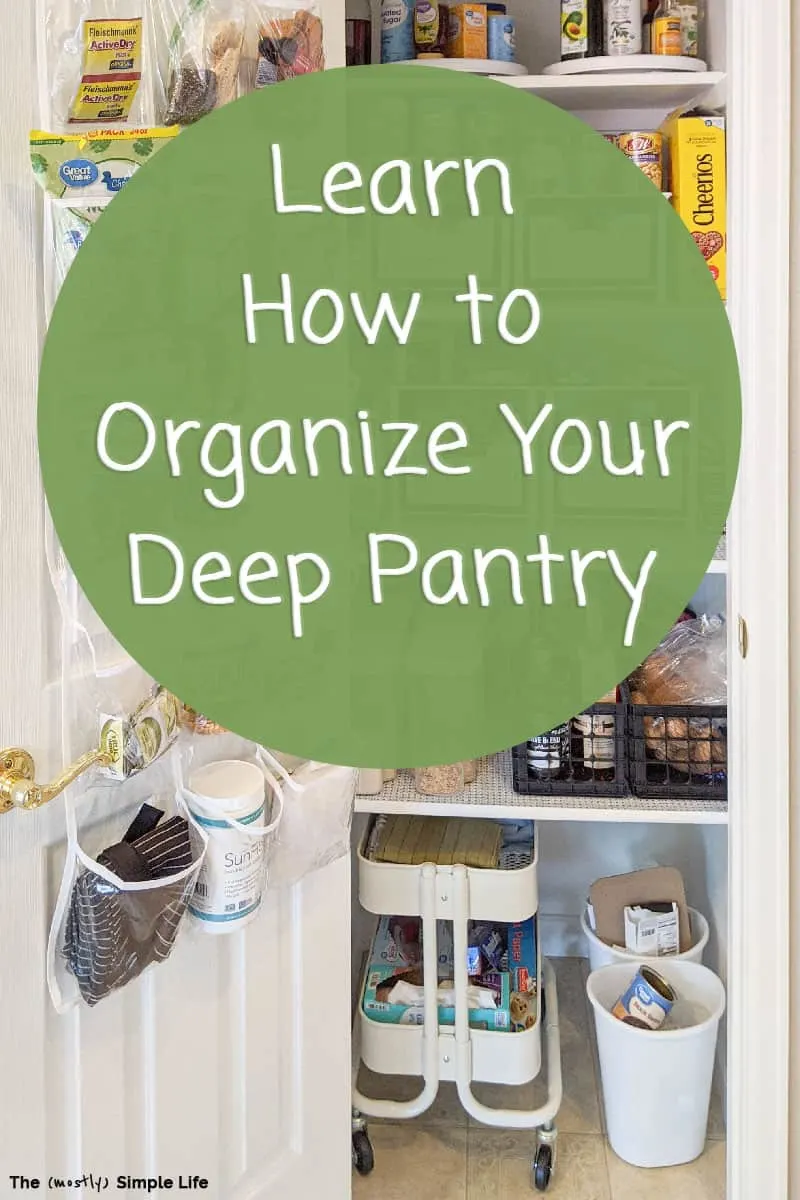 If you find this page helpful, please pin or share it :)