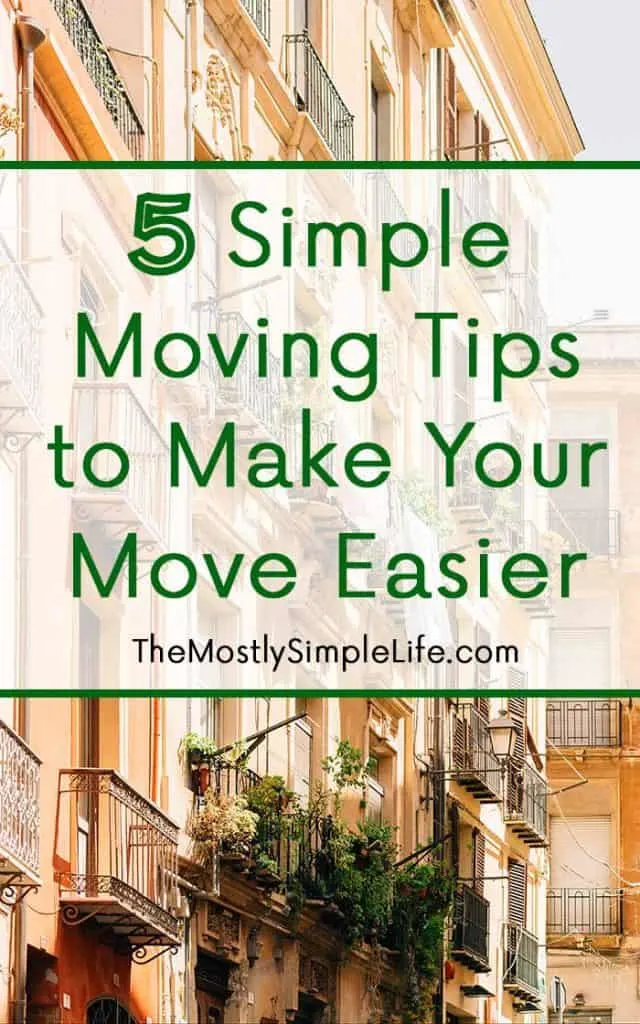 O man, moving is the worst! I'm so glad it's done and we're settling into our new place.
This is terrible, but I'm already dreading our next move. We signed a nine month lease on an apartment to give ourselves time to buy a house in our new location, so we'll be moving again within a year. Yuck!
As far as moves go, ours went really well. It was super quick, there were no major casualties (just a few scratches on my dresser), and we had some amazing family to help us out.
We did a few things that made our move so much easier, so I want to share my moving tips while they're fresh in my mind (and so I can remember them for next time!).
5 Simple Moving Tips to Make Your Move Easier
1. Leave Things in Dressers
We didn't box up anything in our dressers.
We had multiple big, heavy dressers to move, so here's what we did:
We took the dresser drawers out up to lighten the dresser. Then we moved the dresser onto the moving truck and put the drawers back in. At our new place we took the drawers out, moved the dresser into the apartment and put the drawers back in. Mind blowing stuff here, right?
We saved time packing and unpacking, which was wonderful. Also, we would have taken the drawers out to move the dressers anyway. This way, there were fewer boxes to move as well. Win-Win!
Create a Staging Area
This worked so well. I turned our dining room into a staging area.
Every time I finished packing a box, I stacked it in the dining room. Everything from upstairs or the basement that was ready to go got placed in the dining room. We also placed smaller furniture that we could move without help in staging area.
This was awesome because by moving day, the only thing not in the staging area was the big furniture that we needed help to move. We loaded our moving truck in about an hour because everything was in one place and ready to be taken out to the truck. It also helped us make sure nothing got left behind.
I highly recommend creating a staging area on the main floor of your house. It will make your move faster and easier.
Leave Hanging Stuff Hanging
Another tip to save time packing and unpacking.
I used some huge garbage bags with drawstrings to pack our hanging clothes.
While they were still hanging, I put them in the garbage bag and tied the drawstring tight around the hanger hook so that it was the only thing sticking out. Once we got to our new place, I hung everything back up and cut the bags off.
Related Posts:
Decluttering: Where to Start When You're Drowning in Clutter
16 Ways to Simplify Your Life Today (in 30 minutes or less)
Questions You Need to Ask to Declutter Clothing
Questions to Ask to Finally Declutter Your Books
Label Everything
This is pretty basic, but it's good to label everything. And I'm talking specific labels.
There are a few things that I didn't label very well and I was digging through boxes and tubs to find my spatulas and entryway organizer.
So yeah, we all know we should label boxes well, but apparently it's a different thing to actually do it.
The "Important Things" Tub
You know when you've just finished moving and all you want is to take a shower, put on your PJs, and go to bed? But wait, then you'd have to find your shampoo, pajamas, sheets, and pillows.
I had one tub that was literally labeled "Super Important Stuff" which was the #1 tub I needed to keep track of.
It had everything in it that we needed for our first night:
Clean Sheets
Clean Towels
Shower Supplies (I just included a bag of travel-sized toiletry items)
Pajamas
Toilet Paper
Soap and a Hand Towel
It was so nice to be able to find the essentials without digging through boxes. We did a little unpacking the evening of our move, but we didn't have to. All that we needed was in the "Super Important Stuff" tub.
⇒ What are your tips to making moving easier? Are you moving any time soon?
---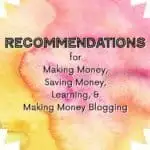 Be sure to click over to my Recommendations Page to see some of the ways I save money, make extra money, learn new skills, and make money with this blog.
If you're interested in starting a blog, click over to read why I think you should do it! Plus there's a tutorial to get you started.
---
[convertkit form=4908806]
If you find this page helpful, please pin or share it :)