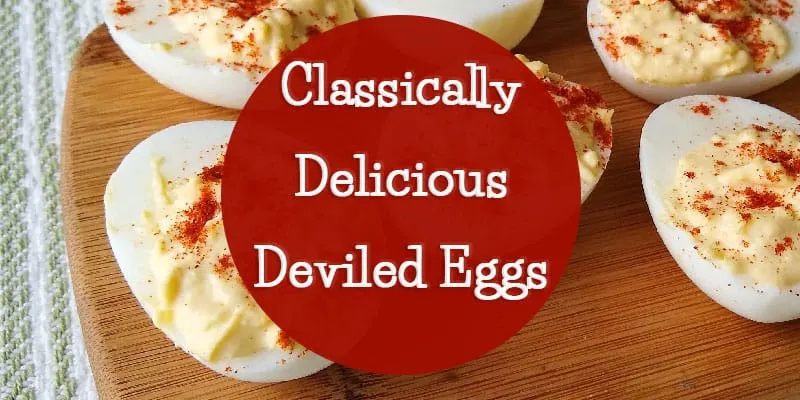 I can't get enough deviled eggs lately!
Growing up, we really only had them around Easter or at family get-togethers, but there's absolutely no good reason to confine your deviled consumption to only a few times per year. You can literally make them any time, y'all!
And they're super quick and easy. We eat them for lunches and snacks all the time these days.
Sidenote: You can get the meal planning printable I use each week by entering your info below!
[convertkit form=830245]
Classically Delicious Deviled Eggs
This is a pretty classic deviled egg recipe. Not all recipes include vinegar like this one does and most recipes use yellow mustard instead of dijon mustard. The use of vinegar and dijon mustard give these eggs some great flavor!
By the way, depending on the brands of mustard and mayonnaise you use, this recipe is gluten and dairy free! Most mustards and mayos are gluten free and dairy free, but if it's a big concern for you, make sure to double check.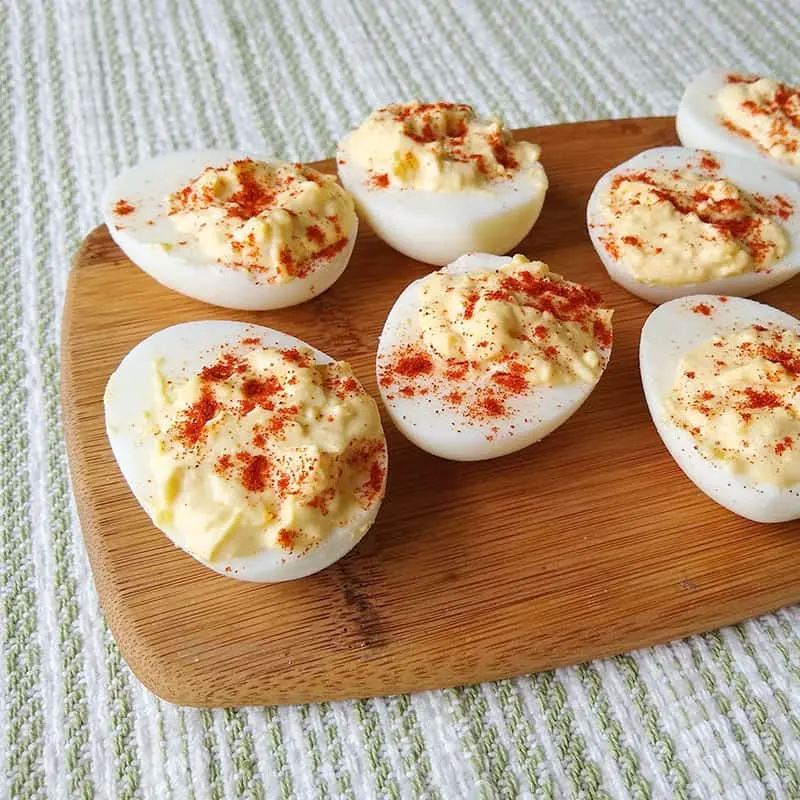 Kitchen Supplies
You don't need anything special to make deviled eggs!
I hard boil my eggs in my Instant Pot (I just switched to the mini 3 quart version and love it!) — snag my Instant Pot Hard Boiled Eggs recipe here.
Other than that, it's just a knife, fork, bowl, and measuring spoons.
Ingredients
6 Eggs
1/4 c. Mayonnaise
1 tsp. White Vinegar
1 tsp. Dijon Mustard
Salt and Pepper to Taste
Smoked Paprika for garnish (optional, but really good!)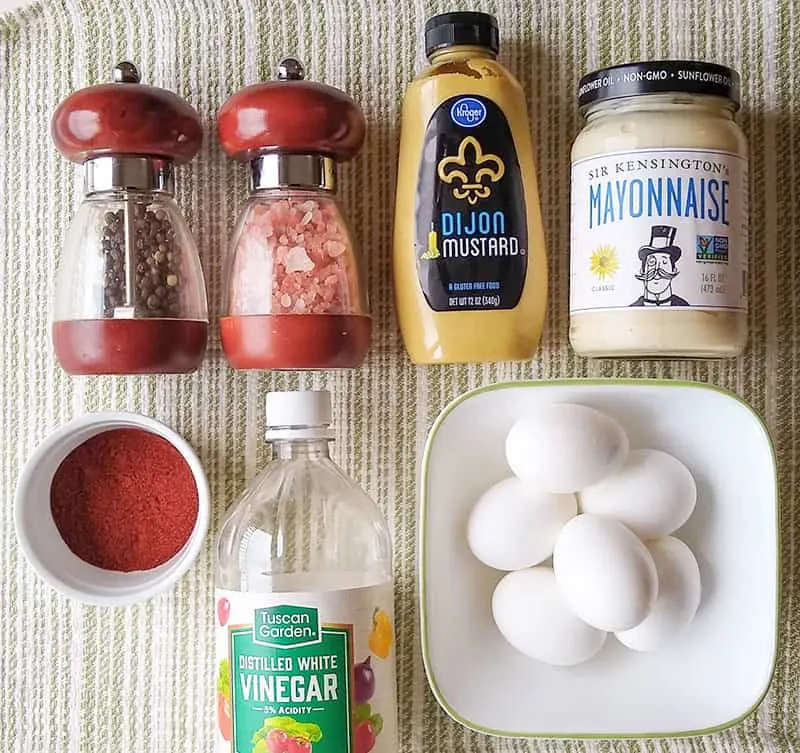 Instructions
Hard boil your eggs. If you're doing this on the stove, the basic method is to place your eggs in a saucepan and cover them with cold water. Heat the pan on the stove over high heat until it comes to a full boil. Then cover the pan, turn off the stove and let the pan sit for 10-12 minutes. After that, cool the eggs off by running them under cold water. Or click here for my recipe for making incredibly easy hard boiled eggs in the Instant Pot.
Crack the shells and peel all six eggs under cold running water. Dry them off on a paper towel.
Cut the eggs lengthwise and pop the yolks out into a bowl.
Add in the mayonnaise, vinegar, mustard, salt and pepper. Using a fork, mash the yolks and mix all of the ingredients together. (If you like your yolk mixture to be extra smooth, mash your eggs yolks before you add the other ingredients. I like mine to have a bit more texture, so I add everything first.) Taste the mixture and add more salt or pepper, if needed.
Use a butter knife to add a heaping amount of the yolk mixture to each egg white.
Sprinkle with smoked paprika before serving.
Store covered in the refrigerator.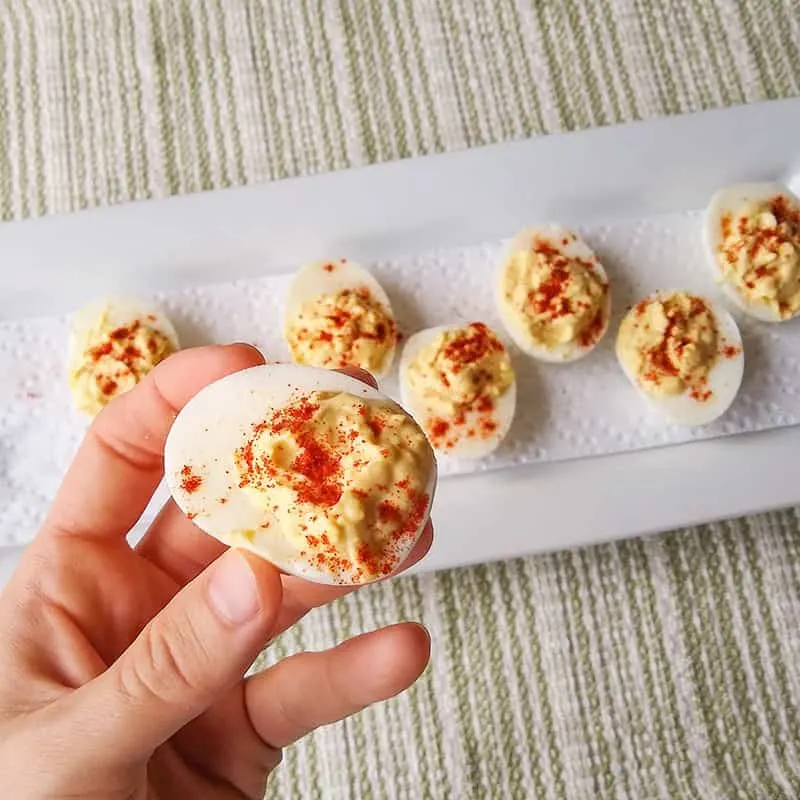 I hope you'll give this classic deviled egg recipe a try! They make a perfect snack, lunch, or breakfast. Seriously, deviled eggs are an anytime food. Let me know what you think once you try them!
Take a Look at My Other Delish Recipes: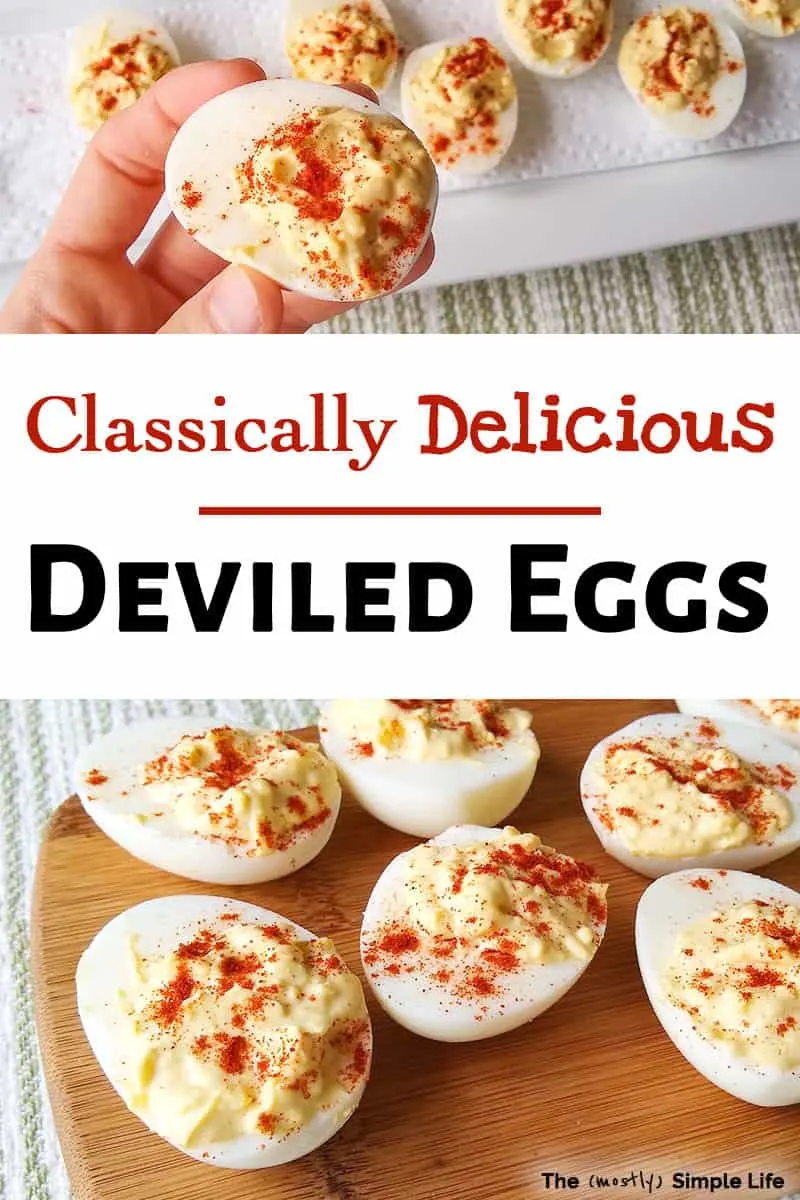 If you find this page helpful, please pin or share it :)