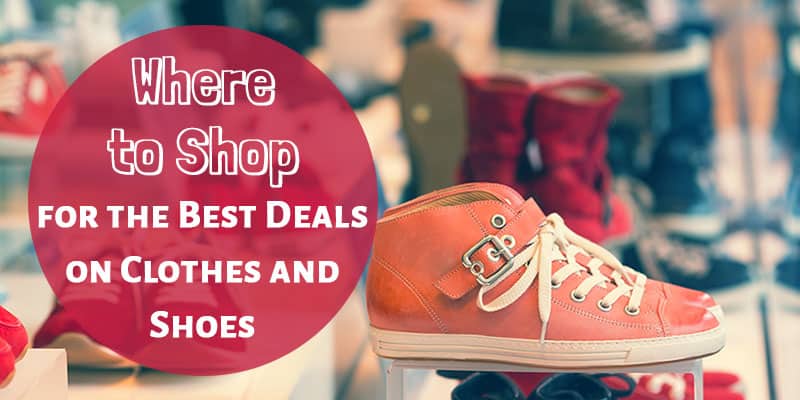 We've had to buy SO many clothes and shoes in the last two months! ($$$)
A lot of our clothes and shoes were just so worn out that we had to find replacements. Plus, I went down a size and was swimming in a lot of my clothes. Yes, it's a good problem to have (I've been working out more and eating healthier, so I feel much better), but it's also an expensive problem to have!
I'm pretty good at getting a great deal on quality clothes and shoes but it was still quite pricey to have to buy so much all at once instead of a little here and there.
I wanted to share my favorite sources for deals on clothes and shoes. This is where I've shopped to get good quality items at a great price:
Where to Shop for the Best Deals on Clothes and Shoes
Clothing:
Thrift Stores
We've had great luck at thrift stores lately.
Well, at one thrift store. In my post about tips for shopping at thrift stores, I talked about finding the best ones because they are not all the same! We found a great one near us and have been stopping in about once a month to see what they have.
We've been able to get some great deals on pants and sweatshirts/jackets for me and dress shirts and a nice sweater for Austin. We haven't been able to find everything we need, and some things I just won't buy secondhand, but we've saved a ton of money by checking the thrift store regularly and getting as much as we can there before we shop elsewhere.
JC Penny
I've been able to get some great deals at JC Penny lately.
I like to wear a lot of plain-ish cotton tank tops and long sleeves. They're hard to find in good shape at a thrift store because they eventually wear out.
JC Penny always has sales going on along with extra coupons. Plus, there's usually cash back available with Ebates as well. (see my full Ebates tutorial here)
If you shop in the store, download the JC Penny app on your phone first. You can look for coupons available for in-store purchases. It will tell you if you need to use their credit card to get the deal. Usually you don't have to. The cashier will be able to scan the coupon right from your phone.
If you shop online, make sure to activate cash back with Ebates first. The JC Penny website usually lists the available coupons codes at the top of their site so don't forget to use those.
When I was in the store, I found some tops that I really liked but they were brand new and not on sale at all. Never pay full price at JC Penny y'all! I took a picture of the tags with my phone and looked up the tops online. Then I waited. Within a week they were on sale and I ordered them online with Ebates and a coupons code. The retail price was $22 and I think I got each top for $7.
In case you're curious, I got these crew neck tops (it's the blue top in the pic below) and these fun metallic scoop neck tops!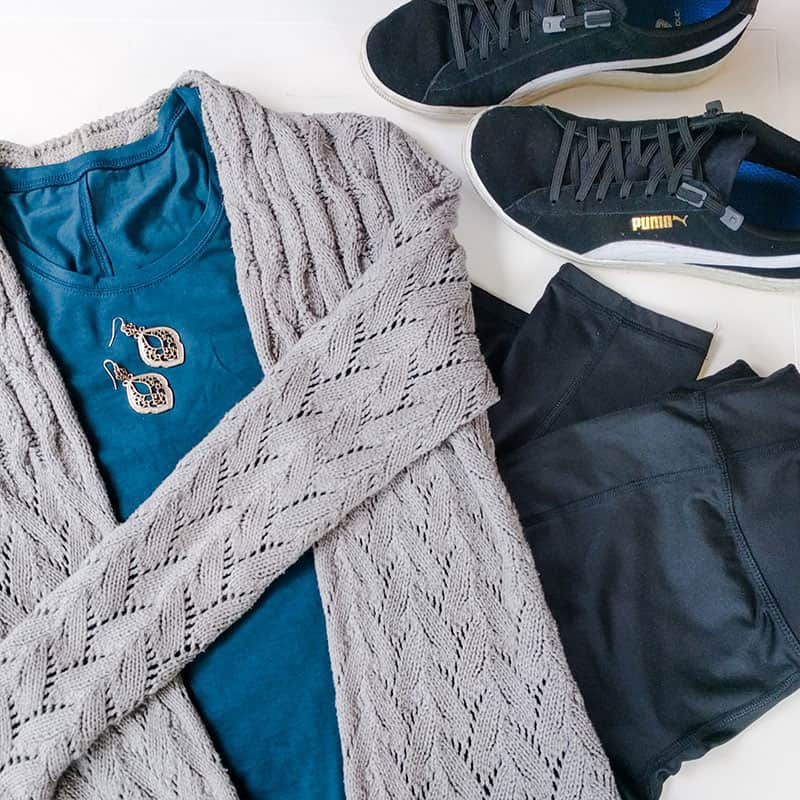 Amazon
Amazon's clothing selection has been getting better and better!
The reason I love to shop on Amazon is because of the Free Returns feature. If clothes or shoes say "Free Returns" next to the price, it means that you can get a prepaid label to return the item for any reason at all. This basically means that you can try things on in the comfort of your home and if it doesn't fit or you don't like it, you just ship it back. It's amazing.
I really like the women's Champion brand pants (so comfy). I also got these leggings and they're so cute!
There are a lot of really affordable clothes on Amazon. I'm just careful to make sure whatever I order has multiple good reviews as well as free returns so I can send it back if it doesn't work.
Land's End
I haven't shopped at Land's End yet this year, but I wanted to mention them because I have gotten some insane deals on their website. Their clothes are a bit pricey but are of very good quality. I especially love their winter coats and swimsuits (they have long sizes for me and my extra-long torso). We got Austin a very nice down coat for like $20 a few years ago by working the deals!
To get the best deals, I usually shop the clearance section. There's also a section under the sale tab called "on the counter" where they're really trying to get rid of stuff. The sizes are usually limited but you can find things extra-discounted.
Always check for coupon codes available that will work with the clearance items. If you get their emails, they let you know about a whole lot of sales that I don't think are always listed on the website. Ebates also works with Land's End so you can earn some cash back as well.
Land's End is really good about returns. If there's a Sears store near you, you can return things there or mail them in.
You Might Like These Posts Too:
Secrets to a Mix & Match Wardrobe
7 Ways to Look Fabulous in a Black T-Shirt
5 Tips for Shopping at Thrift Stores Life a Pro
Questions You Need to Ask to Declutter Clothing
Shoes:
Shoes get expensive around here! Because of my back problems, I've very careful to buy good quality shoes so that I'm not in pain. Those shoes also happen to be expensive. I look for brand like Keen, Dansko, and Born. So this is how I get the best deal I can.
Amazon
You just can't beat Amazon 80% of the time. They don't always have the newest styles, but I find great deals — often 50% off the retail price or more.
The hard part is that depending on who is selling the shoes, the same shoe might have a different price for different sizes and colors, so you have to keep your eye on that.
Again, the Free Returns feature is amazing! I really put it to the test recently by ordering five different pairs of shoes and then I returned the ones that didn't work. It was so easy and convenient, especially for someone who doesn't like to shop in stores! Plus, the brands that I wear are hard to even find in most stores, so to have them all come to my house was wonderful.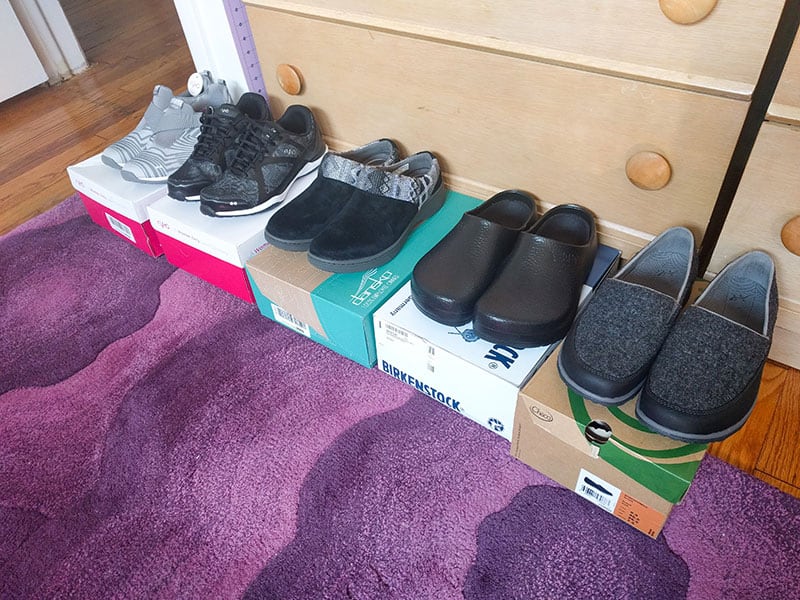 6pm
6pm usually carries last season's shoes at big discounts. You can find great deals on hundreds of name brands there (they sell clothes too, but I've only ever ordered shoes).
I'm careful when ordering from 6pm though because you do have to pay to ship things back if you want to return them. I only order from there if I'm confident that I know what size to order. It's definitely worth checking!
DSW
Along with Amazon, we've had good luck this year with buying shoes from DSW. Make sure to sign up for their email list and they'll send you all kinds of coupons and deals that you can stack with their sales. I've found that I can get better deals online than I can in the store.
Austin tried on some shoes at the store that he really liked, so we took a photos of the tag and looked them up on the website. I waited a week for an upcoming sale and got the shoes at around 60% off with the sale and some coupons they sent me.
Ebates

I have to mention it one more time! Make sure you're signed up for Ebates and activating cash back when you shop! It is almost always available for JC Penny and Land's End as well as some categories on Amazon. All that cash back really adds up! See my full tutorial here if you need help getting set up.
These stores that been my go-to places for where to shop for the best deals on clothes and shoes for Austin and I. Plus, of course we use Ebates whenever possible to get extra cash back.
I'd love to hear where you always shop to get a great deal!
Do you work the in-store coupons? Do you mostly shop online? What are your favorite stores or brands for long-lasting pieces?