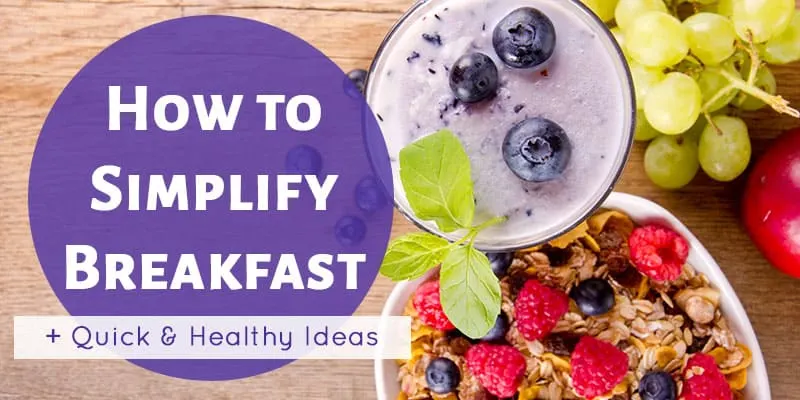 Breakfast is non-negotiable in our house. Austin and I both need to eat something first thing in the morning. He gets shaky if he doesn't and I just get hangry!
This doesn't mean that we're sitting down to a leisurely half hour at a table filled with bacon, pancakes, and quiche though (bummer).
I can wake up and be out the door within 20 minutes and still make breakfast happen which is why I know you can squeeze breakfast into your day too! My two goals are to keep it simple and keep it healthy. I feel full for longer when I eat something with protein and fiber in it.
So let get into how to make breakfast happen!
How to Simplify Breakfast
Keep It Simple
Foods like pancakes, waffles, and bacon do not happen for breakfast at our house. They take too long, make too much of a mess, and have to be eaten at the table.
We keep breakfast so simple. We'll get to the ideas a little later but by keeping expectations lower, breakfast becomes a lot easier to accomplish.
Keep Supplies at Work
For those days where we really are too busy to have something at home and we don't have anything that can be taken to go, it helps to make sure there are options at work.
You can make a packet of oatmeal in a coffee mug with water from the coffee maker or in a microwave. You can make up a packet of Carnation Instant Breakfast in a mug with water as well. A few spare granola or protein bars in your desk can help in a crunch too.
By keeping a few things at work that won't go bad anytime soon, you can make sure you'll have something to eat and stay out of the ridiculously long McDonald's drive-thru line in the morning.
This can work for kids as well if they have a locker at school they can keep a few granola bars in.
Make It Ahead
We just started making banana breakfast muffins (recipe) and it's so nice to have something healthy we can grab out of the fridge quickly.
I know some people who what to be able to have pancakes for breakfast, so they make the batter the night before and store it in the fridge so it's ready to go.
I love the idea of keeping homemade smoothie packets in the freezer as well.
Anything you can do to prep for breakfast ahead of time will go a long way in making it happen each morning.
Save the Fancy Stuff for Dinner
Here's my dilemma: I truly love breakfast foods.
In order for me to still enjoy pancakes and bacon and other breakfast deliciousness, I make it for dinner. I don't even remember the last time I had pancakes for breakfast but I had them for dinner last week and it was wonderful! (I found a fabulous pumpkin pancake recipe by the way.)
We keep mornings simple by planning for the easiest possible breakfasts and save the fancier foods for dinner when we can sit and enjoy them more together.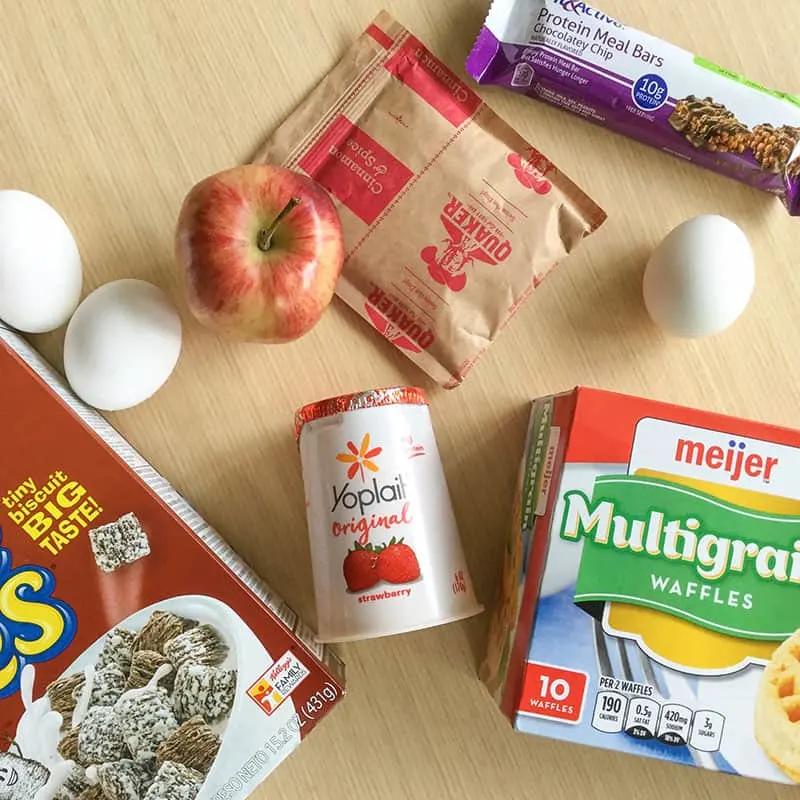 Healthy and Quick Ideas
So what do we eat for breakfast? This is my list of super easy breakfast ideas. They're (mostly) healthy and filling and can be made quickly. A bunch of them can even be taken to go if necessary.
I plan our breakfasts for the week as part of my meal planning routine.
You can get the meal planning printable I use each week by entering your info below!
[convertkit form=830245]
Healthy Cereal
I have an undying love for Chocolate Mini Wheats Little Bites Cereal. I literally eat this every day.
Healthier cereals can get a bit pricey. I use my food scale to measure out a serving into my bowl each morning. This makes the price per bowl of cereal not bad at all and keeps me from eating half the box in one sitting. With the healthier cereals that contain whole grains and more fiber, the serving size listed on the box is very filling.
Oatmeal
Quick oats literally only take 1 minute in the microwave. Sometimes we get the packets but I prefer to make it myself and add brown sugar.
Smoothies
Austin got on the smoothie train earlier this year. We use our Ninja to blend up a little Greek yogurt, ice, fruit, peanut butter powder and kale for his morning smoothie.
Pinterest has approximately 5 million (not an exaggeration) smoothie recipes if you need inspiration 🙂
Yogurt with Granola
You can make homemade granola ahead of time or buy a granola cereal. If you want to be able to take it to go, buy the single serving yogurts or save money with the bigger tubs.
Eggs – Scrambled or Hard Boiled
I have actually found that I can cook scrambled eggs very quickly in the morning, so we do this on occasion.
As something I can make ahead, I'll often boil 6-8 eggs so that we have hard boiled eggs ready to go.
Mini Bagel with Peanut Butter
Aldi has whole wheat mini bagels that I adore. They're just the right size and are filling with a little peanut butter on top.
Confession: I add Nutella too. If you haven't tried it, peanut butter and Nutella together will change your life.
Banana Muffins
Any kind of baked goods that you can make ahead of time are a perfect "grab and go" meal.
Special Day = Donuts!
I love donuts. LOVE donuts. For a special treat we'll get donuts for breakfast. We usually have a hard boiled egg or something healthy with them so that we're not eating pure sugar for breakfast though.
Coffee
Coffee might be your other morning dilemma. Some easy options are getting a coffee maker with a timer so that you can set if up the night before so your coffee is ready before you get up. Maybe there's coffee at work you can grab. Or you can make instant coffee at home and bring it in a to-go mug for your commute.
Honestly, our pour over coffee dripper isn't the fastest method in the world, but the coffee is so much better tasting than anything else that I just plan to have time for it 🙂 . Priorities, right?
By keeping breakfast simple and having plenty of healthy options on hand, we're able to quickly have something to eat every morning, even if we have to eat it in the car. A little bit of planning ahead goes a long way. We save "fancier" breakfasts for dinner and keep our mornings nice and simple.
You Might Like These Posts Too:
4 Essential Parts to a Helpful Evening Routine
How to Create Routines that Simplify Your life
19 Ways to Simplify Your Life Today (in 30 minutes or less)
⇒ Do you eat breakfast every day? What's your go to meal? Do you think you might try one of these ideas?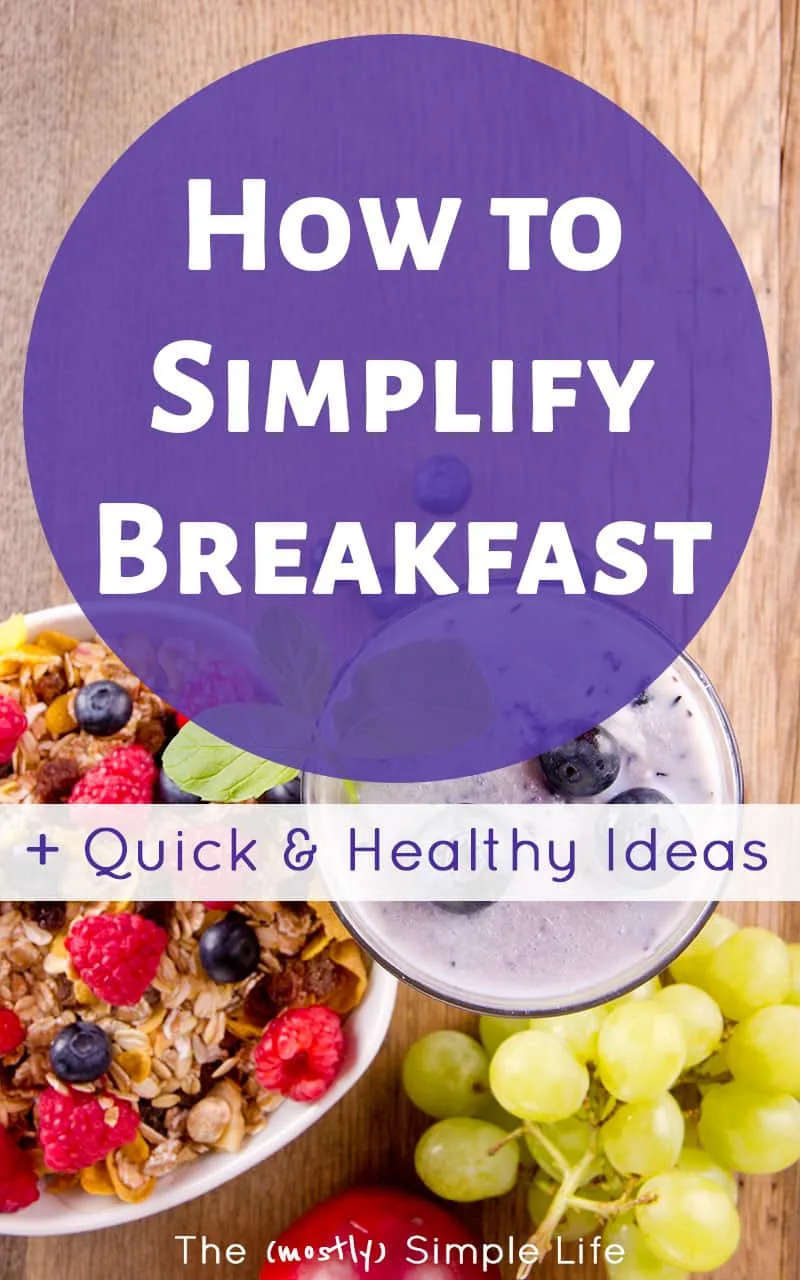 If you find this page helpful, please pin or share it :)