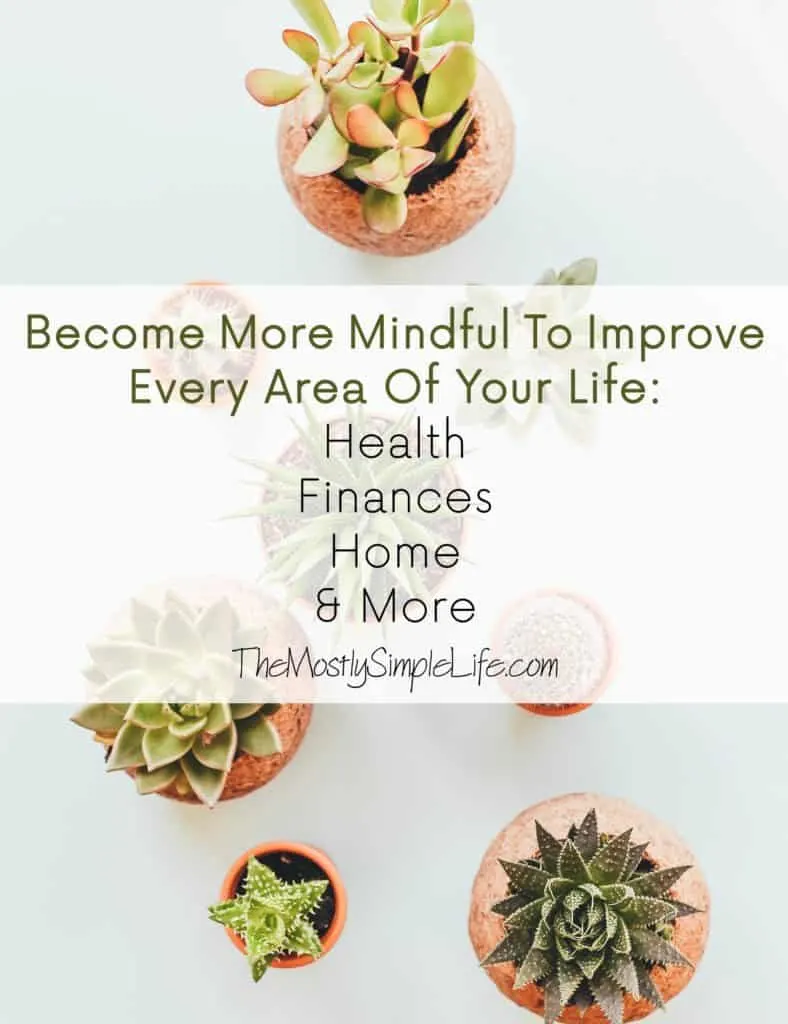 Do you ever think about how many activities and tasks that we do throughout the day without being fully aware and alert to what we're doing?
Our habits become so automated that we hardly realize what we're doing. And there's a good reason for that: We would be completely exhausted if every little thing we did in a day required 100% focus. But I think we all can improve our lives by learning to be more mindful throughout the day.
Mindfulness means living in the moment and being aware of our own actions and thoughts.
Practicing mindfulness has allowed me to improve our finances, my health, and our home.
(This post may contain affiliate links)
Use Mindfulness To Improve Every Area of Your Life
Finances
It's easy to slip into bad habits when it comes to your money. You get used to stopping for coffee every time you go out or you buy some cute clothes each week because they're on the 50% off rack (even though you don't really need them).
Special things that started out as a treat can become habits without you even realizing it.
We used to get pizza about once a month for a special treat. Somehow over the last few months this turned into a once a week pizza night. That once a week pizza night doesn't seem too crazy, but that equals out to almost $100 a month! $100 is a pretty significant portion of our monthly budget.
By being mindful of how we're spending our money, we've been able to realize that we don't need to buy pizza once a week. Plus, we have all of the ingredients to make pizza at home, so we can still have pizza without spending as much!
Home
Who else has done this? You set a few things down in the dining room because you're going to go through them later. Later never happens and random stuff starts getting added to the pile. Before you know it, you're so used to that pile sitting there that you don't even notice it anymore.
If I am mindful and aware of my house, I can grab some dirty clothes that got thrown on the floor as I walk by and put them in the laundry basket. Or I can snag a pile of papers that needs to go upstairs and bring it up on my way. Being mindful at home allows our home to stay picked up and tidier.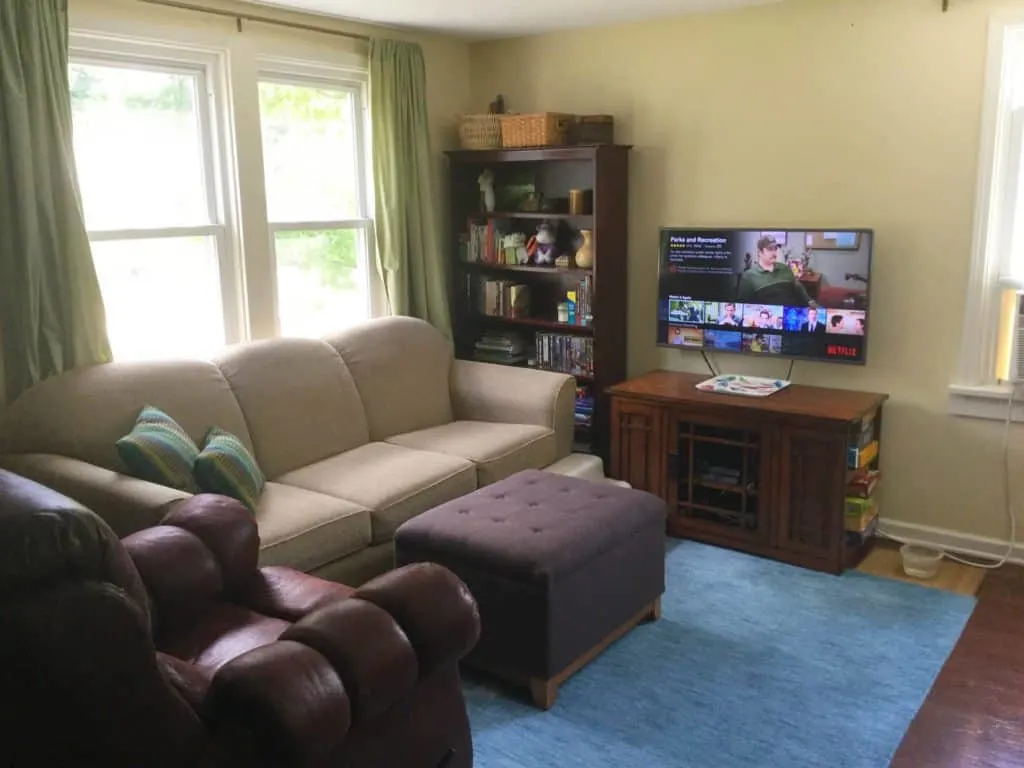 Online & TV Time
Who else remembers that ridiculous noise that used to happen when you signed on to use the internet like 15 years ago? And then you would type in a webpage you wanted to go to and get up a make a sandwich or something because each webpage took a few minutes to load. Just me?
Anyway, we have internet access with us all day long now and we get sucked into social media and TV shows and YouTube videos for hours and hours each day.
It's easy to be unaware of how much time we spend looking at screens instead of our loved ones sitting right next to us.
It makes me sad to go out to eat and see people on their phones throughout their whole meal instead of enjoying the company of the people they went out with.
I'm so guilty of wasting huge chunks of time on social media and Neflix (I'm a huge binge-watcher).
Health
A few years ago, I felt like I needed to lose a few pounds. I started counting calories and I was amazed at how much more I had been eating everyday than I should. Even on days that I had tried to eat healthy, I was drinking juice or soda that was loaded with calories. Keeping track of what I put in my mouth made me so much more mindful of what I was eating and drinking.
One of the biggest things that has helped me succeed in exercising regularly is a calendar where I check off the days that I work out. I thought that I was fairly active, but I realized that there were weeks that would go by when I only worked out once or twice.
Related Post: My Simple 20 Minute Workout Routine
Related Post: How To Use Calendars To Your Best Advantage
How to Become More Mindful: Keep Track
It can be hard to get yourself to think to do things that don't usually come to mind. If you don't think twice about spending money going out to eat, how do you get yourself to start being mindful about your spending?
The best way that I've found to become more mindful is to keep track.
If you're trying to lose weight, keep track of what you eat everyday. You can also track calories, or Weight Watchers Points, or just write down everything you eat and drink. Just the action of tracking what you eat will make you aware of each snack or second helping.
If you're trying to get more done, start a stopwatch every time you get online or watch TV. You'll start being more mindful of how much time you're spending in front of a screen when you could be doing something else.
If you're trying to spend less, write it down every time you spend money and you'll start to notice those little purchases adding up.
Related Post: The Simple Way We Track Our Spending On a Tight Budget
If you're trying to keep your home cleaner and tidier… The home one is a little trickier since there's not much to write down to remind you to clean up throughout the day. I'd set a timer that goes off every hour or two. When the timer goes off, look around you. In whatever room of the house you're in, see if you can spend a minute picking up or grab something that belongs in another room and take care of it. You'll start to become more mindful of your home and be able to tidy up as you go throughout your day.
Related post: My Biggest Secret To Keeping Our House Clean
Important Tip: Don't try to work on every area at once! It always works best to really focus on one area of change at a time. Work on it until it becomes a habit and then move on to another area.
I'd love for you to follow me on Facebook, Pinterest, Instagram(if you like pictures of adorable dogs and yummy food), and/or Twitter.
⇒ Is there an area of your life where you need to become more mindful? I've "fallen off the wagon" with my exercise routine lately and I'm trying to get back into it.
If you find this page helpful, please pin or share it :)