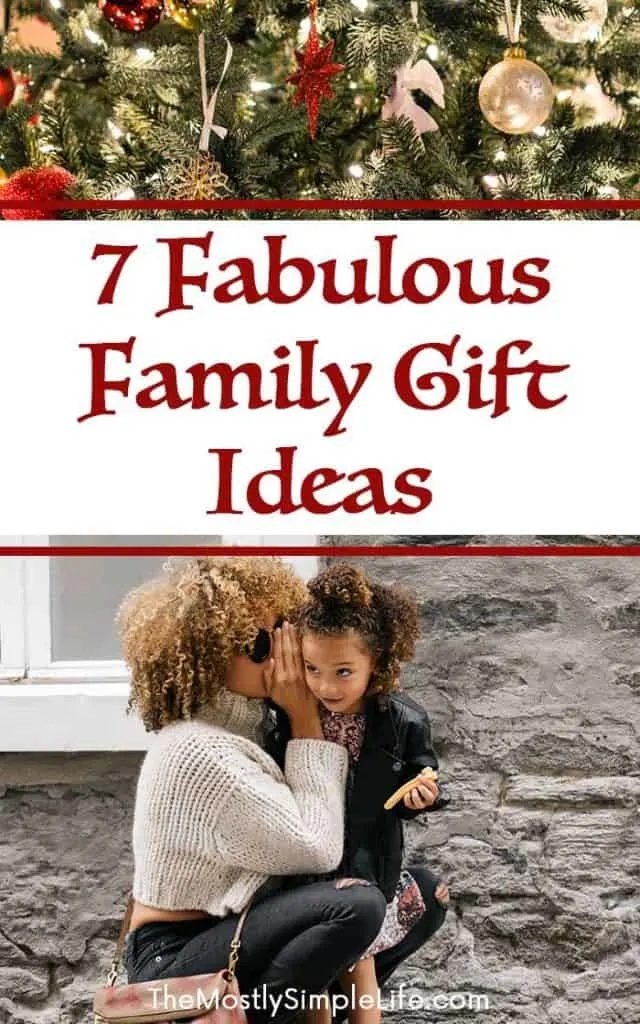 It's Christmas Gift Ideas Week on the blog! Christmas is less than three months away (yay!), which is an awesome time to be writing down gift ideas and keeping an eye out for great deals.
So today, let's talk about family gift ideas.
First, I just want to talk about how expensive Christmas gift giving can be! We only buy gifts for our parents and siblings, but that still gets to be a lot.
Especially now that our siblings are married and have given us some awesome nieces and nephews, we could spend a ton on gifts for everyone.
We've started giving family gifts to our siblings that have kids. Last year we only had $30-40 to spend on each family, which equals out to only spending about $10 per person. While I do think that you can buy a good gift for $10 (see some ideas here), you have a lot more options if you buy one larger gift that the whole family can enjoy.
Another great reason to give a family gift is because all of these ideas provide an opportunity for fun family time and memories for who you give it to.
And, bonus, these gifts are fairly clutter-free and aren't toys in case the kids in your life already have enough toys.
If you're looking for some super-inexpensive gift ideas, check out my list of gifts that are $15 or less.
Fabulous Family Gift Ideas
1. Games
Playing games together as a family is a ton of fun. It can also be secretly educational for kids too when they have to think about strategies and add scores.
I've listed some of our all-time favorite games. I'd recommend purchasing games for a family that are geared towards the older kids as younger kids will catching on quicker than you think or can play with some assistance.
Yamslam: Yamslam is one of those games that is simple and you can learn how to play quickly, but it's always different each time you play. It's similar to Yahtzee, but you don't have to write down each person's score. It comes in a nice tin too. It's for one to four players, ages eight plus.
Battle Sheep: This game is completely adorable and super fun. It says it's for kids seven and up. We got this last year and played constantly with our parents and adult siblings so it's still very interesting for adults. It's for two to four players, ages seven and up.
Ticket to Ride: In Ticket to Ride, you lay down train pieces to complete routes across the country. This game has amazing reviews and is a great family game. It's for two to five players, ages eight and up.
Carcassonne: In Carcassonne, you take turns laying tiles that create roads, cities, and farms that you can claim. Since you lay down tiles, the game is different every time you play. There are multiple expansions available for Carcassonne that add new pieces and rules too if you want to mix things up. It's for two to five players, ages eight and up.
Forbidden Island: Forbidden Island is a really different kind of game. It's a cooperative game, which means that everyone playing is working together to beat the game instead of playing against each other. It says it's for two to four players, ages ten and up. I think younger kids could probably play since everyone works together as a team.
2. Memberships
If you have more to spend, a membership is an awesome gift that can be enjoyed for an entire year.
Plus, it means that the family has a fun way to get out of the house without spending money, which is really nice.
Even if you live across the country from your gift recipients, you should still be able to find a place near them to purchase a membership to.
Here are some ideas:
Zoo Membership
Community Pool Membership
Children's Museum Membership
Public Museum Membership
Amusement Park Membership
3. Gift Cards
If you don't have enough money to spend on a membership (they can be pricey), a gift card is a good option.
For my brother's family last year, we couldn't afford to get them a membership to their local children's museum, so we got them a gift card that was enough for them to go once or twice.
A gift card is also a great opportunity to send a family out for a treat or a fun activity.
We love getting restaurant gift cards because we love to go out to eat, but don't ever have much money in our budget for it, so it's a fun treat!
Here are some gift card ideas:
Bowling Alley
Restaurant or Ice Cream Shop
Pottery Painting Studio
Ice Skating Rink
Children's Museum
Aquarium
Movie Theater
Indoor Water Park
Related Posts:
How to Make Your Own Soy Candles
16 Ways to Simplify Your Life Today (in 30 minutes or less)
The Big List of FREE Fun Activities
4. Food
Who doesn't love food? Especially special treats that you wouldn't normally purchase. You can purchase pre-made gift baskets or create your own.
Honey Baked Ham: My aunt sent us a ham for Christmas one year and it was pretty exciting to get in the mail, plus it was delicious!
Chocolates: Ghirardelli and Godiva make great gift baskets, or put together your own.
Meat and Cheese Baskets
Candy and Snacks: Something like this looks fabulous.
Fruit Baskets: You can buy a fruit basket or have an Edible Arrangement delivered.
5. Books
If the family you're giving to loves books, it's a fun gift to give a full book set or audiobook set that they can all enjoy.
6. Outdoor Fun
Yard Games: Bocce Ball, Ladder Toss, Washers, Cornhole…
Sleds: Just in time for winter fun!
Pool Toys: If they have a pool or access to a neighborhood pool.
Volleyball Net
7. DVD Gift Basket
It's fun to put together to DVD gift set that includes a great movie or two with tons of movie-watching treats. If you want to get fancy, you could include a cozy blanket too.
⇒ What ideas would you add to this list? Are you going to be giving any family gifts this Christmas?
---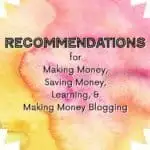 Be sure to click over to my Recommendations Page to see some of the ways I save money, make extra money, learn new skills, and make money with this blog.
If you're interested in starting a blog, click over to read why I think you should do it! Plus there's a tutorial to get you started.
---
If you find this page helpful, please pin or share it :)