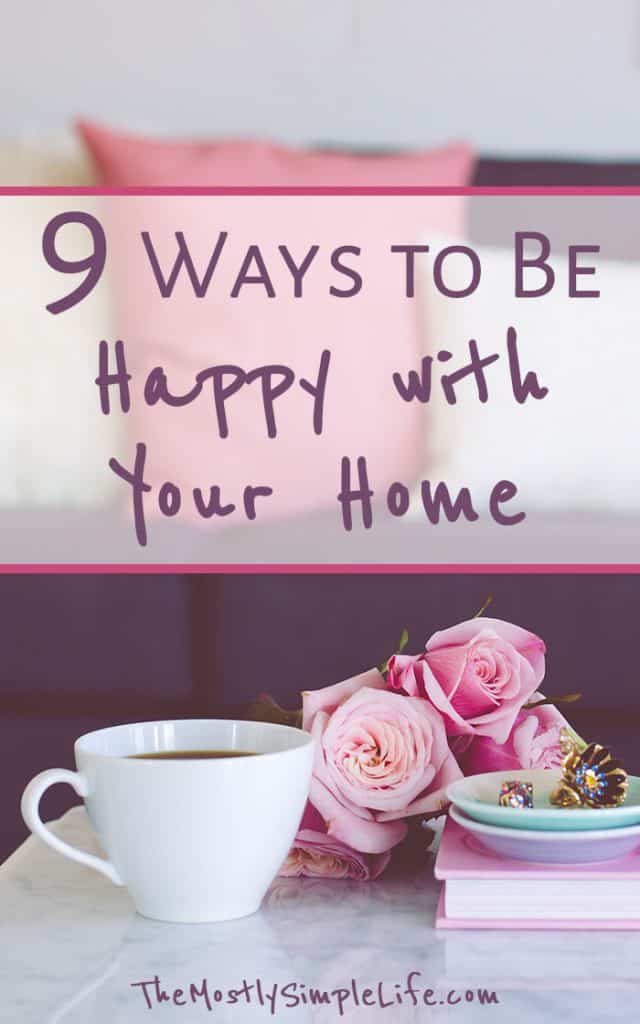 Unless you got to custom design and build your dream home, chances are that there might be a few things you don't love about where you live.
Maybe your house feels small and cramped. Maybe it's decorated horribly. Maybe it's not functional for you and your family.
Our first apartment was tiny. Our "bedroom" was essentially the hallway to the bathroom. It was only big enough to put our mattress on the floor. That's literally all that fit! We couldn't fit a couch up the stairs, so we made a makeshift couch out of twin mattresses. There was also a neighbor who was drunk 24 hours a day. One day we came home to him spray painting the landscaping rocks GOLD. It wasn't the best neighborhood…
When we bought our first house, everything was blue (my least favorite color). Blue counters, walls, and carpets. We eventually fixed the blue walls and countertops, but I lived with the blue carpet for five years until we moved.
Our first house also was missing an entryway. When you walked in the door, there was a 4 foot square landing and you had to walk up to the main level or down to the basement. It was such a small landing that we often felt like we were going to fall down the stairs when more than one person was coming in or getting ready to leave. Plus, there was the issue of where to store shoes, coats, hats, and mittens.
I could go on and on with my complaining, but you get the idea. I'm sure you have many stories of your own.
Most homes aren't perfect and sometimes it's hard to have a good attitude about your living situation. Here are some ways to be more happy with your home when you're frustrated about where you're at.
9 Ways to Be Happy with Your Home
List the Positives
Positive thinking is a powerful thing!
What do you like about your home? For a minute, forget about what drives you nuts and make an effort to list three things you like.
Where we're currently at, I like the big open living area, the fake wood floors (because most apartments have carpet and carpet creeps me out), and the giant slider and windows because we get a lot of sun.
Be Thankful
Being grateful for what you have can help you look past your home's shortcomings.
Just starting with the fact that you have someplace to sleep tonight is something to be thankful for. Is it warm, dry, and safe? Those are three more things to be thankful for.
Our first house certainly wasn't perfect, but I was always thankful for our super-low mortgage payment because it allowed me to stress less about money.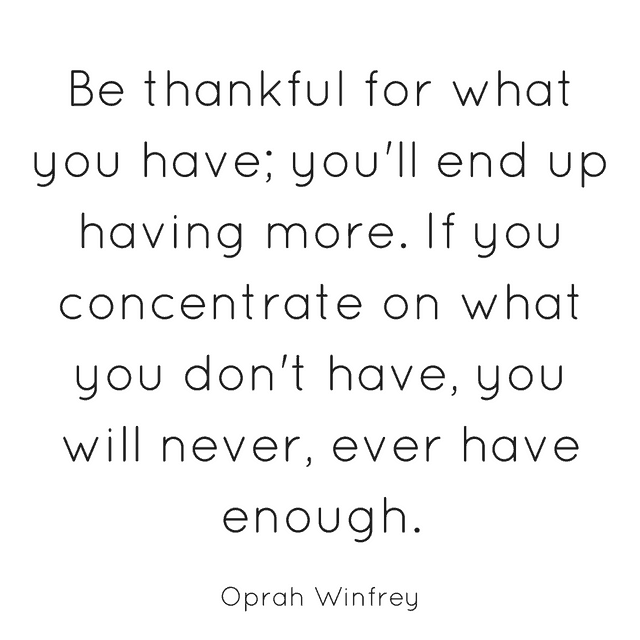 Think of the Good Memories
We have a lot of good memories from each place we've lived. Even the things that weren't great become a funny story to look back on (like our gold spray painting neighbor).
I remember playing games and having major movie marathons cuddled up in our first tiny apartment. I remember having family over for parties and bringing Mozzie home to our first house. Even at our new apartment, we've had fun playing games, decorating for Christmas, and sitting out on the deck on sunny days.
Remembering the good moments can help you appreciate where you're at.
When we bought our first house, I cried the first night because I thought it would never feel like home. Five years later, I was sad to leave it because it had been such a good home for us and we grew and changed so much while we lived there.
Declutter
Ok, now let's get a little more practical. A great way to make any home feel better is by decluttering it.
Clutter can make rooms feel smaller and give you an overwhelmed and chaotic feeling.
Make a commitment to spend 15 minutes each day going though drawers, closets, and countertops and I bet your home will feel more open and peaceful. Even an ugly, too-small house is a lot easier to live in if it isn't cluttered.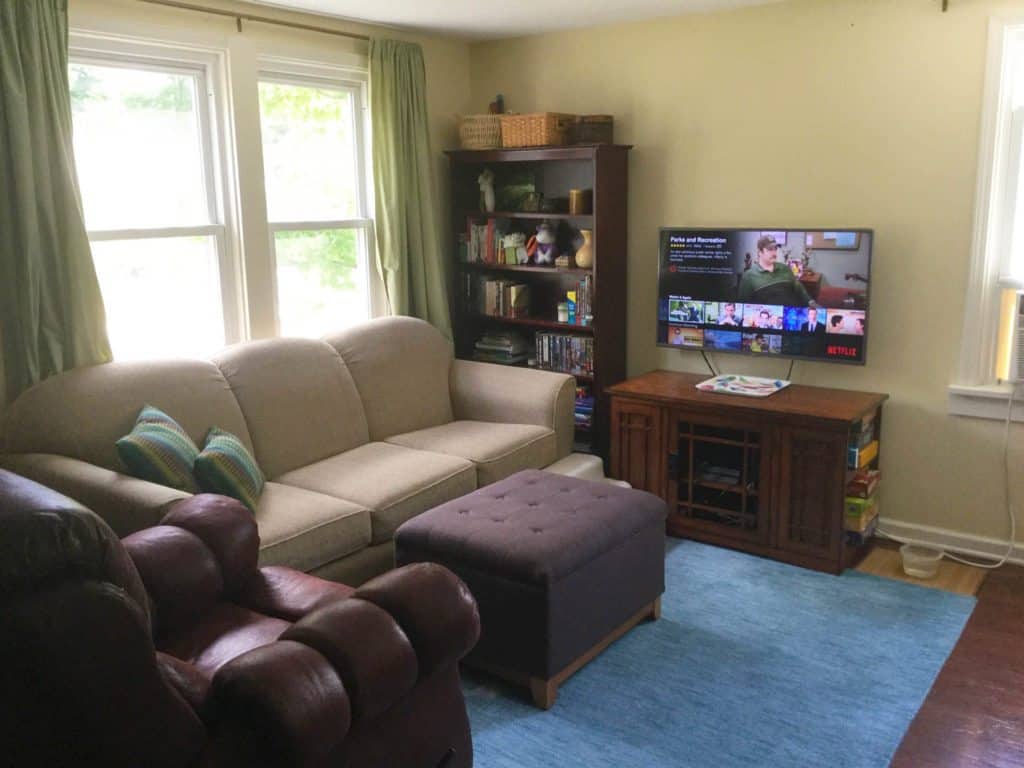 Do a Deep Cleaning Session
Clean feels good, right? If you're frustrated with your home, maybe you'll like it more if it's cleaner 🙂
I know it's a lot of work and you're busy and exhausted after doing everything you need to do in a day. Spending a chunk of time cleaning is never high up on my to do list. However, I always feel so much happier about where we're living when I've really deep cleaned it.
Making the effort to clean and declutter always makes our home feel open and fresh which, of course, makes me happier with our home.
Come Up with Unique Solutions
Parts of our first house weren't very functional for us. We had to come up with some unique solutions to make it work.
We didn't have an entryway, so we had to find a place to put our stuff when we walked in. We put coat hooks up along the stairs to the basement. There was room for a few shoes right inside the door, but we had to put the rest of our shoes on a rack in the basement. There was a small piece of wall up at the top of the stairs that we also made use of. I found a small, skinny cabinet from Ikea (this one) that was meant for shoes, but I used it to put my purse, Mozzie's stuff, and our recycling in.
When we didn't have money for more than one window air conditioner for the summer, we moved our dining table into the kitchen and made the dining room into our bedroom for the summer. We got an air conditioner that would work for the whole main floor, so we basically turned our main floor into a studio apartment for the summer so that we could stay cool.
We've also used our dining room as a workout room and as an office.
You don't have to use each room in your house for what it was meant for. You can get creative. Use your space however it is most functional for you.
Change What You Can
There might be a lot that you can't change about where you live. Maybe you can't paint the walls of your apartment. Maybe you don't have the money to remodel what you would like. But you can find ways to change what you can.
If you don't like the flooring in your house, try covering most of it with a rug. Menards and Lowe's sell large, inexpensive rugs. They're not great quality carpet or anything, but they will change things up for you.
If you're allowed to paint, a fresh coat on the walls can make an amazing difference. A light tan or yellow can brighten things up and make it feel new.
If you can't paint, try this: Pick up the biggest, least expensive picture frame you can find. Poster frames are cheap, or you might be able to find a cool frame at a thrift store. Instead of putting a picture in the frame, pick out some pretty fabric to frame. It will cover a good chunk of a wall and add some color.
Light a Candle
Good smells make me happy.
I know it's just a little thing, but light a great candle whenever you're frustrated with your home. The good smells might just cheer you up.
If you want to try to make your own candles (it's not hard at all), check out my candle-making tutorial.
Make Plans
If you can't make the changes to your home that you'd like to yet, focus on making plans for the future.
When I was frustrated with the kitchen in our first house, I spent a ton of time planning how I would change it and looking for ways we would be able to save money on renovations.
Even though I couldn't change things right away, it made me feel like I was working on creating change eventually by making plans.
Try these planning ideas:
Pin ideas on Pinterest for how you would like to change your home.
Talk to friends to brainstorm creative, inexpensive ways to change things.
Create a goal to save for. Do some research. Estimate how much money you will need to replace your flooring or get new kitchen counters… Whatever project you want to tackle.
Start saving up!
Related Posts:
16 Ways to Simplify Your Life Today (in 30 minutes or less)
How to Stay Positive When Life Sucks
Are You Super Stressed? Make These 5 Things a Priority
Creating an Attitude of Gratitude All Year Long
⇒ Do you have a hard time being happy with your home? What helps you like you home more?