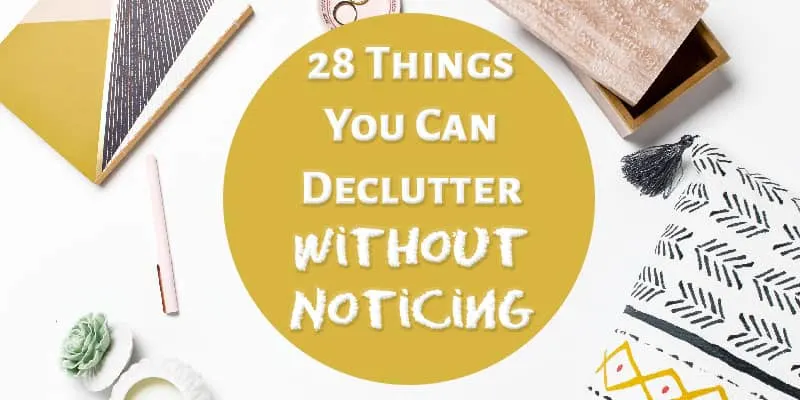 Update: This is a repost from my very first year of blogging. It's so helpful to start decluttering with the easy, no-brainer kind of clutter, which is why I've updated this post to share it again!
Getting started can be the hardest part!
When you start decluttering, it's best to start with things that are painless to get rid of.
It helps you gain some momentum and feel successful. Those positive decluttering vibes will help you tackle the harder stuff later on.
So get ready to dig through those junk drawers, dump out your purse, and clean out those craft supplies that have been sitting there for years.
Just think of all that you will have gotten rid of after making your way through this list! That's some great momentum you'll have to declutter some bigger areas (like clothing, books, or keepsakes).
28 Things You Can Declutter Without Noticing:
Old magazines: If you marked pages to look back at, rip them out and put them in a folder with a date on them to get rid of by.
Old paperwork: Check out this pin to learn how long to keep paperwork.
Expired food: You might be surprised how much expired food is in your panty.
Stretched out hair ties
Pens: Why do we keep so many crappy pens?!
Candles that don't smell great or that are 3/4 gone
Spare blankets: How many blankets do you really need?
Digital photos: The ones where someone isn't looking or that you'd never want to print.
Sour cream containers: I wash and save food containers, but sometimes they really start to pile up. Recycle those things!
Food storage containers with missing lids or lids that have lost their bottom
Games and puzzles with missing pieces
Exercise equipment no one has used in a year
Tiny fabric scraps: Unless you're a quilter who uses tiny fabric scraps
Clothes that are ripped, stained, or have holes
Toys with missing or broken pieces
Kids books with torn pages or that have been drawn all over
Notepads or scratch pads that are all filled up: Why do we keep these?
Trash or receipts in your wallet or purse
Holiday decor you didn't put out the last time that holiday happened
CDs: Unless your car has a CD player that you use, everything is digital now.
Old makeup: Here's a pin that says how long to keep things
Your toothbrush if it's more than 6 months old: Make sure to get a new one first 🙂
Dog toys that are falling apart
Spices that are a few years old
Craft paint that is a few years old: That stuff doesn't last forever. I just threw out some that had globs inside.
Tiny pieces of scrapbook paper
Toys that are too young for your youngest kid
Old pairs of prescription glasses: You can donate these! I save one backup pair just in case.
⇒ Anything else you can think of that you could declutter without noticing?
Ready for more? Read these related posts: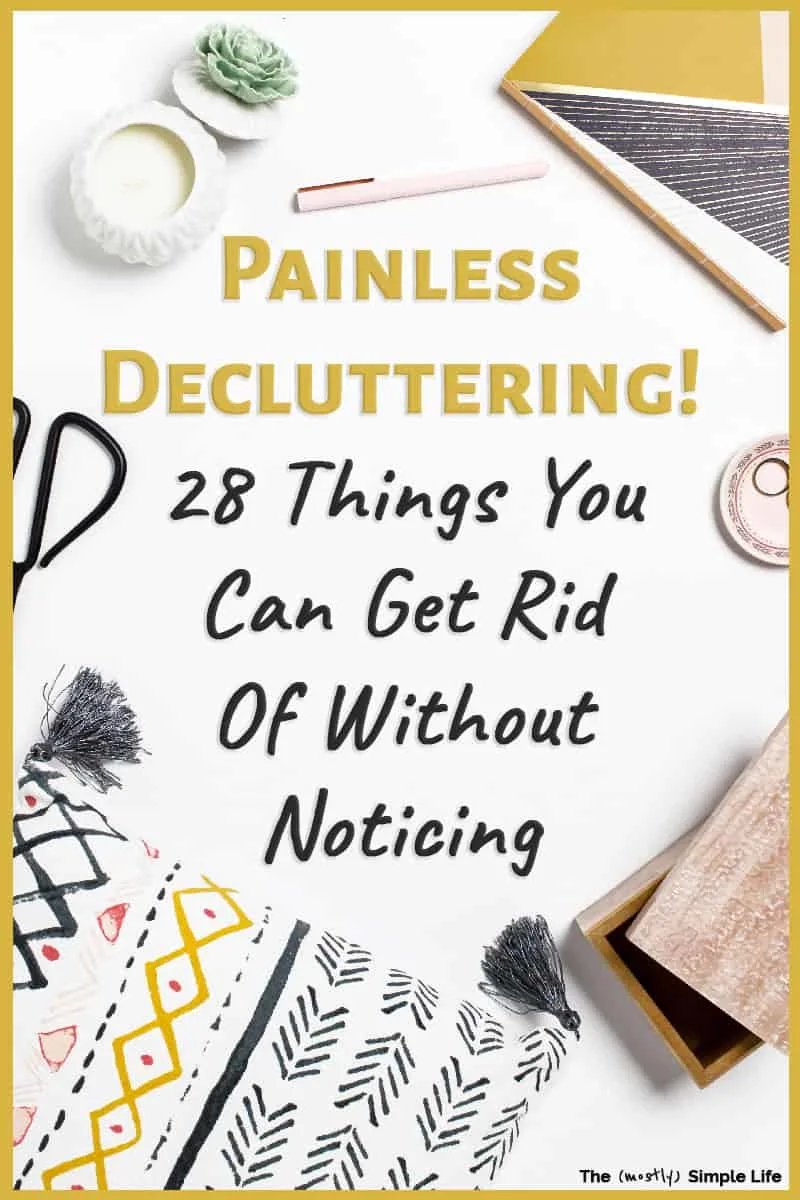 If you find this page helpful, please pin or share it :)