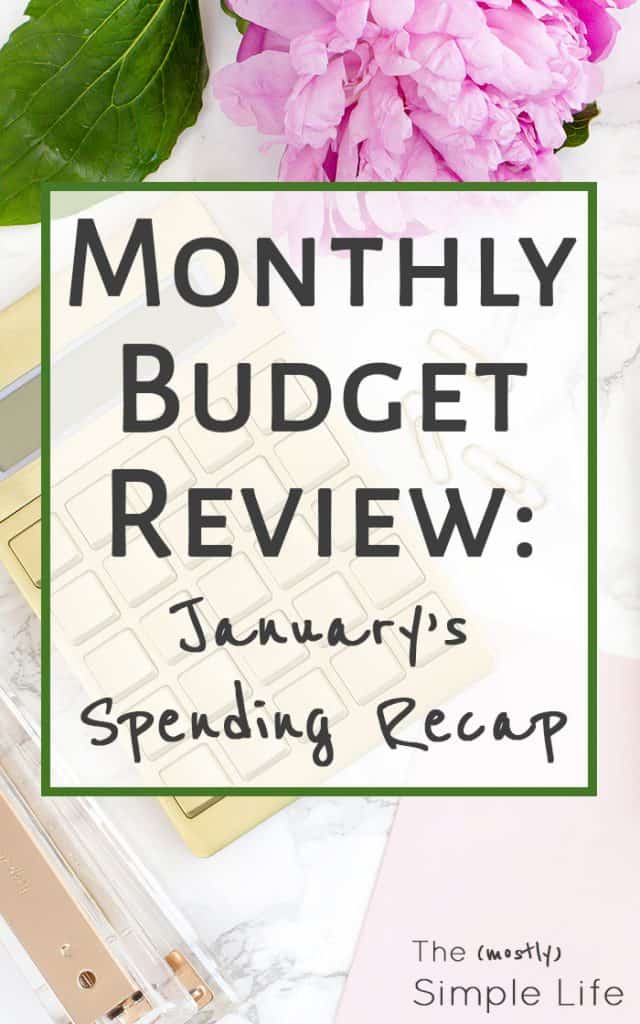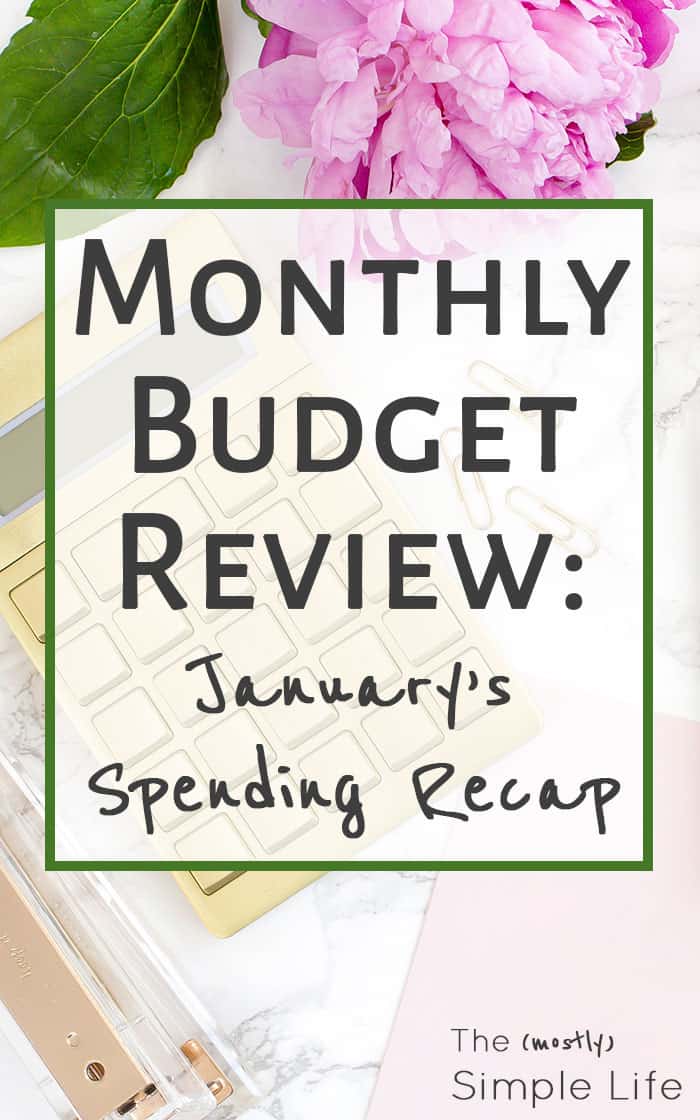 I'm trying hard to stick to our budget these days because we've got some big goals we're working towards.
We're continuing to save as much as we can for our next house. We're supposed to close on the house in a few weeks (yay!!!) and besides paying our down payment and closing costs, there are a few extra expenses we know we'll have right away.
Plus, we financed a used car at the end of last year (which I really didn't want to do, but we were having expensive problems with the vehicle we had) and I'm anxious to start paying that off.
In an effort to hold myself more accountable, I wanted to post a budget review for the month of January. Just knowing that I planned on writing this post caused me to be more vigilant in tracking our spending throughout the month.
While we didn't perfectly stick to our budget, we didn't completely blow it out of the water. Good news, right? 🙂
Our budget used to be less than $1500 per month. Since we've moved to a more expensive city, increased our income, and financed a used car (gah, I hate even typing that), our monthly budget has gone up.
NOTE: I don't like to share what our income is. This post purely shows what I've budgeted for and what we ended up spending. At the moment, anything extra is getting saved towards our next house. I've left out things that are automatically taken out of paychecks, like insurance and taxes.
I use my special spreadsheet to create our monthly budget and track all of our spending. You can see my filled out budget form from January below.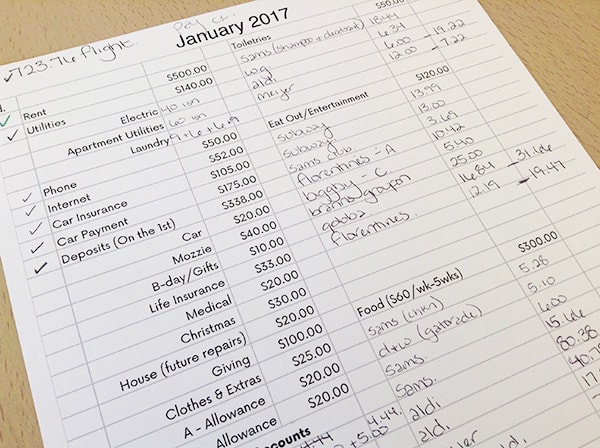 You can access my budget spreadsheet and customize it for yourself by entering your email below:
[convertkit form=4899234]
January Budget Review
So here are our regular bills and spending categories:
We paid all of our bills and did pretty well on all of the variable categories.
We spent a bit more than we should have on food (Austin was super sick at the beginning of the month and I bought a lot of convenience foods to make life easier), but we were under budget on eating out (that never happens) and a few other categories, so it all evens out. Pretty exciting!
I'm still using Ibotta to save money on fruits, veggies, and store brand items. I also started using Plan to Eat part-way through the month to help me be more intentional with my meal planning.
This was our first full month with our new (used) car, so I was curious to see what we'd spend on gas. We drove around a bunch more than normal because we looked at a ton of houses all over the city. We still managed to stay below budget though, so it's a win for the tiny car with the good gas mileage!
As usual, we added money to a bunch of our savings accounts/sinking funds. I do this so that our budget stays relatively the same each month. The money just builds up in each account until we need to spend it.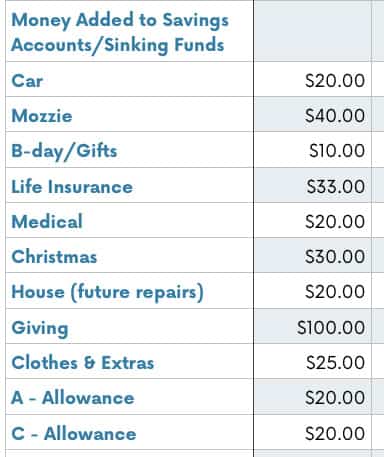 Below is money that we actually spent from our sinking funds. I had enough money saved up in each fund to cover what I spent from it.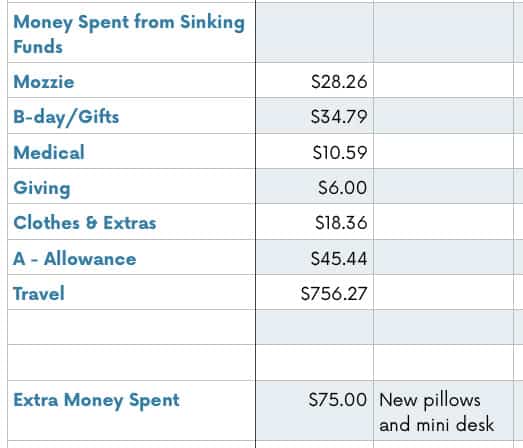 I've been saving up off and on for travel for the past year. This month, we purchased flights to go visit my parents, so we took most of the money out to pay for that.
Over Budget
The "Extra Money Spent" section is the things that we bought that weren't budgeted for. We went $75 over budget in January.
Austin and I both had intense neck pain in January. Mine literally took weeks to go away (and I still think I need to see a chiropractor). I think it was a combination of stress (plus more stress) and bad pillows that were messing us up. We spent about $25 each for new pillows which has helped quite a bit (these ones, in case you're curious).
The other thing we bought is a mini desk. I usually sit on the couch with my laptop to work and I think it was hurting my neck to look down so much. Also, Mozzie likes to sit on my lap while I work, which makes it hard to get things done. I was either having to take a break or sit at super weird angles to use my computer while he sits with me. Yes, he's spoiled. Anyways, the mini desk solves all of those problems.
When we go over budget, I end up using money that I would have saved from the next month to pay for the overage.
$75 is quite bit to go over budget, but I'm ok with it since we purchased things that helped our health and productivity. We didn't overspend on frivolous things.
So that's my budget recap for the month of January! I think I'll probably do a few budget recaps throughout the year because it really did help me stay on budget knowing that I was going to post our spending.
Related Posts:
10 Ways to Stop Impulse Purchases
Our Actual Budget: Less Than $1500/Month
⇒ Did you stay on budget last month? What area is that hardest for you to stay on track with?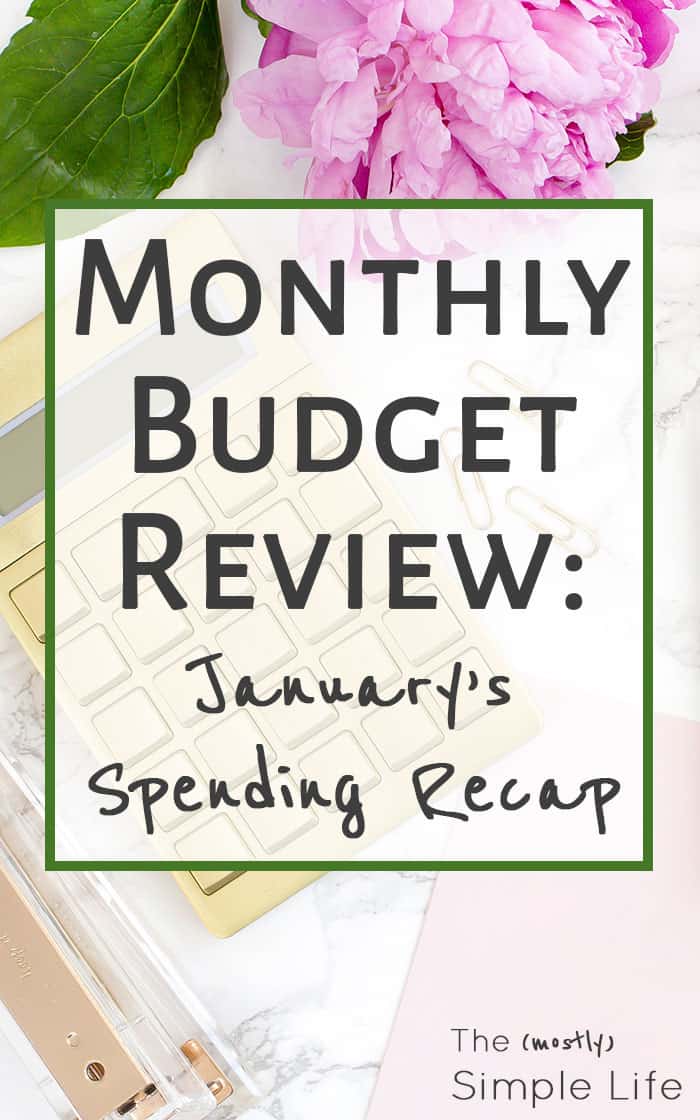 If you find this page helpful, please pin or share it :)