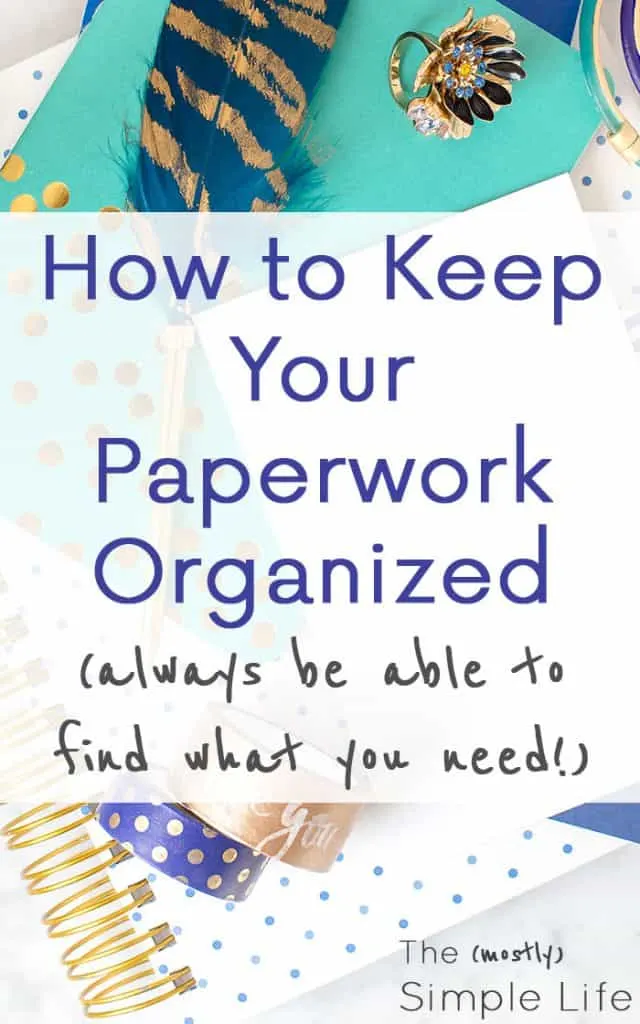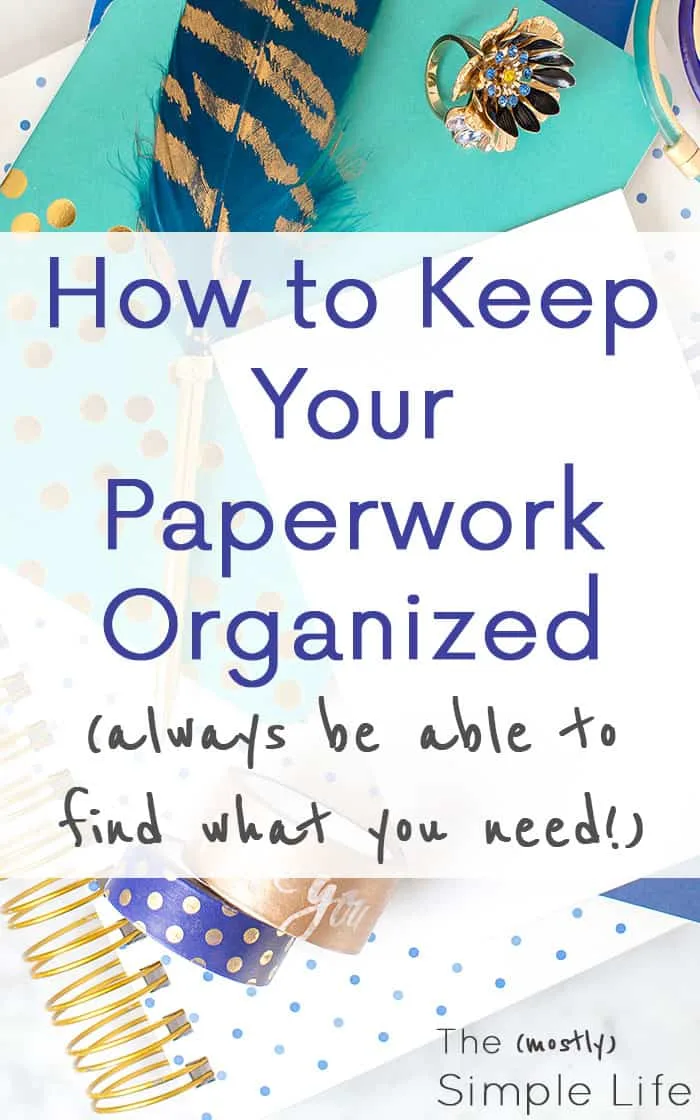 It is so important to keep important paperwork organized.
I'm realizing just how helpful it can be right now because we're in the middle of applying for a mortgage. The mortgage company sent over a huge list of papers that they needed and they continue to ask for more information daily.
So far, I've been happy to be able to find each item they've asked for within a matter of minutes.
It's also almost time to do our taxes which isn't too hard if your know where to find everything, but it's a nightmare if you can't find what you need.
It's easy to let paperwork get out of hand because I only need to find specific papers a few times a year, but when I need a certain paper, I usually need it quickly and it's often something that can't be easily replaced.
How to Keep Your Paperwork Organized
Filing Cabinet
We keep all of our files in one small filing cabinet drawer.
I try not to let things get out of hand. When the cabinet starts to feel full (usually around once a year), I go through each file and take out the older papers that we don't need to keep anymore.
I have a bit of a system for filing paperwork.
I don't file papers each day I get them. If I get a bill or receipt that needs to be kept, I put it in a folder inside my home binder. When the folder starts to get full (about every other month), I file everything all at once.
If I need to find something that hasn't been filed yet, I just have a small folder to flip through. Otherwise, it's in the proper file in the filing cabinet.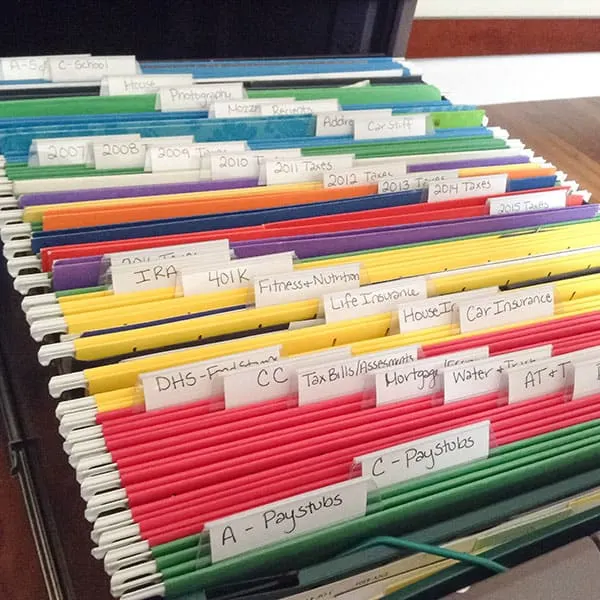 Colored Files
A few years ago, I switched to using colored file folders. Not only do they make my filing cabinet much more fun (important 🙂 ), they also make it easier for me to find what I need.
I use the different colored files to categorize paperwork in a way that make sense to me.
Red folders hold paycheck stubs(in the pic above, I had check stubs in green folders but I recently switched them to red) and billing statements for utilities, taxes, and credit cards.
Yellow folders hold information and statements for all kinds of insurance (except health insurance) and investments.
Green folders each hold a year of taxes. More information on that later on.
Blue folders hold miscellaneous subjects like any car repair info I want to keep, addresses, school transcripts, and Mozzie's vet info.
Tax Folders
Doing our taxes is so much easier when I have all of the forms I need in one place.
Each year, I hang a new file folder for the year and put a basic two-pocket folder in it. I do this at the beginning of the year so that throughout the whole year, whenever I get a paper I might need for taxes (receipts, donation forms, W-2s…), I can easily slip it in the folder for that year.
When it's time to do our taxes, I just pull out the folder and enter the information.
I like to have the two-pocket folders because I use one pocket to hold our finished tax papers and the other folder to store W-2s and receipts that need to be saved.
Medical Folder
We get so many medical papers that need to be kept for a while. Instead of using multiple hanging files, I use an accordion folder for all of it.
Here's how I have it divided:
Health insurance plan information. I check this often so that I know our copays and deductibles.
Receipts from paying for prescriptions or copays.
Medical bills that have gone through insurance and been paid.
Explanations of benefits.
Visit summaries.
Previous year's receipts and paid bills. I keep each year separate and store the previous year's in a section of the accordion folder until I know if I need to keep them to put with our taxes or not.
It's nice to keep everything in the accordion folder because it's all easy to find and I only have one spot to dig through for everything related to health and medical stuff.
ER Cards & Original Documents
The only paperwork that is not kept in my filing cabinet are our Emergency Info Cards and important original documents, like birth and marriage certificates, passports, and social security cards.
These things are kept in ziplock bags in other secure locations.
The important thing is to have a specific location for these things. If you take them out, always put them back immediately.
There's nothing worse than needing to find your social security card and not being able to find it.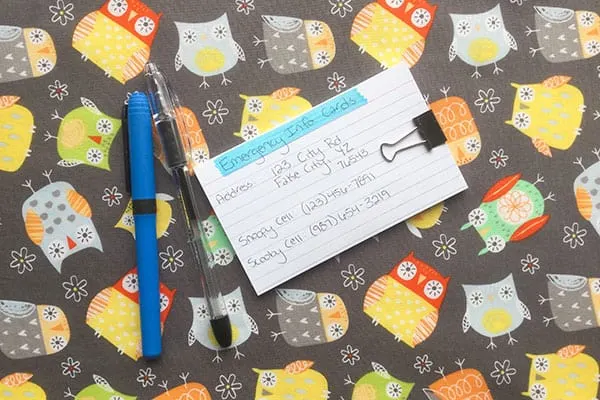 Related Posts:
Decluttering: How to Get Your Spouse On Board
4 Reasons Why You Can't Stay Organized
⇒ Is your paperwork well-organized? What do you struggle with most?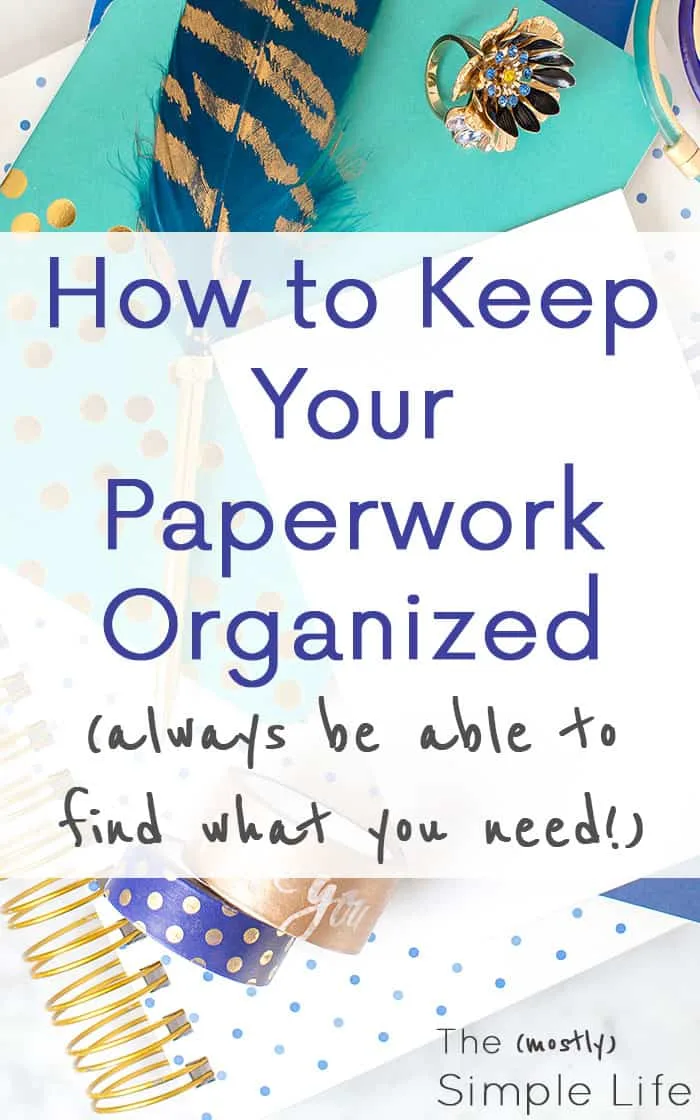 If you find this page helpful, please pin or share it :)