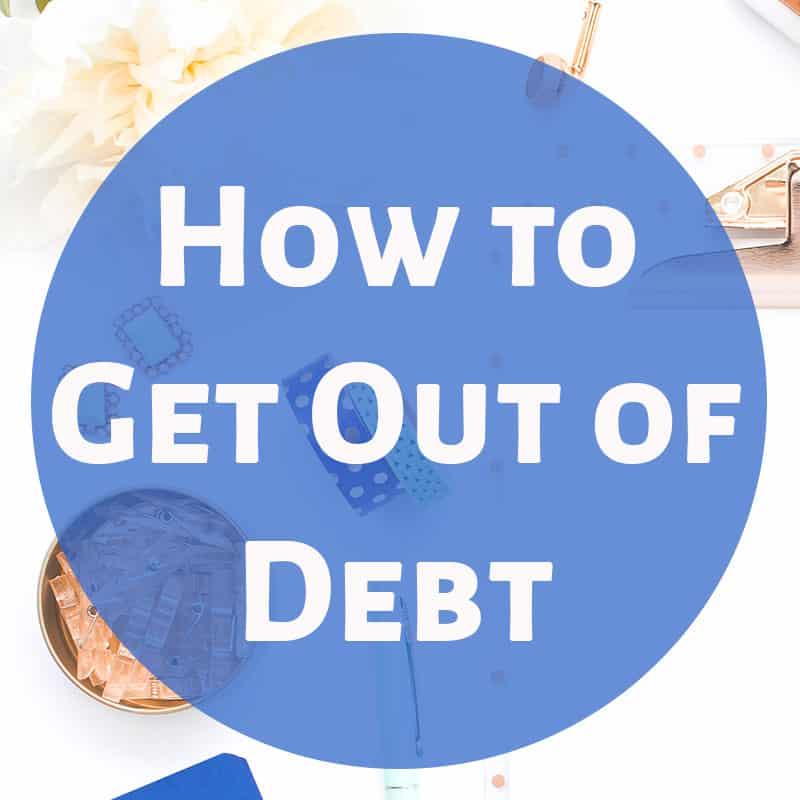 I hate to say it but our financial situation has been a bit rough lately. From my recent reader survey, I know that a huge percentage of you are frustrated with debt and right now, I'm totally with you.
For years we had no debt except for a mortgage. Without debt, we were able to keep our monthly expenses extremely low which was a huge blessing to us (take a look at our previous budget when we lived on $1500 per month).
Moving twice, needing a better car, buying a house, and medical problems have led to us having some debt again and I hate it!
Some of what I explain below isn't quite debt yet, but I'm adding it to the list because we know it's coming and we don't have a way to pay for it.
⇒ Sidenote: Don't miss the free printable at the bottom of this post! ⇐
Here's our current situation and how we ended up here:
Car Loan – $7000
Our previous car kept needed expensive repairs. We had already spent close to $1,000 on repairs in one year and the car wasn't worth much more than that. We took out a car loan to buy a more reliable used car with plans to pay it off immediately. Then, we ran into the rest of the problems below. We still owe about $7,000 on the car.
Medical Bills – $6,000+
Austin ended up in the hospital in December and we're still seeing bills pop up for this. In fact, we've gotten an explanation of benefits that shows that a $5,000 bill is still on it's way.
We also both needed dental work done since we hadn't been to the dentist in years.
We currently have health and dental insurance but it's just not covering near as much as we had hoped. We're trying to keep up with paying these bills as they come in but it means that we haven't had extra money pay on the car loan. Plus, I know that $5,000 bill will be here soon. We'll see if we can work out a discount or payment plan with the hospital for it.
Mozzie – $1,000
Mozzie (our baby dog) just went to the vet and has some teeth problems (what's with all of us needing dental work?!). He needs to get his teeth cleaned and have some removed which is super expensive for a dog since they have to be put under for it. We're not willing to put this off because it's clearly bothering him and could lead to other health problems. Plus, we'll get a small discount through the vet if we have it done right away.
UPDATE: We talked to some friends and found a vet that will do the procedure for hundreds less than what our vet quoted! It's about 40 minutes away, but well worth the trip. What a good reminder to call around for quotes!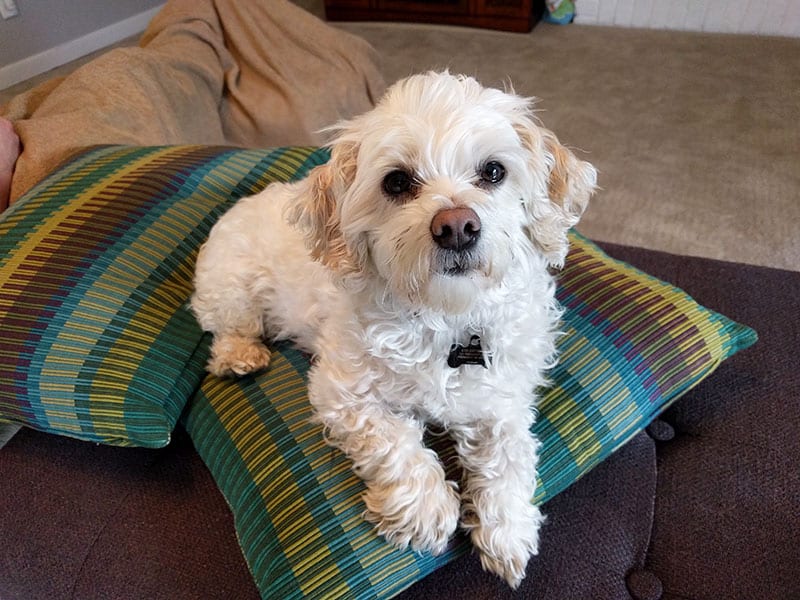 Roof – $13,000
So, I like to think of this as "future debt". When we bought our house, we were told that a leak in the roof had been fixed. Since there was snow on the roof, nothing could be thoroughly inspected. Long story short, the roof still leaks. It's a weird kind of roof that can't really be repaired in small sections, so we'll have to get a brand new roof, which we wouldn't have been needed for a few years otherwise.
We've got tar over the leak right now which we're hoping will last us through the winter so that we can hold off on the roof until next spring. We've gotten some quotes and it's going to be close to $13,000! We're stressed about it and want to save up for this ASAP but are unable to do so because of the car, medical, and vet bills.
So that's the whole deal. It's frustrating and I want to get it all taken care of, like, yesterday. Unfortunately, it's going to take some time. Here's how we're tackling debt.
How to Get Out of Debt
Record All Debts
The first step to getting out of debt is to record all of your debts. Write them all down in one place so that you can assess what's going on. Get it all out there.
Even if it's scary, it's better to know where you're at so that you can make a plan for how to handle it. The "unknown" is what's scariest.
I've got a note on my desk that lists all of our debts and upcoming massive bills. It reminds me of where we're at and what we're battling against.
Plan Where to Put Extra Money
Obviously, to get rid of debt you need to pay it off. Making minimum payments is going to take forever and you'll probably pay massive amounts of interest.
After you know what all of your debts are, make a plan for how you're going to pay them off. You'll keep making minimum payments on everything, but where are you going to put extra money?
I like the plan of throwing all of your extra money at one debt until it's completely gone. Then you can fully focus on the next one. There are two ways of going about this:
Smallest to Largest Balance: This is what Dave Ramsey recommends. His thinking is that you'll pay off your smallest debt quickly and get really excited about your progress. This momentum and motivation will help you pay off bigger and bigger debts until it's all gone. I've used this method before and I think it's really helpful.
Largest to Smallest Interest Rate: You can also try to tackle debt based on the interest rate. If you're paying 25% interest on a credit card, it makes sense to pay that off before you worry about paying off a car loan that's only at 5%.
It's fine to use either method, just make sure that you have a plan so that when you have extra money you know right where to put it. As my mom always say, "Plan the plan, work the plan."
Our plan is to keep up with our medical bills as they roll in. September is a three paycheck month for us, so we'll use that extra paycheck to fund Mozzie's teeth cleaning. Once we've got all of the medical and vet bills handled, we'll start throwing everything we've got at the car loan. After the car loan is knocked out, we'll have even more money per month (without a car payment to worry about) to save as much as we can towards a new roof.
Stay on a Written Budget
So how do you go about having extra money to pay on your debts? Well, I'm glad you asked 🙂
You know I have to talk about budgeting! Specifically, having a written budget. Budgeting in your mind doesn't count.
Create a written budget for every month so that you know where you money is going and how much money you will have to put on debt.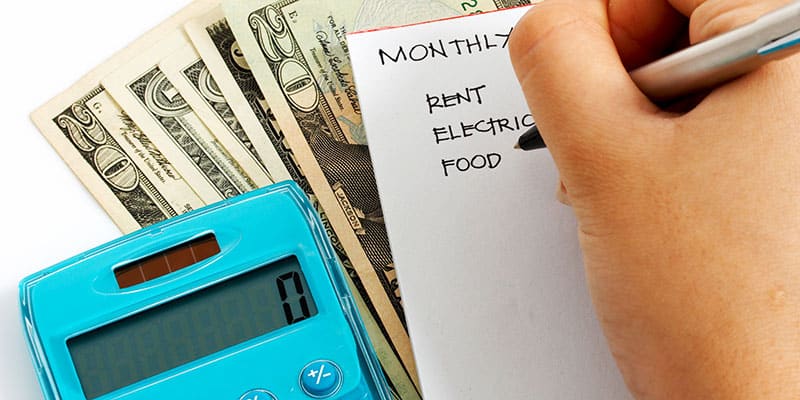 If you need budgeting help, check out these posts:
Our Monthly Budget: Living on $2500 Per Month
How & Where to Cut Your Budget
The Fastest Way to Create Your First Budget
Record Spending Diligently
To truly stick to a tight budget, you need to record your spending. How else will you know if you've gone over budget? You can use a simple spreadsheet like mine. Sign up below to download and customize it for yourself:
You can also use an app on your phone. I've been using one called iSaveMoney lately so that I can quickly record receipts as soon as I get in my car. It really only takes minute and isn't a big deal once you get in the habit.
Check Accounts Daily
I also recommend that you check your accounts daily, or at least weekly, so that you always know where you're at.
Does this feel like overkill? Maybe, but you're more likely to have extra money to pay on debt each month if you stay on top of your spending.
Check your accounts for any subscription or monthly fees that you forgot about. Make sure bills are coming out in the same amount you thought they were. Double check to see that you recored all of your expenses accurately.
Make Extra Money
We are trying to find ways to make more money so that we can pay off our debt. You can read a bunch of ideas (that actually work) in this post: 5 Ways to Make Money from Home
Austin is a programmer, so he is trying to pick up a side project that he can do from home in the evening which will give us some extra income. I've been putting in extra time on my blog to increase my income in that way. If you're interested in blogging, you can read what I wish I had known when I started.
Be on the lookout for ways to make money, either from selling things around the house, picking up an overtime shift, or getting a small part time job. It will all be worth the effort once you're debt free!
Track Your Payoff Progress –
Free printable!
Lastly, don't forget to track your progress in a visual way. This makes it so much more exciting! On days that you're frustrated, you'll be able to see how far you've come.
Example ⇓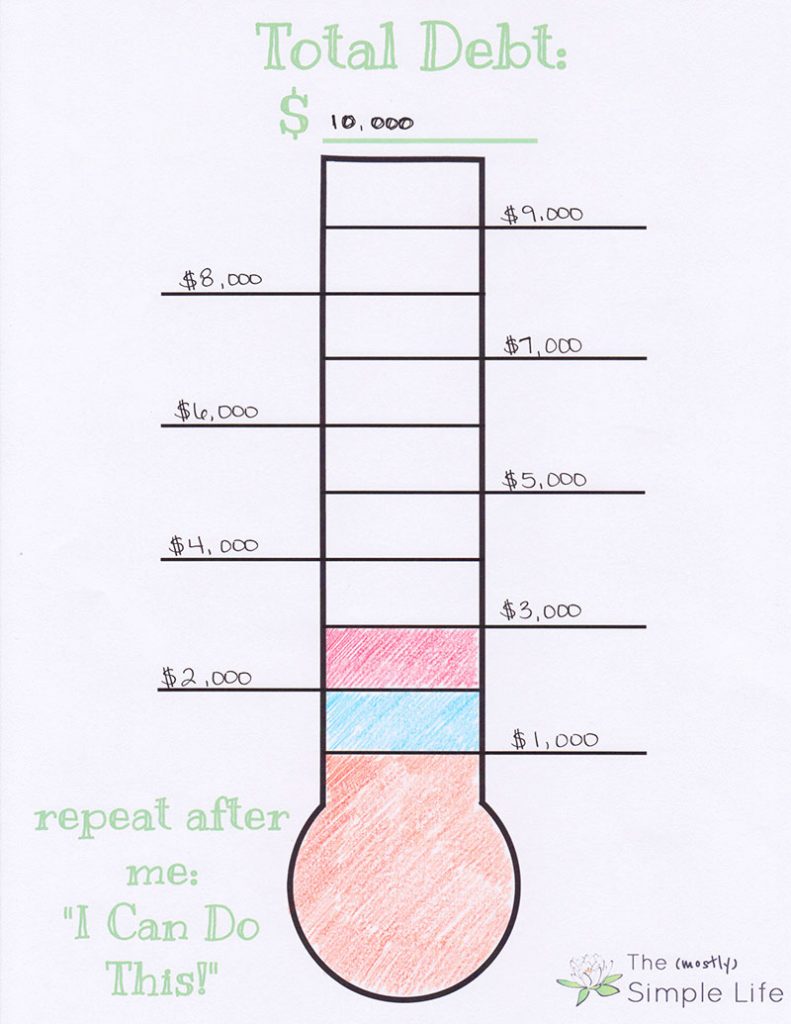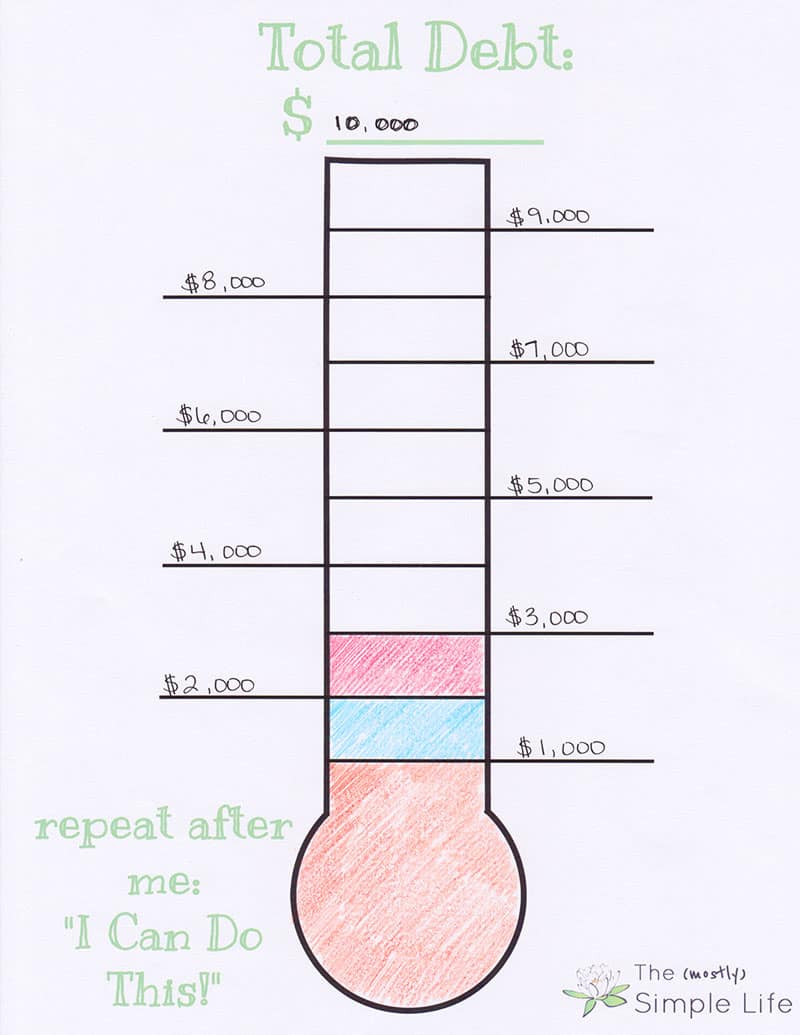 I made up a special printable for you so that you can track your debt payoff progress. Just write the total amount of your debt at the top, then divide that number into smaller increments on the side and color it in as you pay it off. You could also print a separate page off for each debt and fill them in that way.
Enter your name and email address below if you want me to send you this free debt payoff tracker:
I've been stressed about money lately. My biggest motivation for sticking to a budget has always been so that we don't have to stress about money. We're using these methods to tackle our debt so that we can be in a much less stressful situation as soon as possible.
I know how good it is to not have any debt and to not have to worry about being able to pay bills that pop up and I hope we'll be back to that soon.
⇒ Are you stressed about debt? What debt have you payed off?