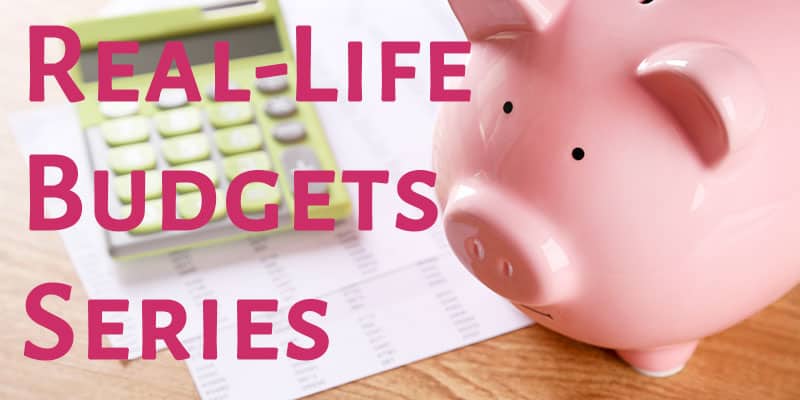 Here's #2 in the new "Real-Life Budgets" series! Because of the popularity of my monthly budgets, I wanted to show some more variety with other real-life budgets for people in different circumstances.
I reached out to other bloggers who were willing to share their average monthly budget with you!
When we first started budgeting, it was hard to find examples of real life budgets. I think it can be helpful to see how others spend their money because you can think about how you would tweak things based on your specific circumstances.
Each real-life budget in the series will show how much a budget can vary based on location, family size, diet, priorities, income, debt…
You can take a look at our current $2500 per month budget here.
Sidenote: One of the very best things you can do to start getting a handle on your finances is track your spending! You can download and print my free spending tracker printable and take action today!
---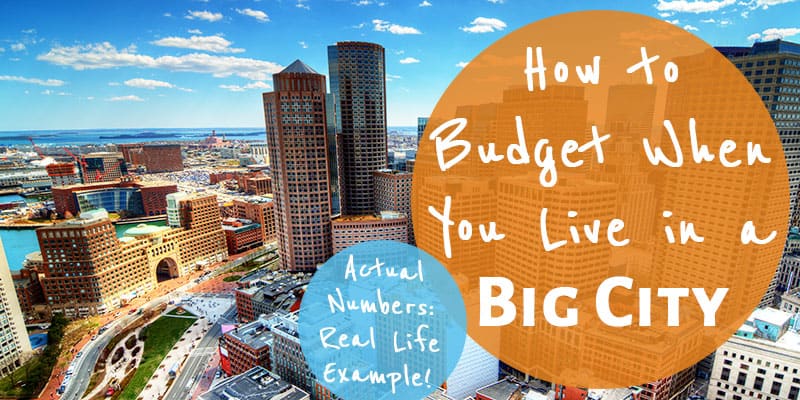 I'm so excited to share this budget! Lauren and Tim blog at Modern Self-Reliance.
Their budget is unique because they live in a big, expensive city (Boston) and because they are focused on investing in their future.
Their dream is to move to the country and have a self-reliant homestead. They're working hard to pay off debt, learn homesteading skills, and find ways to use homesteading and preparedness skills right in the middle of the city right now. So cool!
Basics About Lauren & Tim's Budget
Family Size: 2 adults. No pets.
Location: They live in an apartment in a suburb of Boston, Massachusetts. I looked it up: Boston is the 6th most expensive city in the US! This is a really great example of budgeting in a big city.
Diet: Lauren and Tim are trying to eat more organic and local foods. They have a plot in a community garden that is helping with food costs.
Jobs: Lauren is a mathematician and Tim is an engineer.
Lauren & Tim's Monthly Budget
Special Note: I did not ask Lauren and Tim to share their income or any taxes that they have to pay. We're simply looking at budgeted spending. Their health care costs are taken out of their paychecks, so they didn't include that amount in their budget since they never see that money.
The Basics:
Rent: $1630
Her car: $230 (gas + insurance)
His car: $450 (gas + loan + insurance)
Food: $400
Water: free
Heating: free
Internet: $80 (not TV, just internet)
Electric: $80
Student loans: $1,000
Things they set special money aside for:
♦I'm going to let Lauren take it from here and explain the areas they set money aside for each month.♦
His Retirement: ~$500 (pre-tax)
Her Retirement: ~$500 (pre-tax)
Self-Education/Investment: $200-300
We set aside money each month to invest in ourselves. This may be a course we want to take or books we are interested in. For example, we are taking a cheese and butter making course at the Milk Shanty in August and this will come from our Self-Education fund. Also the Making Sense of Affiliate Marketing course came from this account.
Business Investments: $300
This amount varies but we are focusing on building an online business and with that comes hosting fees, courses, tools, software, etc. The basic capital we need to start a business.
Her Car: $150
While I own my car outright, I pretend I pay a lease. Hopefully when I am ready for a new-to-me car, I can pay mostly in cash. This fund also covers oil changes and repairs.
Wedding: $100
We would like maybe to get married someday, and it's best to start preparing now when it's far off and with smaller amounts of money that won't burden us. In a pinch, this is one of the first categories that gets cut.
Entertainment: $200
We roughly spend this amount each month. Video games, alcohol, art supplies, nights out with friends. Basically fun play money, the stuff that makes life fun!
The rest:
All leftover money gets put into a house fund. We have emergency accounts well established so all extra money goes toward one day owning land. Once we are debt free, we want to stay debt free. This means trying to save money and buy land without a mortgage. I explain our life plan on my blog: http://modernself-reliance.com/city-to-farm-strategy/
Lauren is a mathematician by trade while Tim is an engineer. Their blog Modern Self-Reliance aims to teach homesteading and preparedness skills for the modern family. This includes skills like gardening, canning, emergency planning, and survival skills. They share their journey and teach skills so others can become more self-reliant regardless of their living situation.
THANK YOU to Lauren and Tim for sharing their budget with us! They are doing such an amazing job of balancing enjoying their lives right now and planning for what they want in the future. I am so inspired by that!
I wrote about investing in yourself not too long ago and got a great response about the subject. I love how Lauren and Tim have investing in themselves built right into their monthly budget.
Also, the way Lauren is paying herself a lease payment each month is so smart. Once we get our car paid off, I'd like to do this so that we're ready for the next one.
Maybe it's because I'm super nosey about other people's finances, but I'm loving this real-life budgets series and getting a peek into how other people budget.
Other Budget Examples:
Real-Life Budgets Series: Early Retirement with a Child in College
Our Actual Budget: Living on Less Than $1500/Month
The Fastest Way to Create Your First Budget
Our Unemployed Budget: $1200 Per Month