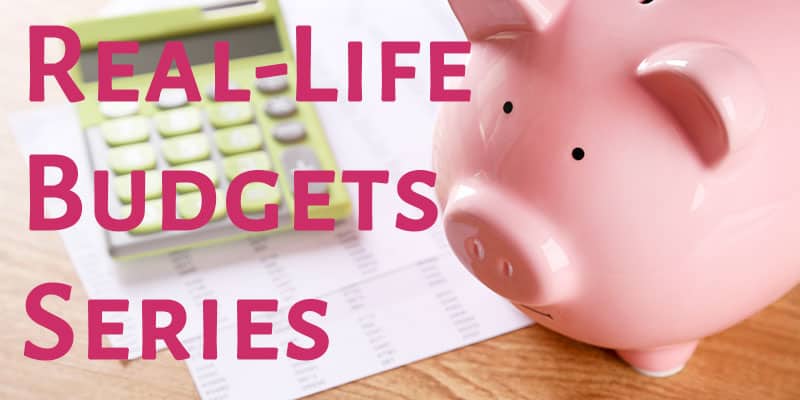 I am beyond excited to bring this new series to you! Because of the popularity of my monthly budgets, I wanted to show some more variety with other real-life budgets for people in different circumstances.
I reached out to other bloggers who were willing to share their average monthly budget with you!
When we first started budgeting, it was hard to find examples of real life budgets. I think it can be helpful to see how others spend their money because you can think about how you would tweak things based on your specific circumstances.
Each real-life budget in the series will show how much a budget can vary based on location, family size, diet, priorities, income, debt…
You can take a look at our current $2500 per month budget here.
Sidenote: One of the very best things you can do to start getting a handle on your finances is track your spending! You can download and print my free spending tracker printable and take action today!
---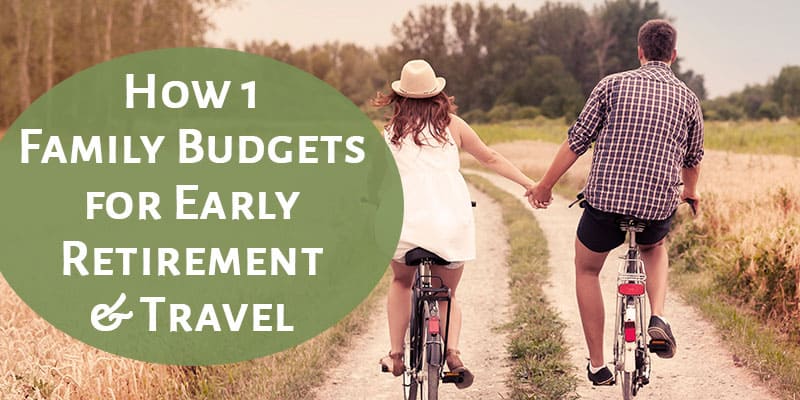 Today's real-life budget comes from Brad, who runs the website Maximize Your Money.
Basics About Brad's Budget
Family Size: 3 – Brad is married with one daughter in college out of state.
Location: Charleston, South Carolina – He says it's beautiful but expensive!
Diet: Brad and his wife, Karla, eat 90% paleo and mostly non-GMO/organic food, which influences their grocery budget.
Job: Brad and Karla retired early!
Worth Mentioning: They have a paid for house, so no mortgage payment. Fabulous, right?! They also travel a ton for their daughter's swim meets.
Brad's Monthly Budget
Special Note: I did not ask Brad to share his income or any taxes that he has to pay. We're simply looking at budgeted spending.
Allowance (child in college): $150.00
Auto:
AAA: $14.92
Car Wash: $8.00
Fuel: $125.00
Insurance

(3 cars + RV):

$216.75
Service (3 cars + RV): $225.00
Clothing (3 adults): $250.00
Dining Out: $400.00
Donations: $210.00
Dues (HOA): $385.33
Entertainment (books, music, etc.): $78.67
Fitness (Gym membership): $79.33
Food (Grocery): $800.00
Gifts (birthdays and Christmas): $333.33
Hair (and occasional pedi/mani): $79.33
Home Furnishings: $166.67
Note from Brad on Furniture: Home furnishings we have $2k/year budgeted but usually don't spend that each year. We roll money over so it's available for big purchases when needed – a futon we bought this year, office desk, we'll want to replace two couches at some point, etc.
Home Repair & Maintenance: AC, Pest, Yard: $54.25
Household (Non-Food): $200.00
Insurance:
Homeowners: $63.79
Life: $69.38
Medical – Family: $450.00
Pets (2 cats, 1 dog): $83.33
RV Storage: $65.00
Subscriptions (Netflix and Amazon Prime): $20.00
Tax:
Preparation: $75.00
Property Taxes: $278.75
Travel & Vacation: $1,250.00
Note from Brad on Travel: Our daughter swims for UGA (with a nice scholarship) so we travel to watch her swim a lot. Even just doing the trip from Charleston to UGA for two days to watch and support the team – it adds up quickly with gas, food, hotel, etc. And when we go to big meets – like SECs next year in Texas and NCAAs in Ohio – we have airfare, car rental, etc. When we went to Olympic Trials (2012 and 2016) it's easily a $5k trip once you add in the cost of tickets. She graduates next year and we'll be saving the equivalent of a European vacation each year. 🙂
Utilities:
Gas & Electric: $190.00
Phone, Internet, Cable: $275.83
Water: $66.00
Note from Brad on Tithing: Normally we would have a tithe category of 10% but, as early retired people, we don't have any income right now. When we draw down investments we do tithe on the taxable gains. We also tithe on coaching fees, ad income, etc. but it is very variable so we don't put it as a budget item.
Brad Kingsley is a personal finance blogger and Certified Financial Coach. He helps people create a plan for their finances to achieve big goals, like getting out of debt, paying for college and providing for a comfortable retirement. Visit his site at https://MaximizeYourMoney.com
A HUGE thank you to Brad for showing us his budget! His life is so different from mine in many ways and it's awesome to see how Brad and Karla are making their budget work.
I love that you can clearly see their priorities in their budget. They've worked hard to pay off their house and not have any other debt. They also travel a ton to support their daughter. Their budget is such an inspiration to me!
Related Posts:
The Fastest Way to Create Your First Budget
The Most Effective Way to Fix Your House on a Tight Budget
Our Actual Budget: Living on Less Than $1500/Month
13 Secrets to Saving Money on Food (while eating healthy)