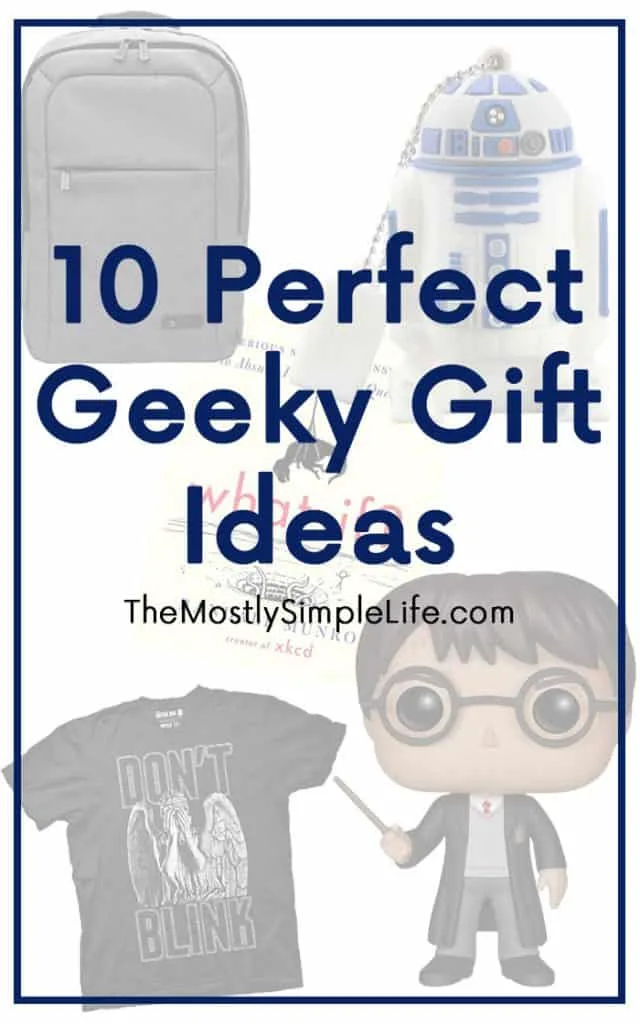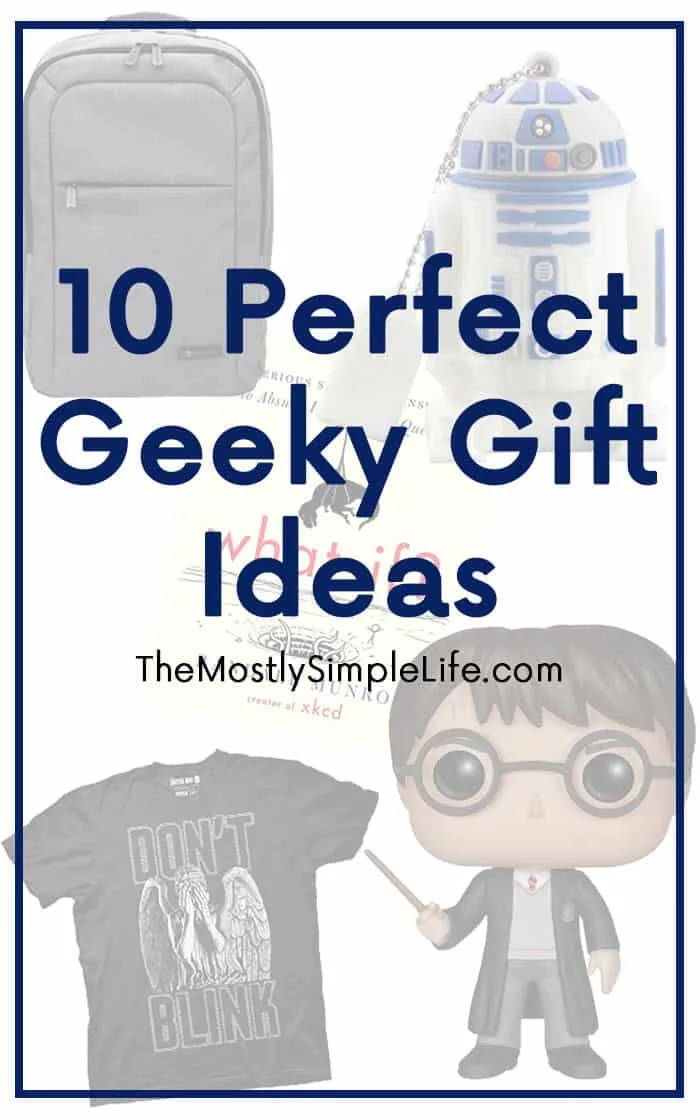 Next up on Christmas Gift Ideas Week is gifts for the geek in your life!
Techie, Sci-fi, Gamer… Whatever your favorite geek is into, I think you'll find something they'll like.
Austin is a web developer who loves all things Star Wars, Video Games, and Technology. He'd love, or already has, everything on this list.
If you're looking for some inexpensive gift ideas, you can also check my Gifts for $15 or Less posts.
The Perfect Geeky Gift Ideas
1. Funko Pop Vinyl Figurines
Have you seen these yet? They are the most adorable figurines of characters from movies and TV shows. Some of them even have bobble heads.
There are figures for almost every show or movie you can think of: Star Wars, Disney characters, Marvel characters… They even have the Golden Girls!
Austin has a small collection of these and I even have one (Dr Who 🙂 ).

2. Books
If your geek also likes to read, there are plenty of fun book options!
3. Flash Drive
Who couldn't use a new flash drive? They have a sneaky way of disappearing or wandering off with family or friends who need to borrow them. Ours do at least.
I found some super cool character flash drives that are great (like this R2-D2 one). Plus, no one will mistake it for yours.
4. Computer Backpack
If your favorite geek takes their computer with them to classes or to work, they've got to have a snazzy computer backpack.
I've noticed that they're quite the thing in bigger cities, especially for businessmen or women who bike or take public transportation to work. Aren't they way cooler than the basic laptop case?
5. Mug
It's fun to express yourself in the little things, right? I've rounded up a collection of fun geeky mugs for whatever your geek is in to:
6. Subscription Box
There are subscription boxes for absolutely everything! And I mean everything.
There are some awesome geeky subscription boxes. Austin has gotten a few different ones and loved them.
Some great options are:
Loot Crate: Loot Crate offers a few different boxes, including ones that are specifically about gaming, anime, geeky apparel, and even one for geeky pet supplies.
Powered Geek Box: Powered Geek Box usually includes a t-shirt among other cool items from Marvel, Nintendo, DC, Stars Wars, Capcom and others.
Smuggler's Bounty: Smuggler's Bounty is the only official Star Wars subscription box. There is a different theme each month and they include Funko Pop figurines in their boxes!
Related Posts:
How to Make Your Own Soy Candles
16 Ways to Simplify Your Life Today (in 30 minutes or less)
The Big List of FREE Fun Activities
7. Lego Set
Once a Lego lover, always a Lego lover! Austin and his brothers still love getting Lego sets as gifts.
For something a little more grown up looking, Lego makes architecture sets which recreate famous building from around the world. They are really cool and include a small booklet about the history or each structure.
Some of my favorites include the Trevi Fountain, the Louvre, and the US Capitol Building.
8. DVD
Everyone has a favorite movie or ten 🙂
If you know someone's favorite movie, I'm sure they'd love to get it on DVD or Blu-ray, especially if you can find a special edition with all kinds of special features included.
9. T-Shirt
T-shirts are such a fun gift. There are tons and tons of geeky t-shirts to choose from including subscription boxes that will send a new shirt each month.
I rounded up a few fun shirts to get you started:
10. GameFly
GameFly is basically the Netflix of video games. You get to rent video games and keep them for as long as you like before you send them back.
A membership would make a great gift for your favorite gamer.
⇒ Do you have any geeks to buy for on your Christmas list? What are some extra gift ideas?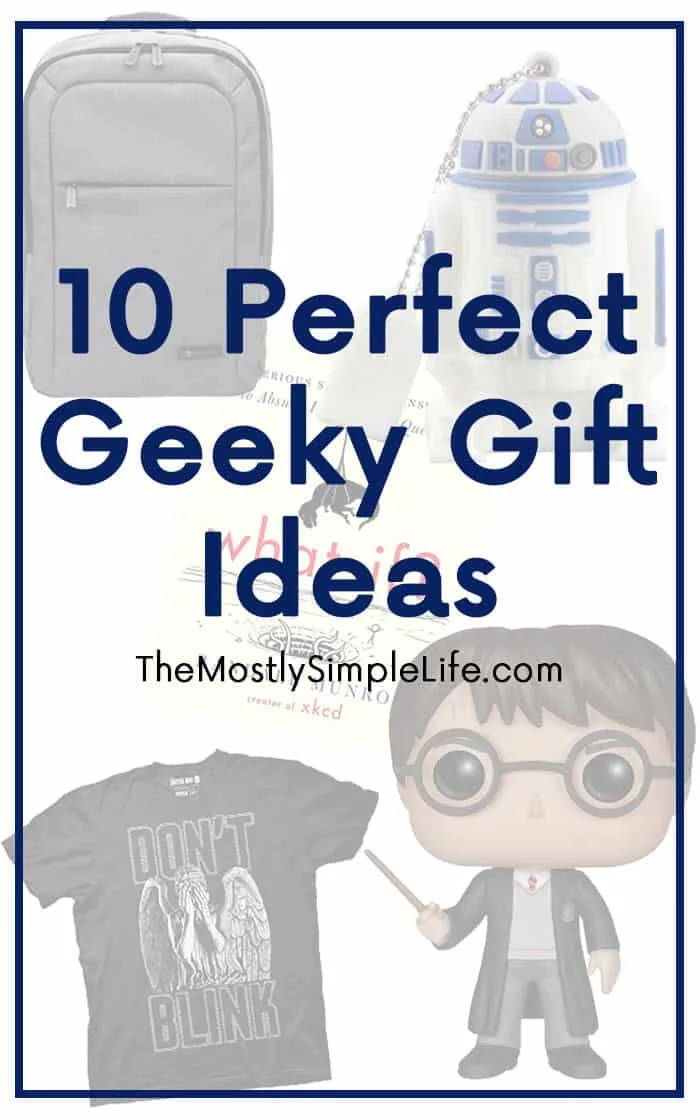 If you find this page helpful, please pin or share it :)