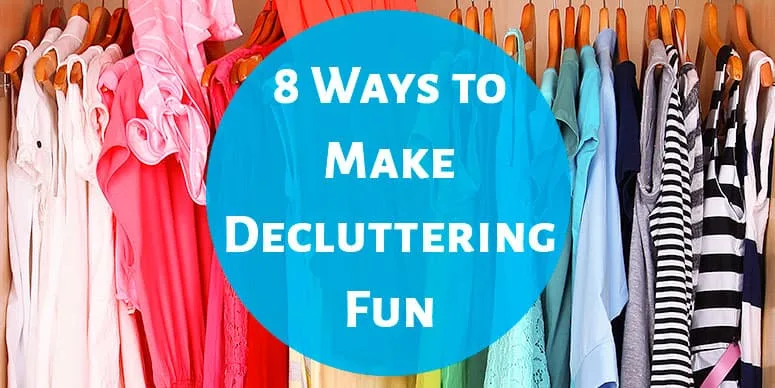 I've started to realize that most people don't find decluttering to be a fun activity. #gofigure
This is honestly a little mind-boggling to me as decluttering my bedroom was one of my favorite things to do as a kid! I would go through each drawer and get rid of anything I hadn't used in six month and then reorganize it all. I was apparently a born declutter-er.
Imagine my surprise when something I loved doing was not something most other people enjoyed!
If you don't strangely find decluttering your home to be naturally fun, I've created a list of ways to make it a more enjoyable experience.
8 Ways to Make Decluttering Fun
1. Take Before and After Pics

Who doesn't love a good before and after transformation?
Taking before and after pictures of the space you're decluttering does two things: (1) It makes it more fun and exciting to see the full transformation. (2) It super motivating! Knowing that you're going to take an after picture might just motivate you to do a really great job so that you're left with a bigger transformation.
It doesn't have to be a full room transformation. Taking pics of one drawer before and after can be really satisfying.
2. Set a Timer
If you're intimidated by the amount of time you think it will take to finish a decluttering project, try racing against the clock.
Setting a timer can help you focus all of your energy on the task of decluttering. There's no time for distractions when you're on the clock. You might be surprised by how much you get done.
I like using a timer because it helps me make faster decisions about what I should keep or let go. It forces me to go with my gut feeling.
3. Do It With a Friend
Socializing while you declutter automatically makes it more fun!
Even if your friend just sits and chats with you while you do all the work, it's more entertaining than doing it alone.
4. Compete
Are you competitive? Check if your spouse or boyfriend or roommate will compete with you.
See who can get rid of the most clothes or storage boxes or paperwork.
5. Do a Challenge
A quick search for "declutter challenge" on Pinterest will give you no end of options.
Most declutter challenges tell you to focus on decluttering a certain area of your home each day. Others challenge you to get rid of X number of items each day for a month.
Whichever option you choose, it's a lot of fun to try to get through the challenge and see the progress along the way. Even better if you can join a "live challenge" where people are checking in with their progress.
I've even got my own small 4-day declutter challenge for you! It'll help you get started if you're not sure where to start or how to get going. Sign up below ⇓
[convertkit form=5017563]
6. Listen to a Great Audiobook or Podcast
The time flies when you're listening to a good book or podcast. I do this every time I declutter, paint a room, or garden.
If you've got a ton of decluttering to do, make it a rule that you can only listen to your book while you're decluttering. Suddenly, you'll be looking forward to the task.
You can start a free trial of Audible to get two audiobooks to listen to.
7. Sell Things for Fun Money
It's much more fun to get rid of things when you get something in return.
What could you use some extra money for? Maybe it's a trip, a fancy dinner, new shoes, tickets to a show… Declutter like crazy to earn enough money to do something fun!
Don't miss this post about ways to get rid of things. There are multiple ideas for selling stuff.
8. Give Yourself a Reward
Treat yourself to something special once you've decluttered so that you have something to look forward to.
Maybe you need to clear out your closet of everything that doesn't fit and then you can reward yourself with a new dress. Or maybe finally cleaning out the pantry means you get to invest in pretty pantry organizers.
Whatever your reward is, it's a lot more fun to work at decluttering your home when you know something exciting will come of it.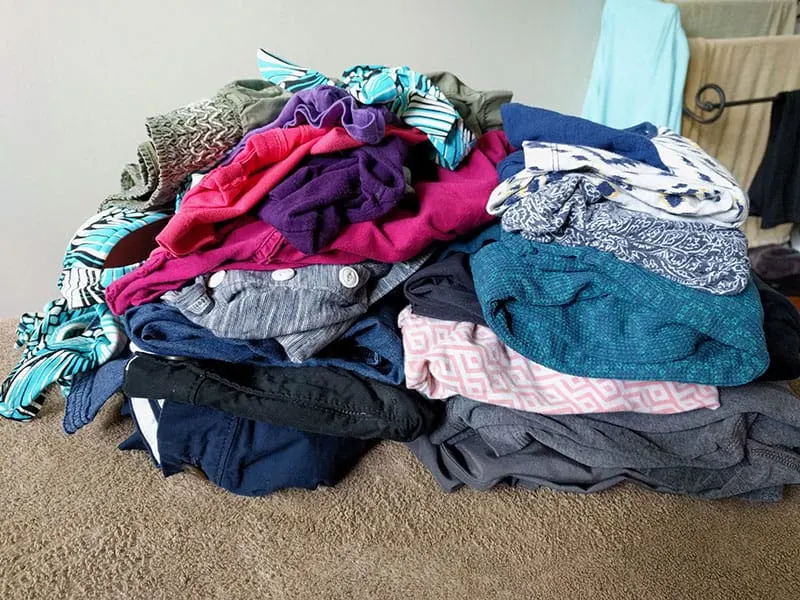 Decluttering doesn't have to be a horrible experience, even if you don't oddly enjoy it like I do. Decide what might make it more fun for you. Make it a social thing, get a little competitive, use it as motivation to treat yourself, or get into a great audiobook.
You're much more likely to accomplish your decluttering goals if you make it an activity you look forward to instead of one that you dread.
You Might Like These Posts Too:
A Quick Guide to Declutter Your Home
How to Stop Clutter Before It Starts
Decluttering: How to Get Your Spouse On Board
Creating a Year Round Decluttering Routine
⇒ How do you make decluttering fun?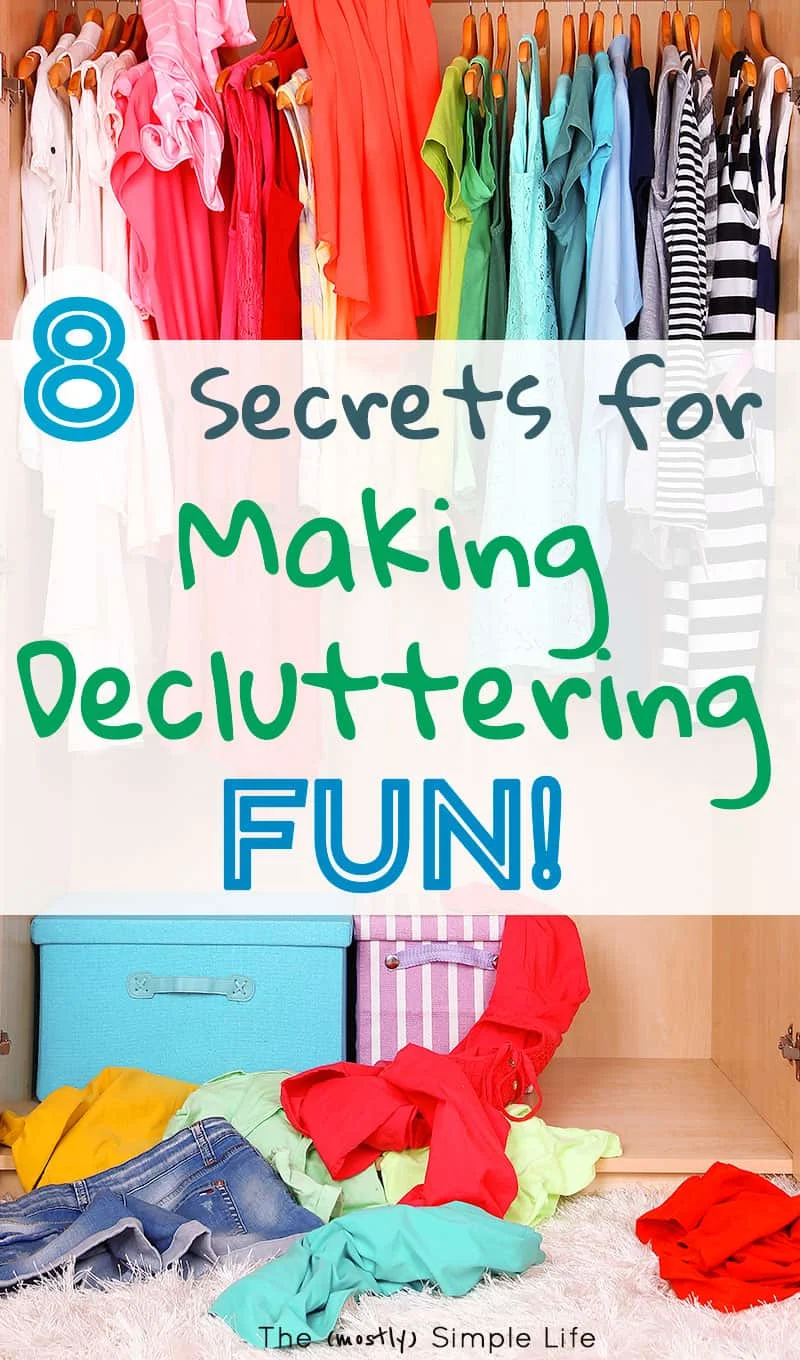 If you find this page helpful, please pin or share it :)