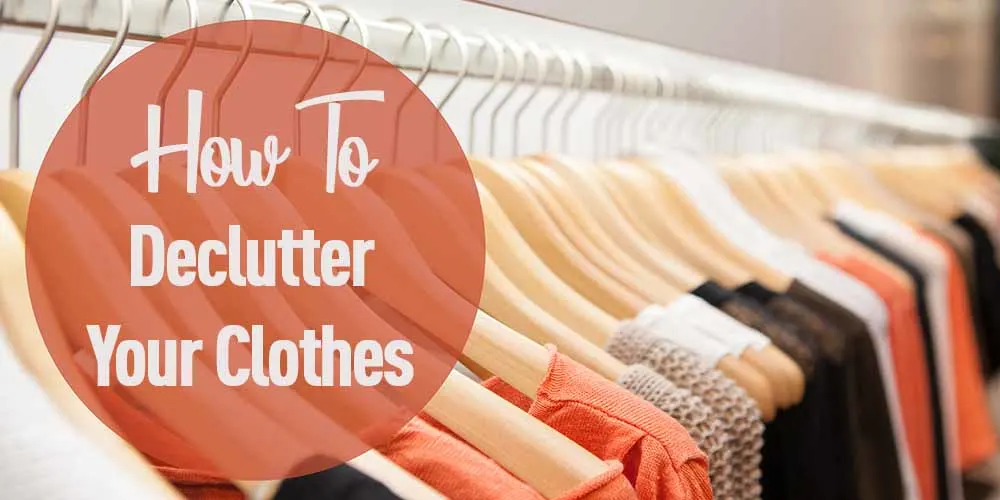 I bet that you have just the right amount of clothes in your closet, right? right?? hmmmm.
If you're like most people, you probably have way too many clothes in your closet: a survey by ClosetMaid found that the average woman has 103 items of clothing in her closet. However, minimalist expert Courtney Carver suggests in her book "Project 333" that not only you can survive with just 33 items, but you'll thrive with less items, and you will never look back.
But trying to declutter your clothes & simplify your closet so that it all fits and works together is not that easy. Plus, once you get your closet to a good place, it can easily get out of hand again if your weight changes, clothes wear out, or you find a great sale.
I had my closet at a really great place last summer. Just a few months later, I needed lots of winter clothes because things didn't fit or were worn out, and my closet got out of hand again.
So I have reviewed my "rules" for decluttering clothes to find out how to make it all better again. I'll be honest, being the organization nerd that I am… I kinda loved the process!
Inspiring Before-&-After Images to Help Declutter Your Clothes
If you are anything like me, you will LOVE these inspiring examples of before and after images. Seeing these examples of people who have managed to organize their clothes and wardrobes so beautifully will hopefully give you both inspiration and motivation to declutter your own wardrobe!
Here is another example that shows how recycling/donating a portion of your clothes and using simple storage boxes to help organize the rest can make a huge difference. Impressive, isn't it?? Of course, improved lightning with better bulbs can help…
BEFORE and AFTER images: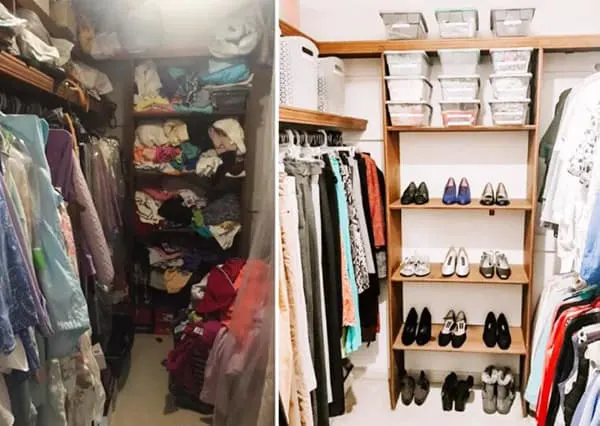 It's amazing what a few storage boxes, hanging organizers (and 11 trash bags for donation) can do to improve the organization of clothes in a bedroom closet: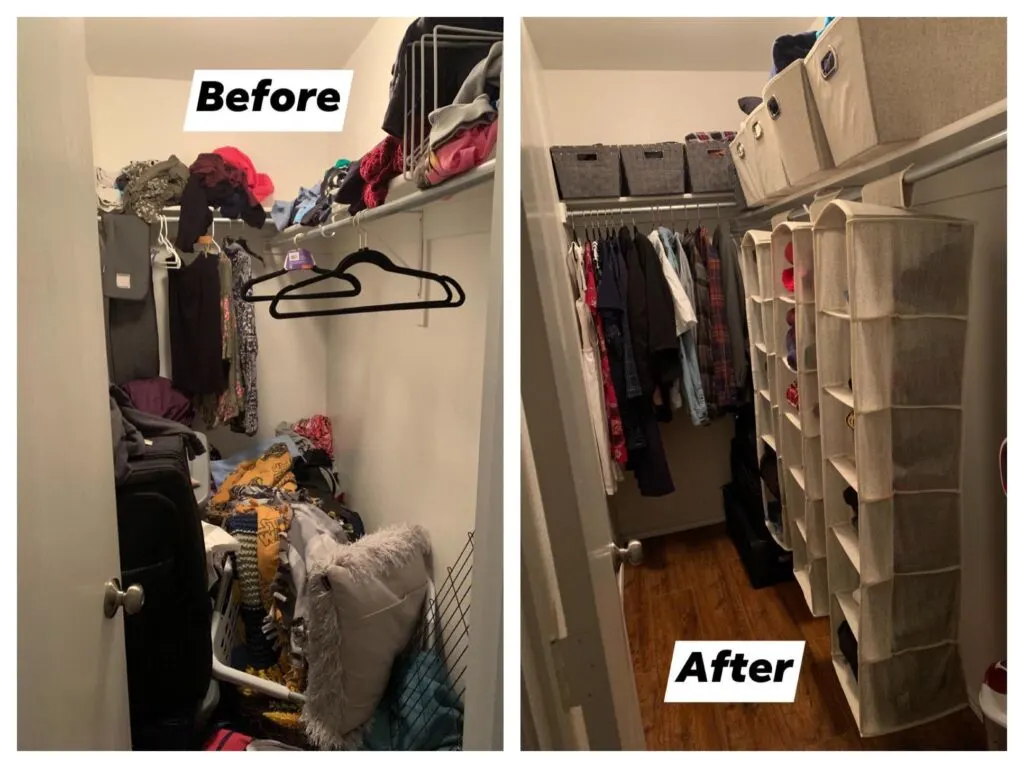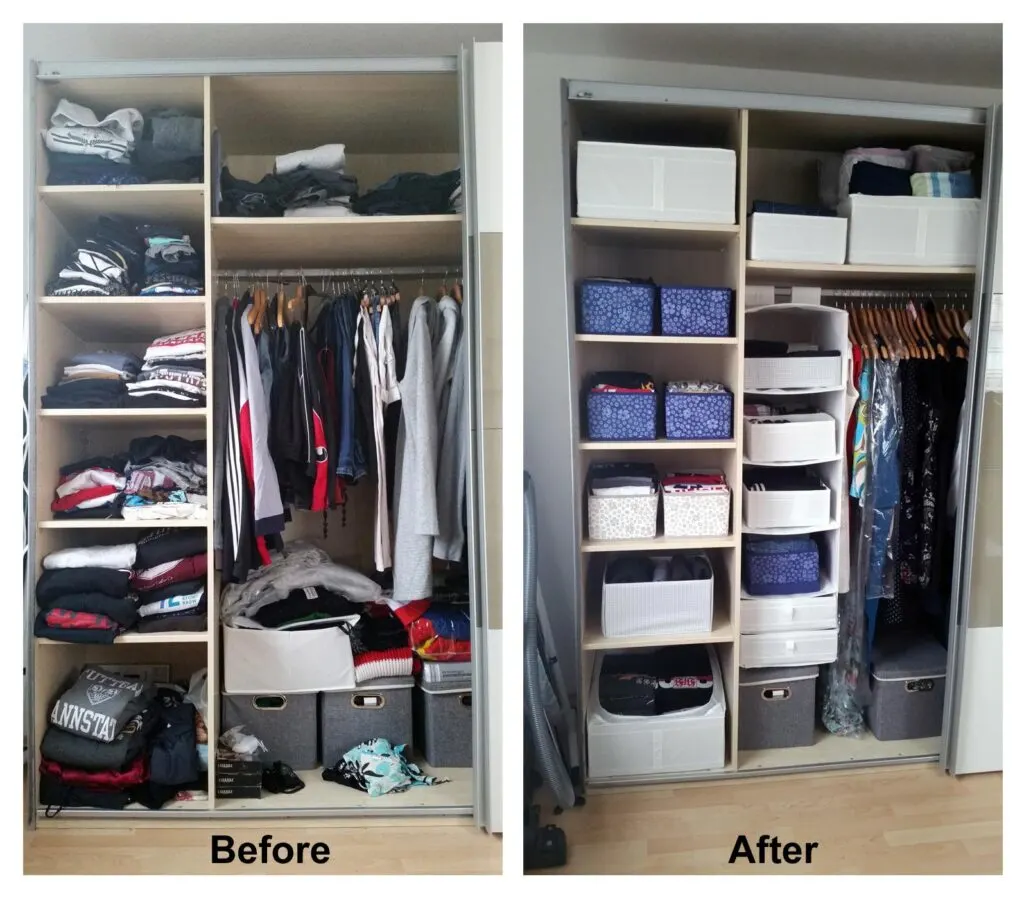 View more inspiring before & after examples of decluttering projects. As mentioned, we found it helpful to review other people's before and after images for inspiration for our own projects. We found this picture shared on Reddit by a user account that has unfortunately now been deleted.
7 Great Tips to (Finally) Declutter Your Clothes
So what are the best ways to declutter your clothes?
First, Purge Your Wardrobe. Take Everything Out.
You saw this coming, right? If you're going to declutter your clothes, some items have to go. An initial stab at purging your bathrobe won't take very long. First, take all of your clothes out. Gather up all your clothes, from your closet and your storage areas, and put them all on the bed, the floor or the couch. As organization expert Marie Kondo recommends: "make sure you have gathered every last piece of clothing." If you're like most women, you will probably have well over 50 items, maybe over 100. Right there on your bed and on your floor.
Do you have shoes in your garage? take them out.
Do you have off-season clothing in a box in your closet? take them out.
Just pile everything together.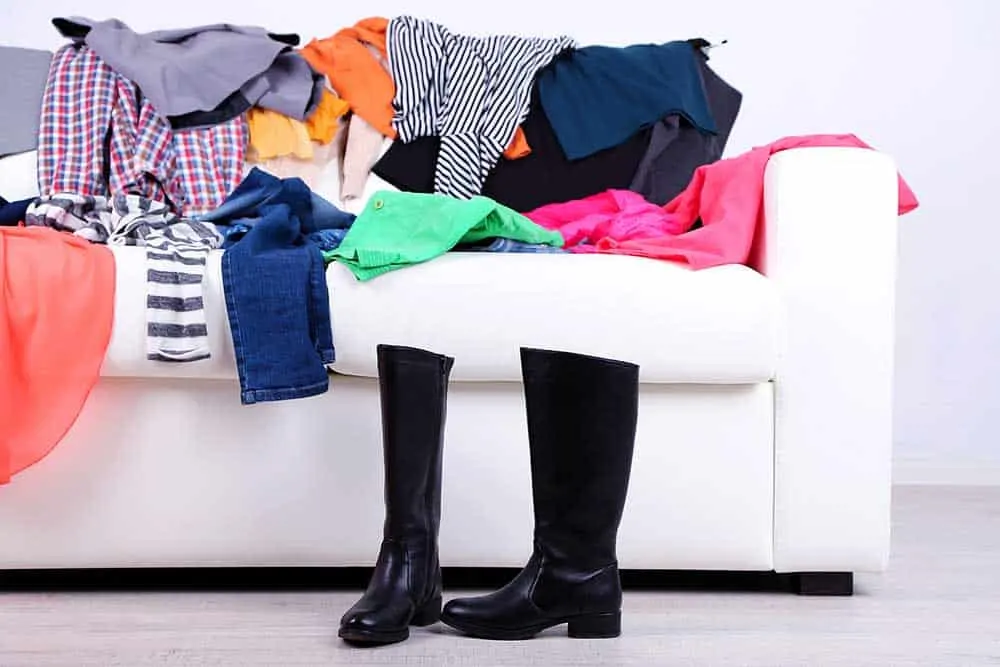 ok, so how do you declutter your pile of clothes now?!
To get started, you could take the declutter bag challenge (inspired by "The Declutter Challenge" book, by Cassandra Aarssen): get a bag and pack up the following for charity or trash to get started:
10 tops that don't make you look good or no longer fit.
4-5 pants or skirts that you have not worn recently.
3 pairs of underwear that you would not be proud of.
That's a great way to start decluttering your clothes really quick. To do a full inventory and fill up a big bag of ALL the clothes that gotta go… read the next tip 🙂
Ask Yourself These Questions to Pick the Clothes that… Got to Go.
Below are the four important questions that can help you declutter your clothes more quickly and easily. These questions should help you make the decision to finally let go of unwanted items. The four question are:
If I was shopping for clothes right now, would I buy this item again? You can typically reduce your wardrobe size by over 20-30% simply by asking yourself this question.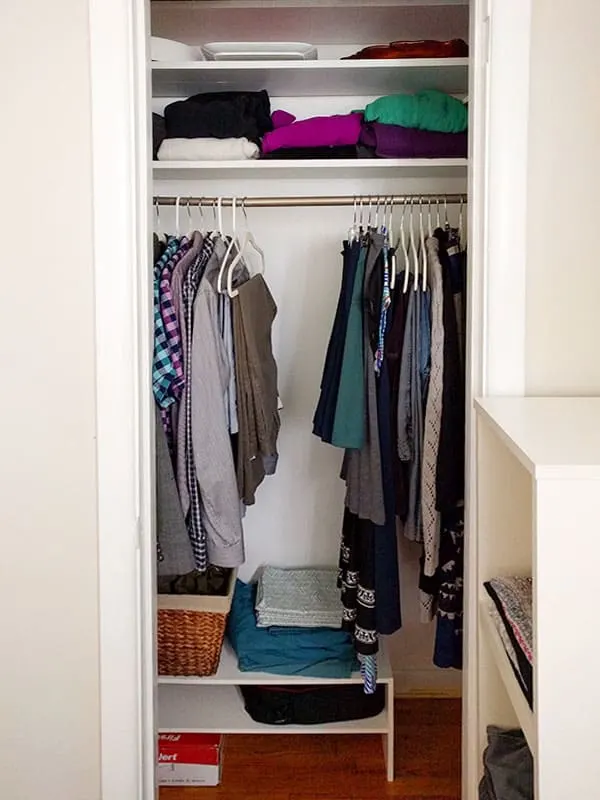 Does it fit? If not, Let it go. Why keep something that doesn't fit? It probably isn't that flattering and probably doesn't make you feel good in it.
Do I feel good in it? I had this skirt that was so cute, but every time I put it on, I would change into something else before leaving the house. I just didn't feel good in it. As cute as that skirt was, I let go of it. I want to feel confident in my clothes. Get rid of clothes that don't make you feel good. They're just getting in the way of the clothes you do want to wear.
Did I wear it in the last season? Removing the clothes that don't fit or don't make you feel good can be pretty straightforward. However, it can be more challenging to remove the clothes that fit and/or make you look good, but that you don't really need and that you just don't wear them for whatever reason. If you're sorting through sweaters, think about if you wore each one last fall/winter – prime sweater wearing season. If you never put it on, you probably don't need it. If you didn't wear it last time, you most likely won't reach for it this time.
Special Circumstances:
Weight Fluctuations: If your weight fluctuates (for example you just had a baby), it can make sense to keep different sizes. However, if you're keeping clothes from six years ago because you are completely convinced that they will fit you again … one day: it's time to get rid of them. These items probably make you feel bad when you see them in the closet. Additionally. If you do get older and end up losing weight, your body shape will not be the way it used to be. I weigh the same as I did six-seven years ago, but my clothes don't quite fit the same.
High-Priced Items: No matter how much you spent, if it doesn't fit, if you don't feel confident in it, or if you haven't worn it, don't keep it! Try to send it to a consignment store (like swap.com) or sell it on Facebook Marketplace or Offer Up.
Messy Clothes / Only Wear at Home Clothes: I keep one set of messy clothes to wear for messy outdoors gardening. However, be careful. Most people want to keep worn-out clothes to wear at home only (and never outside). It's one of the excuses that people use to keep plenty of clothes that should really go. Don't fall for that trap! One set of messy/worn-out clothes to wear at home should be enough.
Still Don't Know If you Are Ready to Let Some Clothes Go? Wear Them for a Day.
Decluttering your clothes is not always that easy. There are probably a few items of clothing in your closet that you have not worn for a long time. For some reason, you can't let them go. Perhaps they still look pretty good or they were expensive to buy. Before you decide to keep them or let them go, give them another chance.
One time, I took out a blue top that I had not worn in a long time and put it on for a day. Although I really liked the way I looked, I realized after wearing it for a few hours that it would just not work. It just didn't feel quite right and I did not enjoy wearing it. I knew it was time to let go. Wearing your unused items for a few hours will make it much easier to decide what to do with them, because you know exactly how they feel instead of trying to guess.
Keep Your Wardobe Simple: Pick Your Neutral Color.
This is the most important tip!
Once I figured this out, it got so much easier to get dressed quickly and look good:
Pick a neutral color and build your whole wardrobe around it.
Several years ago, I used to have three times as many clothes as I do now… However, I could make half as many outfits because hardly anything went together. For example, I used to have a cute dress that only matched well with brown dress shoes. Well, it turns out that I only had black dress shoes so I never wore this dress. Or my whole outfit would look great with black sneakers, but my sneakers were beige or navy.
I ended up choosing black as my neutral color.Now, practically all the clothes that I own match well with black: my shoes, my pants, my tops, my dresses, practically everything match well with black.
If I shop for items and I find something that doesn't go well with black, I simply do not purchase it. I know my rule. You may think that this is quite restrictive, but it makes putting outfits together so darn easier!
So my recommendation for you is to pick a neutral color that you can build your wardrobe around. It could be black, brown, dark blue… Whatever neutral color you prefer. Simply declutter your wardrobe of everything that doesn't go well with your neutral color, and decide not to buy anything that doesn't fit well with it.
Honesty Alert: I have a super-pretty silk summer dress that only goes with brown as well as some brown riding boots from years ago that I've never been able to let go. Do I have anything at all that goes with them? Nope. I have not worn either of them in years. Maybe it's time to let them go.
All "Your Neutral" on Bottom or Top
To build up on my previous tip of picking a neutral color, I also recommend that all of your bottoms or your tops be in this neutral color. I started off with black tops but eventually switched to using mostly black bottoms.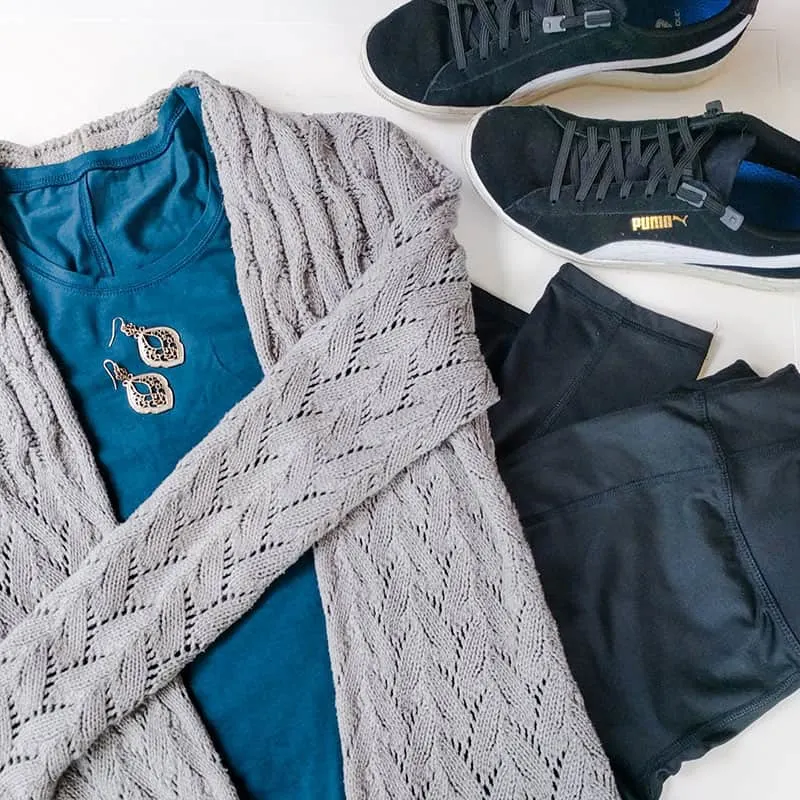 I tried this new rule two years ago and it was great. When I went shopping for new clothes for the summer, I only bought shorts that were black. This was a game changer because I could literally choose any bottom and any top and it magically worked together. I also made sure that all of my shoes were either black or marched very well with black. This made it very easy to just put on a new pair and be good to go.
Why hasn't anyone ever told me about this?!
Obviously, you have to be a lot more strict about decluttering your clothes and be very disciplined about your next purchases to be able to stick to the state. However, you want to be able to pull together a great outfit in just a few seconds, then this tip will be great for you.
A great thing about picking a neutral is that you don't need to own as many pairs of shoes. If my boots go with everything, I don't need multiple different pairs (Unless I want to. And I do 🙂 ).Since black is my neutral, most of my shoes are black. I've also found that white and metallic work with everything, which adds some pizzaz to an outfit.
Versatile shoes that I have include:
I've found that flat shoes are much more versatile than heeled shoes, so I don't have a lot of heeled shoes. Flats can work well both with dressy or casual clothes (I have back problems that make heels a bad idea for me anyway).
Organize Your Space
Once you have decluttered your clothes and gotten rid of clothes that you no longer need, the next step is to organize your space. To do this, it is incredibly helpful to research and find the clothes storage options that will best fit your specific needs.
How do you get started? Here are nice examples of elegant storage dividers that you can insert in a larger chest of drawers to help organize your clothes and avoid clutter: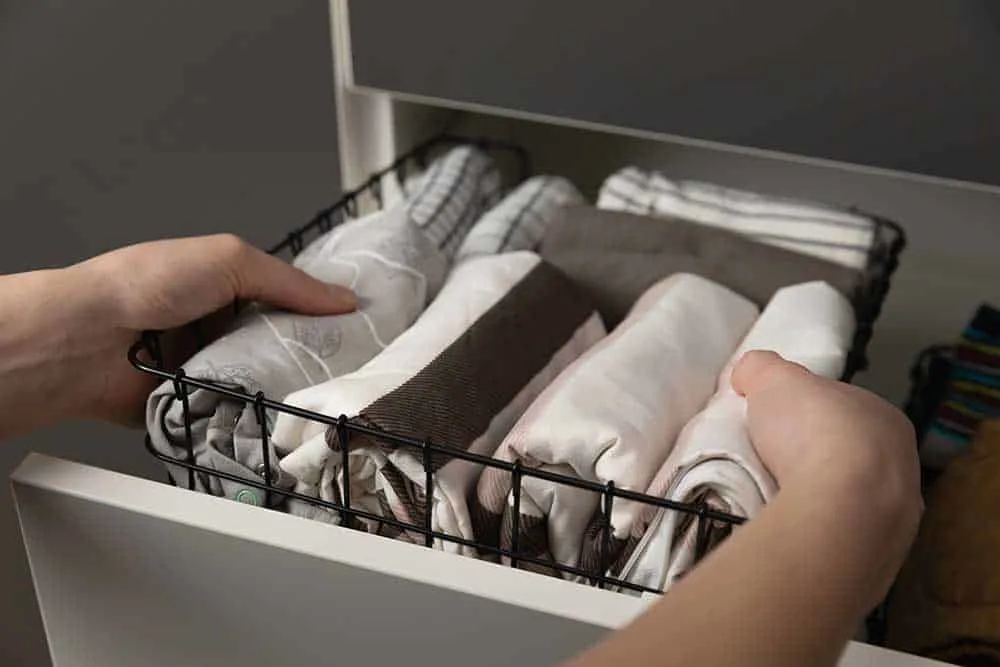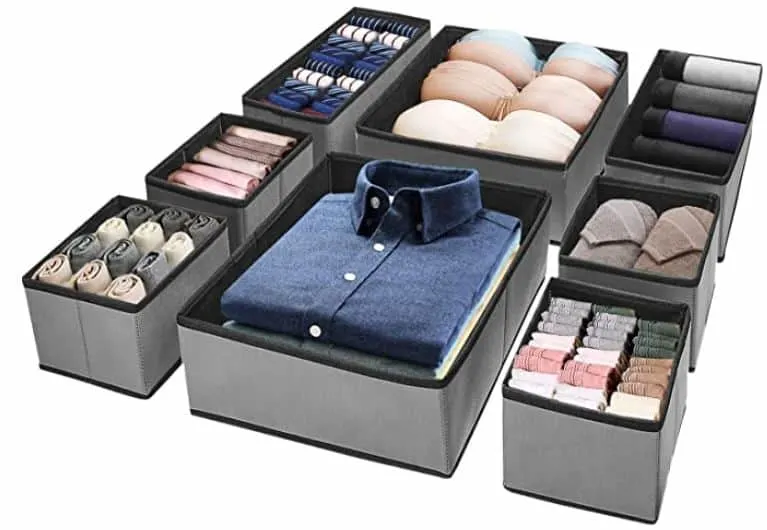 See more options on Amazon:
To learn more about decluttering and storage options, visit our post on decluttering your bedroom.
Avoid Future Clutter with Clothes (2-Minute Tip Video)
Watch this two-minute tip video on how to make the most of your money and avoid buying too many clothes:
Keep a List of Clothes You Need
I like to keep a running list of specific clothes, shoes, or accessories to shop for. I don't want to waste my money on a cute black top on sale, when I already have several. I do, however, need to find new sandals for this summer because the ones I wore last year are worn out.
If you keep a shopping list of what you actually need, you will save money because it will stay away from impulse buys. You simply know what you need. And your wardrobe will thank you, because it won't get filled up with extra clothes.
Ideally, everything in my closet fits, makes me feel good, and can mix and match. This ideal closet doesn't just happen though. I've found that by following the tips laid out in this post, I can make it possible.
And it's worth it: being able to put together an easy outfit in a minute feels so great! It saves me time and boosts my confidence. It's a win-win!
You Might Like These Posts Too:
⇒ How is your closet? Do you have any simple wardrobe tips?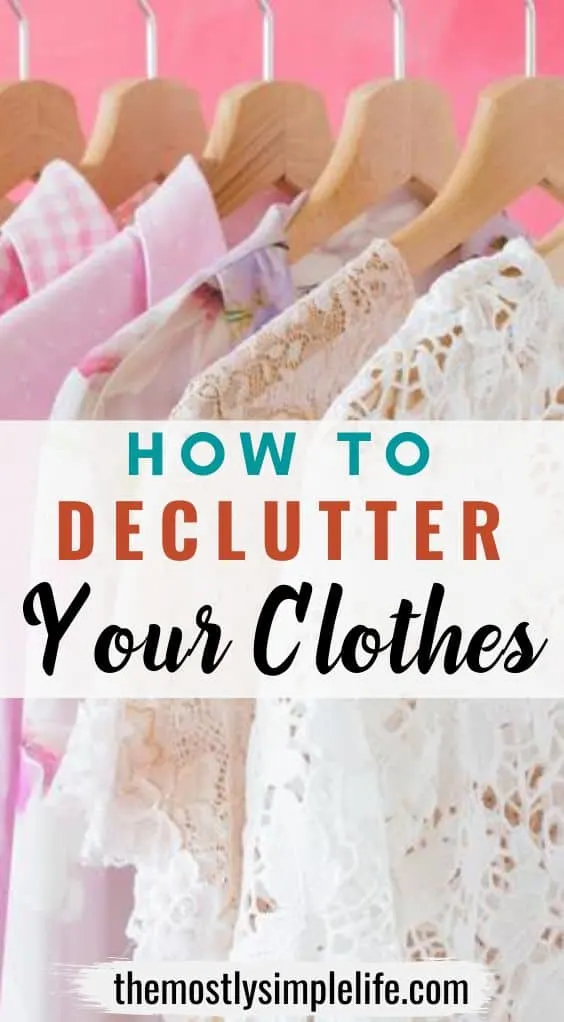 If you find this page helpful, please pin or share it :)