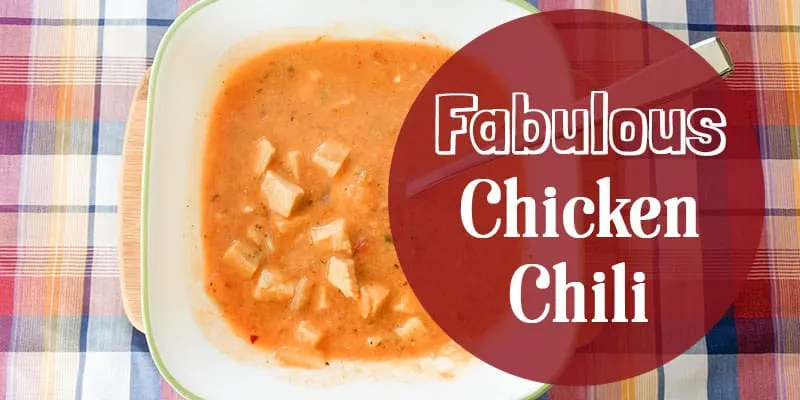 Time for more soup!
I created this chicken chili recipe after reading a bunch of other recipes for ideas and then making up my own version! Not something I normally do. It's so yummy though!
It's got a good amount of heat to it (though you could cut back on the spices if you wanted) and is kind of a mix between a white chicken chili and a regular chili. I cheat a little bit with the spices by using a packet. The seasoning packets go on sale fairly often if you watch the sale ads in your area.
As usual, I'm starting with cooked chicken. On the day I made this, I baked four large chicken breasts in the oven and then chopped two of them up to use in the soup. I'll use the other two in wraps or a salad later on. This is one of my favorite time saving hacks! Cook a whole bunch of chicken at once so that you're starting with cooked meat for a few meals.
Sidenote: Meal planning is one of the most important things we do to save money on groceries. You can get the meal planning printable I use each week by entering your info below!
[convertkit form=830245]
My Fabulous Chicken Chili Recipe:
Ingredients
½ Onion, chopped

1 Tbsp Olive Oil

1 can Chopped Green Chilis

1 can Diced Tomatoes, drained

1 can Cannellini Beans, drained and rinsed

1 can Navy Beans, drained and rinsed

2 cups Cooked Chopped Chicken

3 cups Chicken Broth

1 packet McCormick White Chili Seasoning

½ tsp. Cumin (optional)

dash of Cayenne Pepper (optional)

½ cup Sour Cream (or more if you like)

Salt – to taste
(note: for some reason I couldn't find navy beans this time when I went to the store, so I substituted great northern beans)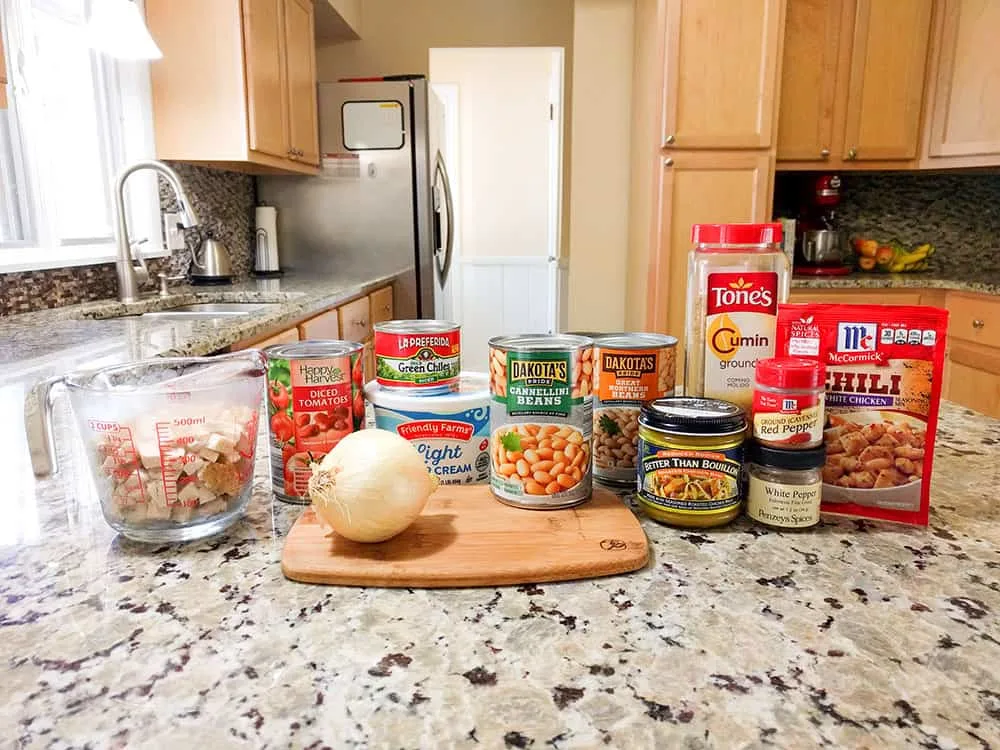 Instructions
Sauté the chopped onion in the olive oil in a large soup pot until soft and translucent.
Process the chopped green chilis, diced tomatoes, and cannellini beans in a blender until smooth. This makes the soup less chunky and is a great thickener. (We still love our Ninja – chopper, blender, food processor combo)
Add the blended mixture to the onions in the soup pot.
Stir in the rest of the ingredients (except the sour cream).
Simmer for 10-20 minutes.
Right before serving, stir in the sour cream.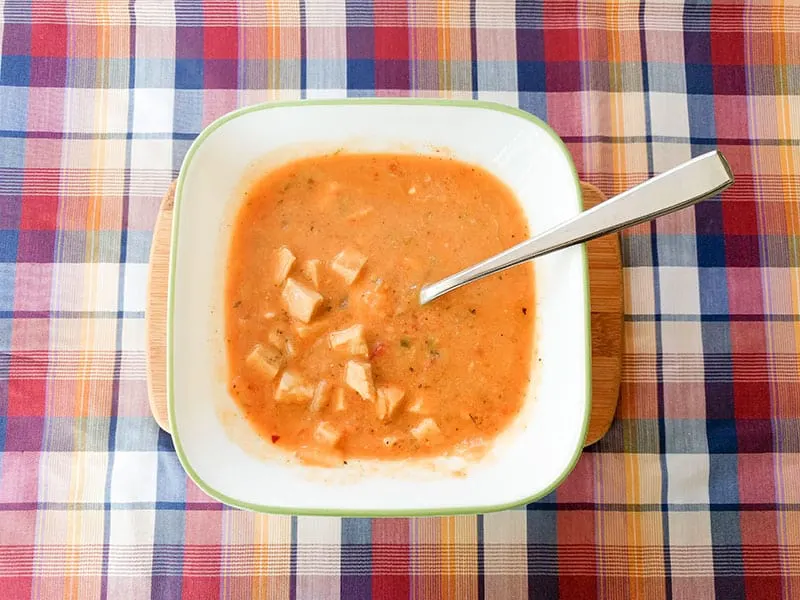 Storage tip: You can divide the leftover soup into single servings before putting it in the fridge. This way, it's ready to be put in a lunch box.
Side Dish Ideas:
Rolls or Bread and Butter
One of the great things about chili is that there are so many possibilities and each recipe is unique! I hope you'll try my version of chicken chili and let me know what you think in the comments!
You Might Like These Posts Too: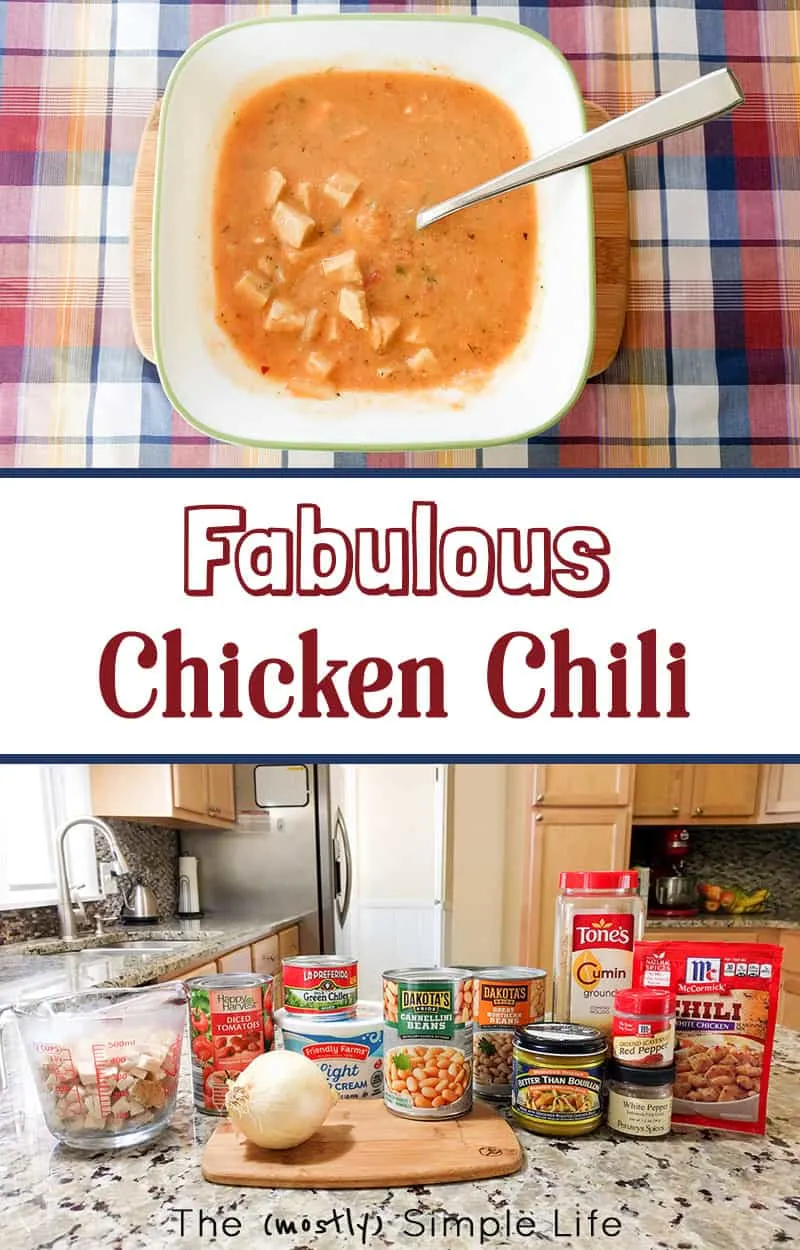 If you find this page helpful, please pin or share it :)