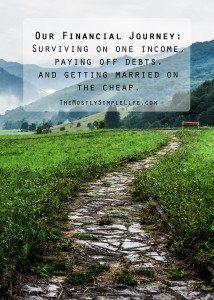 The first year we were together, we lived below the poverty line. My fella got a temp job a week or two before we got married in April. That job didn't pay much more than minimum wage and only lasted a few months. After that, he was out of work for a while and we were down to our last dollars when he got another position, not much better, but not much is always better than nothing. After a month at this job, we finally caught a break and he got a decent paying job with good benefits that we moved an hour away for.
Throughout this whole period we got married (very inexpensively), payed off our debts, and survived off of one income.
Getting Married Inexpensively
For our wedding, my parents gave us $4000 to use however we wanted. If we used it all on the wedding, fine. If we only used a little on the wedding, we could use the rest however we wanted to. Purchasing a hot tub may or may not have been discussed. (Side note: I think this is an awesome way to handle paying for a wedding. It made us think hard about every penny we spent and stick to a strict budget.) We decided that we wanted to have that money pay for our wedding, our honeymoon, and to help pay off some debt. Crazy, right? But that was a ton of money to us and we needed it to do a lot.
To save a ton of money on our wedding, we had to be pretty nontraditional. We had only 25 people at our actual wedding, and then we had a larger, casual reception about a month later. Here's some of the details of our wedding:
The most importantly HUGE way we saved money on our wedding was by inviting very few people. Every extra person means another chair, more tables, and another meal. We only invited our closest relatives, 25 people in all.
We found a free venue. This is also where inviting fewer people helps. We got married at a hotel that has a beautiful gazebo on a lake. It's a small little area (which was fine because it didn't need to accommodate 200 guests) that they didn't charge for. If you really search, you can definitely find a nice little spot to say your vows.
I said "yes" to the dress… the bridesmaid's dress! A wedding dress could have taken our entire budget. I did try a bunch on, but they were so heavy and thick and uncomfortable. Then, I found a bridesmaid dress in the exact style that I wanted, and they could order it in white! My dress was around $100. Plus I got a $10 veil at Hobby Lobby that matched my dress perfectly. Whenever I tell someone my secret, they're shocked. No one could ever tell.
Our "reception" after the ceremony was just a huge group reservation at a local restaurant. The only effort we put into the reception was making the reservation. It was awesome! Everyone could order what they wanted and the bill was way less than we would have payed a caterer.
These are some of the big ways that we saved. I'll share some more ways to save some other time. Our whole wedding was only a few hundred dollars, almost all of which went to the restaurant bill. We probably spent about $1000 dollars a month later to have a casual party with the rest of our family and friends to celebrate. We spent another $1000 of our money from my parents to go on a week-long honeymoon. It wasn't extravagant, but we had fun!
Paying Off Debts
We had a few hundred dollars left over from our wedding money from my parents that we used to pay off some debts. My man had a bit of credit card debt that I wanted to get rid of as fast as possible. We took care of some of the debt, but still had to pay off my wedding ring too. All in all, when we got married, we had about $1500 in debt, all on credit cards.
We were both raised by financially responsible parents who set good examples for us, and we wanted to make sure we did the best we could with what we had, even if we had very little. We payed off all of that debt within 10 months, even though our income was below the poverty line. I'm not saying that this is possible for everyone. We lived in a low cost of living area, didn't have kids, and had pretty few debts, but maybe it will inspire you a bit.
We lived on a tight budget. Like, "we didn't have a dollar to rent a movie" kind of tight budget. We didn't go out to eat. We tracked every penny.
We had a big goal to work towards. My wedding ring was put on a credit card that didn't charge interest for the first year. But, if it wasn't paid off within the year, all of the interest was added on. Talk about good motivation to pay that puppy off!
We had food stamps to pay for our meals. No, I didn't like having to get assistance, but that's what it's there for. It was so helpful, and we stopped getting the assistance as soon as we could.
We owned one, completely payed for car. If I needed the car for the day, I woke up early and drove my man to work. Sure, sometimes it was inconvenient, but it saved so much money. We actually still only have one car! We just always figure out a way to make it work.
We have always looked for the least expensive housing we could find. Our first apartment was tiny. The "bedroom" was kind of like an expanded hallway on the way to the bathroom that fit our mattress on the floor. Housing is a HUGE expense, so if you can cut back here, it will make a biggest difference.
Living Off Of One Income
In our almost six year of marriage, it's been rare that we've both worked full time. For the first few years, I didn't work. Then I worked part time. After that my fella was sick and couldn't work and I worked full time. For a less than a year, we both worked full time. And now, I work about 32 hours a week while he works part time and goes to school full time.
I'm actually grateful that we've had the experience of living off of one income and being able to budget and pay our bills while making so little. I now know how much we truly need to live on. Plus, if we have to, I know we can do it again. Even now, we try to keep our budget tight so that we can save the little bit extra.
Some of the ways we live on one income are:
Whoever isn't working, or is working less, is usually responsible for a larger share of the household chores. This helps the other person be able to focus on work.
We only eat out a few times a month, at most.
Shop those sales! I check for sales at local stores and shop at Aldi or Sam's Club when I can. If I find a great price on meat, which is always the biggest food expense, I stock up and freeze it.
Avoid the expensive stuff. Those bags of chicken nuggets are easy and a crowd-pleaser, but disappear far too quickly for how much you pay for them. Homemade meals can be quick and easy too, and are much more friendly to a tight budget.
Quit shopping if you don't have money. Of course you're going to buy something if you go shopping, so don't go to the store when you don't have money to spend. A great deal on anything doesn't matter if you don't have the money to pay for it. Shopping is not a hobby when money is tight. Find something else fun to do!
The beginning of our financial journey was certainly a tight time, but we built up good habits with our money that have helped us throughout our marriage.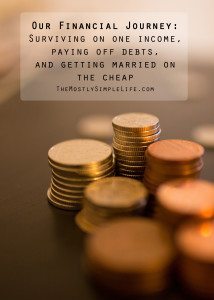 ⇒Tell me about the beginning of your financial journey! What lessons did you learn? Feel free to ask me any questions in the comments!
Linked up here!
If you find this page helpful, please pin or share it :)