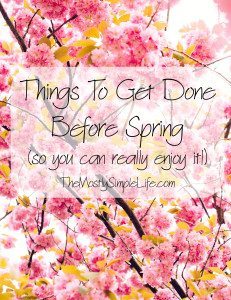 It definitely doesn't quite feel like it here in West Michigan, though we have a had a very mild winter, but spring is just a few weeks away! Can I get an AMEN? Spring is coming!
Spring is one of my absolute favorite times of year. I get so excited at the first sign of flowers breaking through the soil. I usually ask force my fella to come out and look, though he never seems quite as mesmerized by it as I am!
Once the weather becomes bearable and I can see our grass again, it's basically torture for me to be inside. So while I'm stuck mostly indoors for a few more weeks, there are a few things I'd like to get done so that I can spend all of my time outside once the weather warms up.
3 Things To Get Done Before Spring
Purge Unneeded Stuff
Why spend time organizing and cleaning stuff that you don't really need?
Now that the days are staying light a bit longer but I'm still mostly indoors, it's the perfect time to go room to room and purge things we haven't been using. I'm mainly thinking of things that I didn't use this winter.
If it's fall or winter clothing and I didn't wear it in the last few months, I don't think I really need it anymore. Also, I'm thinking of going through my craft supplies dresser. Winter is usually when I have time for more crafty-type projects, but I didn't find myself doing much of that this winter. I'm thinking maybe there are some items I can get rid of, plus the 10-year-old paint and glue that aren't good anymore can probably go!
There are also extra blankets, towels, sheets, and heaters that I want to go through to see if they are still in good shape and to see if we have extras that are unnecessary.
If it's an item that usually gets used in the fall or winter but we didn't use it in the last six months, maybe we don't need it.
"Spring" Cleaning
Once the weather gets nice, the last thing you will find me doing is cleaning inside! I'd much rather be out enjoying the fresh air and attempting some yard work. I prefer to do "Late-Winter Cleaning" instead.
I don't go all out and I don't do it all at once, but I'll be squeezing in a few extra chores. I already washed our curtains the other week (Yes, mom, you were right. They're pretty wrinkly now.) since that really needed to be done. I still need to wash our mattress pad, but I did wash all of our bed and couch blankets. Baseboards and kitchen cabinets need to be scrubbed. The bathroom also needs a deep cleaning. You know, all the fun stuff.
I do think that the concept of spring cleaning is pretty interesting. It was really important back in the day when people heated their homes with oil or coal and then needed to wash the walls in the spring. I found this article about it here if you're looking to do some learnin'.
And if you just can't think of enough chores that need to be done (ha!), I found this amazingly thorough Spring Cleaning List.

Make Summer Plans & Start Saving For Them
All kinds of summer activities are coming soon (woohoo!), but most of them do cost money. It's a good idea to make a list of all of your family's summer plans and estimate how much those things will all cost. Things like:
Family Vacation
Summer Camp
Kid's Sports, Clubs, & Activities
A Trip To The Water Park
A Ton Of Ice Cream Outings
Trips To The Beach
Summer Movies Coming Out At The Theater
I'm going to share our "summer fun list" pretty soon of all the fun things we want to do this summer.
I told you that last summer we saved some of our tax return and put it in a "summer fun fund" so that we had some extra cash set aside for fun summer activities and we're planning to do that again this summer since it worked so well. Don't let these things catch you off guard and certainly don't let them put you in debt. Start planning now while most of these things are still a few months away.
As you can tell, I am soooo stoked for the warmer weather to get here. But I also want to use the rest of winter to get a few things done that will make it so that I can enjoy being outside more once it hits 60 degrees… Let's face it, I'd be thrilled with 45 or 50 degrees right now!
⇒What's on your to do list for before spring comes?
Click the links in the right-hand column to follow me on Facebook, Pinterest, & Instagram.
This post is linked up to Frugal Friday.