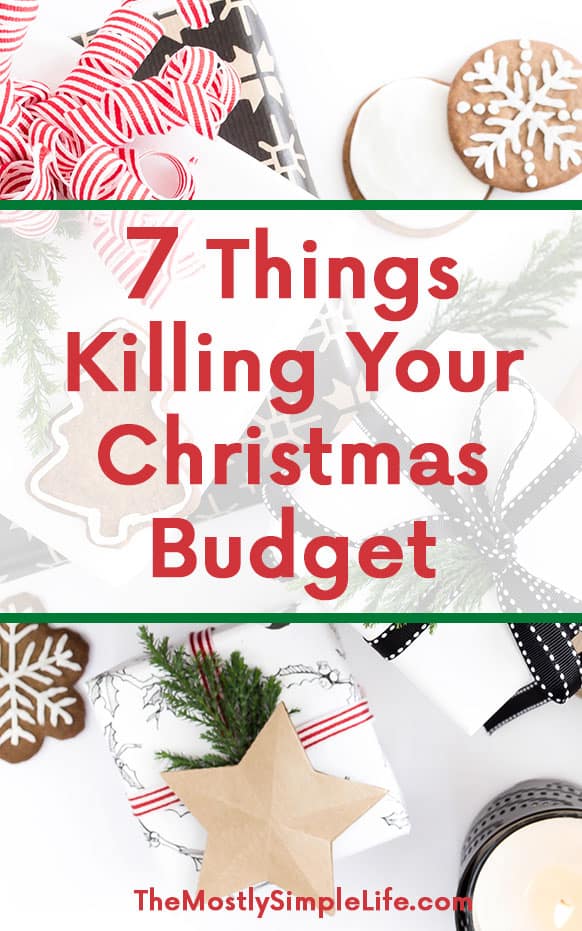 It's almost Christmas! Yay! I just love Christmastime.
Have you stuck to your Christmas budget or has it been thrown out the window at this point?
We're doing pretty well sticking to our budget, but we're not done shopping yet.
If we go over our Christmas budget, it's usually because of food or gifts between Austin and I. We love special holiday foods like shrimp, sparkling grape juice, and cheesecake. And we like to spoil each other.
There's a lot more spending that happens around Christmas than just on gifts.
Even if you don't spend a lot of money around the holidays, there are some extra expenses that can really trip up your budget.
7 Things Killing Your Christmas Budget
Food
I love eating! Seriously, I wait all year for holiday food. Buying extra food or special, more expensive foods can throw off our budget big time.
One of our traditions is to have a fancy Christmas Eve dinner with things like shrimp, ham, cheesecake, cheeses, and sparkling juices. On Christmas day with Austin's family, we have more special foods like fondue and pizza.
All of these things cost extra above what we would normally spend on food.
You might also consider:
Bringing food for potlucks at work or for family gatherings
Going out to eat more often because of visiting family and friends
Spending more on groceries if you have guests staying at your house for a few days
Make sure you budget accordingly for these extra food expenses.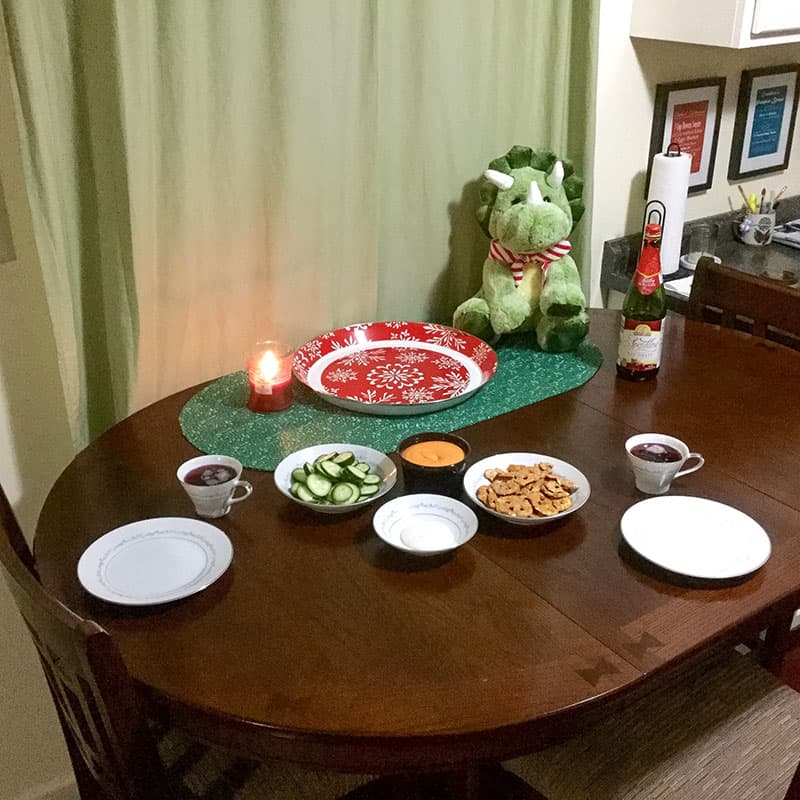 Small Gifts
We try to budget well for what we will spend on gifts for family members. It's easy to forget about other gifts though.
Will you end up getting gifts for:
Co-Workers or Bosses
Neighbors
Friends
Teachers
Mail Carriers
Pets
Babysitters
Even if you're extremely frugal with these gifts, it still can add up to quite a lot.
Christmas Cards
It's easy to forget about the price of Christmas cards, but a lot of families send them every year.
We send Christmas cards out every couple of years. I'm guessing that when we have kids, we'll send them more often.
Postage
Ok, so you remembered to budget for Christmas cards, but did you budget for the price of stamps? Those things aren't cheap!
If you send out 50 Christmas cards, that's almost $25 you have to spend on stamps.
Stocking Stuffers
Austin and I have a set budget on how much to spend on each other, but those gifts always get wrapped and put under the tree. If we buy things to put in each other's stockings, that costs extra.
Last year, we spent $10 each and went to the store a few days before Christmas to buy stocking stuffers for each other.
It can be hard to remember to budget extra for stocking stuffers but adding a little more money to your Christmas budget will help out.
Decorations & Wrapping Supplies
Do you buy new decorations each year? If you have a new family member, you might buy a new stocking. Or maybe you want to buy some new garland or ornaments to freshen up your Christmas tree.
Wrapping paper, ribbon, bows, and gift tags are all an extra expense each year too.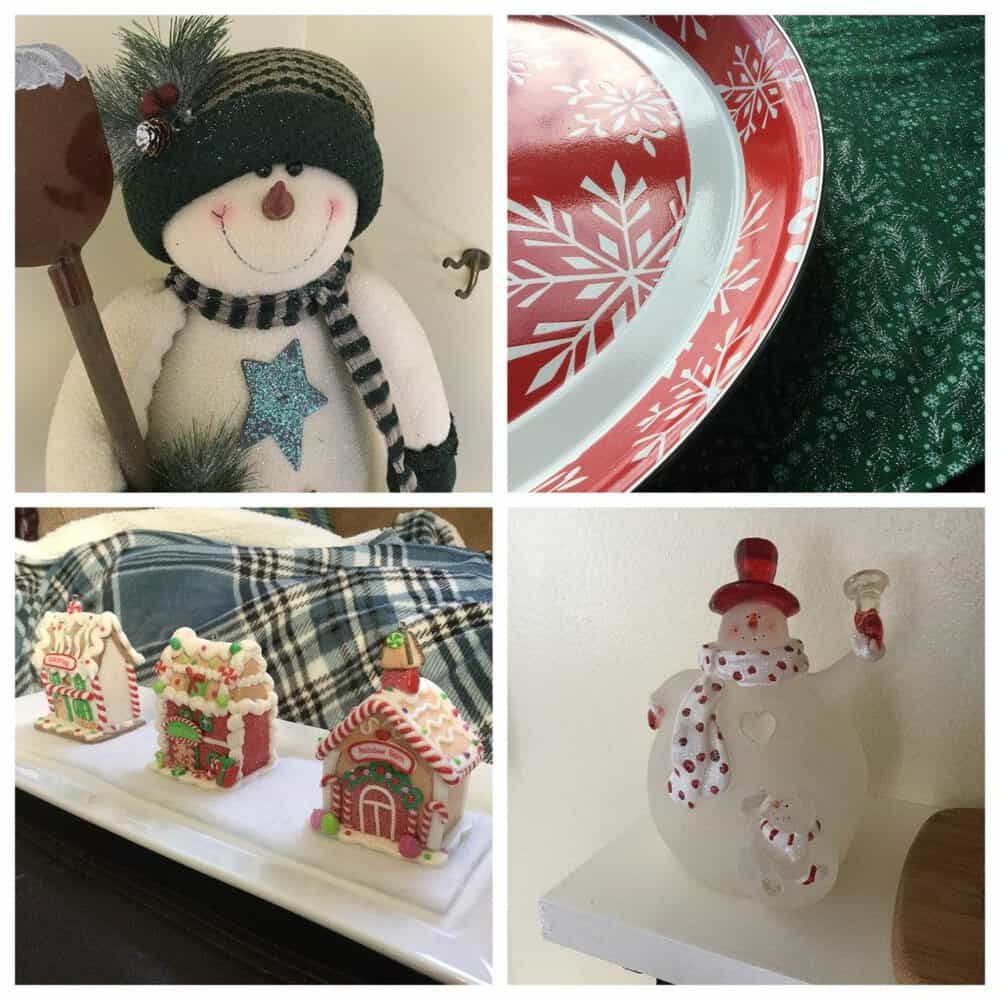 Traditions
Ok, this one can be big. If you have any special family traditions, don't forget about the cost.
A yearly Christmas ornament (I posted a pic of our 2016 ornament on Instagram)
Christmas Eve PJs for the family
Books
A family board game
Family movie night
Christmas day bowling or movie tickets
Related Posts:
32 Gift Ideas for Everyone on Your List
Our Actual Monthly Budget: Less than $1500/Month
⇒ What's killing your Christmas budget? What do you always forget to budget for?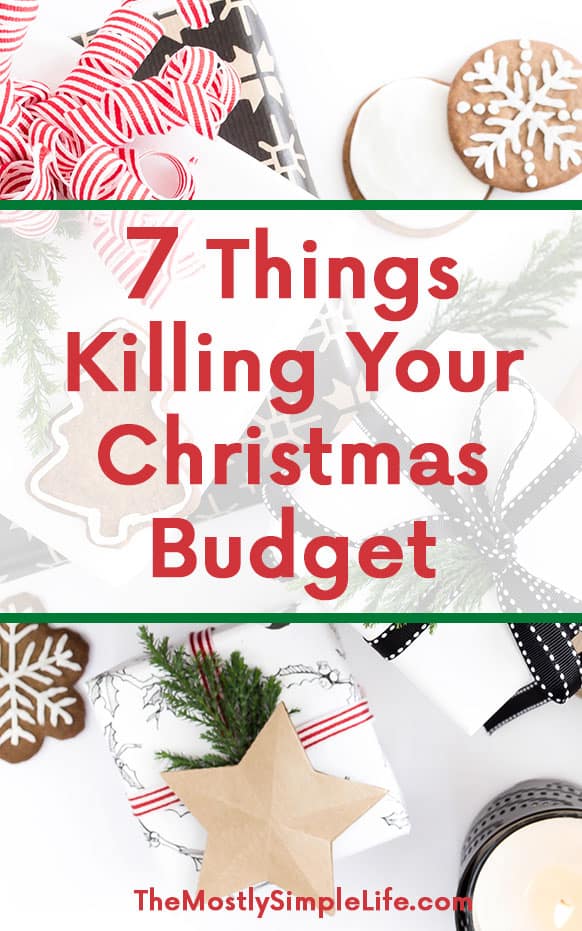 If you find this page helpful, please pin or share it :)