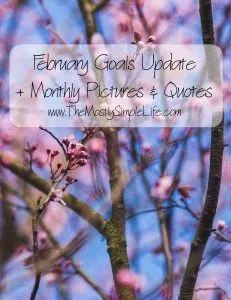 ◊ I've added a new page called "Start Here" to the top menu so that you can easily look through older blog posts. ◊
February is over and it's time to check in to see how everyone's goals are progressing. I'd love to read in the comments how you're doing with your goals. I was mostly successful this month… Mostly. But there's always going to be room for improvement.
The Official February Goals Update
Continue exercising 5-6 days a week – Success!

I exercised 26 out of 29 days for February! I'm really excited that I stuck with my exercise routine, but there is definitely room for improvement. I felt like I didn't push myself very hard this month in my workouts, and while I did get moving almost everyday, I want to put some more effort into it. I'm so ready for some warm weather to be able to go for longer walks and maybe ride my bike to work on occasion. If you're looking to get moving yourself, here are some post's I've written that might give you some inspiration:
Tips For Creating An Exercise Routine That Works For You
How To Use Calendars To Achieve Your Fitness Goals

Start making an income from home – Still a work in progress.
Well, this little blog here has been making a few cents per day off of the couple of ads posted, so that's exciting. I don't get to see those pennies until they build up to a larger amount, but it's a start. I've also been researching other opportunities for making money from home, but this goal is just going to take some time. After work and chores to get done at home, I just don't have a ton of energy or concentration to work on this. It's hopefully one of those "slow and steady wins the race" kind of situations, right?
Save $1000 for retirement – 20% accomplished!
We were able to put another $100 in our IRA for February. If we can keep doing that much per month, we'll easily go past this goal. We've got some potentially big life changes coming up near the end of the year though, so I'll definitely be happy just to reach our goal of $1000 for the year. It's certainly not as much as most financial advisers would say we should be saving, but it's better than nothing!
Save $1000 towards a trip to Europe – 37% accomplished!
That's right! I basically took all of our extra money after our budgeted expenses for the month and put it in this savings fund. I was able to add $270 dollars, some of which was from selling some extra stuff from around the house. Woohoo!
Stick to our monthly budget – Fail

About every three months we make a big trip to the nearest bigger city to stock up on food, prescriptions, and other things we need from stores not in our tiny town. I tried to save up some extra money for this trip, but it still kind of blew up our budget. I'm not too worried about it because we got a ton of things that we need, so it's not like anything will be wasted or was unnecessary. I just need to get better at saving much more money for this trip. I've actually added a saving fund for this trip to our irregular expenses savings funds so that we can be ready next time. Read about how we save for irregular expenses here:
How To Save For Irregular Bills & Expenses
We also had a hard time sticking to our eating out budget like I mentioned last month, so I am going to increase that line in our budget. Budgets should always be realistic, and the number we have been trying to stick to just isn't realistic for us so it's time to adjust!
And now, for some fun pictures from February!

Follow me on Instagram (click here) for more photo fun: aka food I make, things I order from Amazon, inspiring quotes and pictures of Mozzie.
February started out crazy-busy and now has relaxed a bit. Thank goodness! We saw our first 45 degree day of the year, which is quite warm for February in Michigan. Spring is coming! We celebrated Valentine's Day a few days early with a trip to our favorite restaurant. Mozzie was my valentine for February 14 since my fella had to work and do homework all day. Plus, we made some delicious food in February; my mouth is watering a bit looking at that sub and the fish dinner.
⇒How did you do on your goals for February? Did anything exciting happen for you during the month?

If you find this page helpful, please pin or share it :)