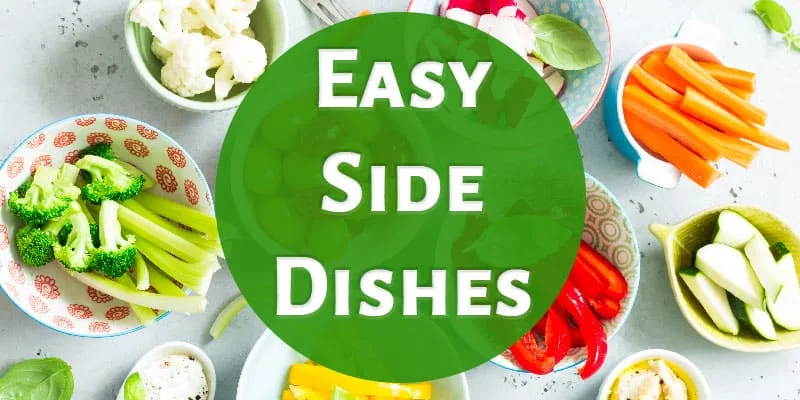 Planning and eating side dishes does not come naturally to me. I often don't even think about them at all and just worry about our main course.
The problem is that this doesn't lead to very nutritious meals and can be expensive. Side dishes are the perfect way to eat lots more fruits and veggies, and when you're filling up on inexpensive side dishes, you eat less of your main course, which is generally the most expensive part of your meal.
Have I convinced you yet? Side dishes help you eat healthier and spend less money! Woo!
But here's the thing: I'm still not going to make them unless they are super simple #lazycook.
If you're like me and want to up your side dish game without expending more time and effort, I think you'll like this list of easy, healthy, and inexpensive side dish ideas!
Sidenote: Make sure to download my free weekly meal plan printable! This is the worksheet I use every week to create my meal plans.

[convertkit form=830245]
Easy Side Dishes
Raw Fruit
Just rinse and eat! Stick with fruit that is in season so that it is inexpensive. Some of our favorites are:
Apple Slices
Watermelon
Grapes
Mandarin Oranges
Bananas
Pear Slices
Strawberries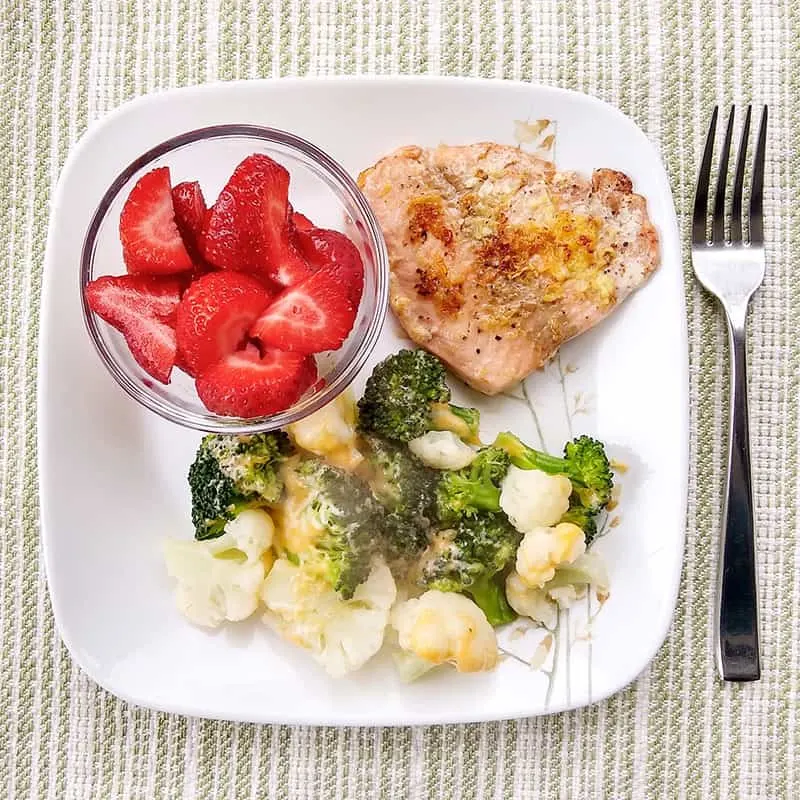 Raw Veggies
All you need to do and is rinse, and maybe slice, your veggies. You can serve them with a homemade or store bought dip, or ranch dressing. Choose whatever is in season or on sale to save money. Our favorites are:
Cucumber Slices
Green Beans
Sugar Snap Peas
Green Peppers
Carrots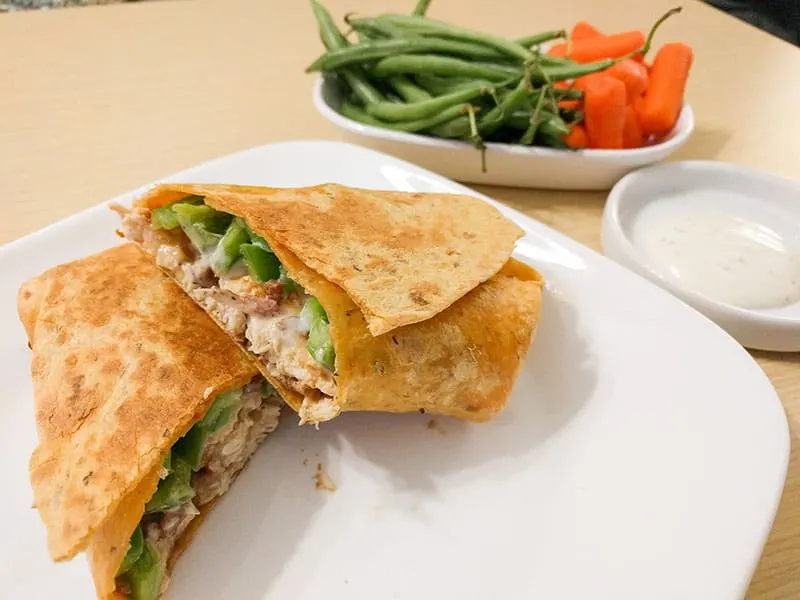 Frozen Veggies
It doesn't get much easier than a bag of frozen veggies! A lot of times you can literally throw the whole bag in the microwave for a few minutes and be done.
Broccoli and cauliflower are always really good, as well as green beans. We've also found some veggies blends that are great.
Most warehouse stores, like Sam's Club and Costco, have great quality frozen veggie options.
The great thing about frozen veggies is that they are really easy to find on sale!
Oven Roasted Veggies
Oven roasted veggies are my favorite! I always make up a full pan of them because they make great leftovers.
Just chop your veggies, coat them in a few tablespoons of olive oil, and sprinkle on your favorite seasonings. I usually use use some salt, pepper, and garlic to keep things simple. Bake them at 425º for 40 minutes, flipping halfway through.
Some of my favorite veggies to roast are:
Sweet Potatoes
Carrots
Onions
Any Other Kind of Potato
Asparagus (these only take about 10 minutes)
While roasted veggies do take the longest time to cook, you don't have to pay much attention to them, so they're super easy.
Steamed Veggies
Steamed veggies are also quick and easy. We have a steamer that fits on top of our sauce pan (like this one).
You just put 1-2 inches of water in the pan, bring it to a boil and then put the steamer in with the lid on. We do this with broccoli and cauliflower most weeks. They only take about 5 minutes to steam.
Grilled Veggies
If you're already grilling for dinner, don't forget to add on the veggies! Our favorites are:
Zucchini
Yellow Squash
Mushrooms
Jalapeños
Asparagus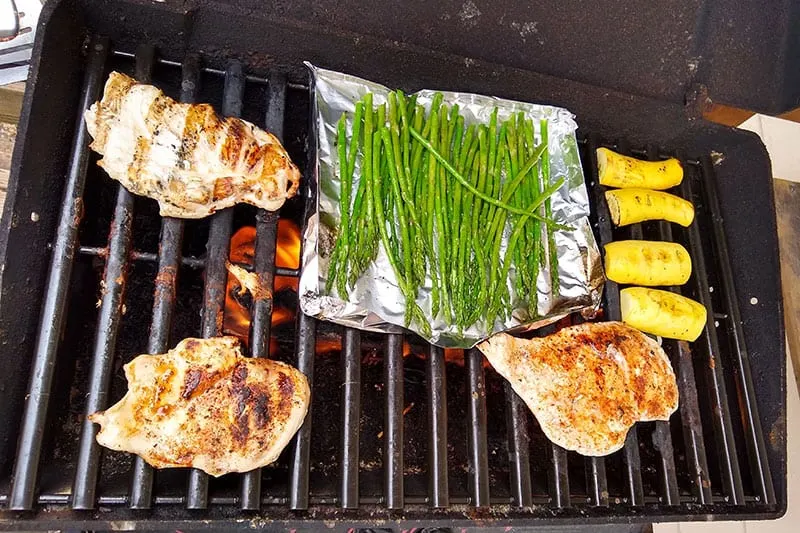 Baked Potatoes
We need to stop calling these "baked" potatoes because I'm pretty sure everyone just cooks them in the microwave 😀.
It only takes a few minutes to make a baked potato. You can mix things up with different kinds of potatoes, including sweet potatoes.
Top with a little butter or ranch dressing if you like and you've got a fast and easy side dish.
Chips with Salsa or Hummus
Since we're keeping things easy, you can buy salsa or hummus to have with your chips (though it's super easy and less expensive to make your own).
Look for whole grain chips to make this side dish more nutritious.
Applesauce
It doesn't get much easier than this. Make sure to look for applesauce with no added sugar. Apples are already sweet and extra sugar is unnecessary.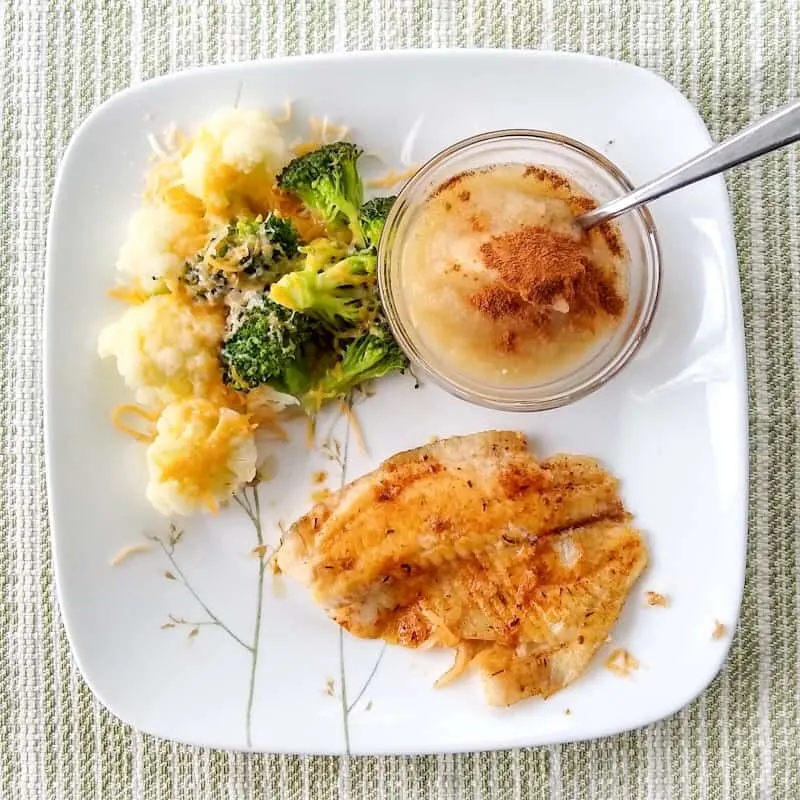 Garlic Bread
We make garlic bread in the toaster so it's insanely easy. Just toast your bread and spread it with butter right when it pops. Then sprinkle on some garlic powder and oregano.
Try using different kinds of breads, especially whole wheat bread for a healthy option.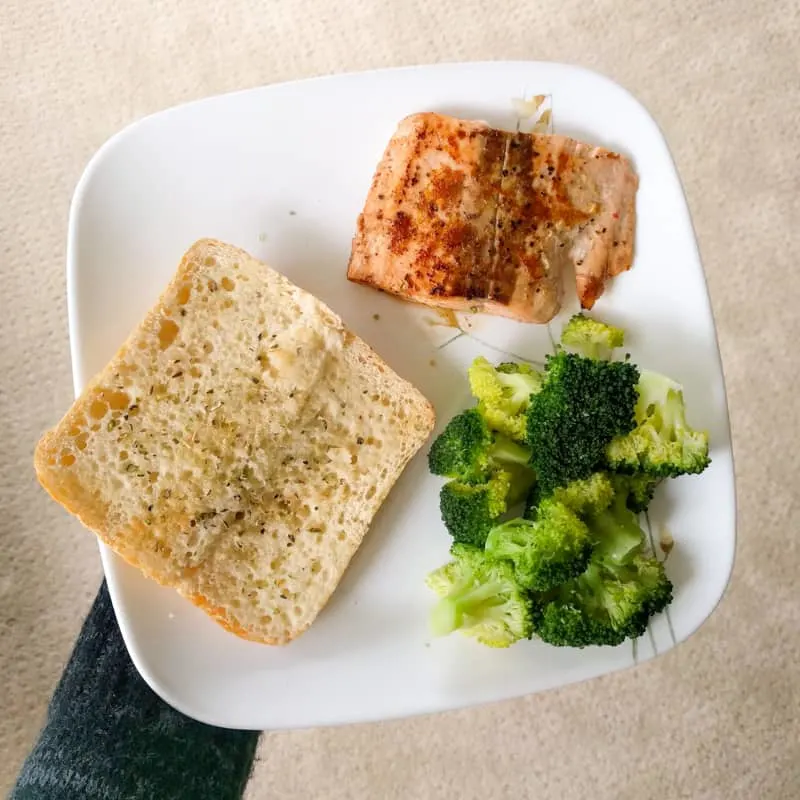 Rolls
Store bought rolls are another crazy-easy side dish.
Rice
Last on the list is rice. You can make white, brown, or wild rice to add to a meal. Cook it in chicken broth instead of water for more flavor.
Rice is probably the least easy option on this list unless you have a rice cooker or Instant Pot. I make rice for us in the Instant Pot and it's much faster and easier than making it on the stove.
Side dishes can be super easy! So easy that you don't need a recipe at all.
Remembering to plan side dishes to go with your meals is a great way to eat more healthy fruits and veggies and save money on meat or your main course!
Don't Miss These Great Related Posts: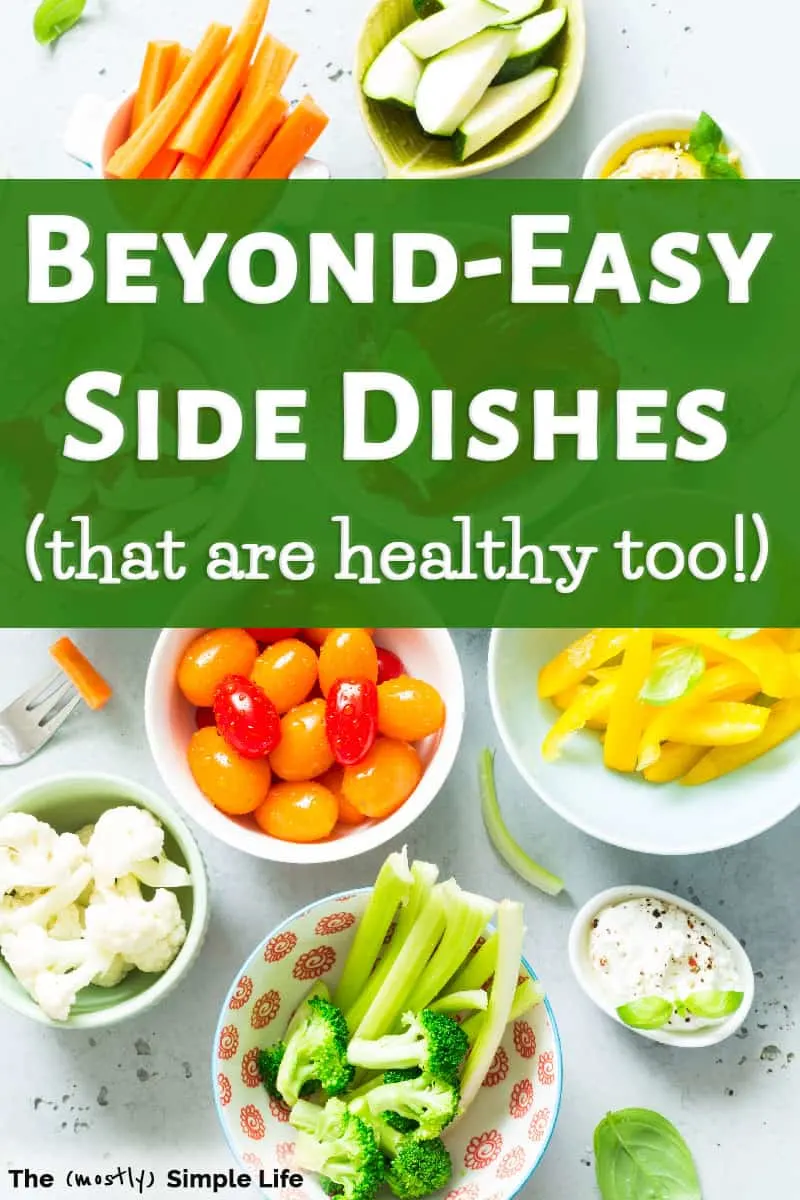 If you find this page helpful, please pin or share it :)